During CES 2018, Corsair not only released a series of wireless keyboard and mouse, but also the HS50 stereo gaming headset we reviewed today. HS50 is a new attempt for Corsair's lightweight and simplified headset products.
Different from the previous VOID series design, the HS50 stereo gaming headset adopts simple design and is compatible with PC, Xbox One, PS4, Nintendo Switch, and various mobile phones.
Packaging

The packaging of HS50 has a corresponding color change according to the color of the headset.
The front of the packaging box shows the product photo, model, logo, and selling points (plush memory foam earpads, premium build quality, and durability, precision-tuned 50mm audio drivers).
Detailed instructions and technical specifications are on the back of the package.
Headphone Specifications

Surround Sound
No
Detachable Microphone
Yes
Headphone Frequency Response
20Hz - 20 kHz
Headphone Sensitivity
111dB (+/-3dB)
Impedance
32 Ohms @ 1 kHz
Headphone Type
Wired, 3.5mm analog
Headphone Connector
3.5mm analog
Headphone Drivers
50mm
Audio
Stereo
Platform
PC, PS4, XBOX One, Nintendo Switch, Mobile
Amazon Rating
Check Price
Check Price
Unboxing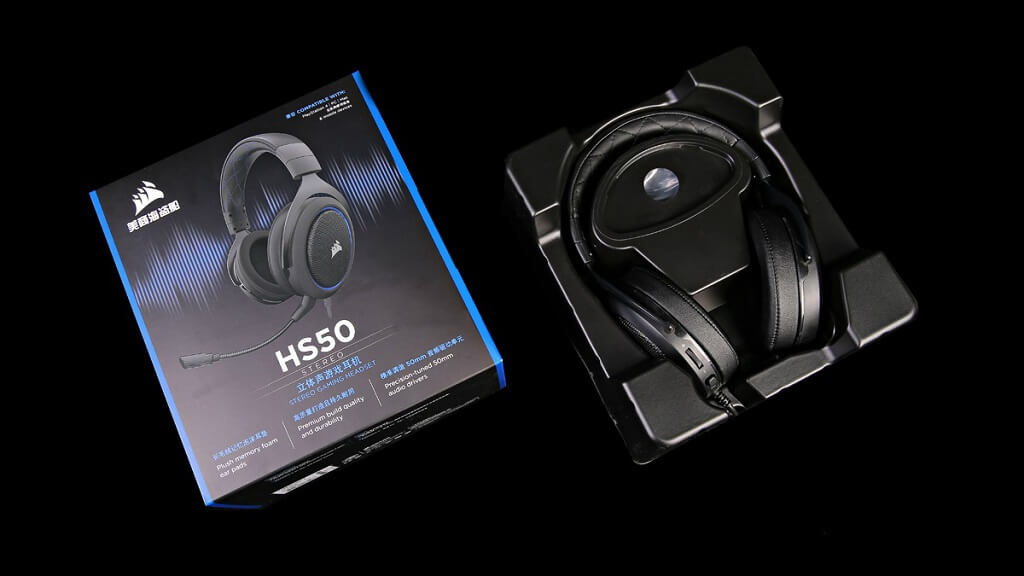 The inner box is a black plastic box, which fixes well.
Accessories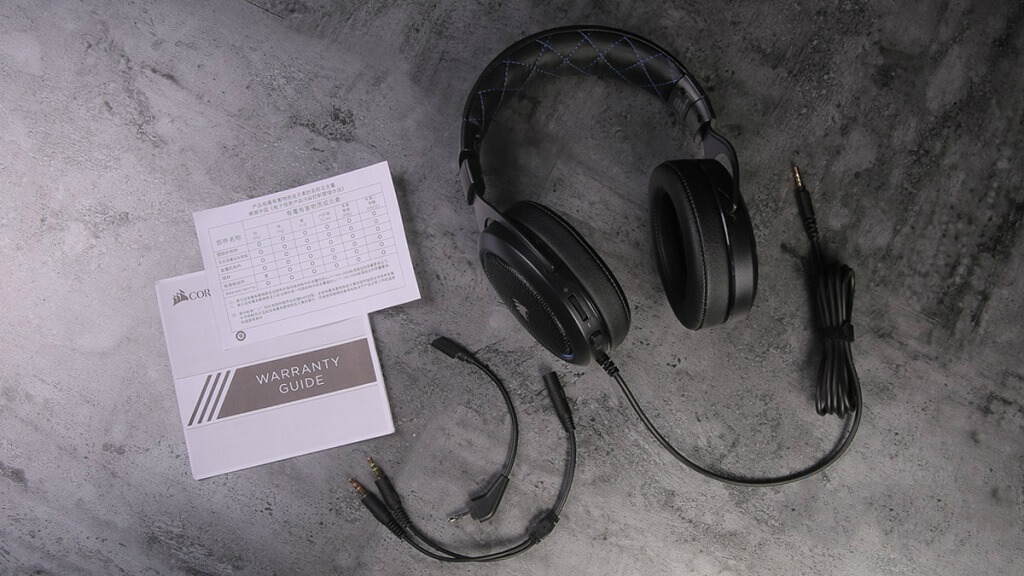 Y adapter cable, a detachable microphone, and a quick start guide.
Details
Head Beam

HS50 adopts an ergonomic structure design. The head beam is designed with a metal skeleton, which is durable and not easy to break.
The outermost layer is made of artificial leather, which feels soft. The top lining is cross-woven with blue stitching. The part in contact with head is made of skin-friendly protein skin material, making it easier and more comfortable to wear.
The head beam can be adjusted in 8 scales, it can be extended and retracted 3.5cm, and the damping is smooth. L / R symbols are printed on the inside of the head beam.
Ear Cup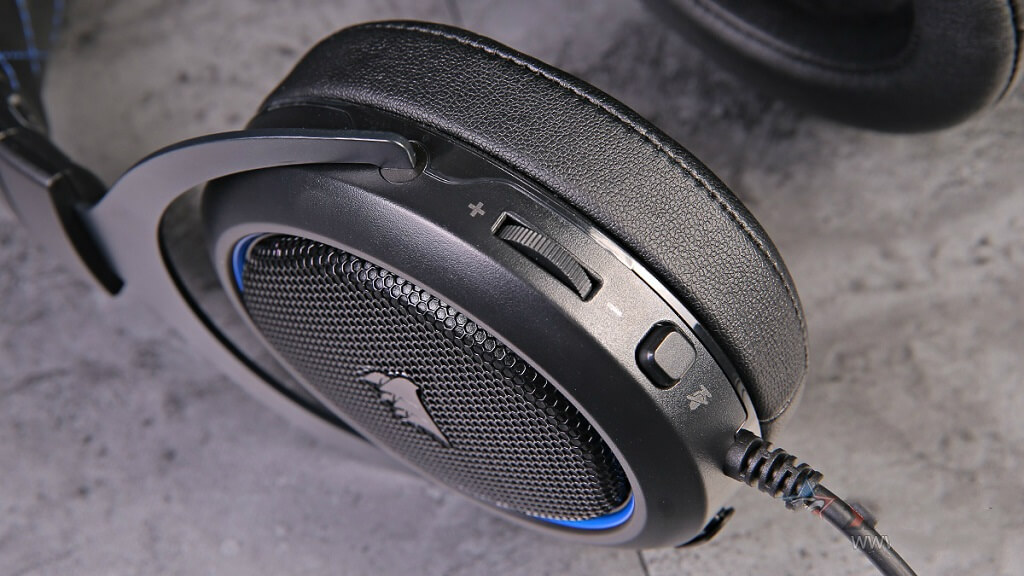 The outer surface of the oval ear cups is a metal punched mesh, the Corsair logo is embedded in the middle, and the outer ring is a blue metal ring. The ear cups can be fine-adjusted to fit the user's face.
Ear Pads

The earpads are made of protein leather, and with the internal filling of the memory foam, the rebound is moderate, which can bring a good wearing experience. In addition, the diameter of earmuffs is large enough to completely surround ears, bringing good sound insulation effects. But they are not removable, which may increase the difficulty of daily maintenance and cleaning.
Cables

The 1.8-meter 3.5mm analog cable's flexibility is not that good, but it is long enough. The y adapter cable is easy to connect with other gaming equipment.
Microphone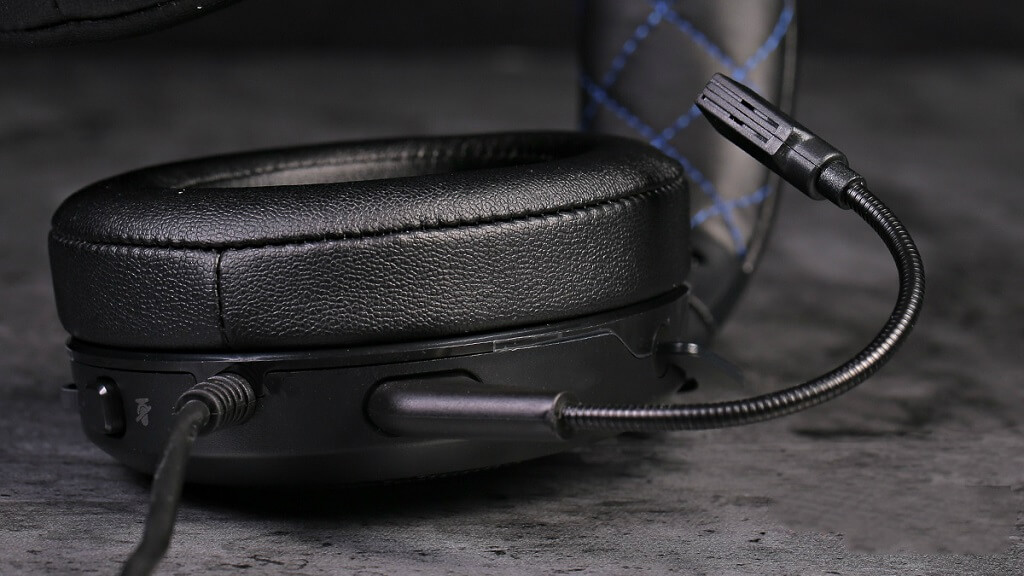 Microphone Specifications

Microphone Type
Unidirectional noise cancelling
Microphone Impedance
2.2k Ohms
Microphone Frequency Response
100Hz to 10kHz
Microphone Sensitivity
-40dB (+/-3dB)
Discord-certified microphone is detachable and 360-degree rotation. HS50's MIC provides a clear voice and communication.
Switches & Interfaces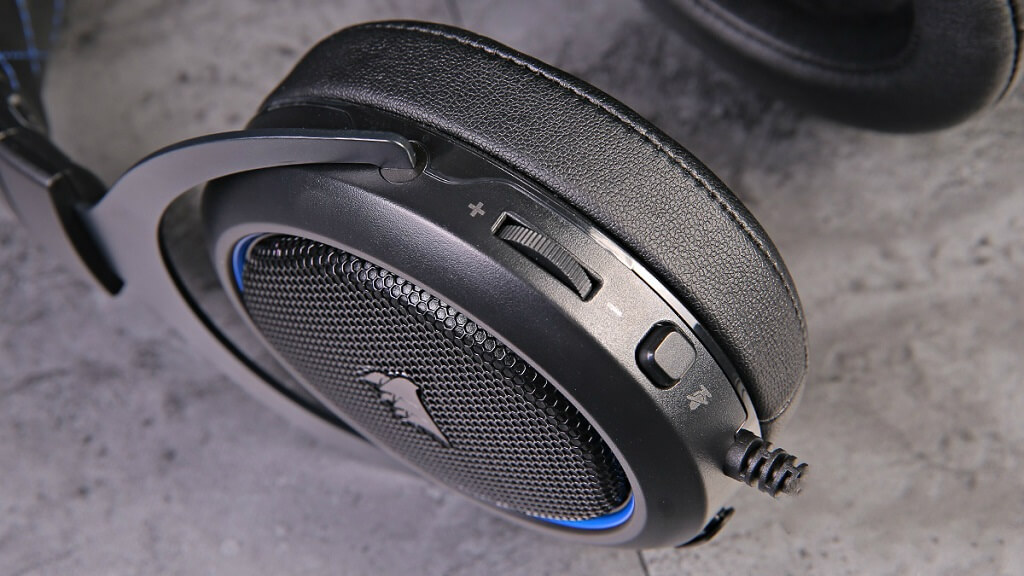 All HS50 switches and interfaces are gathered in the right ear cup: volume toggle, microphone switch, microphone interface.
Experience
Gaming Experience
I experienced the HS50 stereo headset in PUBG. Its sound localization ability reached an average level and can easily recognize the sounds from various directions. The microphone's radio effect is also satisfactory. Even in noisy environments, you can still communicate with teammates clearly.
Audio Experience
If you want to use the HS50 headset as a music headphone, it may disappoint you. The overall tuning style is partial to the stage scene. The human voice and music have almost no layering, the human voice is slightly thin. The bass performance is mediocre.
Wearing Experience
HS50's weight is about 319g. With the flexible head beam, the chuck feeling is very slight. It is a practical lightweight headset.
Pros & Cons
Pros
Premium build quality
Lightweight
Discord-certified MIC
Multi-platform compatible
Great for the price
Cons
Non-removable ear pads
Not ideal for large heads
Mediocre bass
In Summary
HS50 gaming headset is so simple that you may suspect whether it is a Corsair headset. But Corsair has not reduced its wearing comfort. But HS50 gaming headset is too mediocre, it has no obvious advantages and disadvantages. At the level of $50, there are too many choices for gaming headsets. Choosing this headset may require you to identify with the Corsair brand.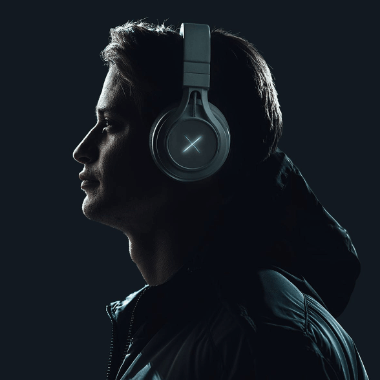 Hi, my name is Daniel, I'm a passionate gamer for over 5 years. Having used various gaming products myself, I will help other gamers benefit from the blog's recommendations of gaming headsets.