Turtle Beach Stealth 450, as a wireless gaming headset specifically for PC. It not only has powerful 50mm speakers and DTS 7.1 surround sound effects but also is equipped with accessories such as a wireless USB transmitter, detachable microphone.
So what is the effect of experience in actual use? Let's take a look at this review of Stealth 450!
Packaging
The packaging is in a carton with a red and white design, which is the same as the theme color of the headset.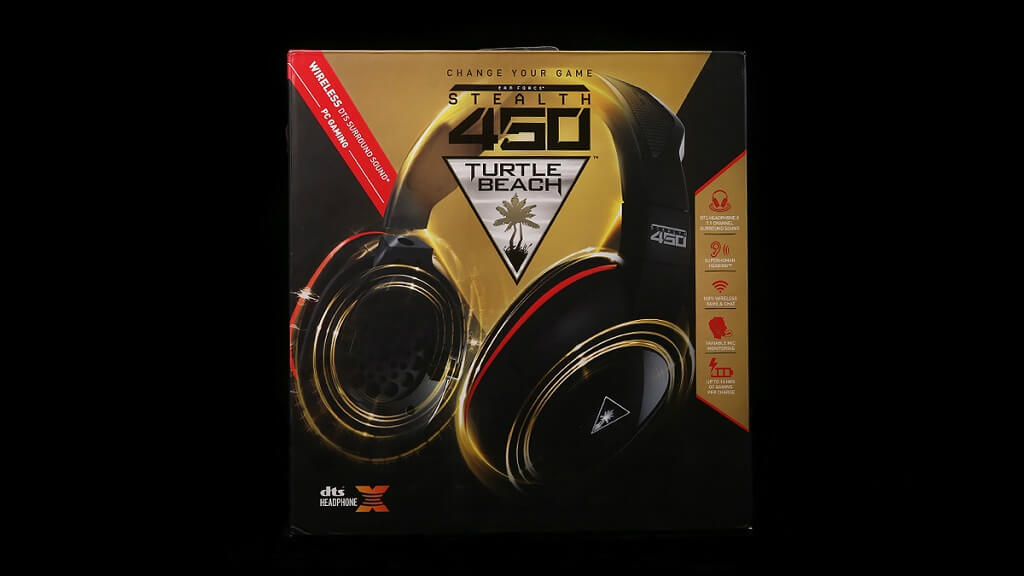 The front of the box is the headset display, product logo, and marked the headset has Turtle Beach's patented Superhuman Hearing technology and supports DTS7.1 surround sound.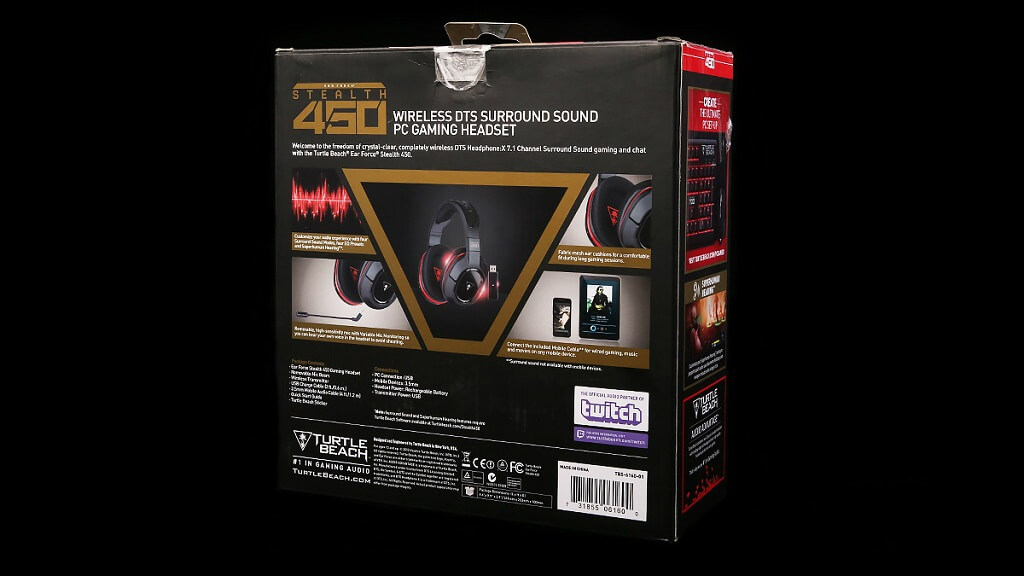 On the back is an introduction to the features of the headset, as well as the main accessories and parameters.
Headphone Specifications

Audio Connection
Wireless USB Connection
Speaker Frequency Response
20Hz - 20kHz
Transmitter Frequency Response
2.4 GHz
Headset Power
Rechargeable Battery
Battery
Lithium Polymer
Battery Life
Up to 15 hours
Speaker Size
50mm
Unboxing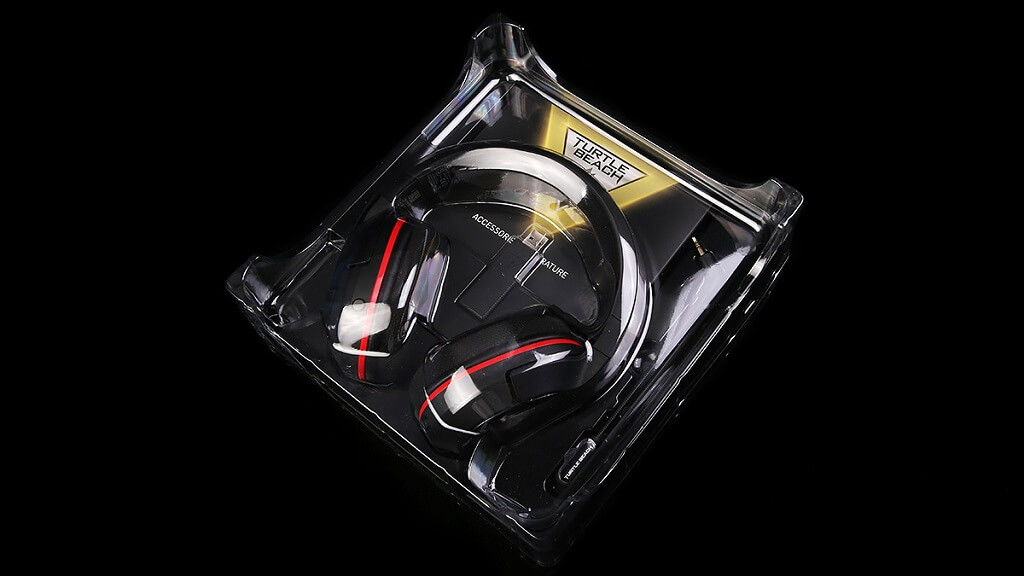 Open the box, there is a transparent plastic protective cover on the inner surface. Although it has a certain protective effect on the headset, the effect is not as good as the white hard carton of Elite800 wireless gaming headset.
Accessories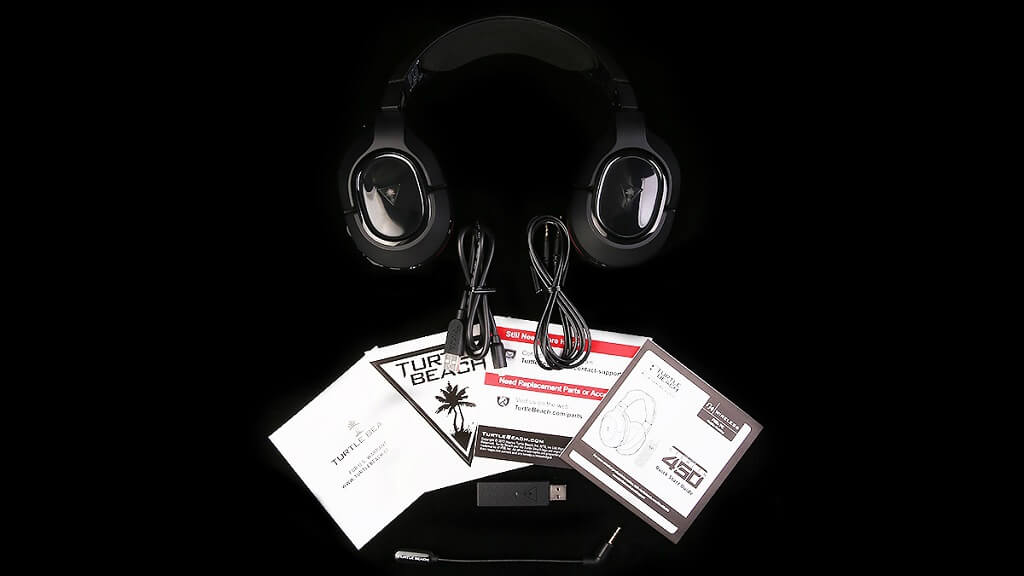 USB charging cable, 3.5mm audio cable, USB wireless transmitter, and microphone.
Details
Cables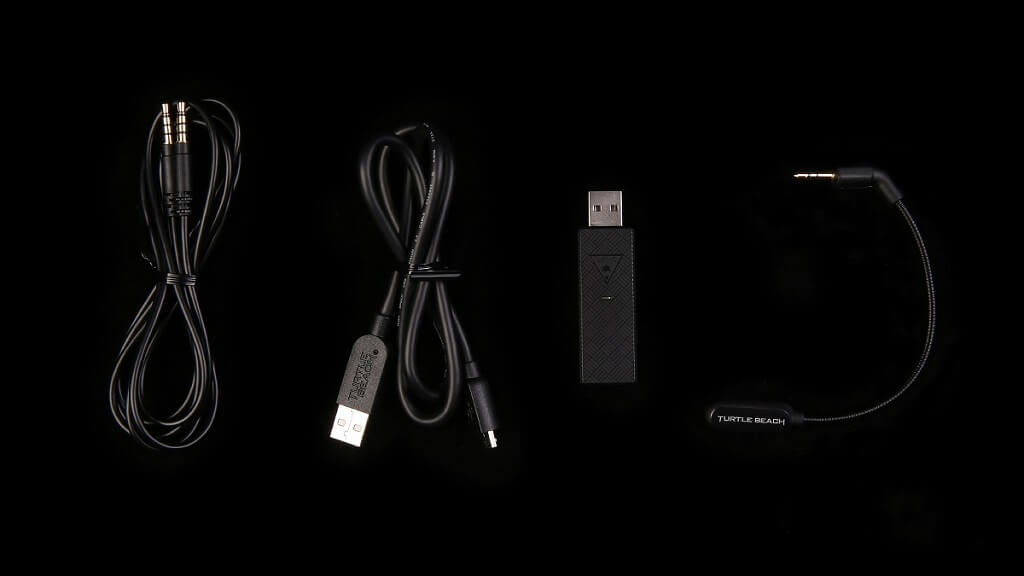 The 3.5mm audio cable can be connected to PC, mobile phones, and iPads. Its length is about 1.5m, and the anti-pulling design and gold-plating process are also applied at both ends of the cable.
This is a USB charging cable, one end is a USB interface, and the other end is a Micro USB interface.
Wireless Transmitter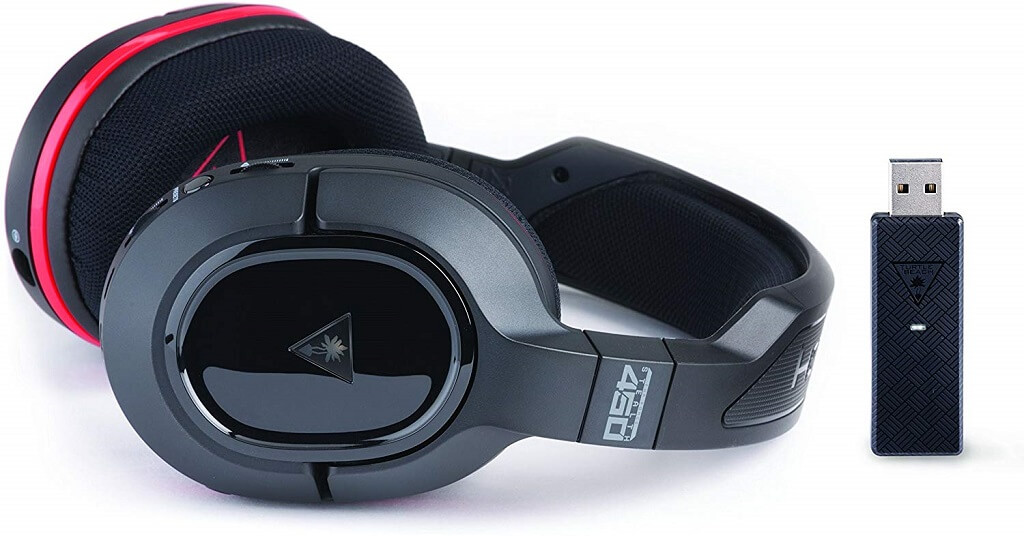 The USB wireless transmitter uses 2.4G wireless technology, and the wireless range is about 10 meters. After plugging it into the computer, the indicator light will flash continuously. You need to press and hold the switch on the right ear cup for 3 seconds, and the flashing light will immediately turn on, indicating that the headset has been successfully connected to the PC.
Appearance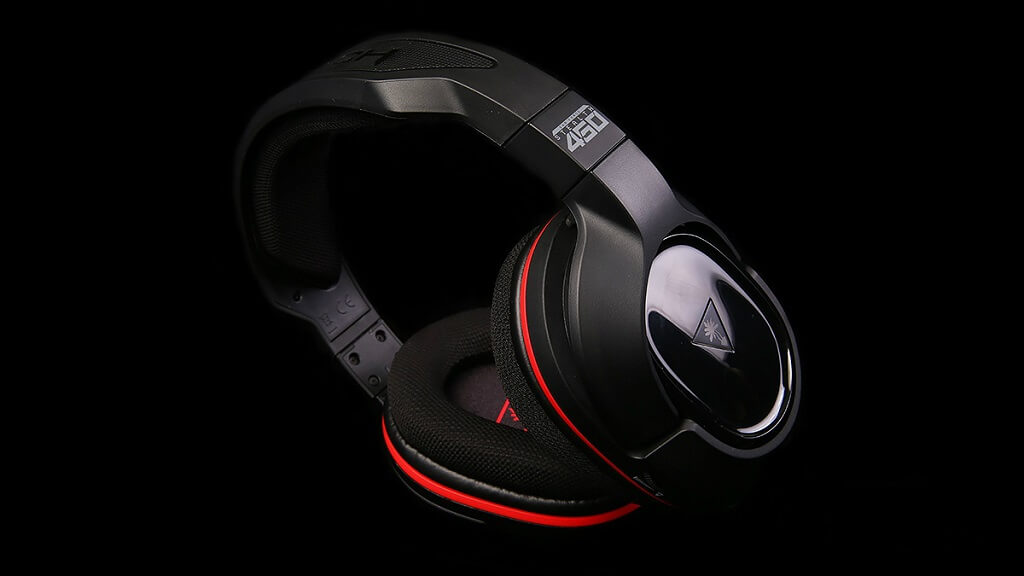 Turtle Beach Stealth 450 headset is relatively mediocre in appearance, with red and black color matching, and full-wrapped ear cups reduce external noise interference. With an overall weight of 236g, it is a very lightweight wireless gaming headset.
Head Beam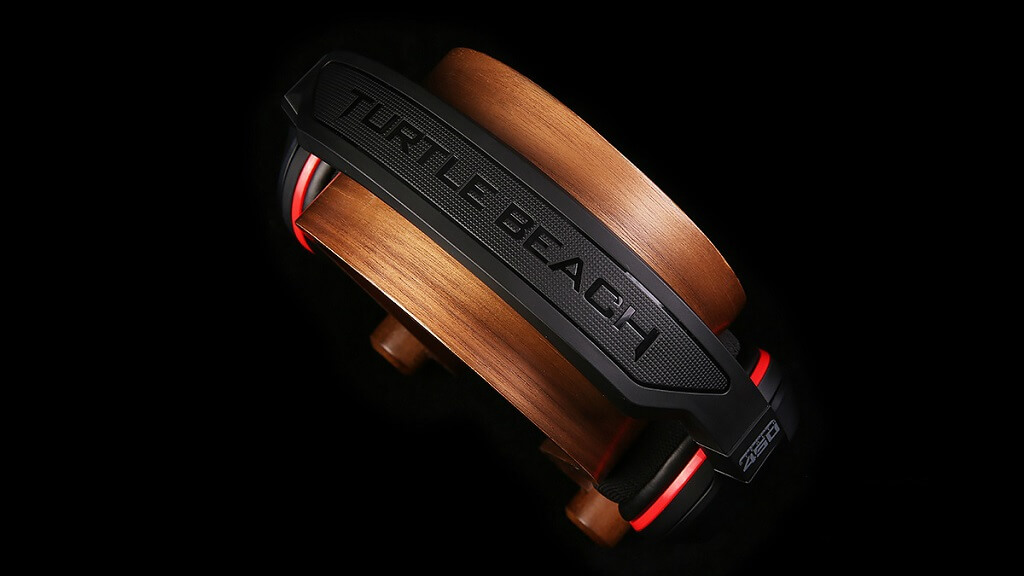 The LOGO is printed above the head beam. The head beam is full of toughness, and the touch feels good. The outer surface is made of plastic and has a dense non-slip design.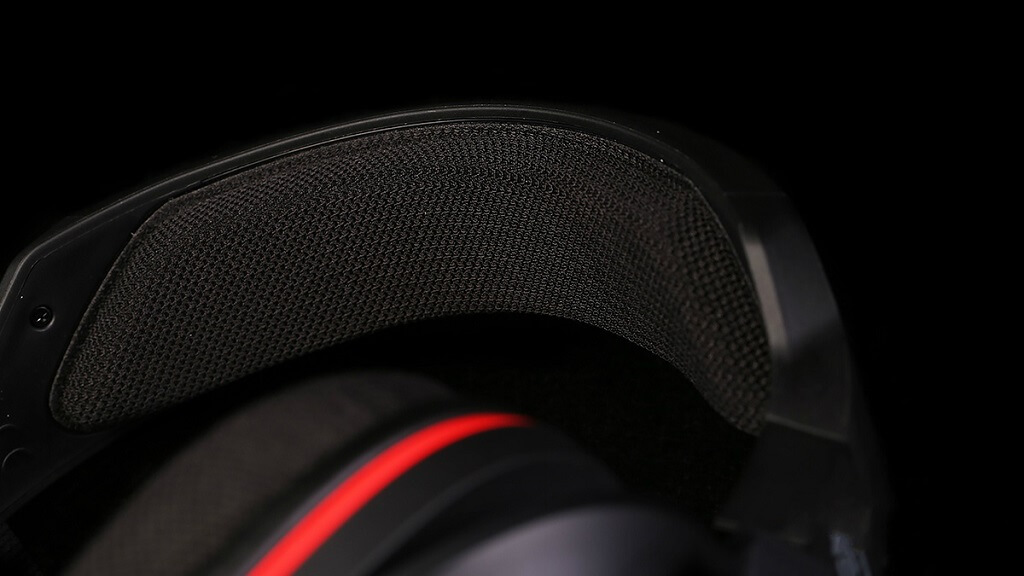 The inside of the head beam is made of sports mesh material, which is soft and breathable, which can provide players with excellent wearing comfort.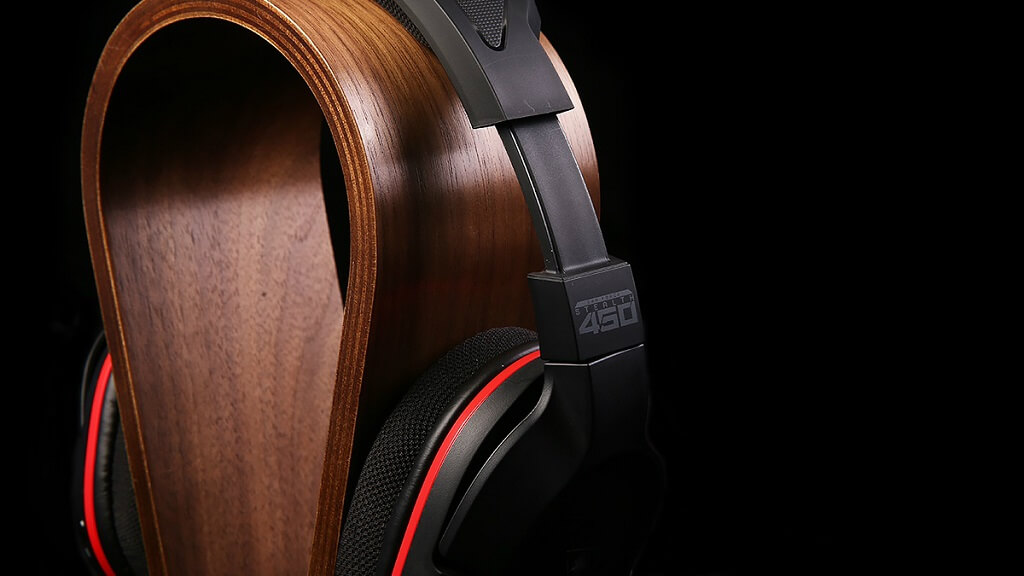 The telescopic rod is made of plastic. The inner and outer sides of the telescopic rod are not designed with a scale. After my measurement, the expansion of the headset is about 4CM, which is enough to meet the wearing needs of most users.
Ear Pads
The earpads are stitched with two materials, leather and mesh cloth. The leather material guarantees no sound leakage, and the mesh cloth material has excellent breathability. In addition, the filling of the ear pads is a highly elastic sponge, which rebounds quickly.
Ear Cups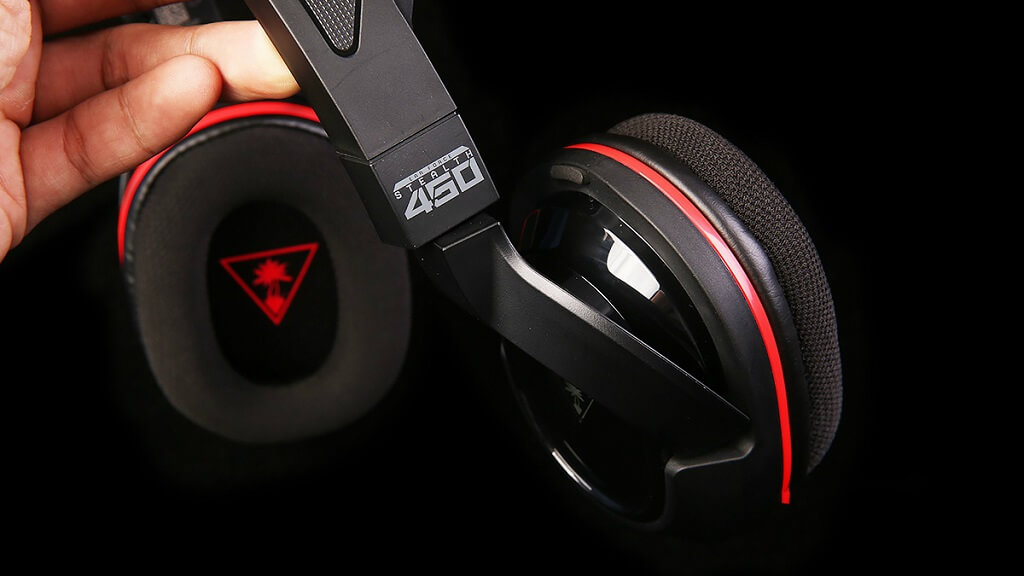 Oval full-wrapped ear cups can perfectly cover the entire ears and have an adjustable range of 5 ° inward and an adjustable range of 90 ° outward.
Buttons & Interfaces
The Stealth 450 gaming headset focuses all buttons and interfaces into the right ear cup, this is very different from the design of most gaming headsets. This design also violates the habits of most users' left-hand adjustments.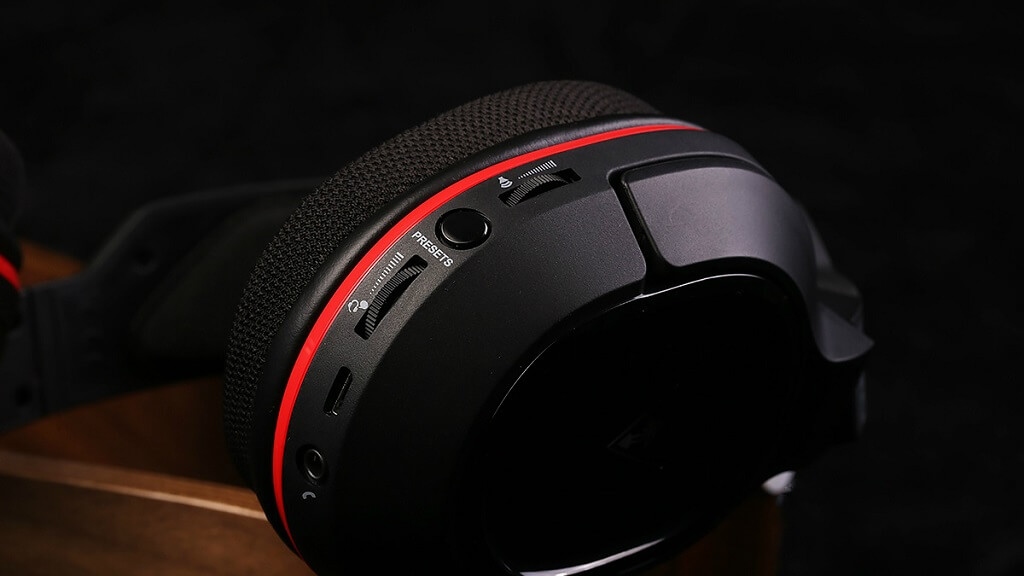 From top to bottom are the headphone volume adjustment toggle, PRESETS button, voice volume toggle, USB charging interface, 3.5MM audio interface.
The PRESETS button on the headset can adjust four preset audio modes, including Natural Sound, Bass Boost, Bass And Treble Boost, Vocal Boost.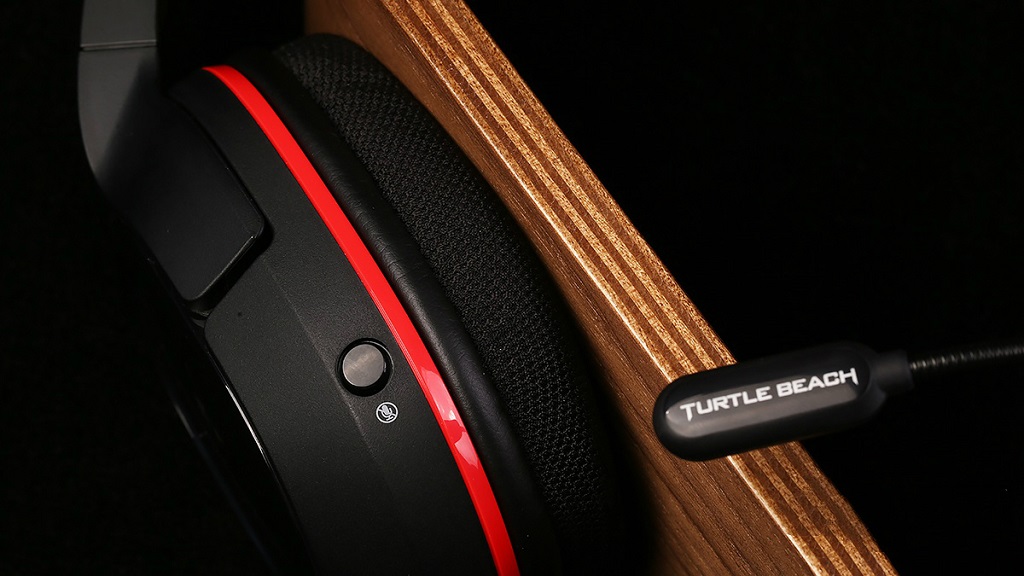 There is also a voice mute button on the left ear cup. The bottom of the left ear cup has a removable microphone connector.
Microphone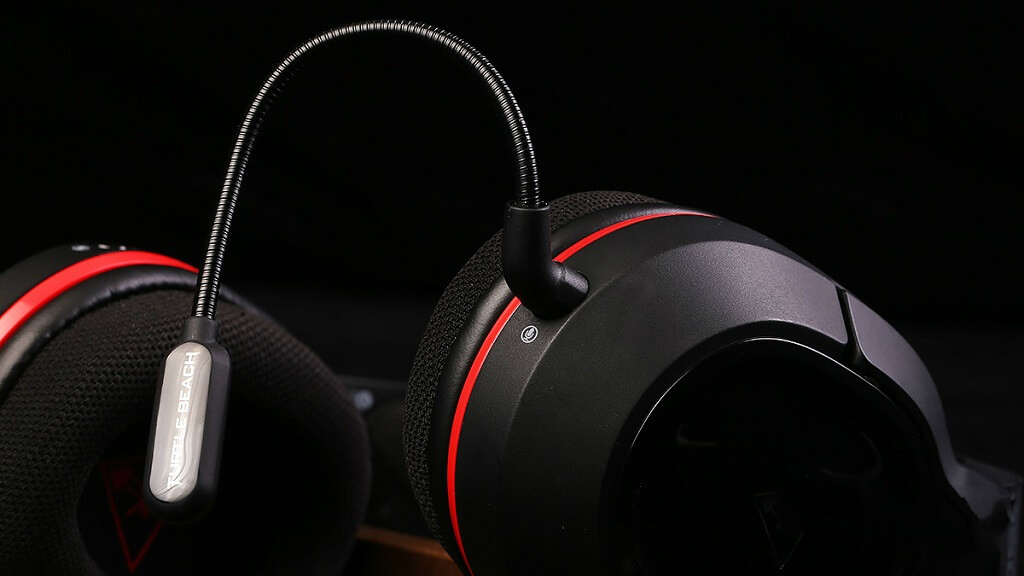 The Stealth 450's microphone is detachable. It can be bent freely without a rebound. It has a Mic monitoring function that can help you hear the volume of your own voice inside the headset to avoid shouting at teammates and other players.
Driver
To achieve DTS 7.1 surround sound and Superhuman Hearing effect, you need to install and set up the driver.
Click here to download it.
Install and configure it according to the video below.
Experience
Wearing Experience
In order to make Stealth 450 headset have a better wrapping performance and reduce the possibility of falling off, you may feel a little tight when wearing it.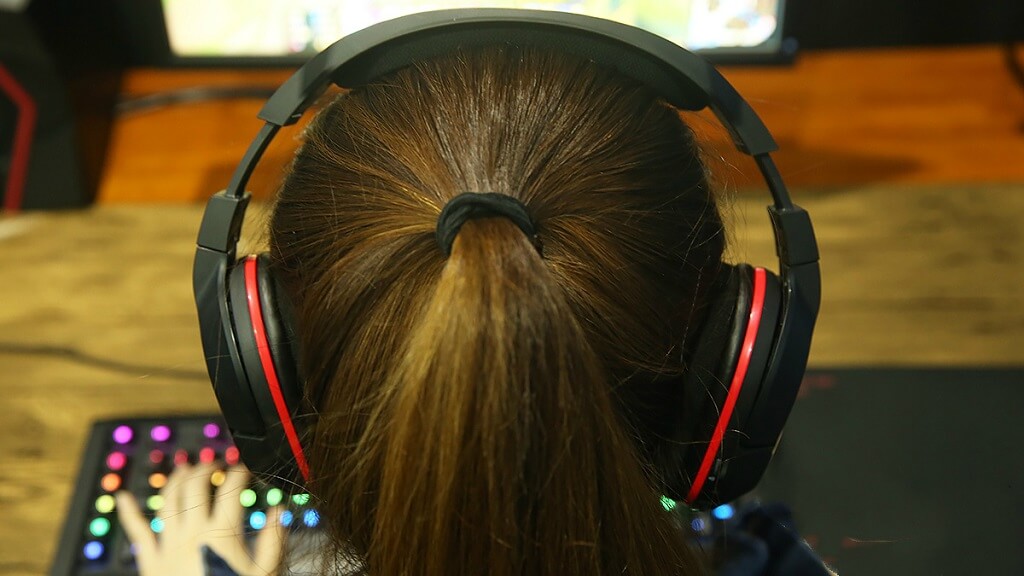 The head beam and ear pads use mesh cloth, which is very breathable. It will not have a sweltering feeling when worn for a long time, and the headset will not slip off when shaking head.
Stealth 450's weight is 236g, you will feel not too much weight on the head, and the wearing experience is very good.
Audio Experience
Its stereo sound is pretty good, and the sound fidelity is very good.
Gaming Experience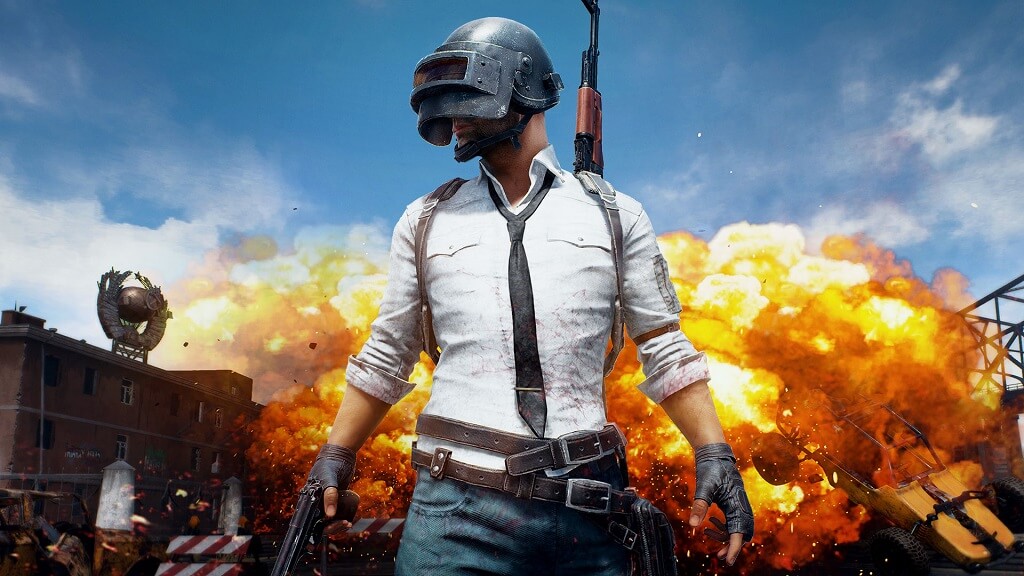 Stealth 450 wireless gaming headset performs particularly well in games. In PUBG, you can clearly hear the enemy's footsteps, and you can prepare in advance. The surround sound rendering is strong and has a very good sense of presence. If you are an FPS gamer or have a requirement for sound localization, Turtle Beach Stealth 450 wireless gaming headset is a good choice for you.
Pros & Cons
Pros
Lightweight(236g)
Mic Monitoring
Superhuman Hearing
DTS 7.1 Surround Sound
15-hour Battery Life
30 Feet Wireless Range
Cons
Expensive
A Little Tight on Head
Easy to Collect Fingerprints
Plastic Material
NO RGB Lighting
In Summary
Turtle Beach, with its years of experience in music and audio technology, makes the Stealth 450 wireless gaming headset more like explaining what a real gaming headset is. Its wireless function, DTS 7.1 surround sound effects, multiple sound mode presets, Mic monitoring, and good wearing experience all seem to be designed to enhance the player's enjoyable experience in the game.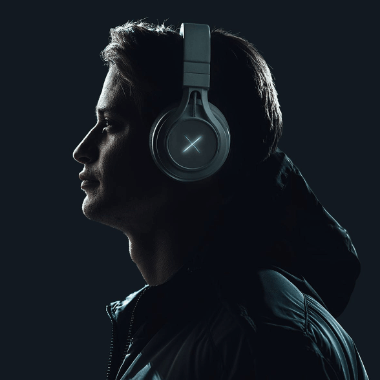 Hi, my name is Daniel, I'm a passionate gamer for over 5 years. Having used various gaming products myself, I will help other gamers benefit from the blog's recommendations of gaming headsets.