As a famous RAM manufacturer, G.SKILL had launched the MX780 gaming mouse in 2016, I did not buy it at that time, but I was deeply impressed by its modular design.
I recently bought this mouse because of the COVID-19. Today, I will review the mouse from the following aspects.
Packaging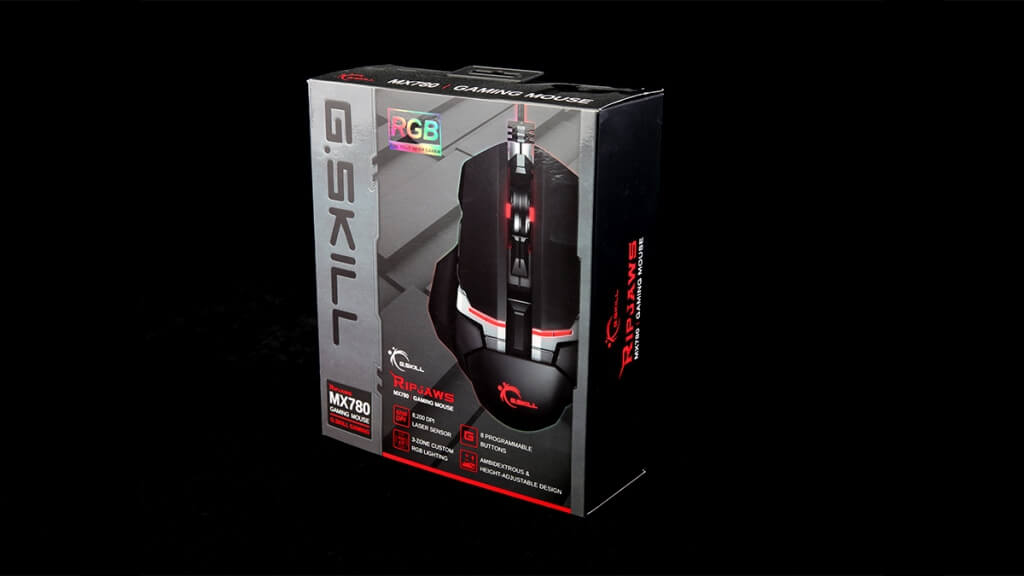 The packaging box of MX780 is a typical flip-type packaging.
On the front of the box is a large picture of the MX780 mouse and main features:
8,200 DPI Laser Sensor
8 Programmable Buttons
4-Zone Custom RGB Lighting
Ambidextrous & Height Adjustable Design
On the back are other selling points:
G.SKILL Unified Driver System for Full Customization
Gaming-grade Avago Laser Sensor
Tracking up to 150IPS & 30G Acceleration
512KB Onboard Memory
PTFE Glide Pads
20 Million Click Life-Cycle
Up to 1000Hz Polling Rate (1ms)
Specifications
| | |
| --- | --- |
| Dimensions L x W x H | 130 x 93 x 38(5.12 x 3.66 x 1.50in) |
| Weight (mouse only) | 111g |
| Weight System | 4.5g Weights (x2) |
| Programmable Buttons | 8 |
| Connectivity | Wired |
| Cable | 1.8m, Braided |
| Mouse Feet | PTFE Glide Pads |
| On-Board Memory | 512KB |
| On-Board Profile | 5 |
| Backlighting | 4-Zone RGB |
| Sensor | Avago A9800 |
| Sensor Type | Laser |
| DPI | 100-8200 |
| Polling Rate | 125 / 250 / 500 / 1000 Hz |
| Micro Switch | Omron 7N(20M) |
| Amazon Rating | |
| Check Price | Check Price |
Unboxing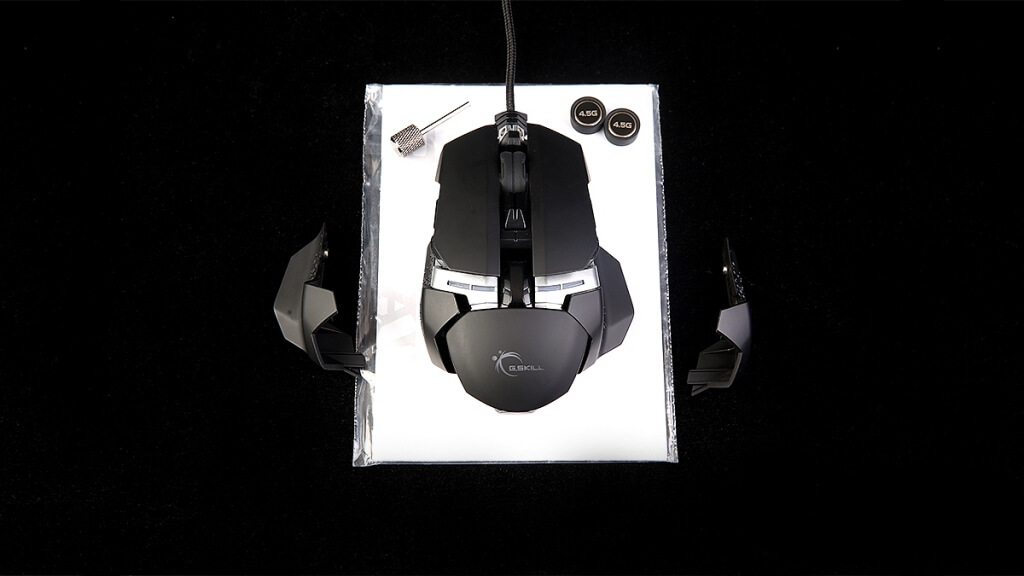 Box includes:
G.SKILL RIPJAWS MX780 RGB Gaming Mouse
2 Extra Side Grips
Palm Rest Adjustment Tool
4.5g Weights (x2)
Quick Installation Guide
Warranty Guide
Details

Appearance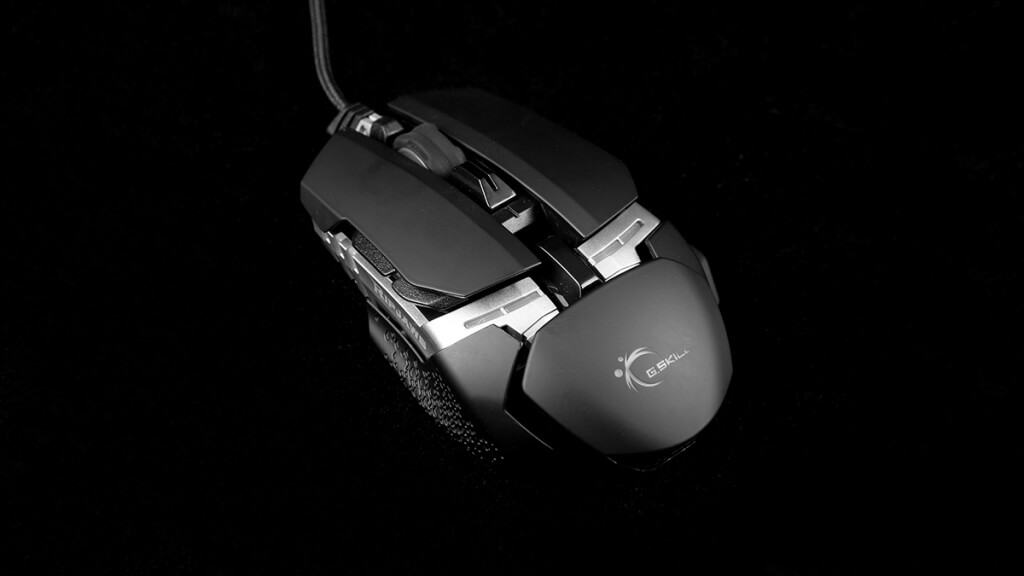 At the first glance of G.SKILL MX780, it reminds me of Mad Catz, a modular peripheral brand that I like very much before, but its product price is too high and I can't afford it.
G.SKILLMX780 gaming mouse adopts an ambidextrous design, the size is 130mm*70mm*38mm (the width will reach 93mm with 2 extra side grips).
G.SKILL MX780 mouse surface shell has a lot of empty spaces and gaps, which is convenient for long-term use of heat dissipation.
Palm Rest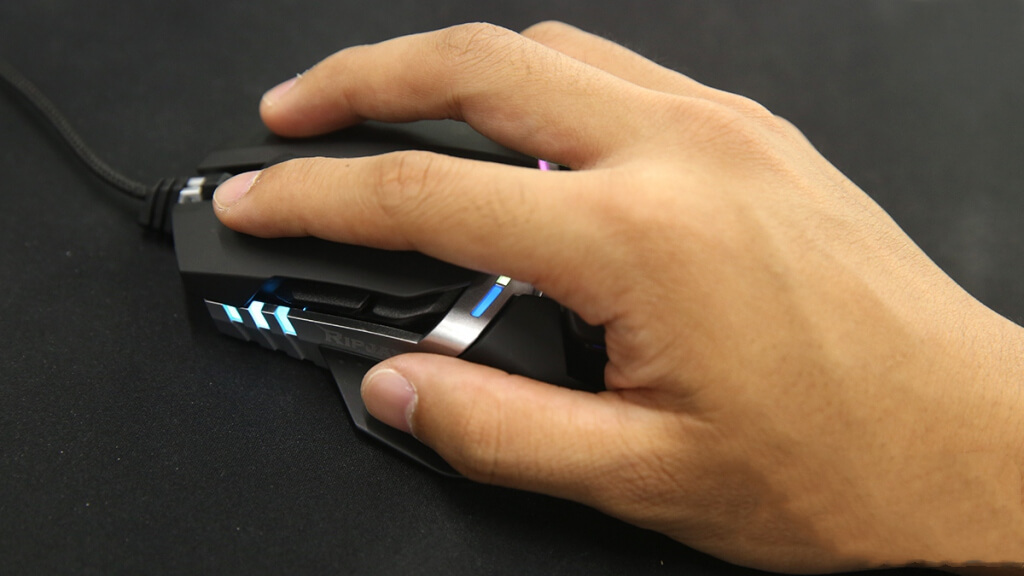 You can adjust the palm rest height with the tool to get a comfortable palm rest.
Click Buttons
The micro-switches of the left/right click buttons are Omron 7N (20M) with a life of 20 million click durability and low click latency.
Scroll Wheel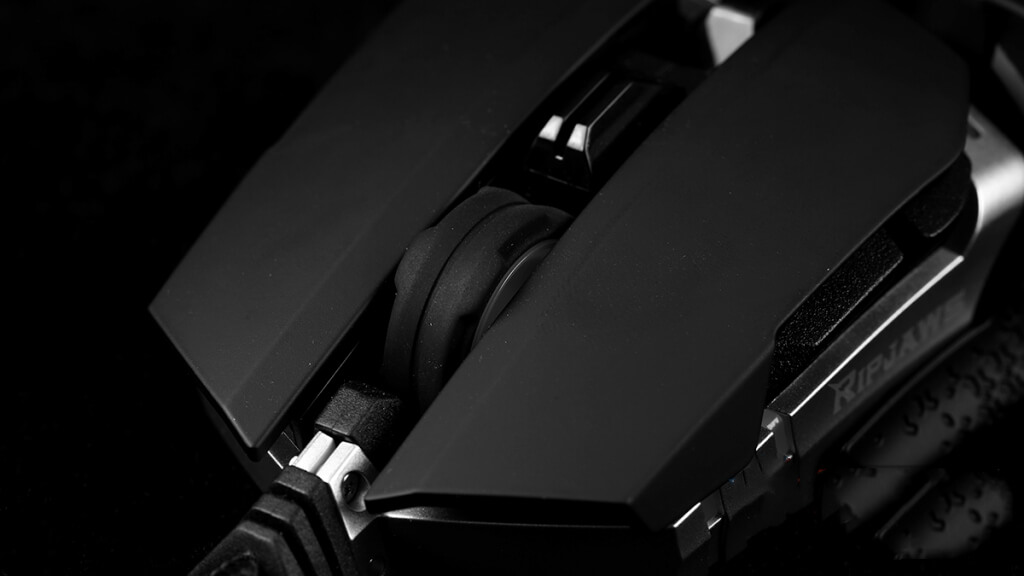 The ribbed scroll wheel improved the anti-slip ability. The sense of damping is slightly heavy, and the scale feels soft.
DPI Button
The DPI switch button is adjustable in 5 levels and can be set in the driver. The default DPI is 800/1600/2400/4800/8200, corresponding to five colors of white, red, green, blue and yellow.
But the DPI switch button is big size and light, easily pressed by accident.
Side Buttons
Each side has 2 side buttons, it is easy to accidentally touch the left 2 side buttons for large palm users.
Extra Side Grips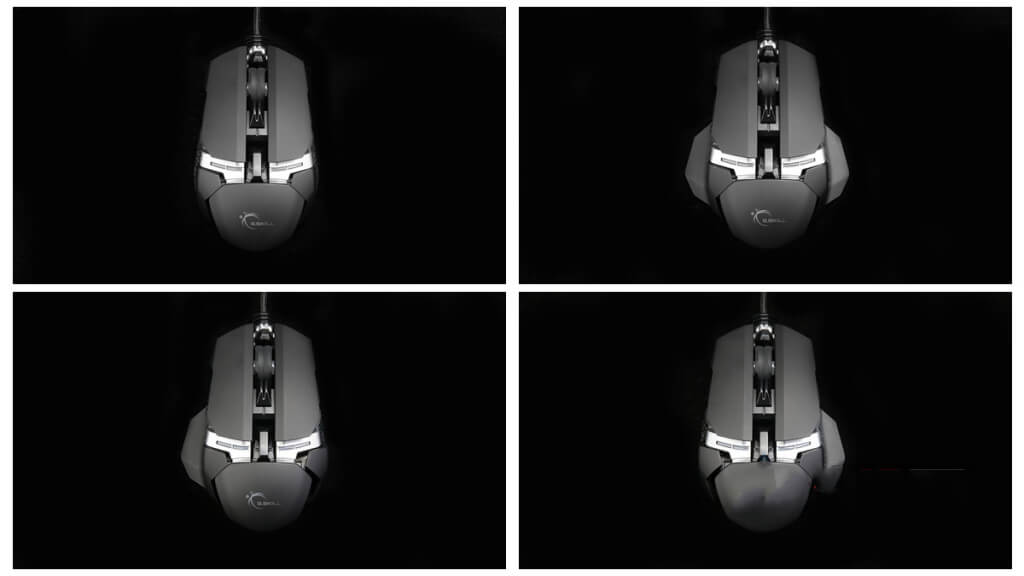 Interchangeable side grips are skin-like material, there are many grooves on the surface to increase the anti-skid effect.
Extra side grips are fixed with strong magnets so that they are very firmly attached. There are 4 combinations that can increase adaptability for both left or right-handed users.
Bottom
In the middle of the bottom is the Avago A9800 laser sensor, capable of up to 8,200dpi and 1,000Hz polling rate.
Adjustable Weights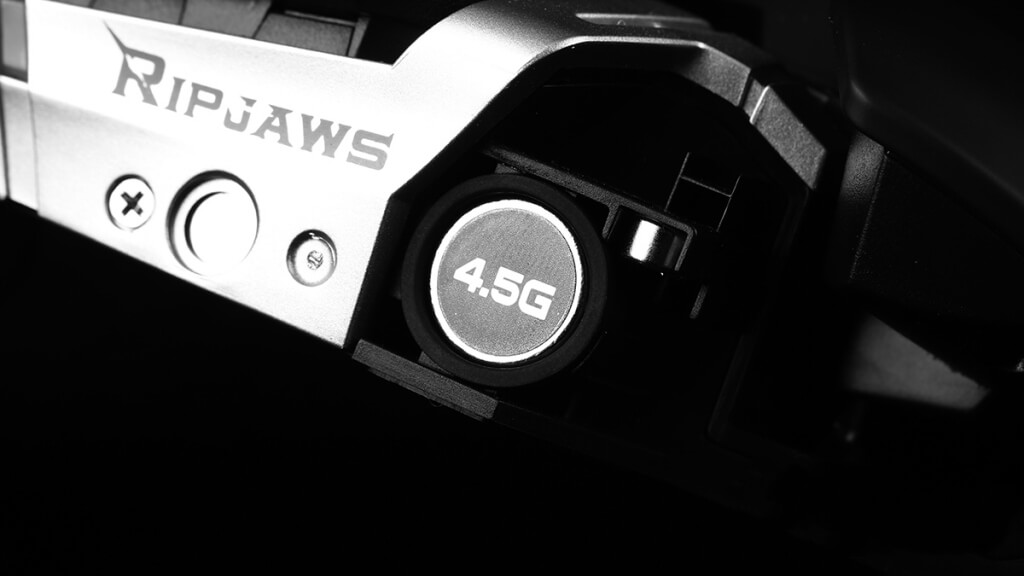 If necessary, 2 additional 4.5g weights are used to optimize the mouse balance.
Cable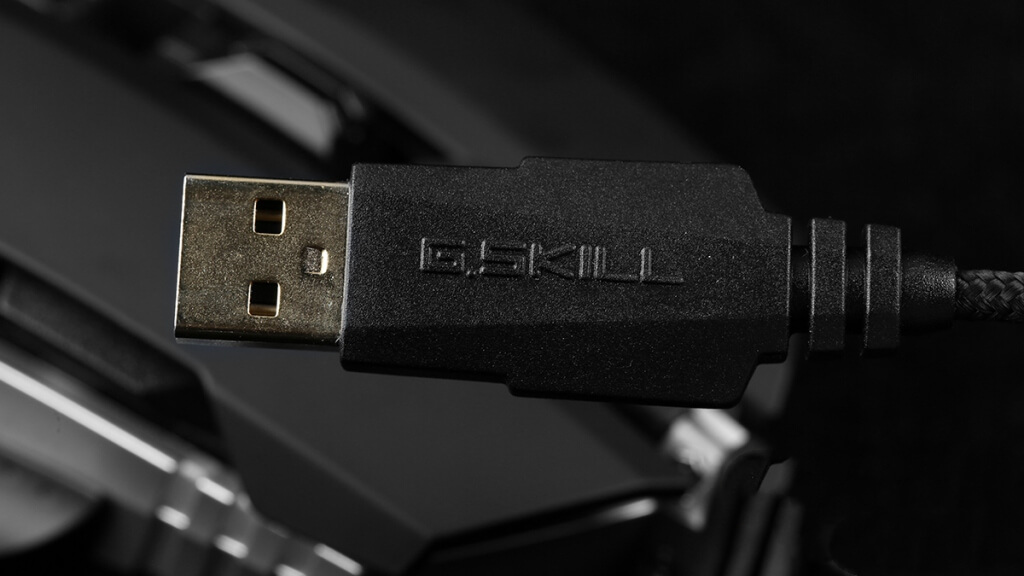 1.8m nylon braided USB cable, cable head is gold-plated.
Lighting

G.SKILL MX780 is supported by MSI Mystic Light Sync and GIGABYTE RGB Fusion software. You can customize RGB backlighting across 4 lighting zones in a full range of 16.8 million colors.
Gaming Experience
I choose "CS: GO" to test G.SKILL MX780's gaming experience.
After the game experience, I found that the G.SKILL MX780's gravity center is relatively forward without the additional weights, and it won't be stable and accurate when moving.
After adding 2 additional weights, the MX780 mouse became more stable. When playing this FPS games, the mouse pointer positioning will be more precise. However, it is worth noting that for people with large palms, it is easy to accidentally touch the left 2 side buttons.
Pros & Cons
Pros
8 programmable buttons
High level of customization
4 zones RGB lighting with 7 LEDs
Adjustable RGB LEDs
Adjustable weight
8,200 DPI laser sensor
5 On-Board profile storage
Cons
DPI switch is easily pressed by accident
Not suitable for smaller hands
Difficult learning software
In Summary
G.SKILL Ripjaws MX780 is honestly a great gaming mouse overall: great build quality, high level of customization, smooth operation, amazing fit and comfortable to use.
If you have a limited budget and interested in a modular designed gaming mouse, then the G.SKILL MX780 must be the best choice.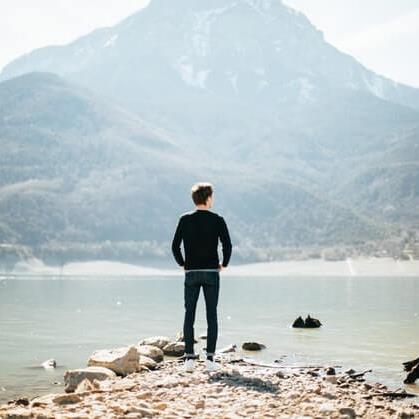 Hi, I'm Rebecca Hampton, I do in-depth reviews of the gaming mouse. I love to disassemble the gaming mouse and dig deeper into them.
Come with me on my journey to find the best gaming mouse!
Check out some of my content and subscribe if you enjoy them.
Thank you for all the support and I truly appreciate you stopping by.