In this article, we want to show you that you don't need to pay a high price for a good gaming headset. We've picked 5 best gaming headsets under $100. They all have excellent wearing, sound, and gaming experience. Hope one of the gaming headsets under $100 below will likely work for your needs.
1. Steelseries Arctis 3
Although it is positioned as an entry-level gaming headset, Steelseries Arctis 3 has the same core specifications as Arctis 5 and Arctis 7: 40mm S1 S1 audio drivers and ClearCast MIC.
Although compared with Arctis 5 and Arctis 7 that use DTS Headphone:X 7.1 technology, Arctis 3 that uses virtual 7.1 surround sound still has some decline in surround sound effects, but it's still able to accurately sound localization.
Therefore, if you have a small budget and choose Arctis 3, you can still get very good game experience.
In addition, the Arctis 3 headset also perfectly supports mainstream gaming platforms such as ps4, Xbox One, and mobile phones.
Pros
Low Poly Design Style
Multi-platform Compatible
Comfortable to Wear
ClearCast MIC
40mm S1 Speaker Unit
Suitable for Female Players
Cons
Headset May Fall When Looking Down
White Models Need Regular Cleaning
No RGB Lights
Need to Install Driver for 7.1 Surround Sound
---
2. SteelSeries Siberia 200
As an upgraded version of the SteelSeries Siberia V2 headset, Siberia 200 has almost perfectly inherited all the advantages of Siberia V2. It has excellent overall workmanship, excellent game performance, and comfortable wearing experience.
The 50mm audio drivers ensure you have a good treble, midrange, bass experience, whether you're playing games, listening to music, or watching movies.
Earmuffs noise reduction foam can reduce outside noise and help you focus more on the game.
The controller on the cable can facilitate players to manually adjust the volume or the microphone.
A suspended head beam makes the headset more lightweight and adaptive to various head shapes.
Pros
Reasonable Price
7 Colors Available
Retractable MIC
Comfortable to Wear
Accurate Sound Localization
Wide Frequency Response Range
Cons
Too Few Accessories
Ear Cups Rotation Angle is Too Small and Not Removable
Low Frequencies Not Deep Enough
---
3. HyperX Cloud Stinger
HyperX Cloud Stinger is Kingston's most cost-effective gaming headset. In addition to being used for games, it is also very suitable for listening to music and watch movies.
HyperX Cloud Stinger adopts a lightweight, sturdy, and reliable structure design with a simple and smooth appearance. The overall weight is only 275 grams. With an adjustable steel head beam, it can keep users comfortable in use and will not feel heavy after a long wearing time. The only shortcoming is that the Cloud Stinger gaming headset is not friendly to glasses wearers.
HyperX Cloud Stinger is also good enough in gaming performance. The 50mm audio drivers can ensure clearer sound and precise sound localization, helping gamers seize the opportunity in games.
Pros
Lightweight (Overall Weight 290g)
Comfortable to Wear
Accurate Sound Localization
Tri-band Equalization
Cons
Can't Separate Microphone & Wire
Not Convenient to Store &Carry
No LED Lights
Jack Broken Problems
---
4. Razer Electra V2
Razer Electra V2 equipped with 40mm audio drivers and supports virtual 7.1 surround sound. It has an excellent bass effect, accurate sound localization, and can configure surround sound settings through software.
In terms of appearance design, Razer abandoned the engineering plastic structure and adopted an integrated aluminum frame + suspension head beam design, making the Razer Electra V2 gaming headset weighs only 294g.
The leather-like earmuffs, together with the adaptively adjustable suspension padded head beam, provide a good wearing experience. It also has an excellent sound insulation effect, avoiding the interference of external noise during the game.
Pros
Reasonable Price
Comfortable
7.1 Virtual Surround Sound
Detachable Mic
Multi-platform Compatibility
Cons
Non-braided Cable
Less than Average Bass
---
5. CORSAIR HS50
The CORSAIR HS50 stereo reverb is very powerful, the sound localization function is accurate, the microphone is detachable, and the input and output sounds are very clear.
Different from the CORSAIR VOID series gaming headsets' design, the CORSAIR HS50 stereo gaming headset uses simple oval leather earmuffs, filled with velvet memory foam, and can be adjusted to a certain angle, bringing users a comfortable wearing experience.
CORSAIR HS50 equipped with tuned 50mm neodymium audio drivers and a detachable DISCORD certified microphone, which ensures gamers to easily communicate with teammates in the game.
The HS50 stereo gaming headset has multi-platform compatibility and uses a standard 3.5mm interface. It can be used on PC, Xbox One, PS4, Nintendo Switch, and various mobile devices.
Pros
Premium build quality
Lightweight
Discord-certified MIC
Multi-platform compatible
Great for the price
Cons
Non-removable ear pads
Not ideal for large heads
Mediocre bass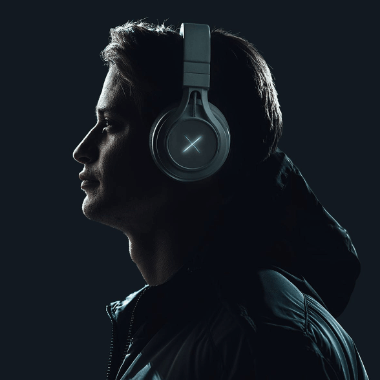 Hi, my name is Daniel, I'm a passionate gamer for over 5 years. Having used various gaming products myself, I will help other gamers benefit from the blog's recommendations of gaming headsets.