A laptop can overheat in a matter of minutes if you're running intensive applications like video rendering or gaming. This could lead to some problems from slow performance to permanent damage to your laptop. Fortunately today a lot of laptop cooling pads are available on the market that can help you eliminate this overheating problem.
How Laptop Coolers Work
Laptop coolers work by increasing airflow to the important components of your gaming laptop. Most of these cooling devices come with powerful fans that will constantly supply cool air to your laptop, making it remain cool while you're using it. Ensuring your laptop remains cool will guarantee its optimum performance.
How to Choose the Best Cooling Pads
Laptop coolers come in various designs, in order to choose the right one you have to consider your needs. Whether you are a mobile user or mostly use your laptop in a typical workstation could determine the appropriate type of laptop cooler design for you. Some laptop cooling pads are designed to be easily carried, while others are quite large with more focus on functions.
The most important thing you should consider when choosing a laptop cooler is the amount of air it's able to circulate. No matter what kind of design that suits you the most, you have to make sure that it's capable of providing optimum cooling for your gaming laptop.
Some other important considerations you should make include warranty, brand, and price. Make sure the cooler comes with a warranty, at least for 30 days. It's always a good idea to choose a cooler from a reputed brand, especially if you don't have a tight budget. Then also consider the price, compare the features of different coolers, and then compare their prices. There's no point of paying more if you can get the same features from the cheaper ones.

Editors Recommend Laptop Coolers
1. Cooler Master SF-17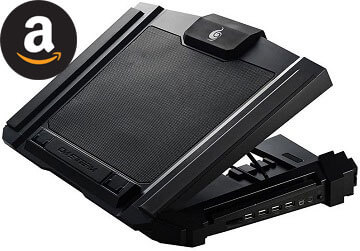 The Cooler Master SF-17 is the Gold Award-winning laptop cooler built with one 180mm fan. Even though it only comes with one fan, this laptop cooler can provide 70 CFM of airflow, which will quickly cool down your laptop.
This cooler has a chunky design that's not suitable for mobile users, but if you're usually working in a certain workstation, this should be perfect.
It has a fan speed adjustment dial as well as height adjustment. It also has four USB ports making it a great laptop cooler for gamers.
2. Thermaltake Massive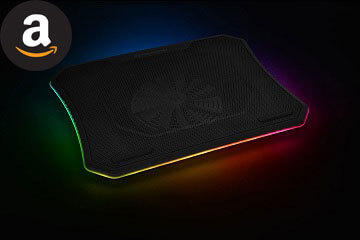 This Thermaltake Massive 20 RGB is a smart laptop cooler that has an automatic heat management feature with four temperature sensors. This feature will allow the fans to blow at the right moment.
The Thermaltake is the kind of laptop cooler that combines unique features with solid specs.
Just place the cooler underneath your laptop and set the maximum heat for the sensor to turn on the fan. When the maximum heat is reached, the fans will be turned on.
3. Gear Head CFS8800BLK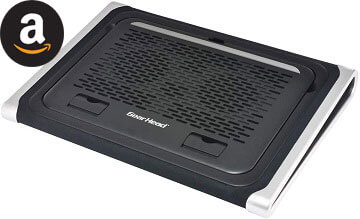 The Gear Head CFS8800BLK cooling wedge doesn't come with many features, but it has a very comfortable and versatile design with great cooling capabilities.
It provides 22 CFM of airflow, which is good enough to cool down any laptop that's running heavy tasks.
With a soft finish, it will feel comfortable sitting on your lap, additionally, it also comes with a height adjustment feature that makes it also perfect for desk use.
4. Havit HV-F2056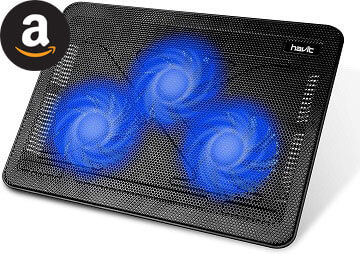 This Havit HV-F2056 laptop cooler is designed to be a portable and durable cooling device with high performance.
But mainly Havit HV-F2056 is designed to be highly portable, it does sacrifice a few fancy features to achieve this excellent portability, but if you want a reliable laptop cooler that you can use anywhere, this is certainly one of your best options.
With 3 powerful fans, this cooler can deliver up to 65 CFM of airflow.
5. Cooler Master NotePal X3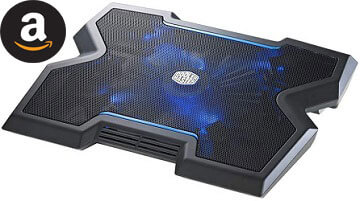 Cooler Master NotePal X3 comes with a futuristic design, but it's certainly not the only thing it has to offer.
It comes with a large 200mm fan that offers a huge cooling capacity of up to 76.5 CFM.
That's why a lot of gamers prefer to choose this product as it could maintain cool temperatures on their laptops no matter how heavy the games they're playing.
6. Targus Lap Chill Mat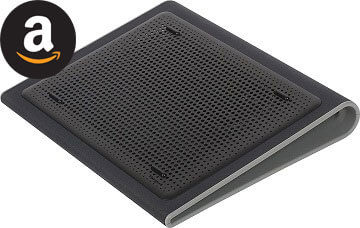 If you often use your laptop on soft or uneven places, like on your lap or in your bed, the Targus Lap Chill Mat is a very nice choice.
With a wedge design and soft neoprene covering, it's really comfortable to be used on your lap.
Versatility and comfort are the main features of this laptop cooler, while the cooling capacity is only a bit more than 20 CFM.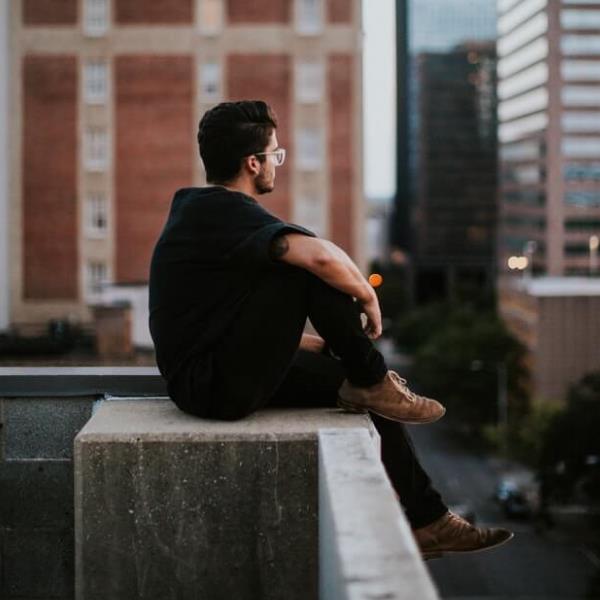 I'm Kelly Felix, I focus on laptops and desktop computers. I will talk about gaming laptops and PC hardware like Graphics Cards, Processors, RAMs, etc.
Hope my reviews can help you choose the perfect game peripherals that's right for you!