Did your old gaming headset stop working or is it the first time you are looking for one? Whatever your answer might be, I am here to give you a hand with choosing a gaming headset that will make your gaming hours comfortable. The question you have is probably in the lines of "which is the best gaming headset right now?" Below I will list some of the best in the market right now, so you will have some choices according to different requirements, such as for mobile, FPS, MOBA, and MMORPG. I will try to list headsets for all kinds of gamers – from hardcore to casual and for those who want the best money can buy or who just want a good experience without paying much.
Most Comfortable Gaming Headsets
1. Sennheiser Game One
Game One is Sennheiser's flagship gaming headset. Unlike other gaming headsets, it adopts an open-back design, and the back of its drive unit is exposed to the air instead of being wrapped in a shell. Velvet ear pads are very light and no worry about the chuck feeling.
It is worth mentioning that the open design makes the earmuffs ventilated, and the gamers will not feel stuffy for a long time gaming. This headset microphone has an active noise reduction function, strong noise reduction, and excellent speech clarity, but it is not suitable for recording voiceovers, or podcasts.
2. HyperX Cloud II
Kingston HyperX Cloud II has a cheek-fitting and glasses-friendly design, thick and soft earmuffs, and a moderately elastic head beam, which makes the headset more comfortable to wear. Even in the face of high-intensity competitions and high-duration training, HyperX Cloud II will not cause discomfort to players. The ear pads can be freely replaced with artificial leather and velvet materials, and the middle is sandwiched with memory foam.
3. Logitech G PRO X
The earmuffs of the Logitech G Pro X gaming headset are quite generous. The memory foam artificial leather is not only comfortable to the touch but also more breathable. The uppercase "L" and "R" on the two ear pads are also convenient for players to distinguish the direction in which the headset is worn.
4. Beyerdynamic MMX 300 (2nd Generation)
The gooseneck design microphone can be disassembled freely, the position of the MIC and the mouth is moderate, and the voice transmission is clear.
5. Logitech G933
The Logitech G933 wireless gaming headset is designed with a sense of technology and coolness. It's slightly heavier to wear than Logitech G633, but thanks to the wide, large, and deep sponge earphone covers, gamers won't feel the obvious chuck feeling when wearing them for a long time.
6. CORSAIR Void PRO RGB
The CORSAIR Void PRO RGB wireless headset's earmuffs are made of the same memory foam material as the headband, but their touch is slightly harder than that of the headband. The surface and interior of the earmuffs are made of mesh cloth with good air permeability, which can ensure that players will not feel oppressed and stuffy during long-term gaming.
7. Logitech  G633
Thanks to the mesh design of the Logitech G633 earmuffs, the ears will not be stuffy and sweaty after wearing for a long time, and they will not be uncomfortable to wear. But there is a shortcoming when turning or turning the head, the ear pads seem not very friendly to users with glasses, because the relatively hard material of the ear pads will rub against the frame and make a squeaky sound.
8. Sennheiser GSP 300
It is made of a plastic shell with black matte spray paint, which is light in weight, but it has a slight chuck feeling when worn, and the comfort is average.
Best Gaming Headset for Mobile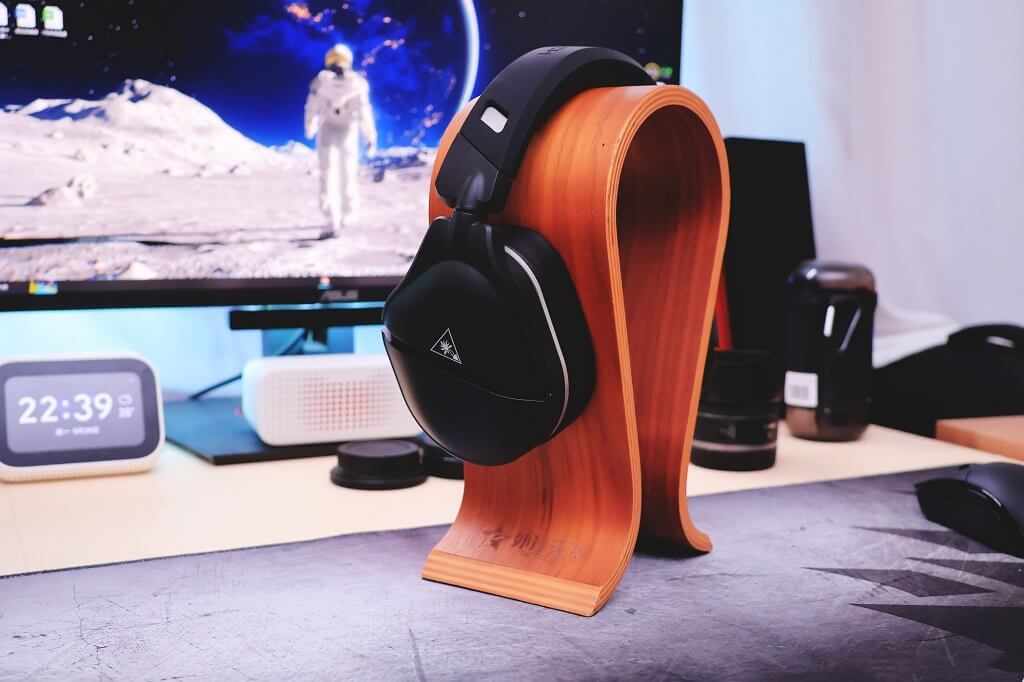 Due to the fact that most mobile phones do not have physical buttons and joysticks, the gaming experience is greatly reduced. In order to improve this problem, various mobile game peripherals have emerged as the times require, such as game phones, mobile game controllers, and mobile game headsets.
Now, I will recommend several cost-effective brand gaming headsets. Within a limited budget, help you choose the most suitable gaming headset for mobile.
1. HyperX Cloud Flight
HyperX Cloud Flight is a wireless gaming headset that uses a transmission frequency of 2.4GHz, with a strong penetrating ability and good comfort. The headset is not bound by cables, bringing greater freedom and convenience to the gaming experience. It is said that the headset is also equipped with the longest battery on the market.
2. Razer ManO'War 7.1
This Razer ManO'War 7.1 headset has very good interface compatibility, and the included USB adapter sound card can realize virtual surround 7.1 sound effects, and three-band equalization of the medium, high and low. The nylon braided wire is also very soft, with excellent remote control and noise reduction effects. It can be said that it is a headset with the best overall performance of Razer at present!
3. 1MORE Spearhead VRX
This 1MORE Spearhead VRX gaming headset has head tracking, graphene diaphragm, LED full-color gamut lighting, and microphone noise reduction functions that most gaming headsets on the market cannot take into account. For now, 1MORE Spearhead VRX undoubtedly leads the future of gaming headsets.
4. SteelSeries Siberia 200
Siberia 200 is the most classic headphone series of SteelSeries. It adopts 50mm drive units and the sensitivity is as high as 10-28000Hz. The earmuffs are made of protein leather, filled with noise-reducing foam, and have a suspended head beam design. Although the earphones are heavy overall, they feel slightly lighter after wearing, which is a good performance at this price.
Best FPS Gaming Headsets
Securing the dub in an FPS game requires accurate sound localization and effective communication among teammates. That being said, you don't want to be that kid in the lobby whose microphone sounds like it was run through a wood chipper a couple of dozen times. If you can relate to the kid in the lobby that's constantly getting muted by his teammates, then it's probably time to consider upgrading your headset to a 7.1 surround sound headset. Splurge a little bit this season by treating yourself to one of the best FPS gaming headsets that 2023 has to offer:
Best MOBA Gaming Headsets
MOBA (Multiplayer Online Battle Arena) games are multiplayer online battle games for a long time. They usually require players to have good sound transmission and communication. So here are some factors you need to consider when choosing a headset for MOBA games:
Sound quality: MOBA games require players to be able to hear their surroundings clearly.
Microphone: MOBA games require players to be able to communicate clearly with other players.
Comfort: Since MOBA games often require players to wear the headset for long periods of time, the headset should be comfortable enough not to cause ear fatigue.
Connection method: MOBA games may require players to use different devices to play games, so the connection method of the headset should be compatible with multiple devices.
Best MMORPG Gaming Headsets
Because MMORPG games are mainly based on scenes, their background music is usually epic level, so it is very suitable for gamers to use headsets with multiple drive units. Especially MMORPG games last for a long time, so comfort is also very important.