Gaming headsets can make a real difference to your gaming experience. However, when you aren't using them, it is necessary to keep them in a proper place. Rather than going for any makeshift solutions, it is a good idea to buy a gaming headset stand.
Such stands can help you hold the gaming headset properly and charge the headset in most cases. We have gone through numerous such gaming headset stands to pick the top 8 options.
1. KAFRI H10 Desk Gaming Headset Stand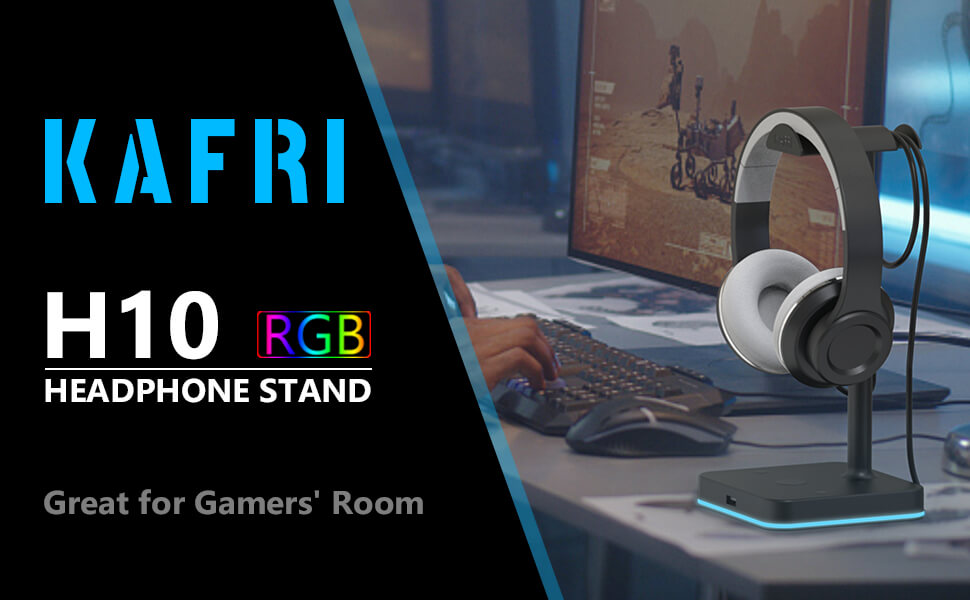 Storing your headphone is undoubtedly easy when you have this stand. It does not matter which brand headset you have. This one is compatible with all.
The nine-light effect modes on offer allow you to customize the lighting. Along with the stand, you get one USB 2.0 port. That way, charging devices is certainly easy.
With the help of a cable management system, you won't have to worry about cords either.
Apart from charging the devices with USB connectivity, you can connect the stand to your laptop or your computer and connect the accessories through that port.
The single control button makes it easy for you to control the lights as well.
With numerous such features available, you shouldn't ignore this gaming headset holder.
2. Gamenote RGB Headphone Stand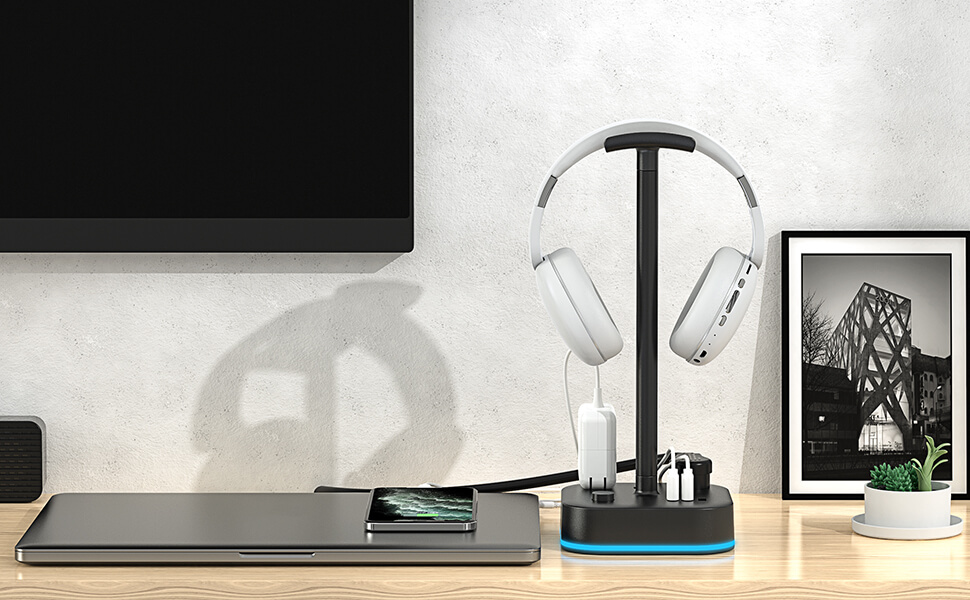 The stand which we are highlighting now has 2 in 1 functionality. It works as a power strip as well. It offers three different USB ports and three different sockets for charging various gadgets.
The touch control and the RGB lighting ensure that they can help you create the right kind of ambiance.
The casing is made of hardened plastic which ensures that it can hold any headset. Also, since it is compatible with any headset, you won't have to worry about the brand of the headset as such.
Thus, when looking for a versatile gaming headset hanger, you should go with this one.
3. COZOO Desktop Gaming Headset Stand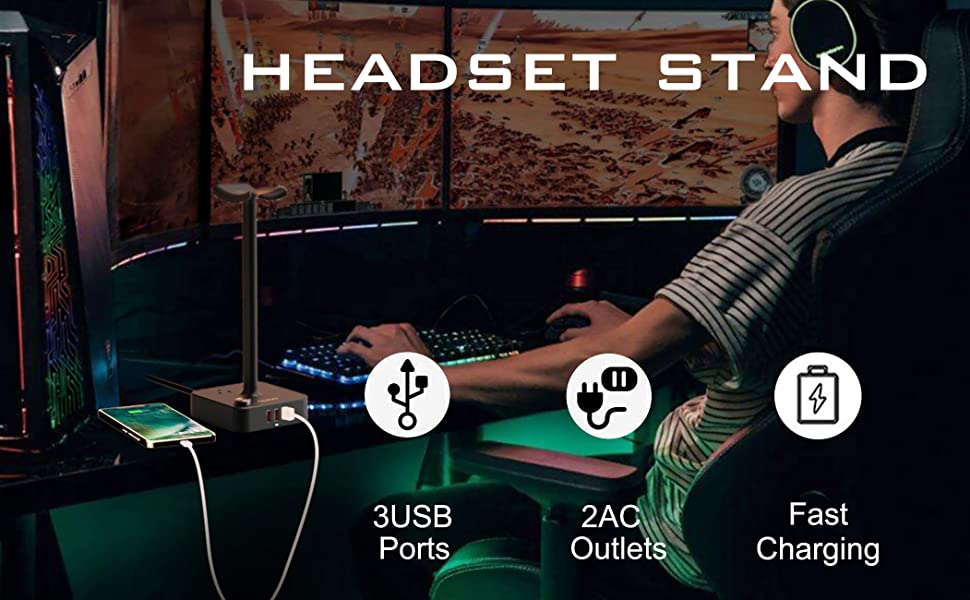 How about a stand with 3 USB ports and 2 outlets?
The one we are speaking about now is suitable not only for gaming headsets but also for music headsets.
The fire-resistant plastic construction means that durability is not going to be a problem.
You can easily connect the stand to your laptop or computer to provide all-around connectivity.
With features like overload protection, short-circuit protection, and so on, the devices you connect to the stand are well protected.
The numerous connectivity options of this stand certainly make it a reliable choice.
4. Havit RGB Gaming Headphone Stand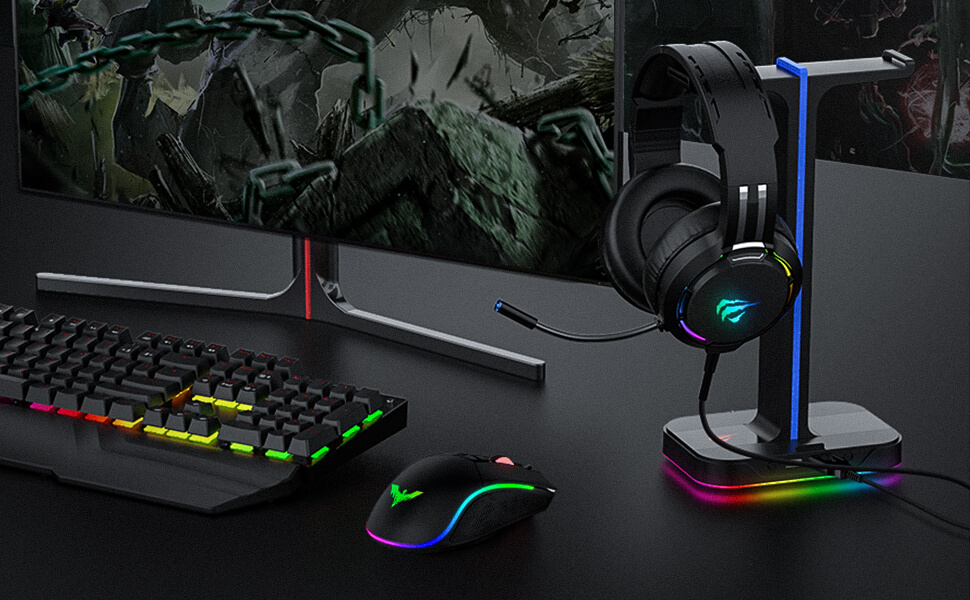 Are you looking for a stand that looks different?
If so, do consider this option. The dual headset stand we are speaking about now consists of two USB ports and even a phone holder.
With seven types of RGB lights, customizing the ambiance is undoubtedly easy.
The 10.6-inch height ensures that it offers excellent compatibility with any headset.
With so many features on offer, it is difficult to ignore this gaming headset hanger.
5. VOLISUN Headphone Stand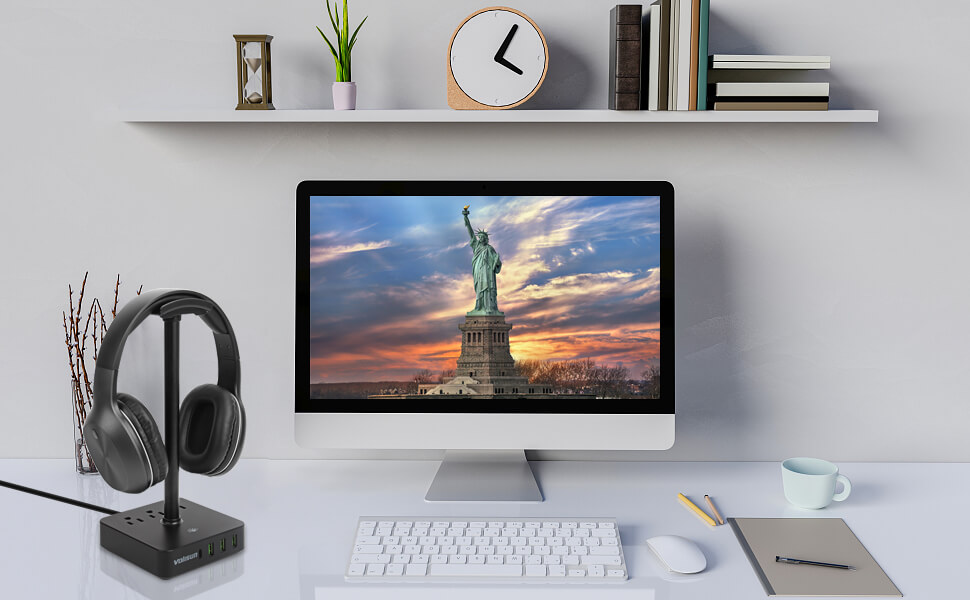 Once again, this headset stand consists of 3 USB ports and 3 AC outlets. Connecting it to your computer or laptop is certainly easy due to the same.
With safety features like short-circuit protection, all your devices connected to the stand are extremely safe.
The fireproof construction means that it is not risky to use this stand either.
It comes with a cord of 5.4 feet which you can directly connect to the AC socket to power the stand.
The anti-slip design ensures that it will remain in place.
Since it is compatible with every headset, you can easily use it as a headset holder.
The stand supports fast charging, which ensures that you can charge your smartphone pretty quickly. Additionally, you can use it for storing wireless earphones as well.
If you're looking for the best gaming headset hanger that can work as a connectivity hub as well, do consider this one.
6. Blade Hawks RGB Headphone Stand

With 2 USB ports and a 3.5 MM aux port, this headphone holder will not disappoint you.
The RGB lighting certainly helps you create the right ambiance.
The sleek double frame design means that it will last for a long time. The rubber base keeps it in place.
Couple that with compatibility for any headset, and you have a winner.
7. KAFRI H02 Desk Gaming Headset Stand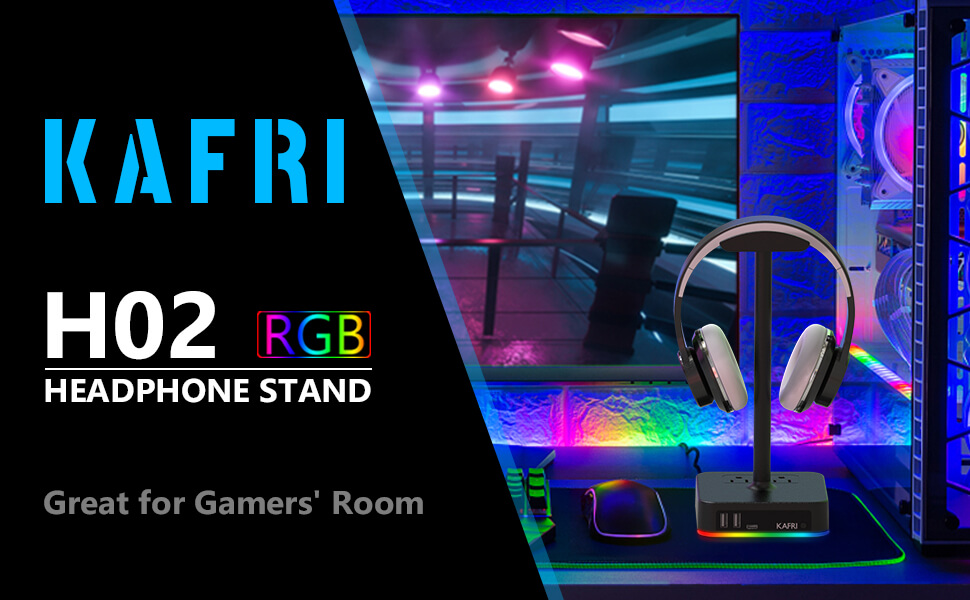 In total, this headphone stand consists of two AC outlets and 3 USB charging ports. It can work not only as a headphone stand but also as a connectivity point.
The RGB lightings help you create the right ambiance. It offers nine different lighting effects for the same.
The hardened plastic construction ensures that it is fireproof and also offers many different circuit protections. There is a 1.5 m detachable power cord on offer as well.
The numerous charging options which it provides you with make it much superior to many other options available.
8. LCGENS Wireless Charging Gaming Headset Stand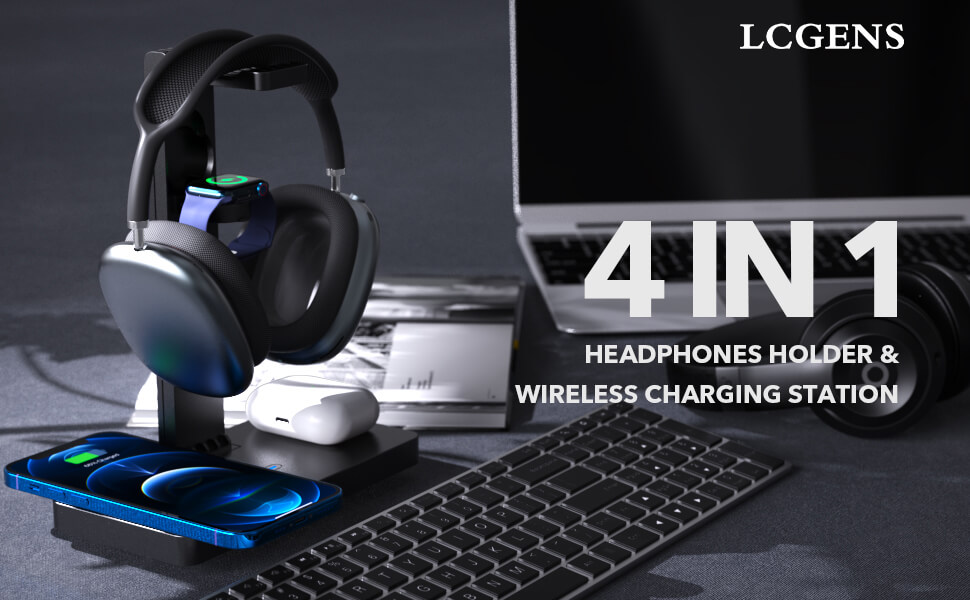 How about a headset hanger that has a wireless charging station as well?
With the stand, you get not only 2 type C USB ports and a wireless charging station. That is why charging your smartphone or wireless earbuds is certainly easy.
It has a smartwatch holder as well, which is another reason to go for it. It can also work with any headset, which ensures that storing any headset is easy.
You get various accessories like USB type C, two USB type A adapters, type C charging cable, one fast charging adapter, 4-in-1 Wireless Charger, and so on. To use all the features of this gaming headset, you get a detailed manual as well.
If you're looking for the best gaming headset holder that also offers wireless charging, this is one of the best options.
Conclusion
No need to go for any makeshift solutions to hold your gaming headsets. With any of these gaming headset stands, you can hold not only your gaming headset but also charge various devices at once. That is why it makes perfect sense to go with the stands the next time around you're looking for a gaming headset storage solution.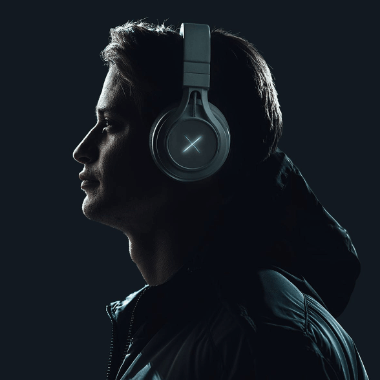 Hi, my name is Daniel, I'm a passionate gamer for over 5 years. Having used various gaming products myself, I will help other gamers benefit from the blog's recommendations of gaming headsets.