Gaming has a reputation for being a "boy's" realm, however, girls enjoy gaming just as much as their counterparts! Gaming is a great way to get lost in another world of adventure as well as socialize with others playing similar games! When it comes to gaming, having the proper accessories is truly the most exciting way to enjoy gaming to the fullest. This can include gaming keyboards, gaming mice, gaming consoles, etc., but most importantly, the gaming headset!
Gaming headsets are a way to feel fully immersed within a game and be a part of the on-screen action. They also allow gamers to communicate with other players during co-op play which is critical to certain games. Having a good headset is extremely important. While having a well-made gaming headset is important, it is also fun to have a headset that feels personalized and creative looking!
Girl's Gaming Headsets
Headsets are generally targeted to men or boys which can look bulky and plain to some girls. Finding a great headset tailored specifically for girls isn't hard and in fact, there are some really cool ones out there! Not only can girls be a part of their gaming action more exclusively but they can also do it in a fashionable and fun way! Below are some of the designs out there on the market specifically for girls' or women's gaming headsets!
1. Cat-Ears Gaming Headset
| | | |
| --- | --- | --- |
| | | |
| | | |
| | | |
| | | |
| | | THX 7.1 Spatial Surround Sound |
| | Omnidirectional & 360°Flexible | Active Noise Cancellation |
| | | |
| | | |
| | Xbox One, Nintendo Switch, PS4, PS5, Computer, Laptop, iPad, iPhone | PS4, PS5, Computer, Laptop |
| | | |
| | | |
| | | |
Some brands out there have cut cat-ear gaming headsets that come in pink or other colors. These cat-ear pink gaming headsets feature comfortable cushions for the ear, vibrant coloring, and cute cat-ears on the headband part of the headset. This stylish way to get into a game makes any girl or woman be a fierce cat gamer!
2. Colorful Wireless Gaming Headset
| | | |
| --- | --- | --- |
| | | |
| | | |
| | | |
| | | |
| | | |
| | | |
| | | |
| | | |
| | | |
| | Xbox One, Nintendo Switch, PS4, PS5, Computer, Laptop, iPad, iPhone | PS4, PS5, Computer, Laptop |
| | | |
| | | |
| | | |
Wireless headsets exist for men or boys, but typically are plain black with some accented colors. For women or girls, the wireless options can include more vivid and bright colors like pale pinks mixed with whites or even teal, light blues or purples, mixed with whites as well. These color options make wireless headsets simply more attractive for any girl or woman gamer!
3. Jewel-Studded Gaming Headset
There are headsets out there accessorized with bright, glittering jewels that are super stylish for women! These headsets generally come jewel-studded on the headband as well as the earpieces. This little bit of bling transforms traditional-looking gamer headsets into something any girl or woman gamer would enjoy!
Conclusion
These are just some of the gaming headset ideas out there for women or girls. Gaming headsets don't have to be boring and should reflect a little bit of personality behind them! From cat-ears to jewels, anything is possible! It is also possible for plain headsets to be upgraded to look more feminine as well!
Traditional headsets for men or boys can be transformed using fun pattern ribbons, glue-on bling, fun stickers or decals, etc. This is a great way to make regular gaming headsets more feminine! Either way, girly gaming headsets can be bought or transformed from regular headsets!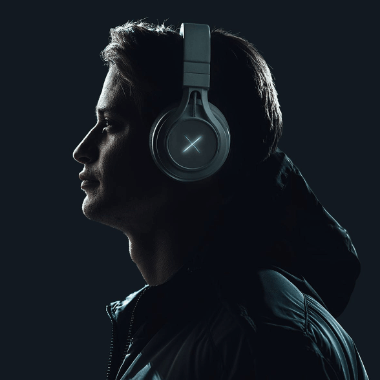 Hi, my name is Daniel, I'm a passionate gamer for over 5 years. Having used various gaming products myself, I will help other gamers benefit from the blog's recommendations of gaming headsets.