Like everyone, I prefer to play games to pass the time. Although the gaming peripheral is not the best, it can basically meet my needs. But as my son grew older, I had to turn off the sound so as not to disturb his sleep, and lost fun when there was no sound in the gaming.
Then I used a few headsets. After wearing them for a long time, not only the ears hurt, but also the headset wire is long, and they are often pressed by the chair, and I need to buy 3 or 4 headsets a year.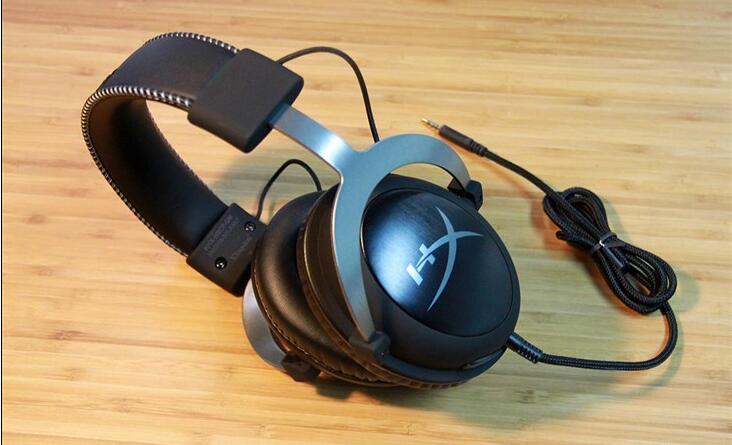 Later, the professional gaming headsets came into my mind, and finally, I chose HyperX Cloud II. Compared with the first generation, it upgraded the USB sound card and 7.1 surround sound. In addition, Cloud II has also been improved in other details, such as a digitally enhanced microphone, pure HI-FI 53mm driver unit, and Swedish design. Now, let's re-experience this classic HyperX Cloud II gaming headset.
Headphone Specifications

Transducer type
dynamic Ø 53mm with neodymium magnets
Operating principle
closed
Frequency response
15Hz–25,000 Hz
Nominal impedance
60 Ω per system
Nominal SPL
98±3dB
THD
< 2%
Sound coupling to the ear
circumaural
Ambient noise attenuation
approx. 20 dBa
Headband pressure
5N
Cable length and type
1m + 2m extension
Connection
Mini 3.5mm jack plug (4 pole)
Unboxing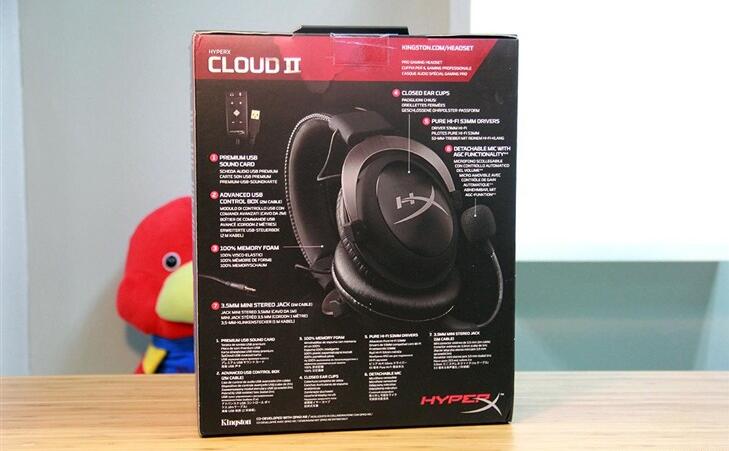 Like HyperX Cloud, the HyperX Cloud II is quite detailed on the package. The back of the packaging box is informational. The main functions of this headset have been listed in detail.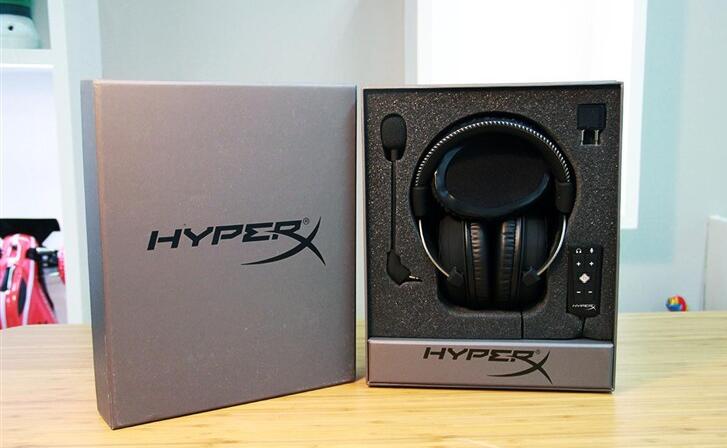 Open the outer packaging, showing a high-grade silver-gray carton with HyperX LOGO printed in the middle, and a letter from the general manager of HyperX to the player is printed in the lid.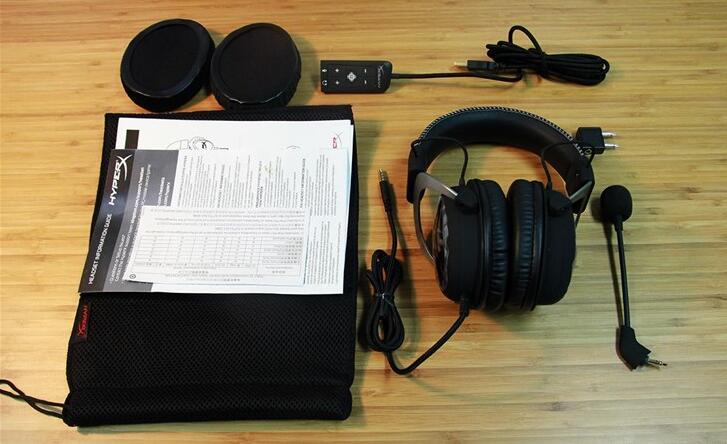 The package also includes many accessories, including a detachable microphone, a pair of suede ear pads, a USB 7.1 sound card, a 2-meter extension cable, an audio adapter, and double-layer nylon carrying case.
Details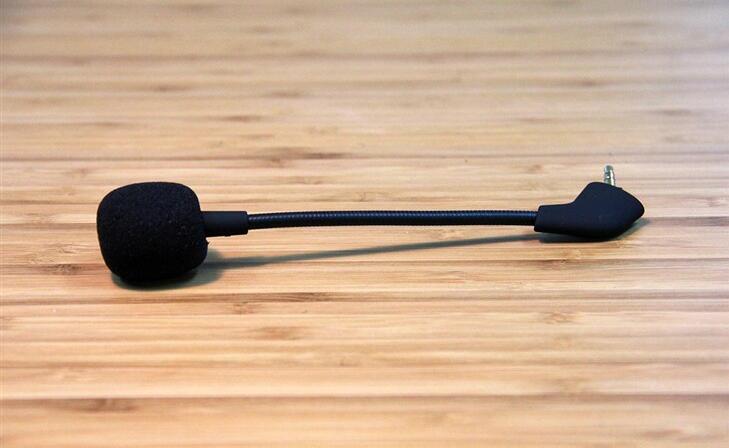 HyperX Cloud II microphone has a detachable design and the microphone's connecting rod can be adjusted at multiple angles.
Microphone Specifications

Transducer type
condenser (back electret)
Operating principle
pressure gradient
Polar pattern
cardioid
Nominal impedance
≤2.2 kΩ
Open circuit voltage
at f = 1 kHz: 20 mV / Pa
Frequency response
50–18,000 Hz
THD
2% at f = 1 kHz
Max. SPL
105dB SPL (THD≤1.0% at 1 KHz)
Microphone output
-39±3dB
Length mic boom
150mm (include gooseneck)
Capsule diameter
Ø6*5 mm
Connection
single mini stereo jack plug (3.5mm)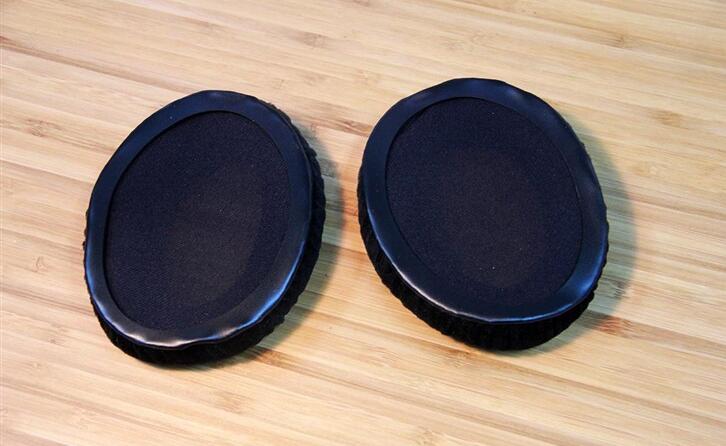 Kingston HyperX Cloud II ear pads are quite comfortable to wear. The soft leather can be worn in gaming for a long time without feeling a slight sense of pressure. The thin sponge also effectively prevents the intrusion of dust. The outer shell of the ear cups is made of engineering plastic and skin-like paint, and the skeleton part of the headset is also made of aluminum alloy.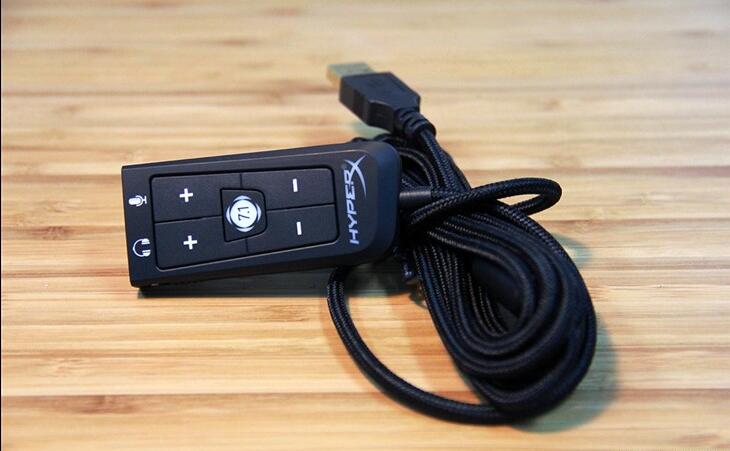 HyperX Cloud II upgraded the original wire controller to a USB 7.1 sound card. It can not only enhance your using experience. You can use this to control the volume of the sound and microphone. The HyperX designer also made a back clip to make the extension cable 2 meters long.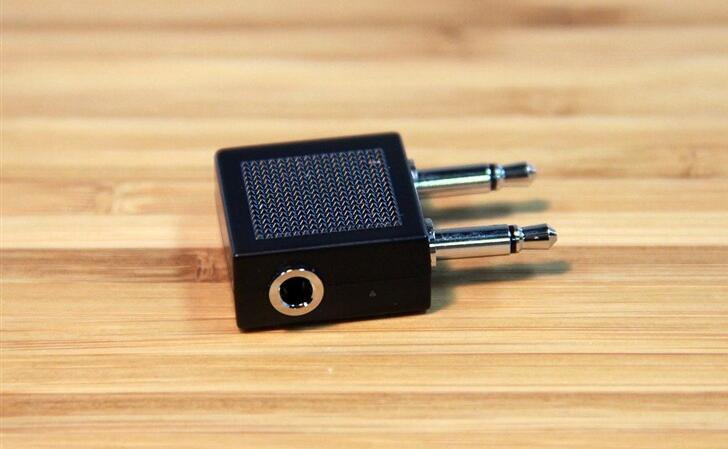 Audio adapter (it is said it can be used on airplanes) can be used for desktop computers. All interfaces are gold-plated to reduce impedance and ensure stability.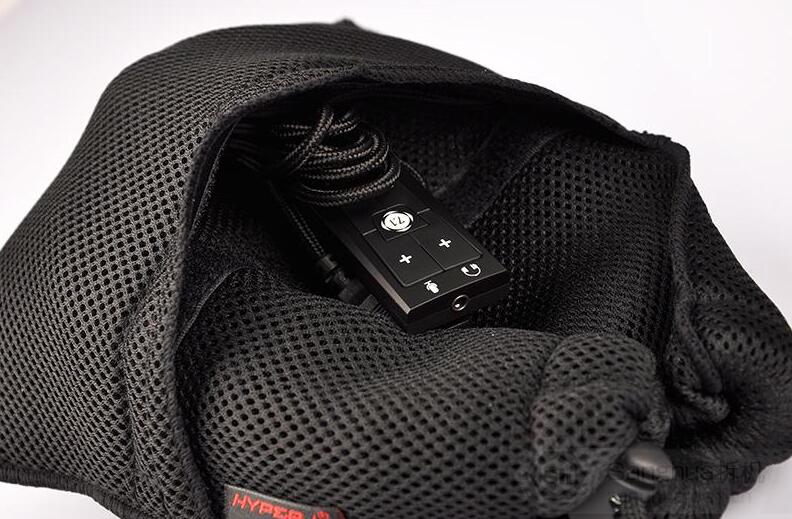 The storage bag has a multi-layer design that can be stowed away from dust when not used for a long time.
Experience
Wearing Experience
Kingston HyperX Cloud II has a cheek-fitting design, thick and soft pads, and a moderately elastic head beam, Even in the high-intensity and long-time gaming, it will not cause any discomfort to users.
Audio and Video Experience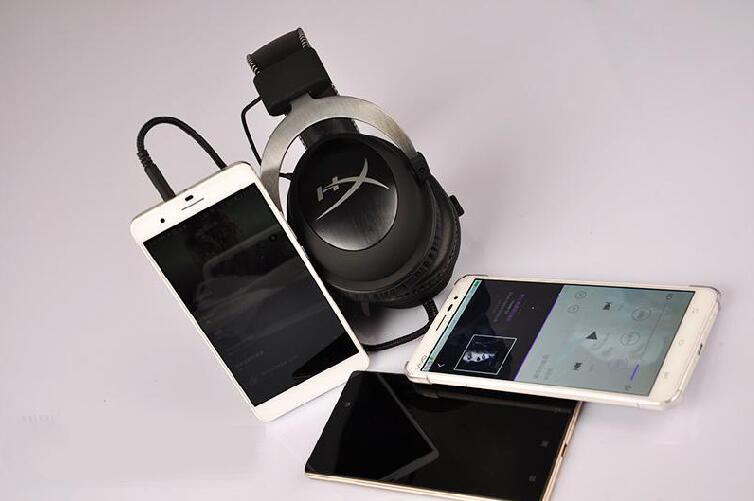 HyperX Cloud 2 uses a 53mm neodymium magnet unit moving coil, with a frequency response of 15Hz to 25000Hz and an SPL sound pressure level of 98 ± 3dB. It performs better on alto and treble, but it has a slightly lower bass dive. But After turning on the 7.1-channel speaker, the listening environment has obviously expanded a level and has a more three-dimensional sense.
I played the music California Hotel and paid special attention to the classic coughing sound at 1 minute 56 seconds. I found that the coughing sound was at 8 o'clock in the 2.1 mode, but 9 o'clock after opening 7.1. Users who prefer a larger sound field can choose the 2.1 mode, and for users who want to listen closer, you can turn on the 7.1 mode.
7.1 mode shows quite a big advantage when watching movies, It is an unparalleled enjoyment when you on 7.1 mode. Recently, I was watching the Agents of S.H.I.E.L.D., I can clearly felt that the ambient sound is rendered, background sound is more aggressive, the tension is more intense, and the punch sound is thicker. I can feel the recoil when shooting at minutes and 27 seconds.
Game Experience
Playing the RTS game StarCraft, the sound details are clearer, especially the sound of Terran erecting a tank, you can identify the location, and immediately send the aircraft to it. It is quite helpful for RTS games. In the process of calling teammates, the sound is quality clearer, less background noise, and the voice volume can automatically increase when the game sound increases.
Sound localization is also very important in shooting games. After using HyperX Cloud 2, the gun sound becomes more delicate, the sound of bullet exploration and footsteps can be heard clearly.
In racing games, you can clearly distinguish the roaring sound of car engines, the sound of wheels sliding on mud, and the sound of hydration and splashing when passing through a pond.
Pros and Cons
Pros
Lightweight 315g
30 Hours Battery
Rotatable Ear Cups
Detachable Microphone
Stable Wireless
Accurate Sound Localization
Cons
Too Strong Sound Insulation Effect
Too Low Microphone Sound
Not Sweat-resistant
No RGB Lights
Plastic Shell
In Summary
HyperX Cloud 2's overall weight just 315g. Its plastic & aluminum soft design does not cause pressure on the head. Soft sponge filling leather head beam and two kinds of earmuffs greatly increased the wearing comfort. In addition, the USB sound card supporting 7.1 channels, it can provide noise canceling, better sound localization. It is a good choice for game lovers.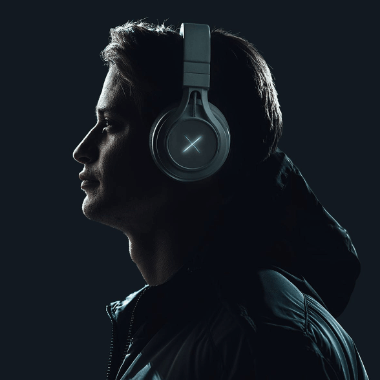 Hi, my name is Daniel, I'm a passionate gamer for over 5 years. Having used various gaming products myself, I will help other gamers benefit from the blog's recommendations of gaming headsets.