Nowadays, many game enthusiasts have a bottleneck in the pursuit of the configuration of the game console, so there are new goals on other gaming peripherals. To most game players, the most commonly touched are mice and keyboards, especially the most frequently heard is the sound from the headset. So the quality of the gaming headset directly affects the gaming experience.
For those who have ideas about high-quality wireless gaming headsets, Logitech G933 is a pretty good choice.
Packaging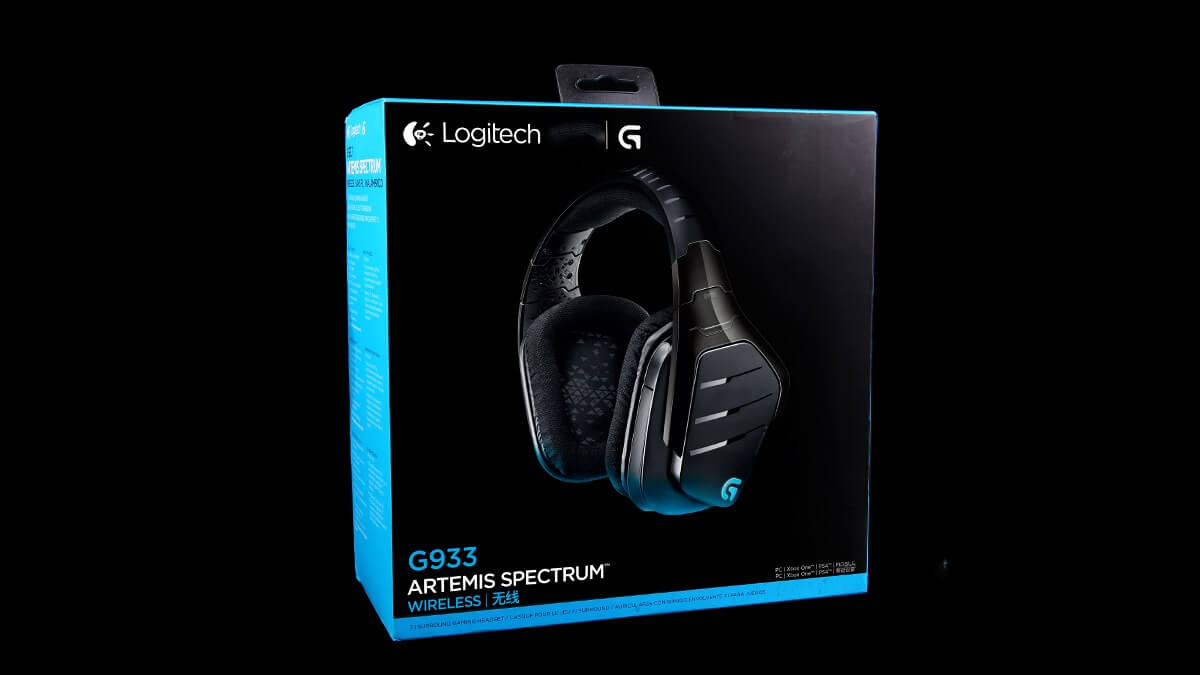 G933's packaging inherits Logitech's classic blue-black color scheme.
G933's main photo is in the middle of the front, and the compatible devices are displayed in the lower right corner: PC, Xbox One, PS4, Mobile.
The main features of G933 are printed on the back of the package:
Dolby 7.1 surround sound and DTS Headphone: X technology
2.4GHz wireless technology
RGB lighting, customizable G key, and sound effects
Specifications
Logitech G933 Physical Specifications

Height
172 mm
Width
81.7 mm
Depth
182 mm
Weight (no cables)
366 g
USB DAC
160 mm
PC Cable Length
2 m
Mobile Cable Length
1.5 m
Speaker Diameter
1.6 in (40 mm)
Frequency response
39 Ohms (passive), 5k Ohms (active)
Sensitivity
107dB SPL/mW
Amazon Rating
Check Price
Check Price
Unboxing
Unpack the box, G933 headset was placed in a plastic compartment. In order to increase stability, a transparent plastic shell was placed on it for protection.
Accessories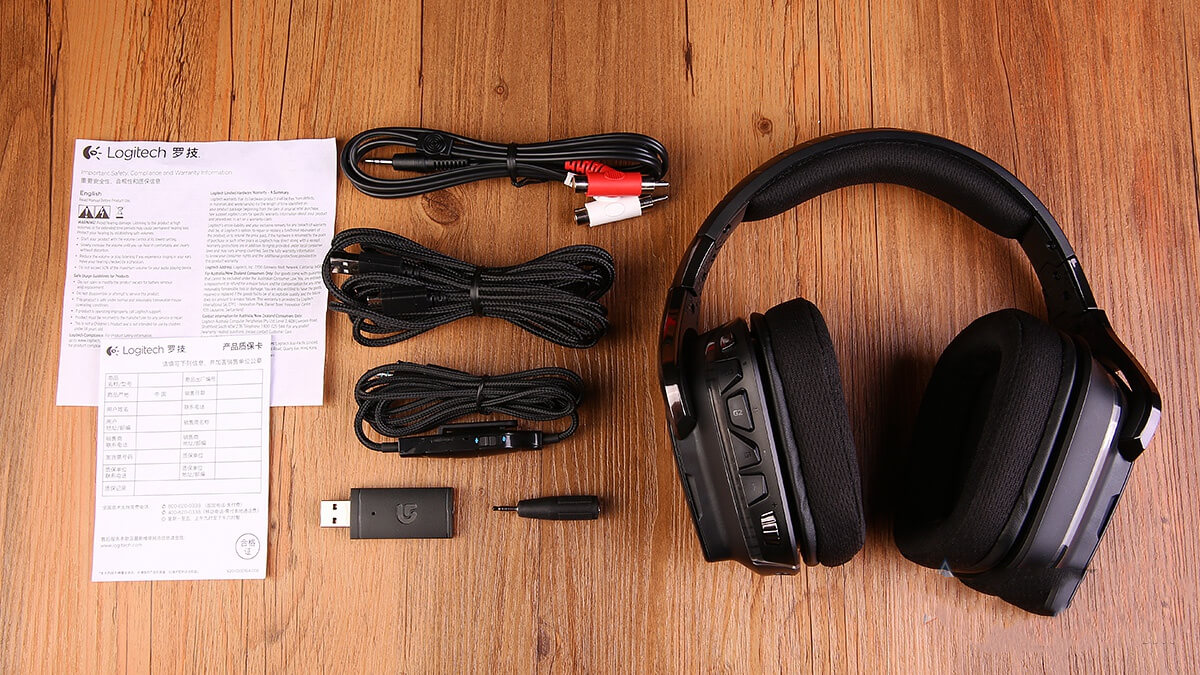 3.5 mm analog cable w/ audio controls
RCA to 3.5 mm cable
USB data/charging cable
USB powered wireless mix adapter
Custom tags (left/right)
User documentation
Through these accessories, G933 can be compatible with PC, Xbox One, PS4, Mobile.
Details
Head Beam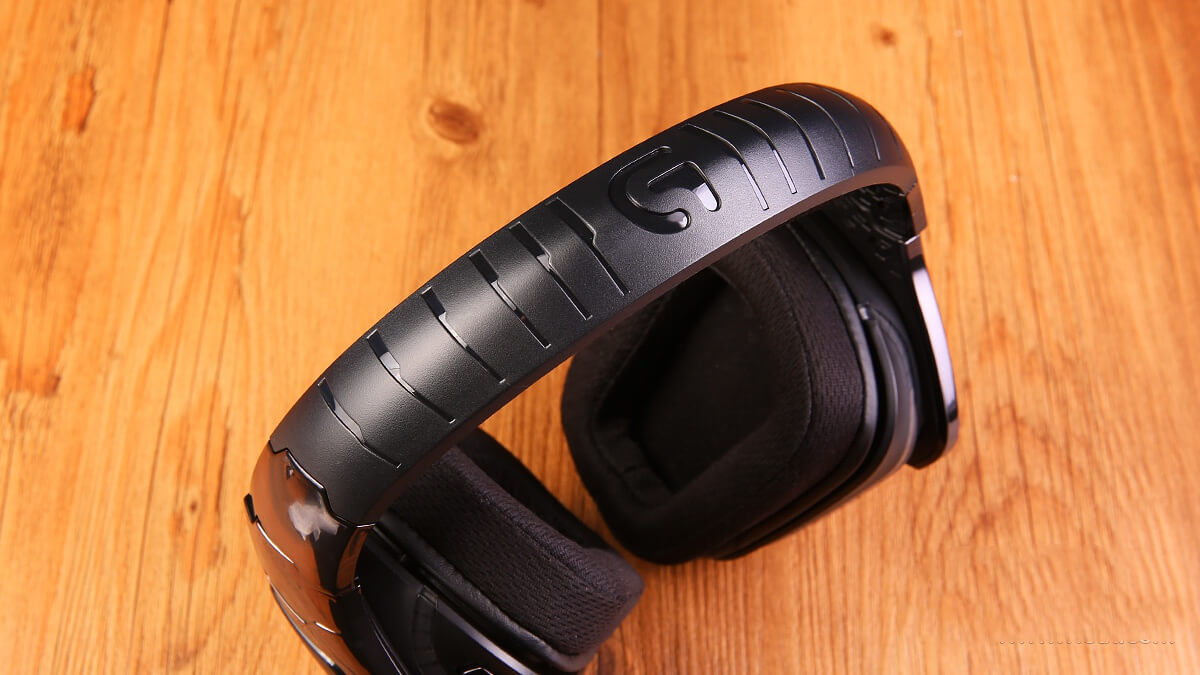 The top of the head beam has a pure black matte surface.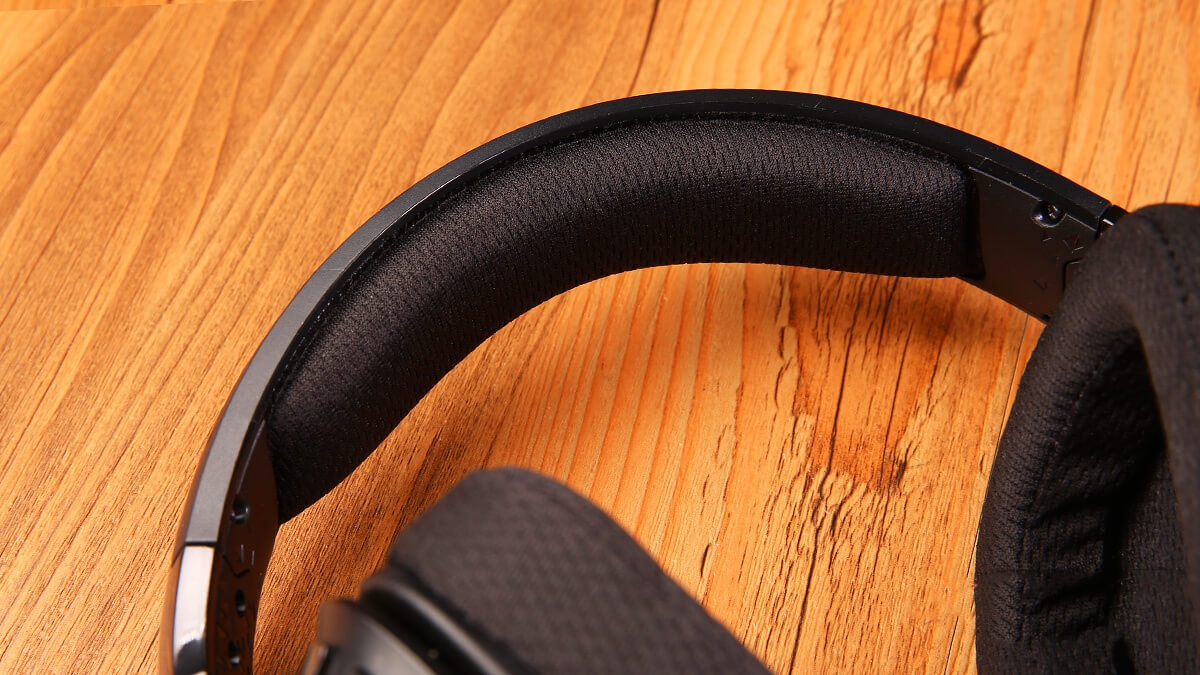 The inside of the head beam uses a new sports mesh material, filled with a soft sponge.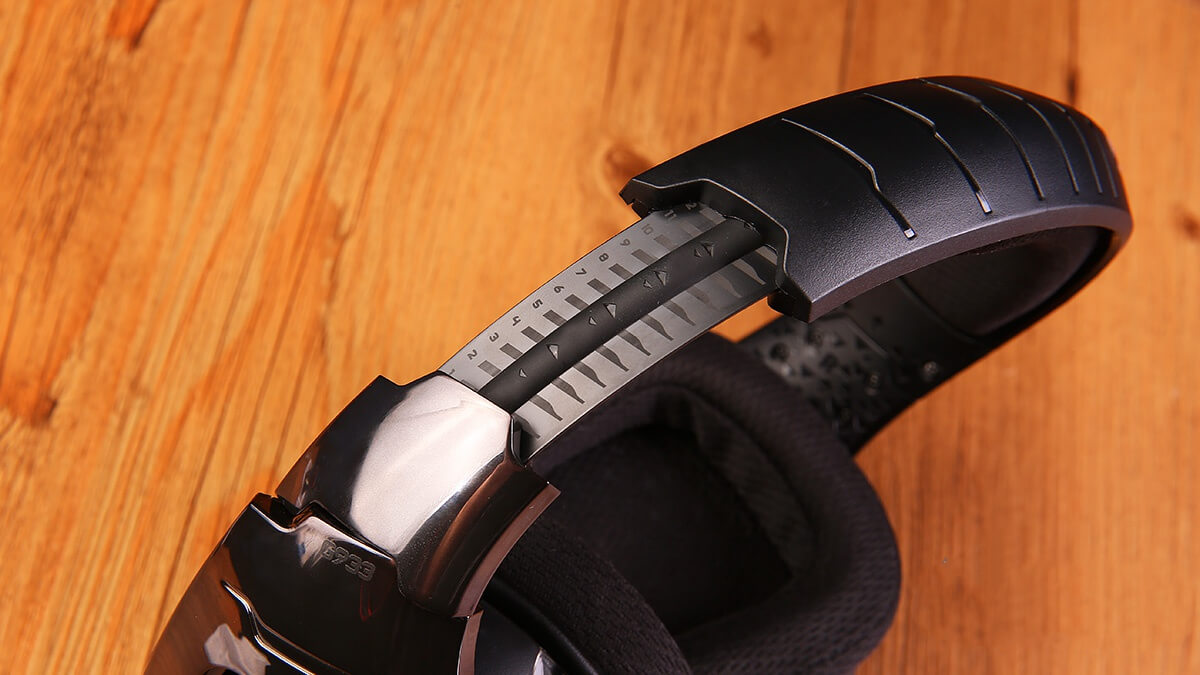 The telescopic rod has a scale mark of 1-12, supports a height of about 4.5 cm, and the damping is very good.
Microphone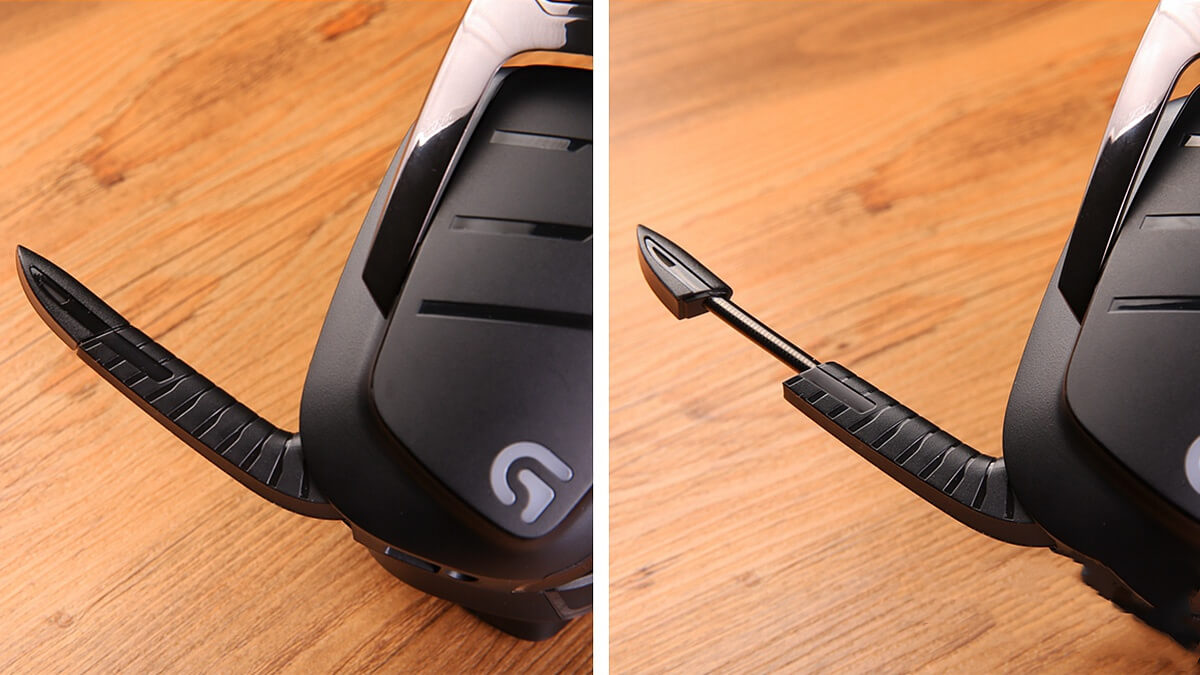 G933 has two microphone systems.
Microphone Specifications

Pickup pattern
Cardioid (Unidirectional)
Size
4 mm
Frequency response
100 Hz - 20 KHz
One set is a foldable noise reduction microphone. An adjustable boom mic is hidden in the left ear cup. Pull out to use it, and the wire of the microphone head can be bent freely. The boom has an indicator LED so you know when your microphone is on mute. When not in use, the boom mic can be folded back into the headphones making it nearly invisible. Since the microphone itself is fixed on the rail, there is not much adjustment.
The other set is a wire-controlled microphone, which can be used on the collar.
Ear Cups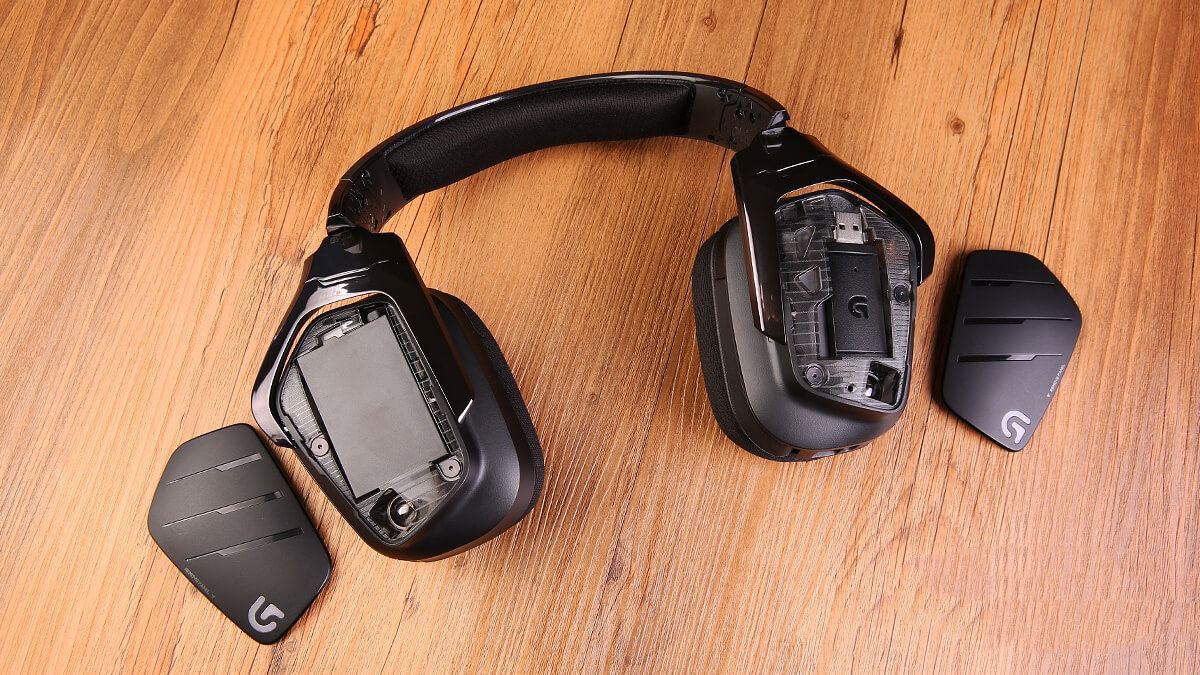 The ear cups can be rotated horizontally by 90 °, allowing users to adjust the position more easily. The telescopic rod in the vertical direction also has 4.5cm of adjustment space.
A USB-powered wireless mix adapter is placed inside the left ear cup.
A removable lithium battery with a voltage of 3.7V DC, 1100mAh / 4.07Wh is in the right ear cup.
Ear Pads
Compared with other brands gaming headsets, Logitech designed G933's earpads to be larger and deeper, it can wrap the auricle more completely without squeezing. Its large cavity shell actually reserves space for the adapter and battery.
And its ear pads are detachable design, easy to clean. The regrettable but unexpected disadvantage is that for users who wear glasses, Logitech G933's head beam is relatively tight and hard, so it will tightly press the glasses side frame.
Lighting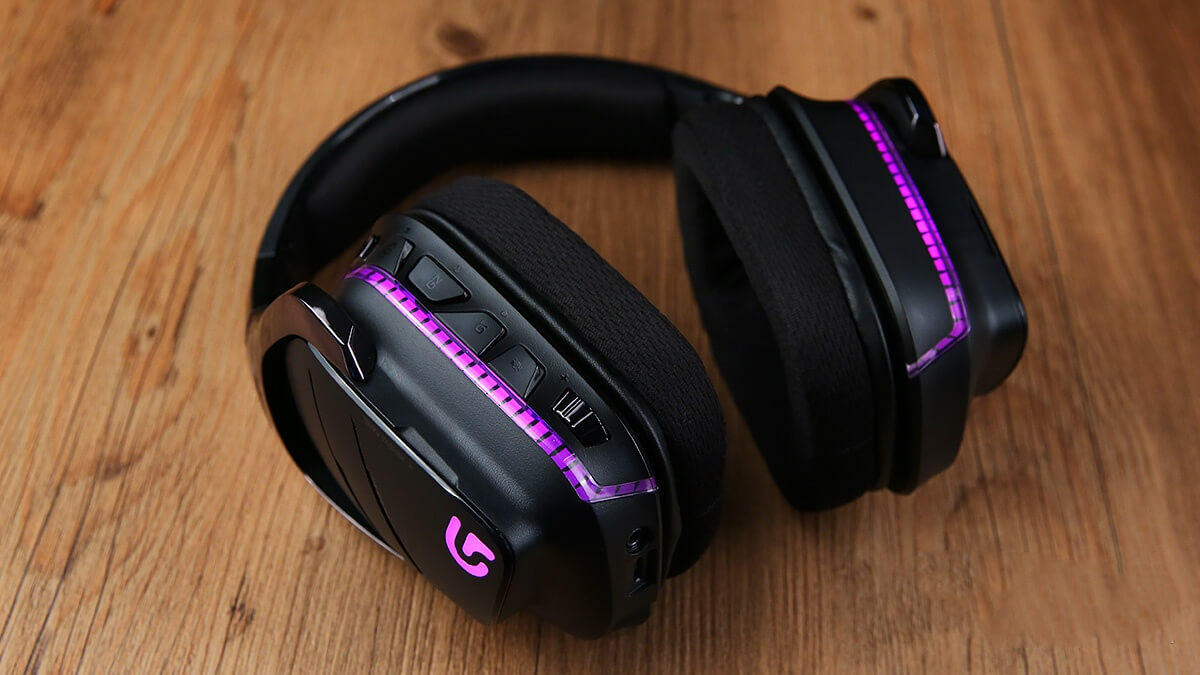 Logitech gaming headsets' lighting effects are more concise and natural than others. G933 has two customizable LIGHTSYNC lighting zones: The light strips and logos. Each zone can be programmed separately from approx. 16.8 million colors, or with different animations and effects. They can also be synchronized. Plus, LIGHTSYNC RGB technology reacts to in-game action, audio, or your screen's color. Use Logitech G HUB to personalize lighting to match your rig, your gear, and your style.
Interfaces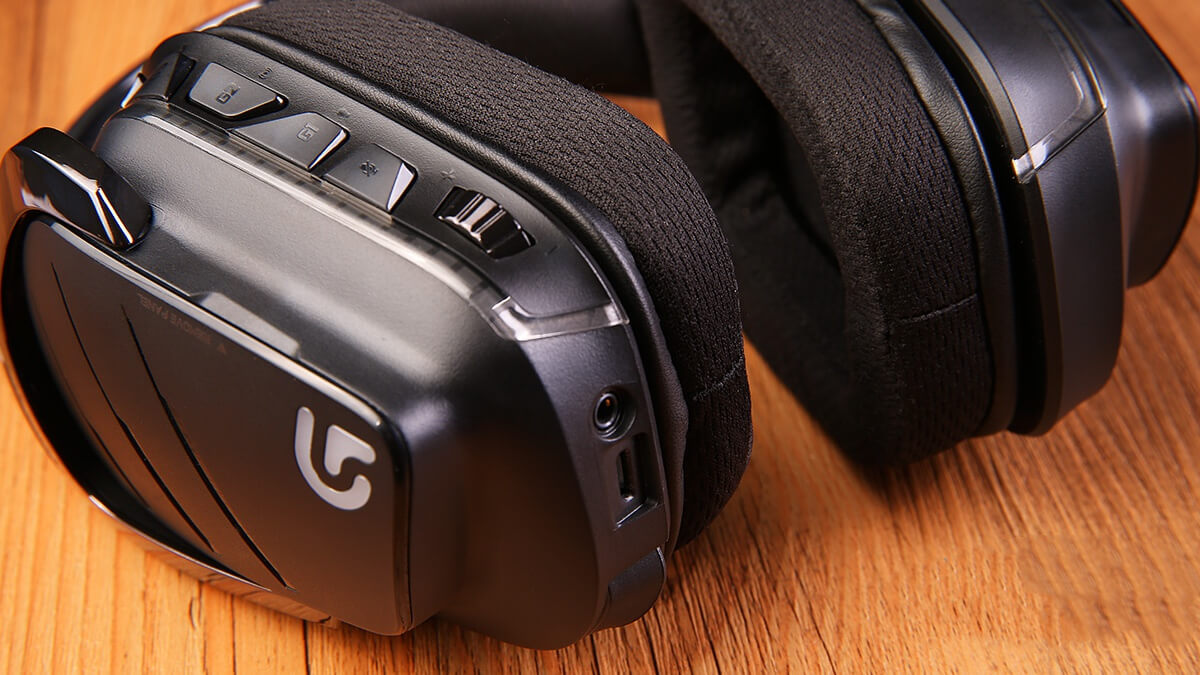 In terms of interface, G933 is quite simple and maintains a high versatility. A standard micro USB interface is used to charge or upgrade, and the other is a standard 3.5mm headphone jack.
Buttons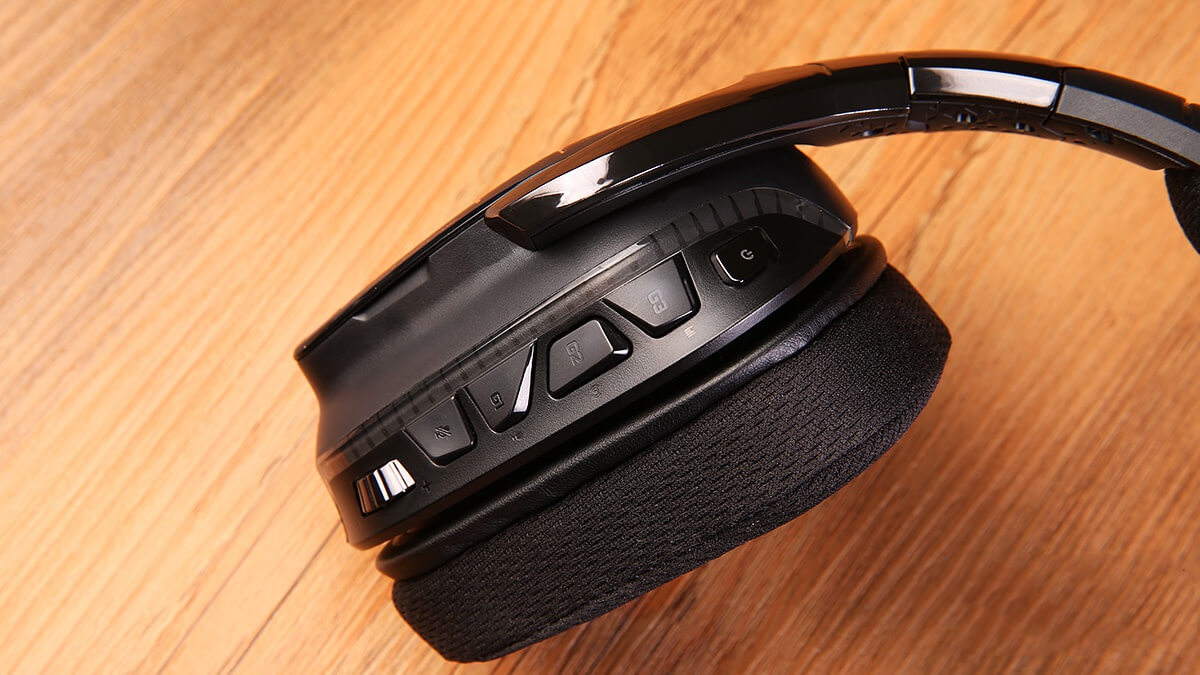 G933 includes a power button, 3 G function keys, a microphone mute button, and a volume knob. Although these buttons' layout is very concentrated, which is conducive to operation and aesthetics, there are still two problems in actual use.
Logitech has distinguished these buttons from shapes, materials, and feeling, but they are really similar when you touch them. It is easy to accidentally touch each other.
The volume knob has almost no damping, also it is at the bottom position, so it is easy to accidentally touch it when holding it.
Experience
Wireless Experience
Logitech G933 gaming headset uses 2.4G wireless technology, which is higher than Bluetooth transmission bandwidth. The wireless ranger is 15 meters indoors and 20 meters outdoors, there is no delay and obvious interference. Wireless transmission sound quality loss is relatively small.
Alternatively, the 3.5 mm analog input gives you the freedom to play wired—on a console, mobile, or PC—without using battery power.
Battery life
Battery Life (Rechargeable)

No lighting
12 hours
Default lighting
8 hours
Connection Type
USB
Audio Controls
Yes
Microphone
Yes
Microphone Type
Cardioid (Unidirectional)

Tested at 50% volume
The battery life is also a concern for many game players. G933 claims that at 50% volume, the battery life is up to 12 hours per charge without lighting or 8 hours with default lighting.
Wearing Experience
G933 gaming headset is very comfortable to wear. However, it should be noted that due to the overall design of the head beam and telescopic, the ear pads will have a small backward shift magnitude.
Music Experience
I chose Imagine Dragons hit single "Believer" for music testing. This song has a lot of drum beats and bass effects.
When the surround sound is turned off, the treble, midrange, and bass are very balanced. The bass is strong enough, and the dynamic range is wide. After 7.1 surround sound is turned on, the sound field is much wider, but the sound is somewhat divergent, more like a concert effect.
In general, the effect of G933 for listening to music is naturally not Hi-Fi level. Its tuning style is entirely for gaming, if you use it to listen to rock and metal music, the effect is not bad.
Gaming Experience
To test the gaming experience, FPS games are the first choice.
Battlefield
First, I chose my favorite "Metro Action 2014" map as the actual game experience scene. This narrow space and competing map can truly show the depiction of teamwork and firepower in Battlefield. Fierce battles are filled with the sounds of various grenades, incendiary bombs, grenade launchers, bazookas, anti-tank rockets, and mines.
When I actually put on the G933, started to deploy, and communicated with my teammates while alternately covering and rushing into the subway, the precise battlefield sound even was a trace of fear: the footsteps and weapons sound was so real.
After I started to enter the subway, the echo of the enclosed space immediately made me feel a sense of phobia. The sound of "Hugh" was soon heard in the ear, which was the sound of the anti-tank rocket projectile ignited by the propellant. The sound of the wall cracked and splattered soil can even make you feel buried in dust. I just got up and prepared to fight back. Soon I heard a crisp metal knocking sound. I quickly reflected that the grenade rolled down the escalator.
CS: GO
As a classic FPS game of the Steam platform, it has been loved by many FPS enthusiasts. In gaming, I once again experienced what an excellent gaming headset is. Its sound coverage can almost reach half a map. All bullet sounds, footsteps, and ambient sounds are very clear. G933 allows you to clearly identify the direction of the sound, the sound of the enemy's footsteps, the timing of the enemy's appearance, and the sound of the shell falling crisply. Everything seems to be in front of your eyes, and every player's actions are under your control, helping you to perfectly integrate into this FPS game.
Pros & Cons
Pros
Lightweight but robust
Adjustable boom mic
Removable battery
Flawless wireless performance
Compatible with PC, Xbox One, PS4, Mobile
Cons
A little expensive
Tends to slide off head
Battery life is shorter than competitors
Buttons are easy to touch by mistake
In summary
G933 headset is arguably the best wireless gaming headset from Logitech. It uses the 2.4 GHz wireless connection, 7.1 surround sound, and DTS Headphone: X technology, and 16.8 million color RGB lights. In fact, G933 can be called the wireless version of G633 in terms of appearance and function. Benefiting from the good reputation of its G633, G933 is extremely competitive in the $150 range.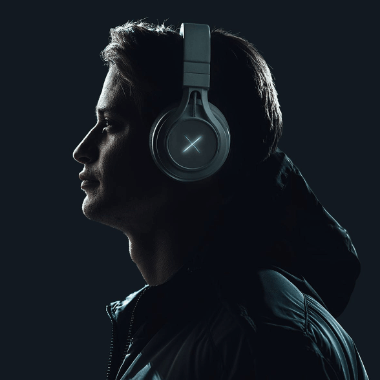 Hi, my name is Daniel, I'm a passionate gamer for over 5 years. Having used various gaming products myself, I will help other gamers benefit from the blog's recommendations of gaming headsets.