In 2018, Somic released the G936 commander gaming headset, it equipped with virtual 7.1 surround sound technology, ENC (environmental noise cancellation), 50mm sound units, and 4 modes( PUBG /LOL /CF /Video).
So how does this headset perform in real? Let's have a detailed review of it.
Packaging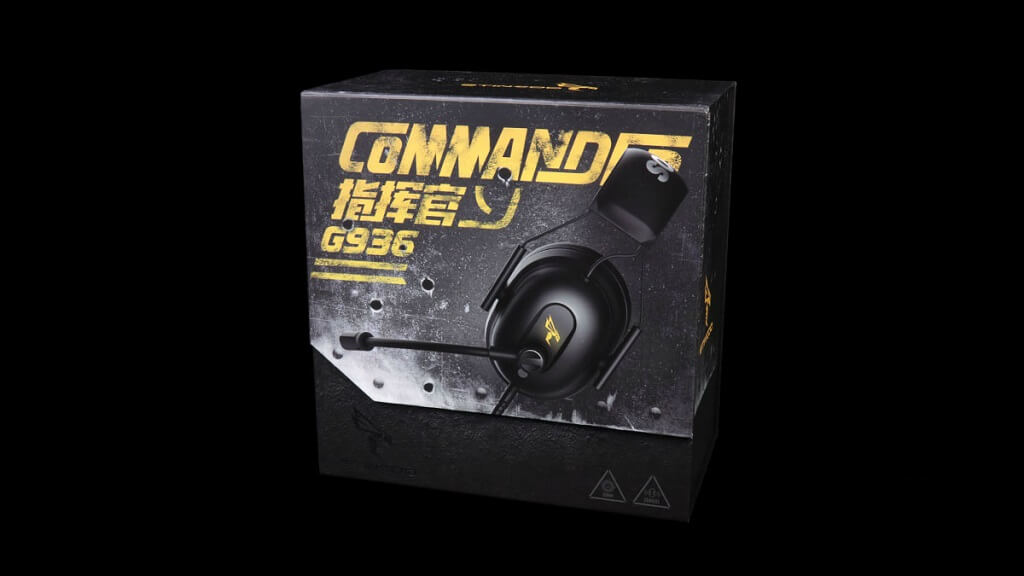 G936 packaging uses a black cardboard box design, with a yellow font design that matches the overall appearance of this headset.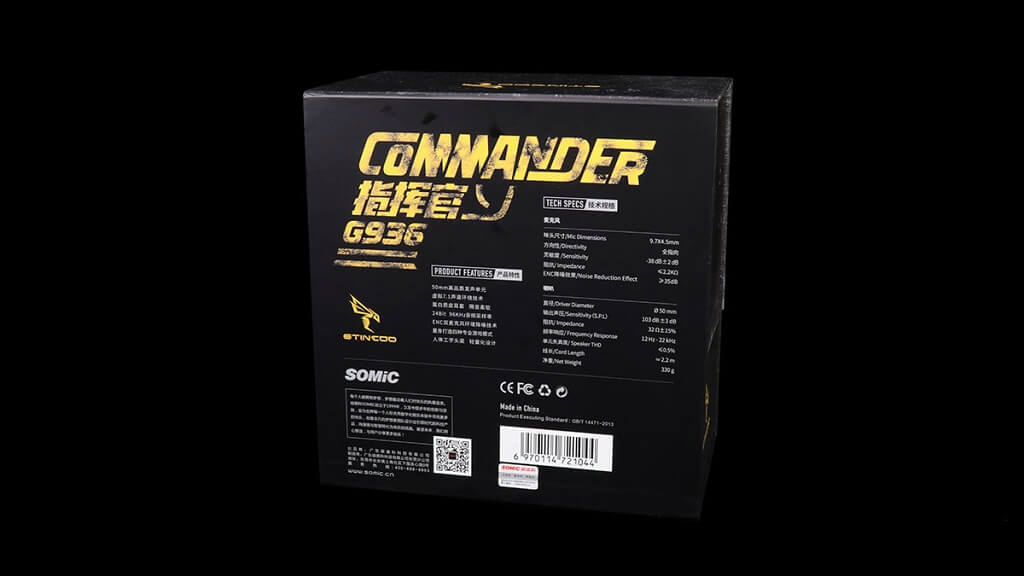 The back of the package box shows G936's features and specifications. The highlights of this headset are its lightweight design, soft and comfortable protein leather earmuffs, and ENC microphone.
Headphone Specifications

Speaker Diameter
Ф50mm
Sensitivity(S.P.L)
103±3dB(at 1KHz)
Impedance
12Hz-22kHz
Power rating
15mW
Max Power
30mW
Signal-noise Ratio
≥65dB
ENC Noise Cancellation
≥35dB
Cable Length
≥2.2meters
Plug
USB
Unboxing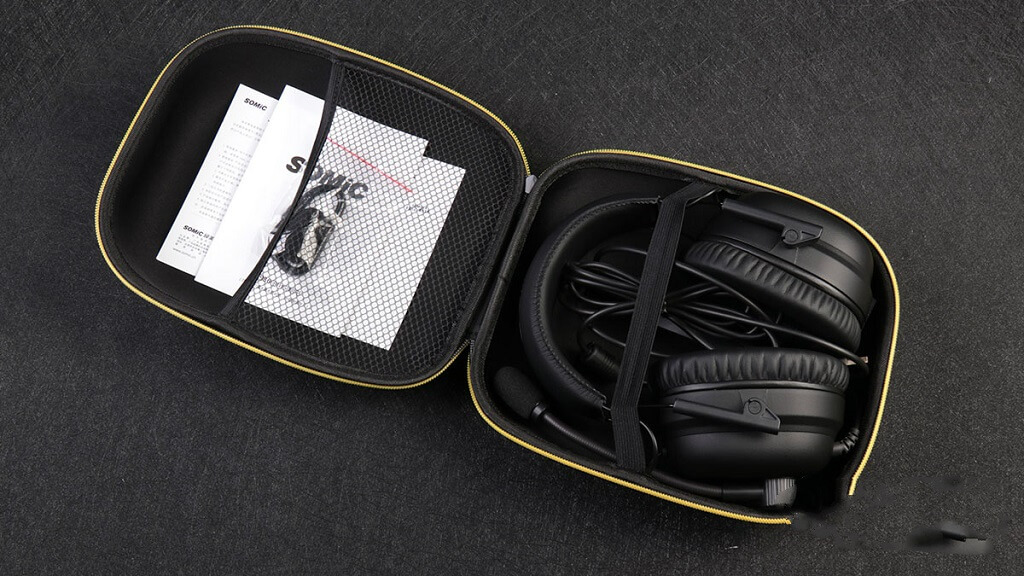 The inner box uses a plastic hard storage box, which has very exquisite workmanship and a zipper opening. The storage part is divided into an accessory storage area and a headphone storage area.
Accessories
The accessories include manual, warranty card, buckle, and spare microphone spray-proof cotton.
Most gaming headsets' manuals do not introduce their drivers in detail. But G936's manual is very detailed, it is very helpful to users to be familiar with this gaming headset.
Details
Appearance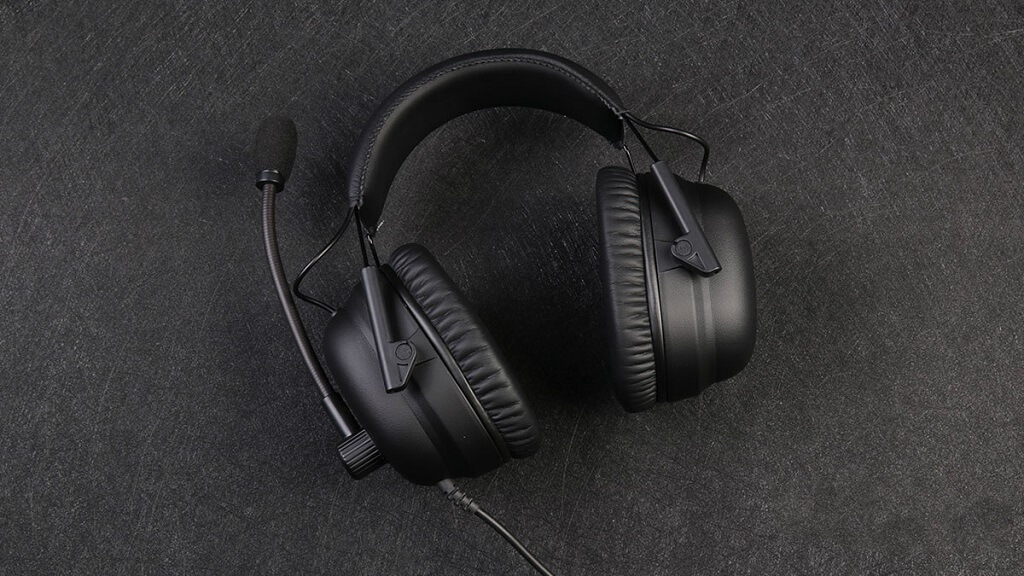 G936 uses black color and lightweight design. It feels very light when held in hand, this headset does an excellent job in reducing weight.
Head Beam

The head beam adopts a lightweight + ergonomic design. It uses a "zero-pressure" polyurethane head cushion. The sponge filled inside is extremely soft. It feels very comfortable from the touch and comfortable to wear.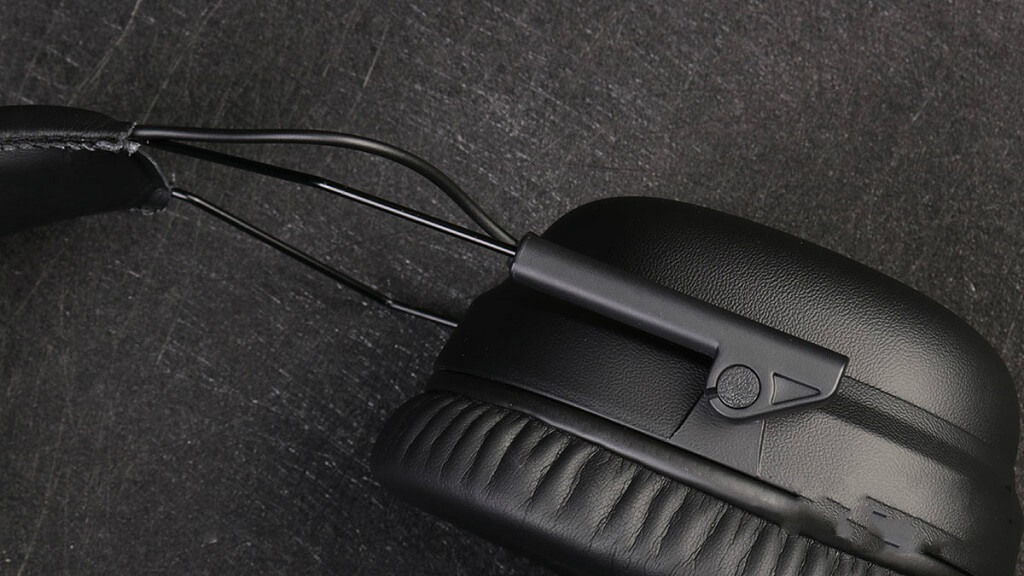 The head beam and ear cups connection part do not use a large area of metal material, it looks simple, but it is very helpful for weight loss and comfort.
Ear Cups

G936's ear cups are relatively large. The shell is made of texture, exquisite workmanship, and has a matte coating on the surface, which is very comfortable to touch and does not collect fingerprints. In the center part of the shell, there is a yellow breathing logo light.
Ear Pads

G936's large ear pads can provide good wrapping, comfort, and sound insulation. The sponge-filled ear pads are as soft and the cushioning effect is very good. As long as the angle of the ear cups is adjusted, users can ignore the feeling of ear clamping. When the summer comes, it will be a little sultry, but it is acceptable to play games with air conditioning.
Microphone

Microphone Specifications

Mic Dimensions
Ф9.7*4.5mm
Type
Omnidirectional(at 1KHz)
Impedance
≤2.2kΩ
Sensitivity
-38±2dB(at 1KHz)
When playing games, gamers usually need a high-quality microphone to ensure that they can communicate with teammates even in very noisy games. G936 gaming headset has ENC omnidirectional microphone for noise reduction and sensitivity is -38dB ± 2dB.
Cables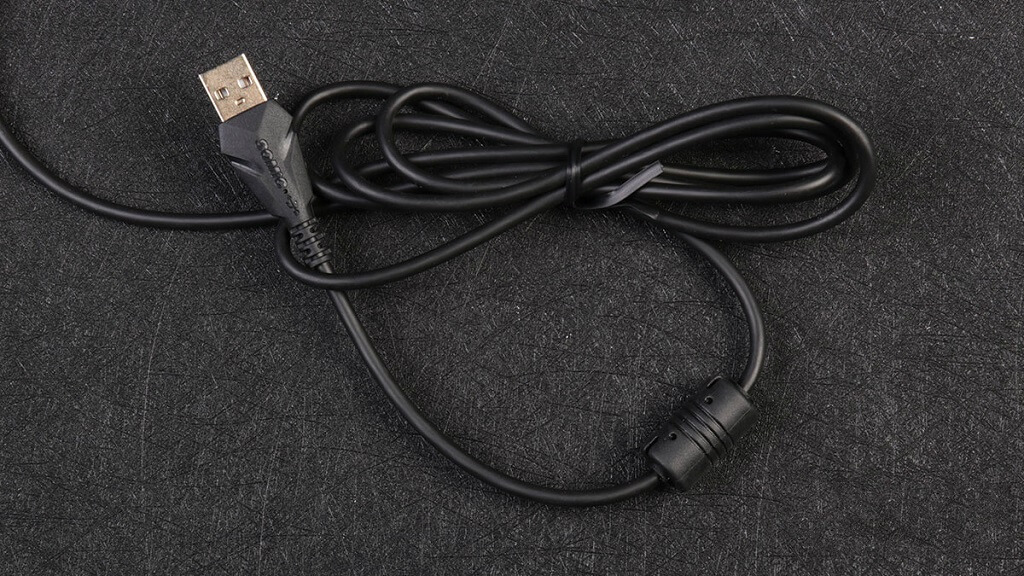 The G936 Commander headset uses a durable 2.2m USB cable. Because it is equipped with a sound card, this headset uses a USB interface. The disadvantage is that players cannot use this headset on mobile devices.
Remote Controller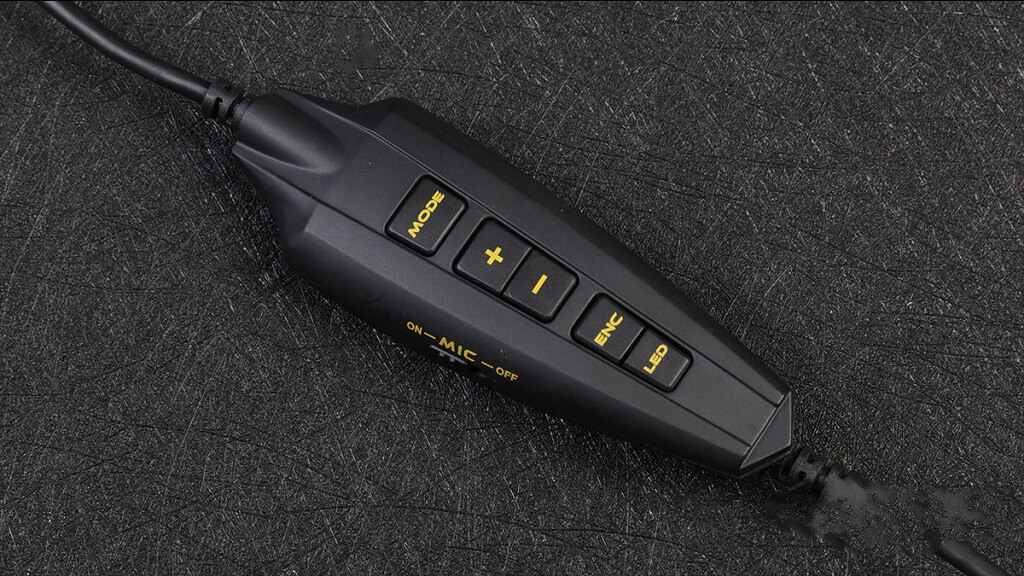 From the top to the bottom, the buttons are: game sound mode button, volume button, ENC button, LED light button. The side of the remote controller is the microphone ON/OFF switch, which is convenient for users to turn off the microphone when listening to music and watching movies.
Driver
Almost Somic gaming headsets are equipped with USB sound cards and a virtual 7.1, so it is necessary to install the driver(download the G936 driver from Somic official website).
After installation, we can configure speaker: volume, sample rate, equalizer, Xear virtual 7.1, Xear Audio Brilliant, Xear Dynamic Bass, Xear Smart Volume, Xear Voice Clarity, Xear maximum ambient surround sound.
Configure microphone: volume, sample rate, ENC, Xear Magic Voice
In the equalizer, we can configure mainstream games such as LOL, CF, and PUBG.
Experience
Wearing Experience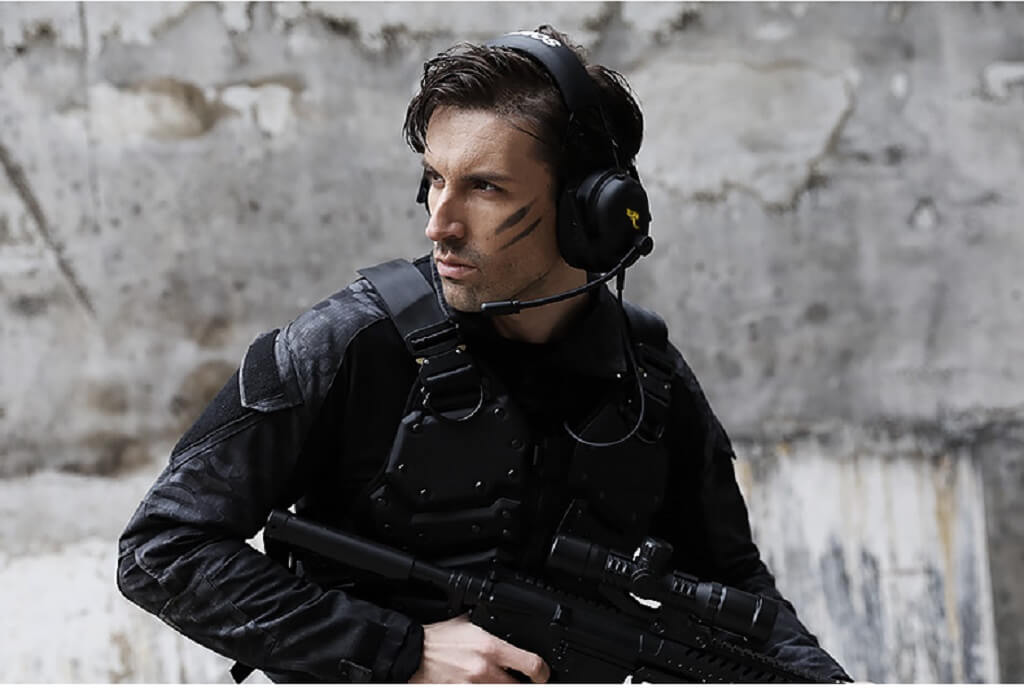 Somic G936 uses a lightweight design and a simple frame. The weight of the headset is only 266g. For such a heavy-looking headset, this weight is a bit incredible.
The structure of the headset and the material of the ear cups are excellent, and the comfort is very high because the metal frame of the head beam can be bent manually. No matter what the head shape is, users can get good comfort.
Gaming Experience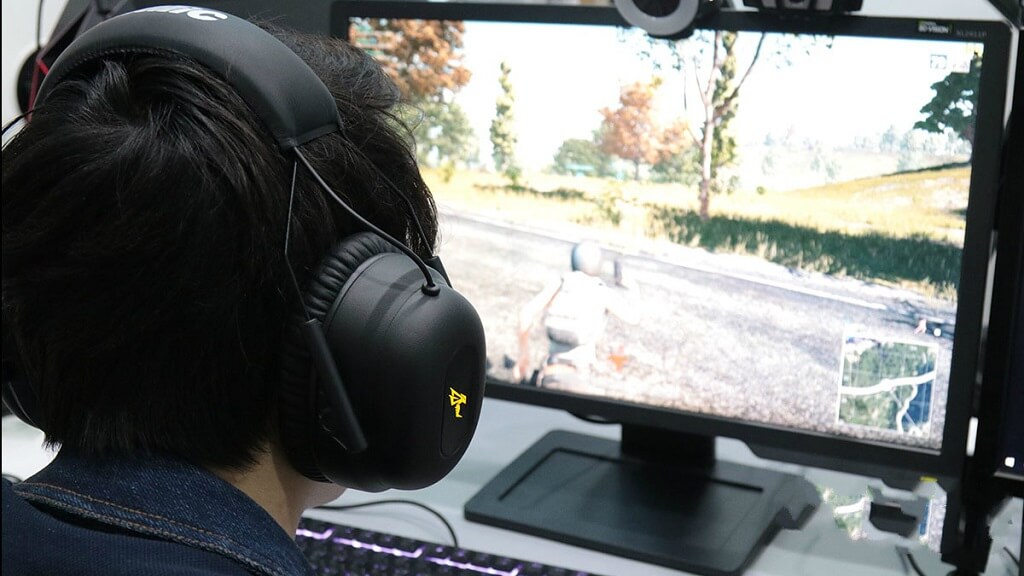 G936 uses 50mm sound units, which is excellent in analysis and sound localization. Players can clearly identify the position of the enemy based on the sound, which provides substantial help for FPS gamers.
G936's sound card supports a 24Bit 96KHz high-definition sample rate. It also adds an intelligent volume adjustment function, with a dynamic compression function.
For FPS players, dynamic compression is very helpful. It can adjust the small sound and normal sound in the game to the same volume. It's easier to make gamers focus on footsteps, long gunfire, etc.
In addition, the noise reduction effect of G936 can also bring a good immersive experience.
Pros & Cons
Pros
50mm sound unit
Dual microphones
Accurate sound localization
Lightweight design for comfortable wearing
Virtual 7.1 surround sound
Cons
Slightly sweltering in summer
Buttons lack light alerts
In Summary
Somic G936 Commander gaming headset has excellent wearing comfort and is satisfactory in terms of sound quality, microphone, and gaming features. It is the preferred gaming headset for $70 level. Of course, this headset is not limited to gaming, casual listening to music is also a good choice.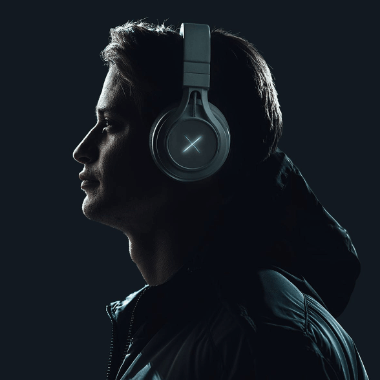 Hi, my name is Daniel, I'm a passionate gamer for over 5 years. Having used various gaming products myself, I will help other gamers benefit from the blog's recommendations of gaming headsets.