At the CES 2018, the Razer Mamba HyperFlux and Razer Firefly HyperFlux bundle attracted everyone's attention. This set combination, makes Mamba HyperFlux mouse evolved from wired charging to wireless power supply, allowing game players to completely get rid of the shackles of wire, and promote wireless transmission and wireless mouse power solutions to a new level.
Packaging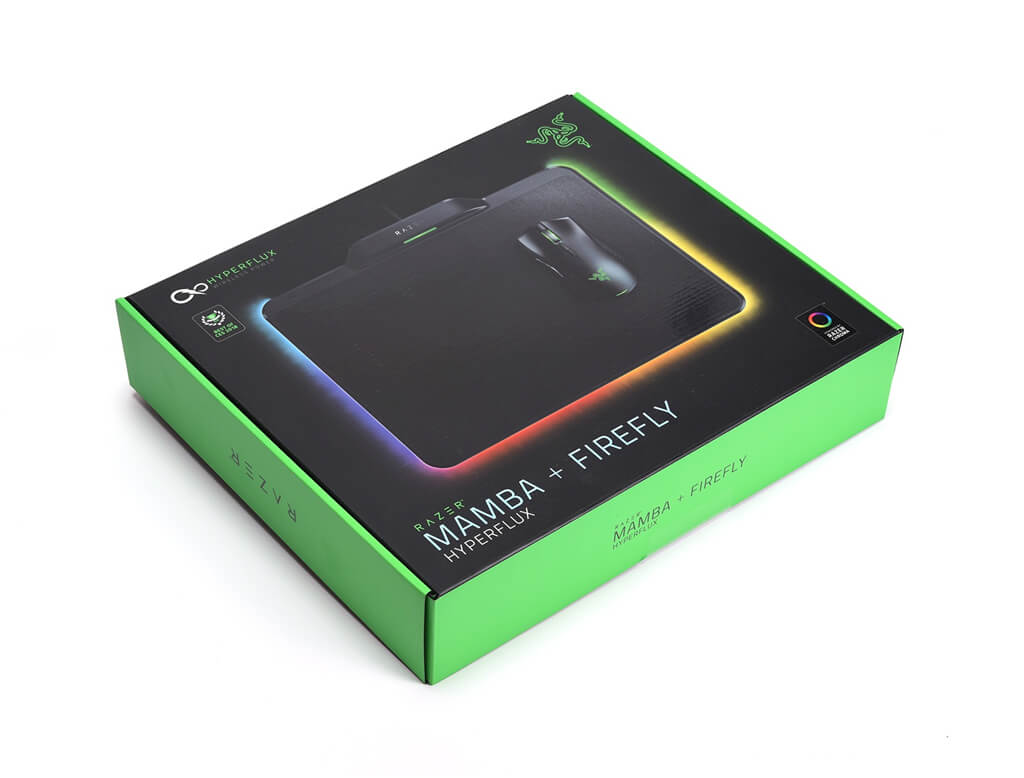 Razer Mamba HyperFlux Specs

Dimensions
4.9x2.75x1.7 in (125x70x43.2 mm)
Weight
0.211 lbs (96 g)
Handedness
Right-handed
Buttons
9
Wireless Connectivity
Radio Frequency (RF)
Lighting Type
Razer Chroma 16.8 million colors
Sensor
Razer 5G (PMW3366)
Sensitivity
True 16,000 DPI
Speed
Up to 450 inches per second, 50 G acceleration
Refresh rate
1,000Hz Ultrapolling
Unboxing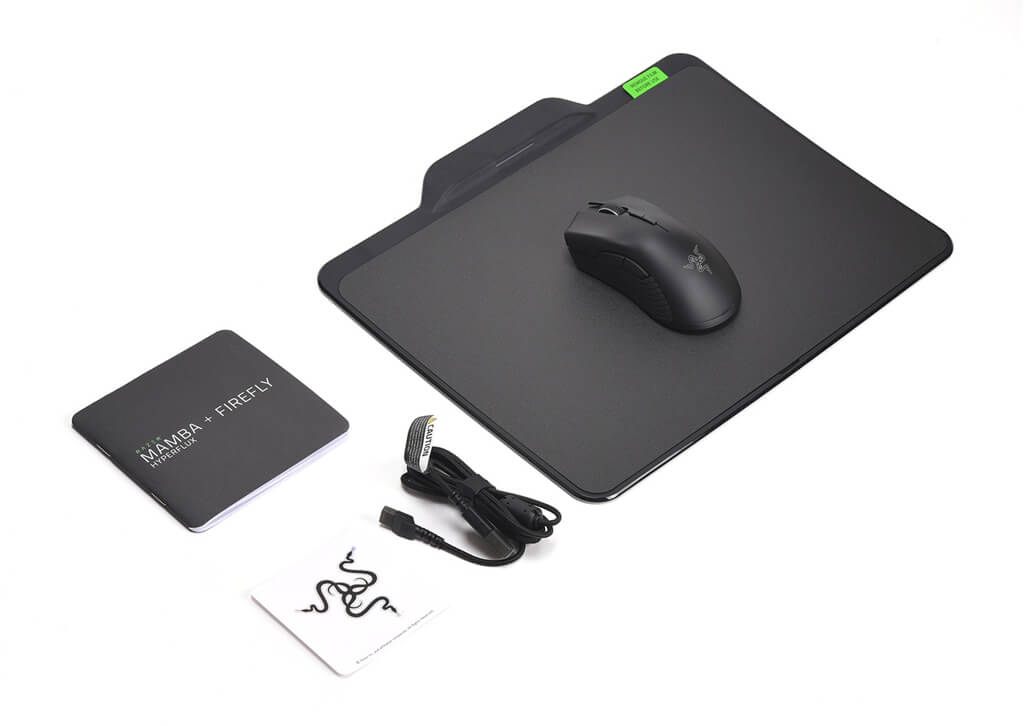 Razer Mamba HyperFlux
Razer Firefly HyperFlux
Detachable USB to Micro-USB cable (Connect mouse or mouse pad)
Product information manual
Appearance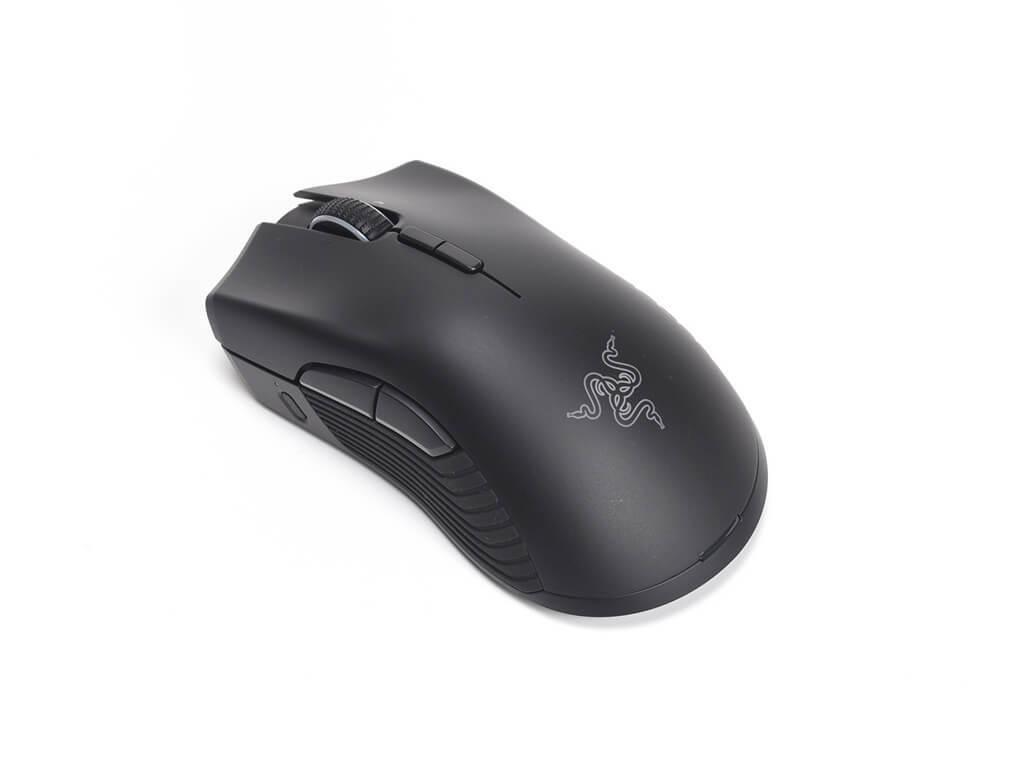 The dimensions of Razer Mamba HyperFlux wireless mouse are: 4.9 x 2.75 x 1.7 in (125 x 70 x 43.2 mm). It is ergonomically designed and the surface of the mouse is matte.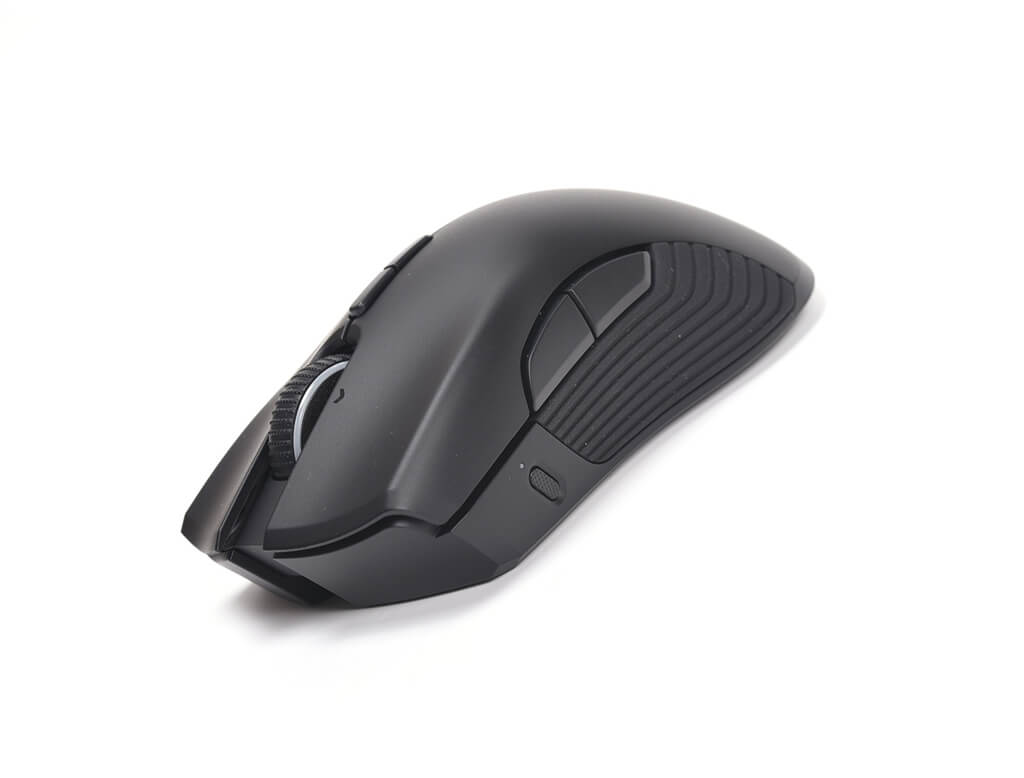 The side skirt adopts the new texture design that has been used on Razer Lancehead Tournament Edition, which has excellent anti-skid effect and good visual.
Front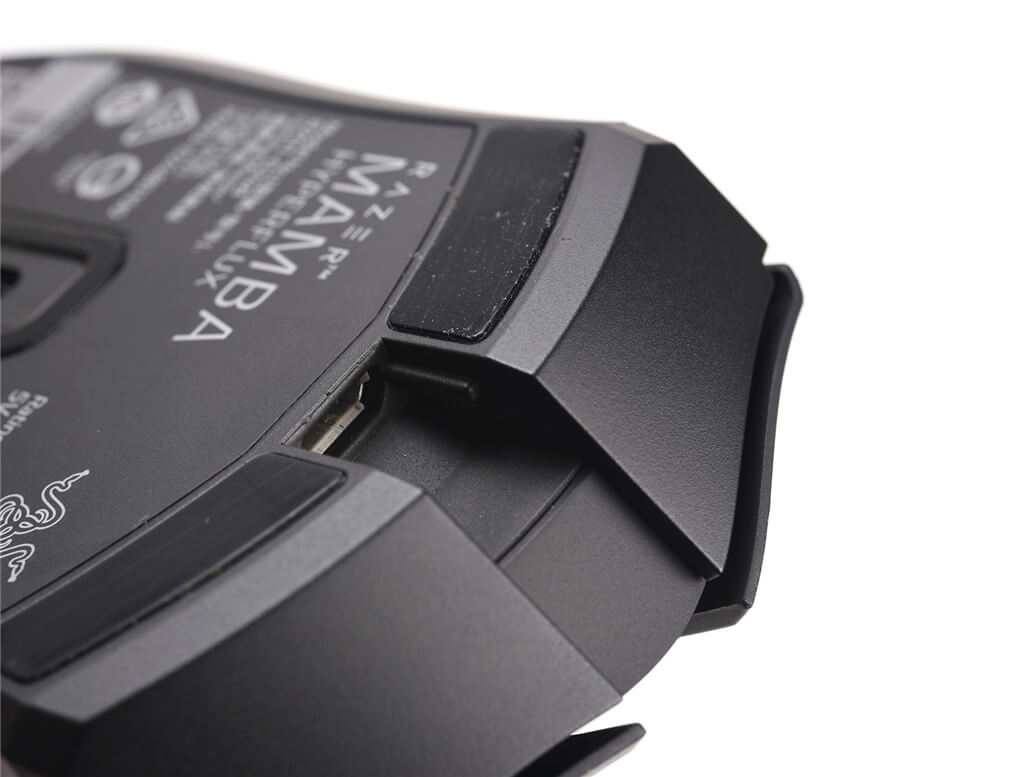 There is a micro USB port in the middle front of Razer Mamba HyperFlux mouse. After connecting to the cable, it changes to the wired mode.
Main Buttons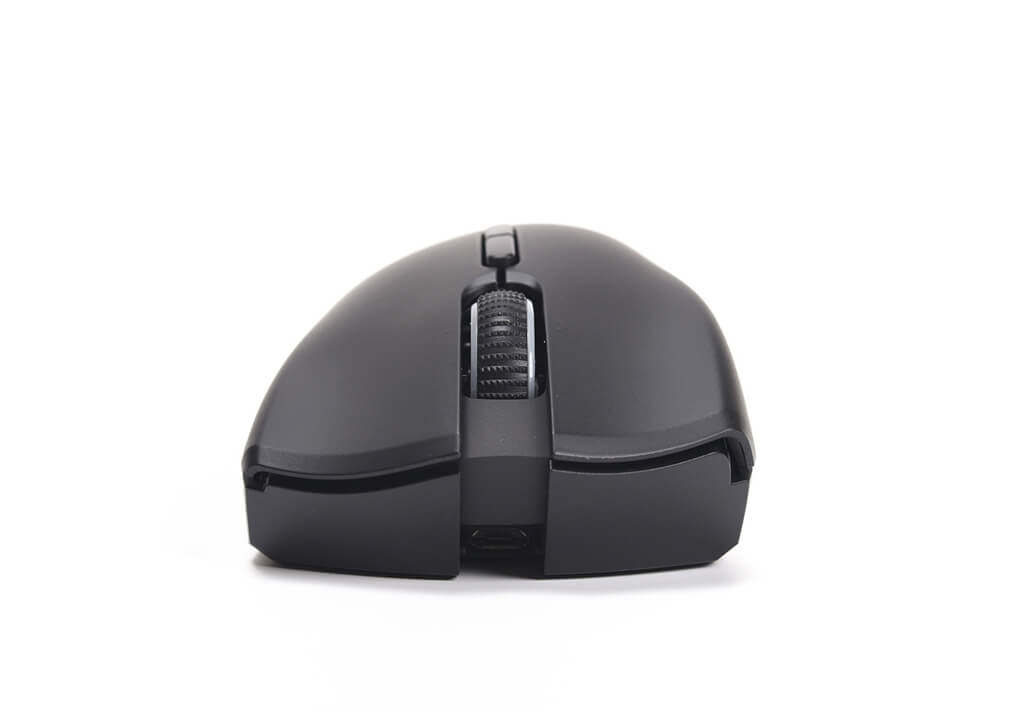 The left click button is a little higher than the left, click sound is crisp, no empty key travel, rapid rebound, and the rapid continuous click also feels excellent.
Side Buttons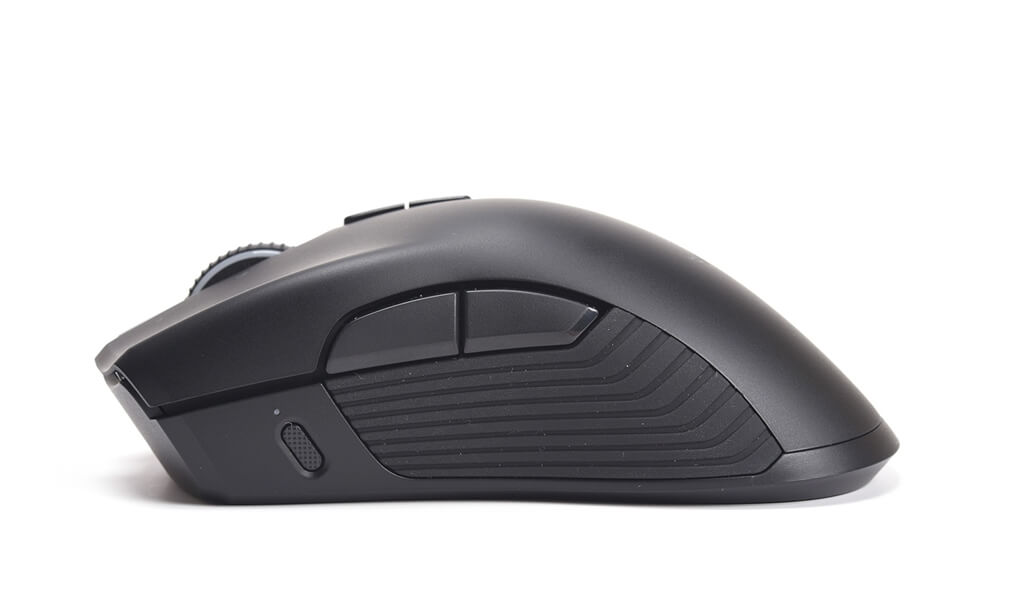 The side buttons are located reasonably which are not easily accidentally touch. There is also a profile button on the left side, and an indicator next to it.
Bottom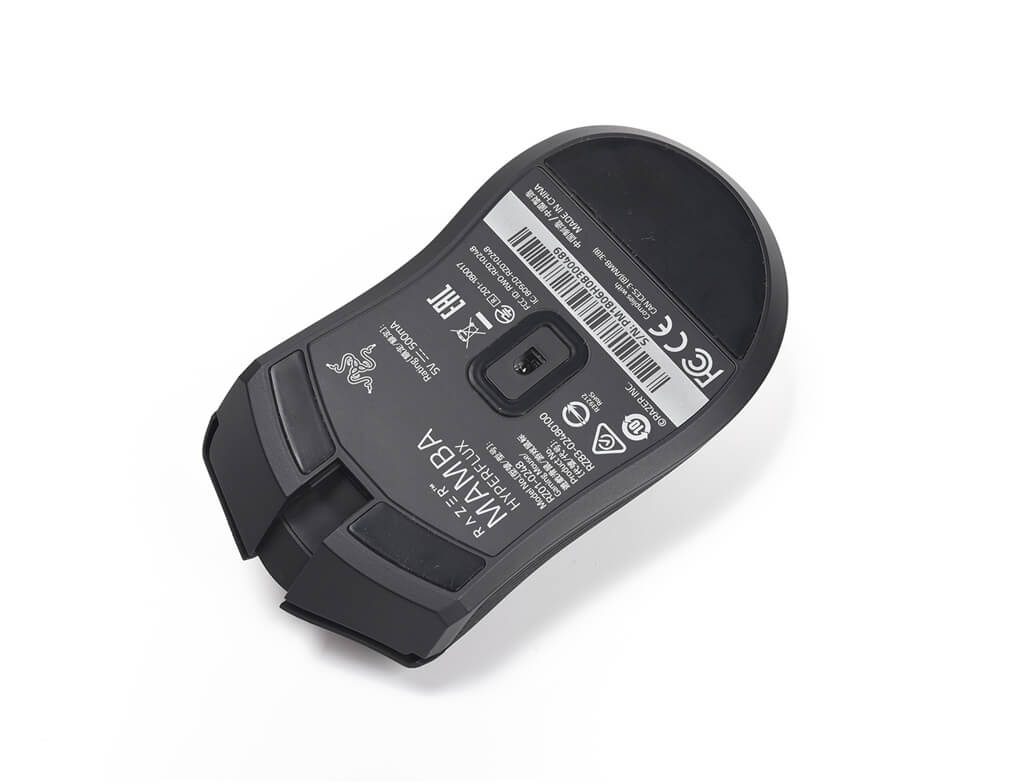 There are Teflon stickers on the bottom of the mouse, which makes it ultraslick and stable to use.
Scroll Wheel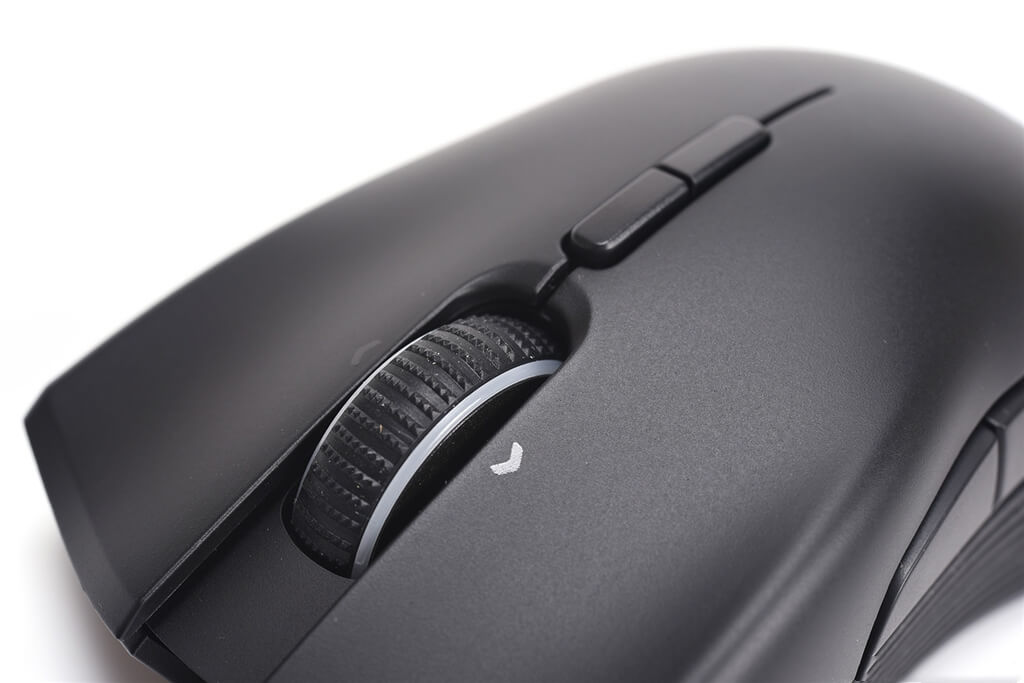 Razer Mamba HyperFlux equipped with an undamped tiny encoder and damper rod. There will be no obvious changes in stability, but the scale of the roller is more clear.
Lighting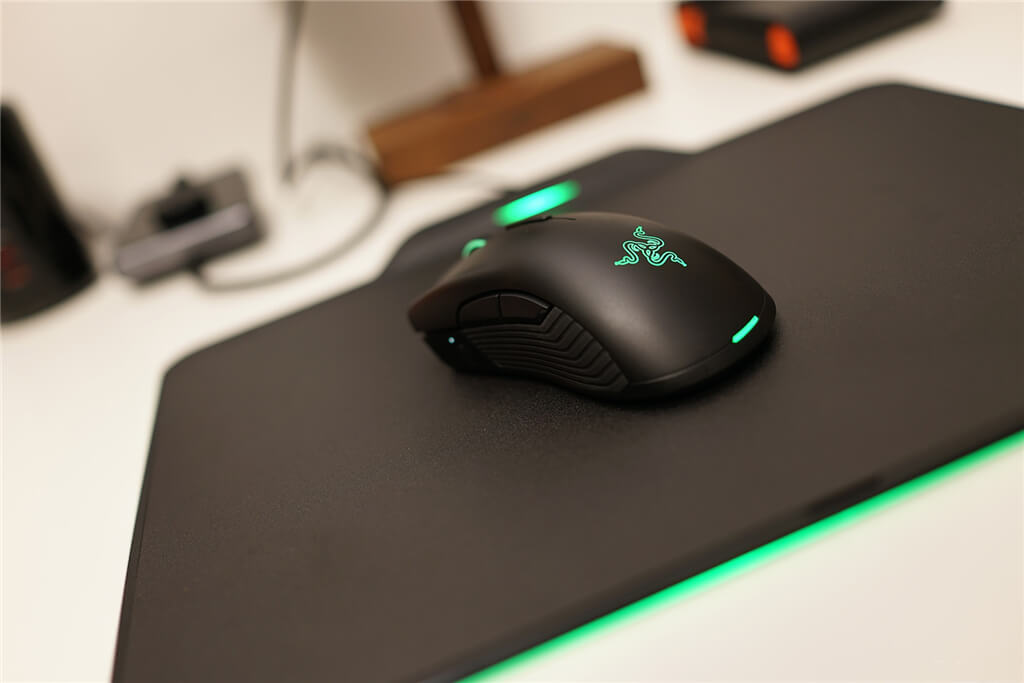 For longer battery life, Razer Mamba HyperFlux gaming mouse does not have light strip, so there is no gorgeous effect in terms of lighting.
Mouse Disassemble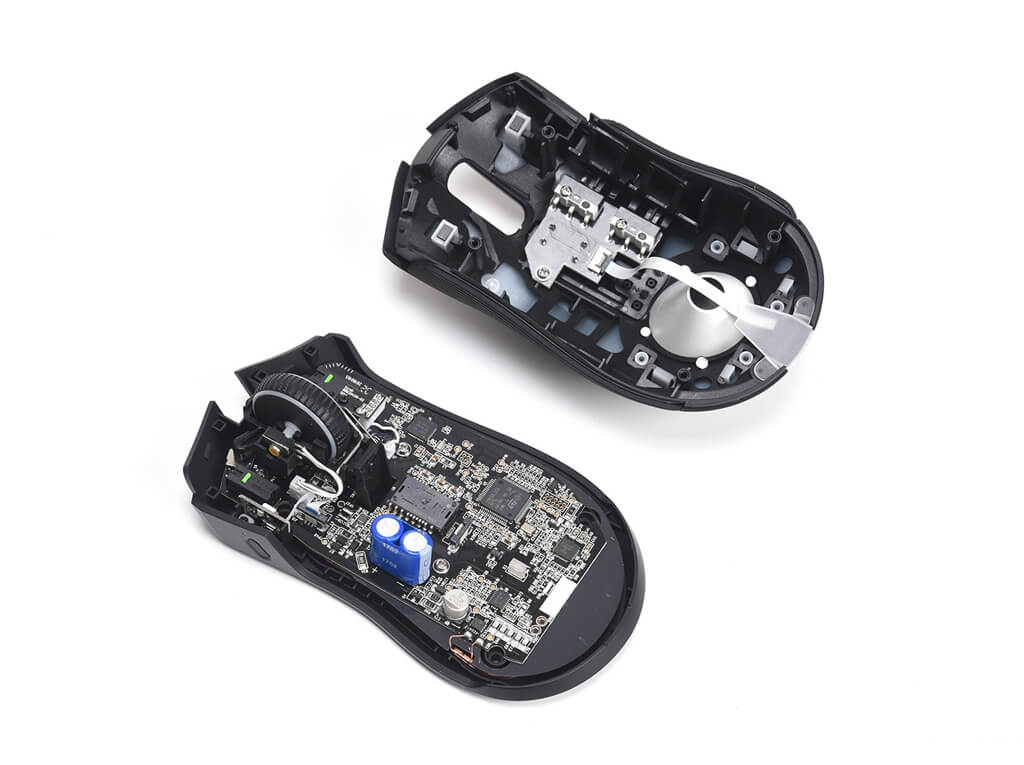 All Razer Mamba HyperFlux gaming mice's chips are on the front side of the PCB, and no any components on the other side.
Capacitor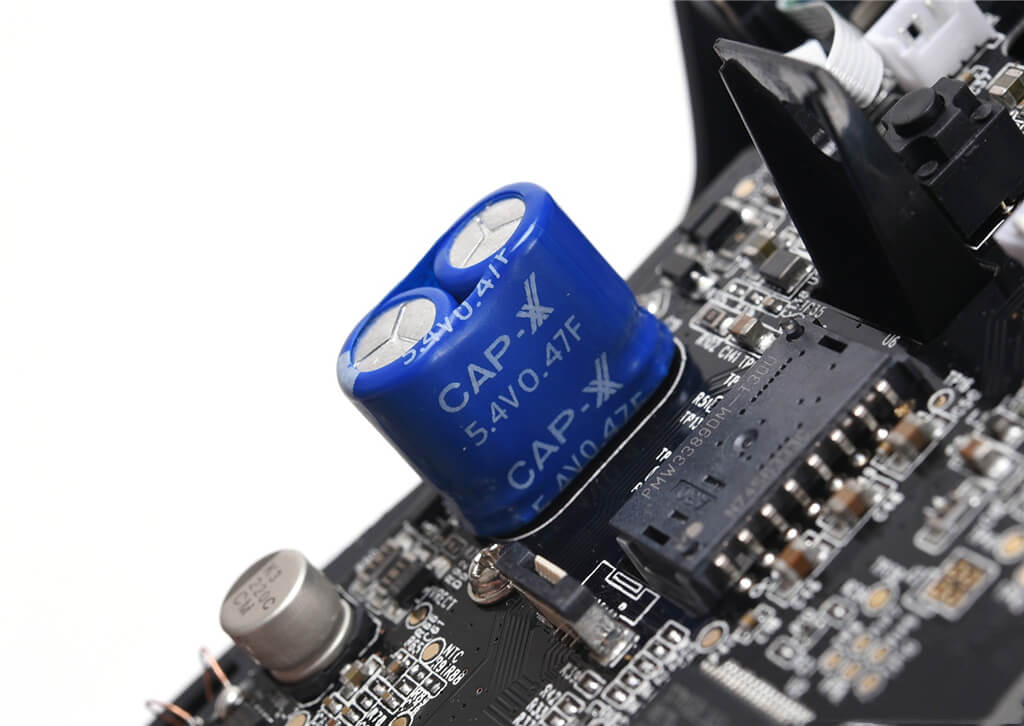 Two capacitors(470μF) wrapped in blue PVC. These 2 capacitors are one of the components that replace the battery, and have a life of more than 10 years at normal temperature.
Micro Switch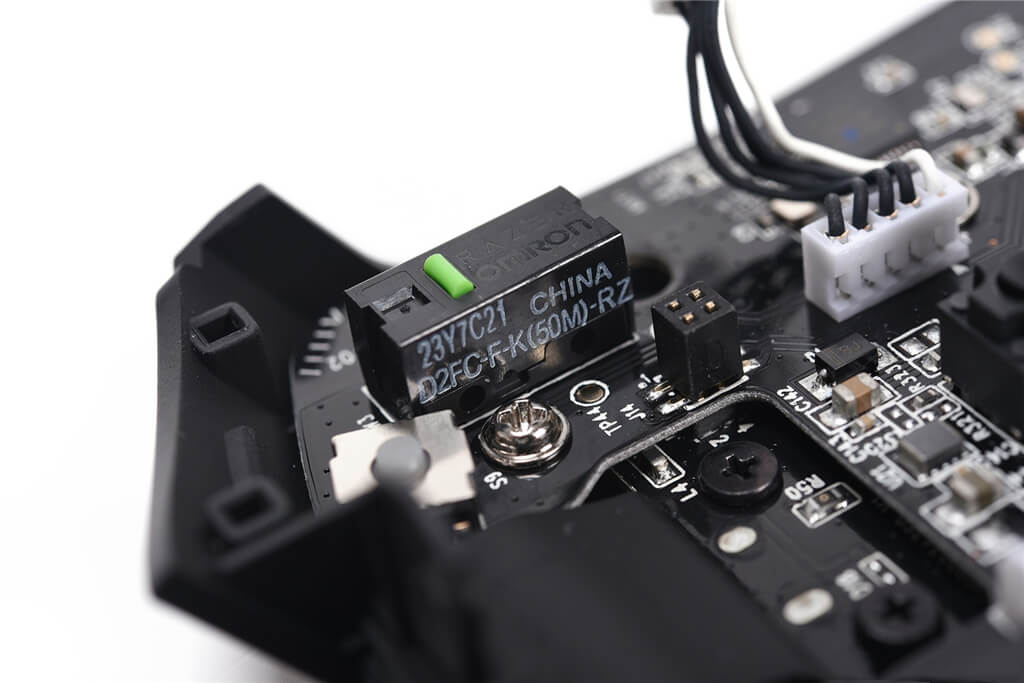 Sensor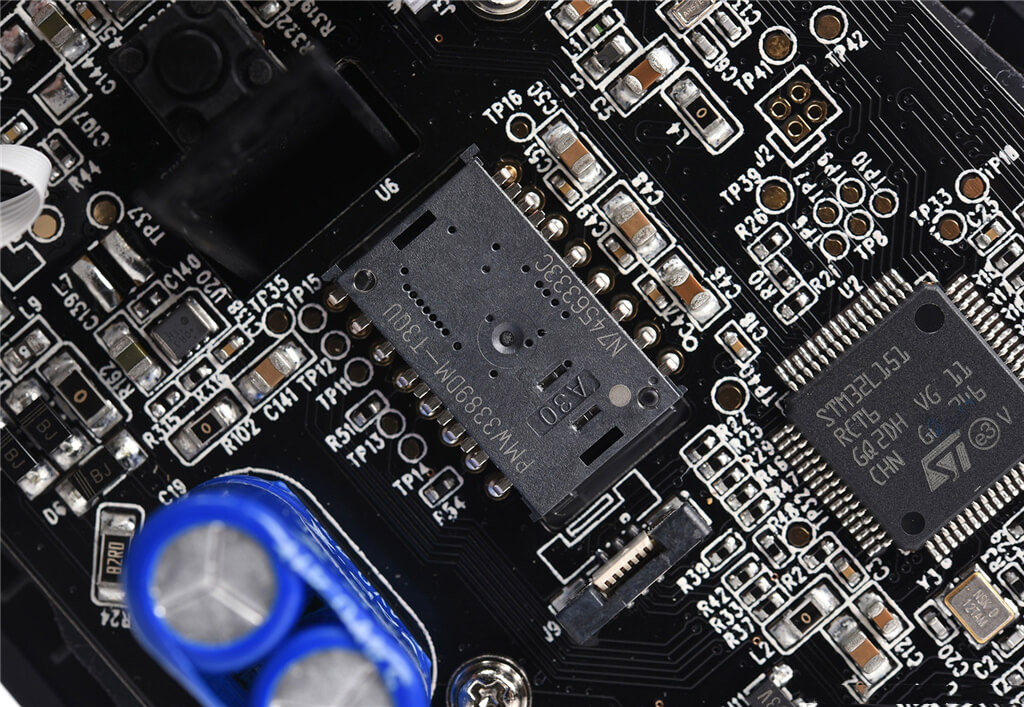 Razer Mamba HyperFlux equipped with Pixart PMW3390 optical sensor with a maximum of 16000 DPI, 450 IPS Max speed, and 50G Max acceleration.
It is excellent in accuracy and the control. Its power consumption is much lower than PMW3389 which assure Mamba HyperFlux to have 50 hours usage time at a rate of 1000Hz.
This sensor also armed with Razer's proprietary Adaptive Frequency Technology for superior wireless signal stability. I tested in a very complex signal environment (in a 10 square meters room with WIFI network, 10 mobile phones, 2 Bluetooth headphones, and 6 wireless mice working at the same time), there was no signal jam, delay or loss.
ST's STM32L151 Datasheet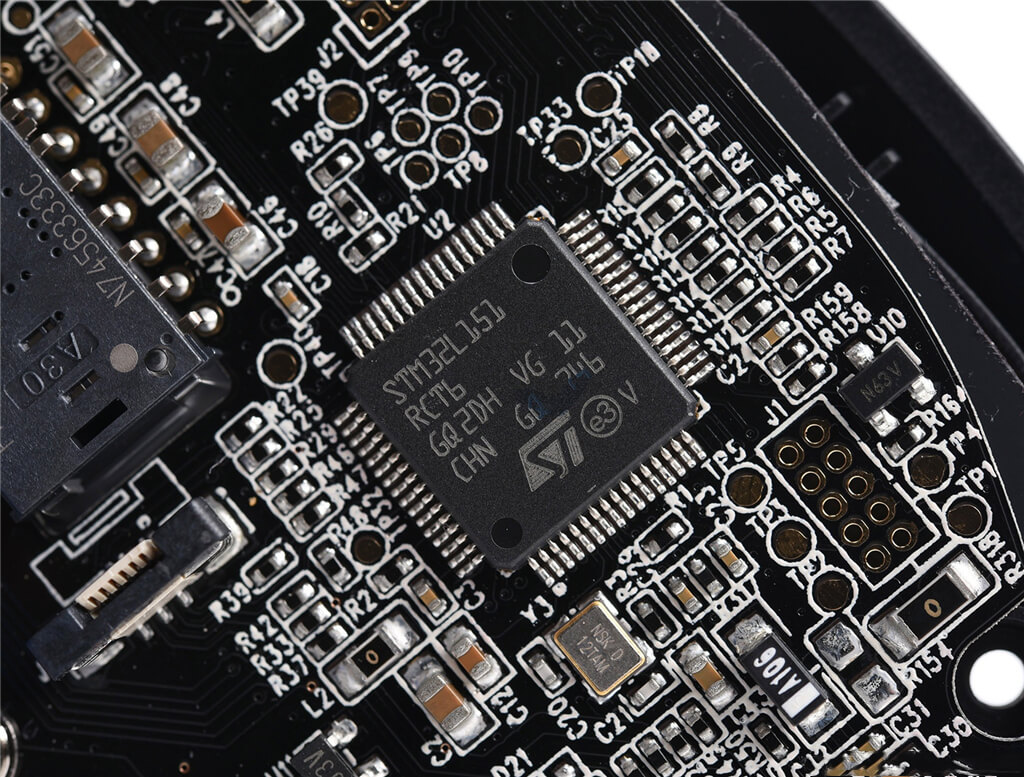 STM32L151 datasheet's biggest feature is ultra-low-power consumption, it use Cortex-M3 core and a flexible CPU clock from 32 kHz up to 32 MHz.
Power Receiver IC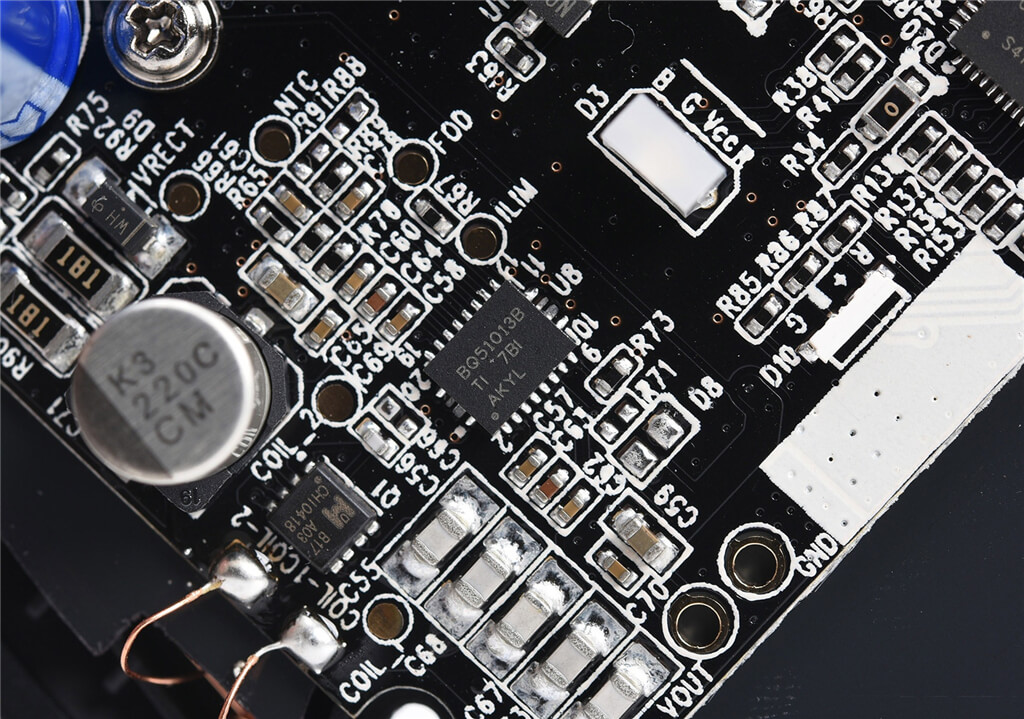 This TI's BQ51013B is a battery charger IC. It complies with Wireless Power Consortium(WPC) Qi v1.2 communication protocol, 93% Overall peak AC-DC efficiency and supports 20-V Maximum input, etc.
More info about BQ51013B, please check this: https://www.ti.com/lit/ds/symlink/bq51013b.pdf
nRFN52832 SoC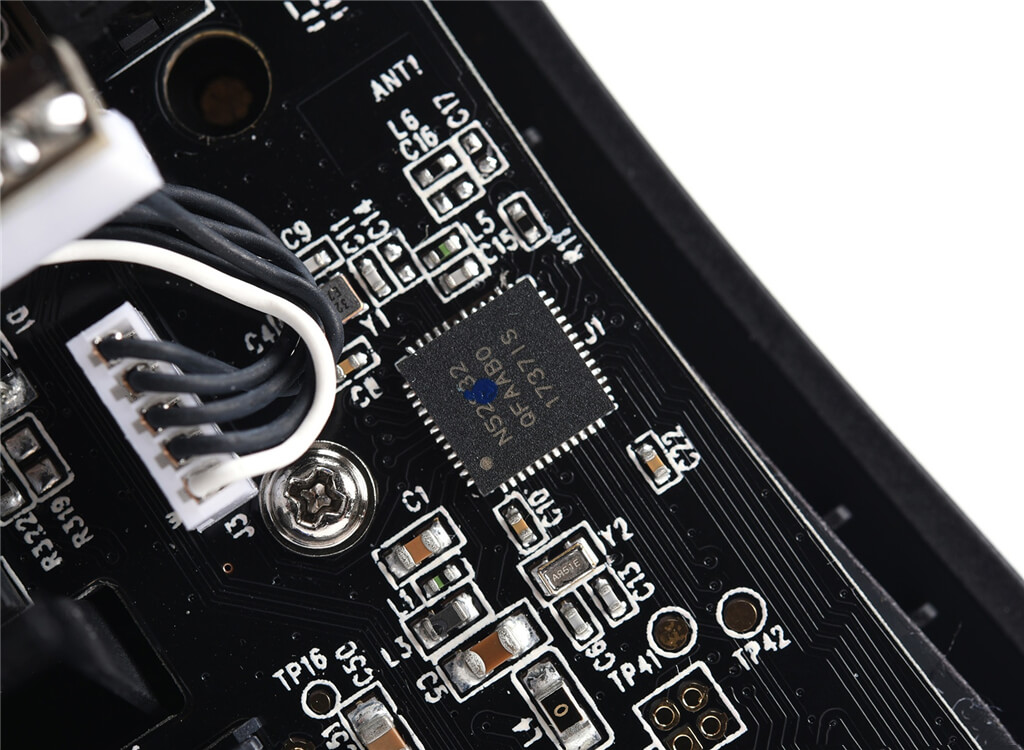 nRF52832 is a general-purpose multiprotocol SoC, it is built around an Arm® Cortex™-M4 CPU with floating point unit running at 64 MHz, it offers 512kB flash memory and 64kB RAM. NFC, ANT and 2.4 GHz proprietary protocols are also supported. It even supports AES hardware encryption, it had been armed in other high-end wireless gaming mice.
Razer Firefly HyperFlux Mouse Pad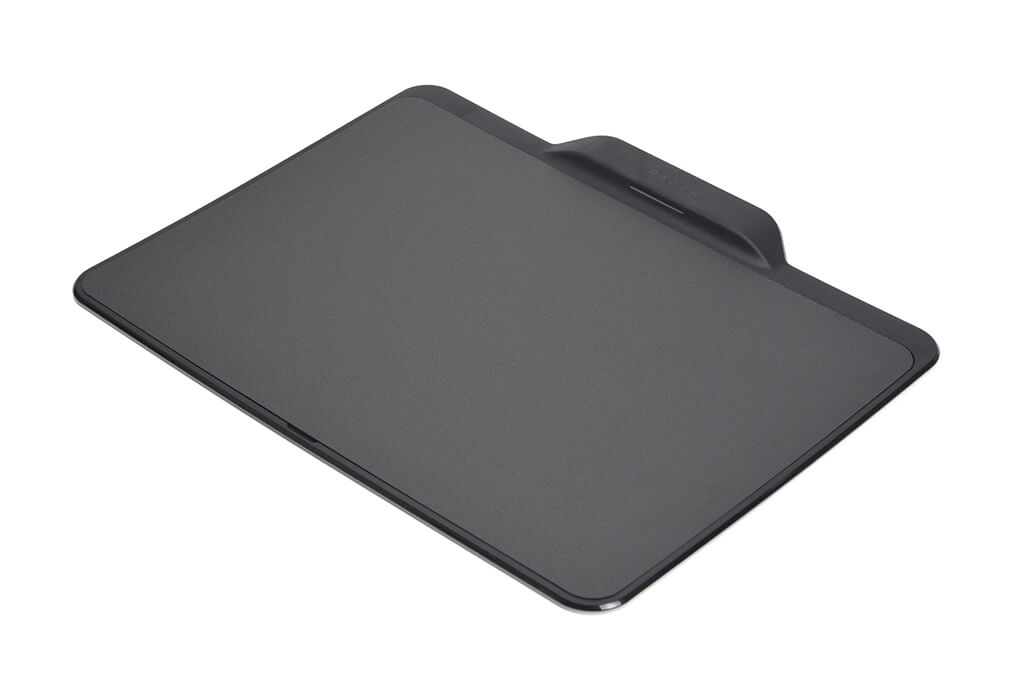 This mouse pad is equipped with a dual hard and cloth surface for flexibility in playstyles and Powered by Razer Chroma, the mat also provides unparalleled customizability.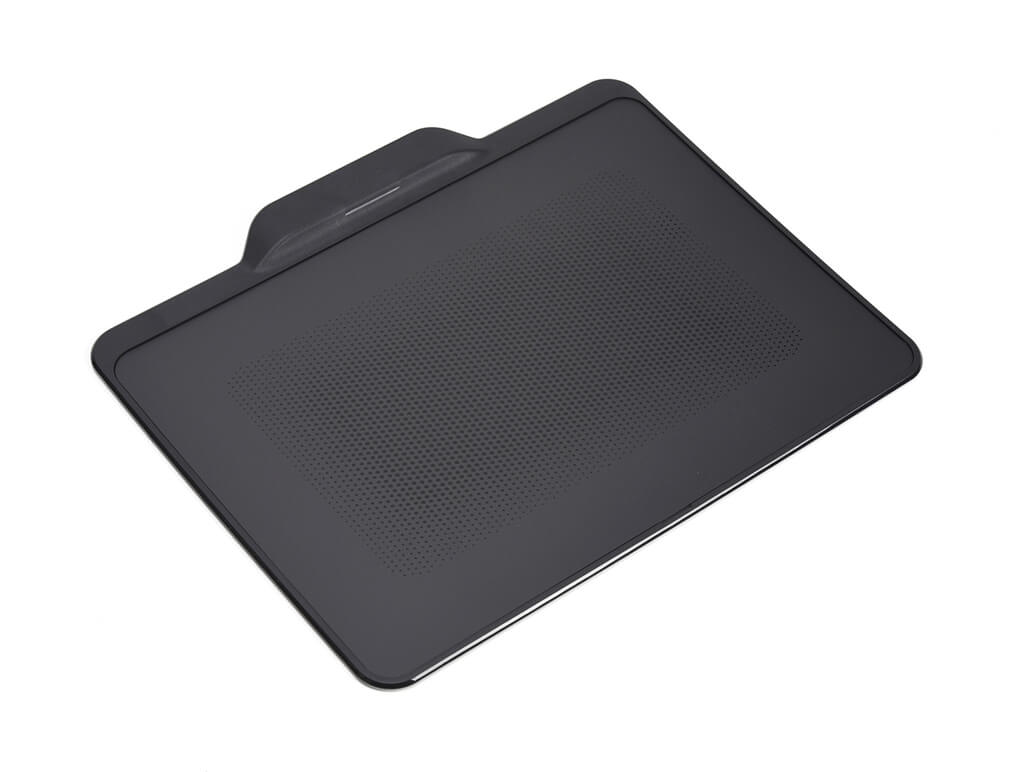 Software
Razer Mamba HyperFlux mouse only supports Razer Synapse 3. It includes customization, performance, lighting, calibration and battery settings.
The customize setting is for modifying Mamba HyperFlux mouse's button assignments, it's very easy to use. Hypershift mode is the highlight. This almost doubles the capacity to program different controls and commands on its programmable buttons.
The performance setting allows you to configure the DPI(100-16,000), polling rate and X-Y sensitivity.
Razer Mamba HyperFlux mouse has relatively less lighting areas. By default, Synapse 3 only supports 4 lighting effects settings: brightness, power indicator, switch off lighting and quick effects.
In the calibration setting tab, you can optimize mouse sensor to any mouse pad surface. The Razer mouse pad data is provided by default. You can also add your own mouse pad and configure the settings.
In the calibration setting tab, you can also modify the sleep time and energy saving mode. The remaining power is shown in the upper right corner.
Razer Mamba + Firefly HyperFlux Pros & Cons
Gorgeous, comfortable, lightweight design
Hyperflux technology with no battery
Chroma RGB lighting
Mat looks and feels good
Performs well
Expensive
Right-handed only
Limited to the single Mamba Hyperflux mouse
In Summary
Razer Mamba & Firefly HyperFlux bundle can be regarded as a subversion of current wireless mice. For Razer fans who don't care about the budget, this set is the best choice of wireless gaming mice.