Compared with the wireless version, the wired ManO'War 7.1 gaming headset does not rely on the built-in battery, it is more suitable for players to play for a long time.
This wired version also provides 7.1 virtual surround sound, equipped with an oversized 50mm diameter neodymium magnet unit. The sound effect can be customized through the Razer Synapse, which can be compatible with Xbox, PlayStation 4, notebook, desktop and etc.
Now, I will introduce this Razer ManO'War 7.1 wired gaming headset in detail.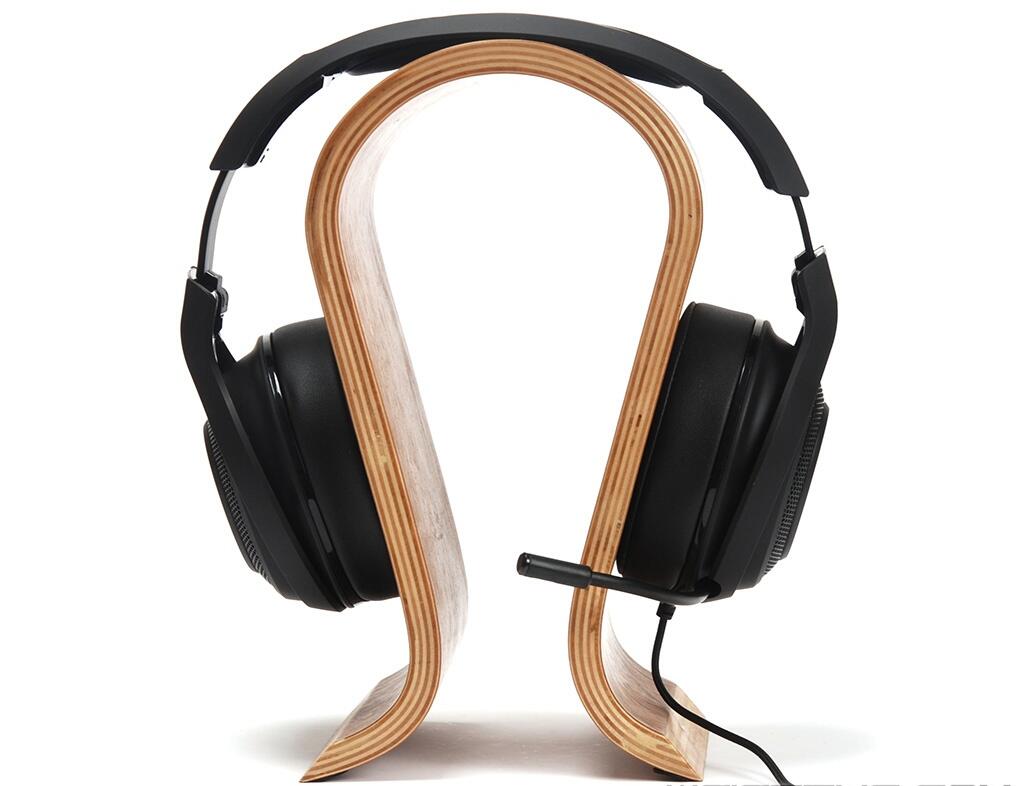 Headphone Specifications

Frequency response
20 - 20,000 Hz
Impedance
32 Ω @ 1 kHz
Sensitivity (@1 kHz)
118dB
Speaker Drivers
50 mm, with Neodymium magnets
Inner ear cup diameter
60 mm / 2.36 in
Connection type
3.5mm Analog
Approximate weight
332 g
From the parameters, the wired ManO'War 7.1 is basically the same as the wireless version, and slightly better in terms of sensitivity.
Packaging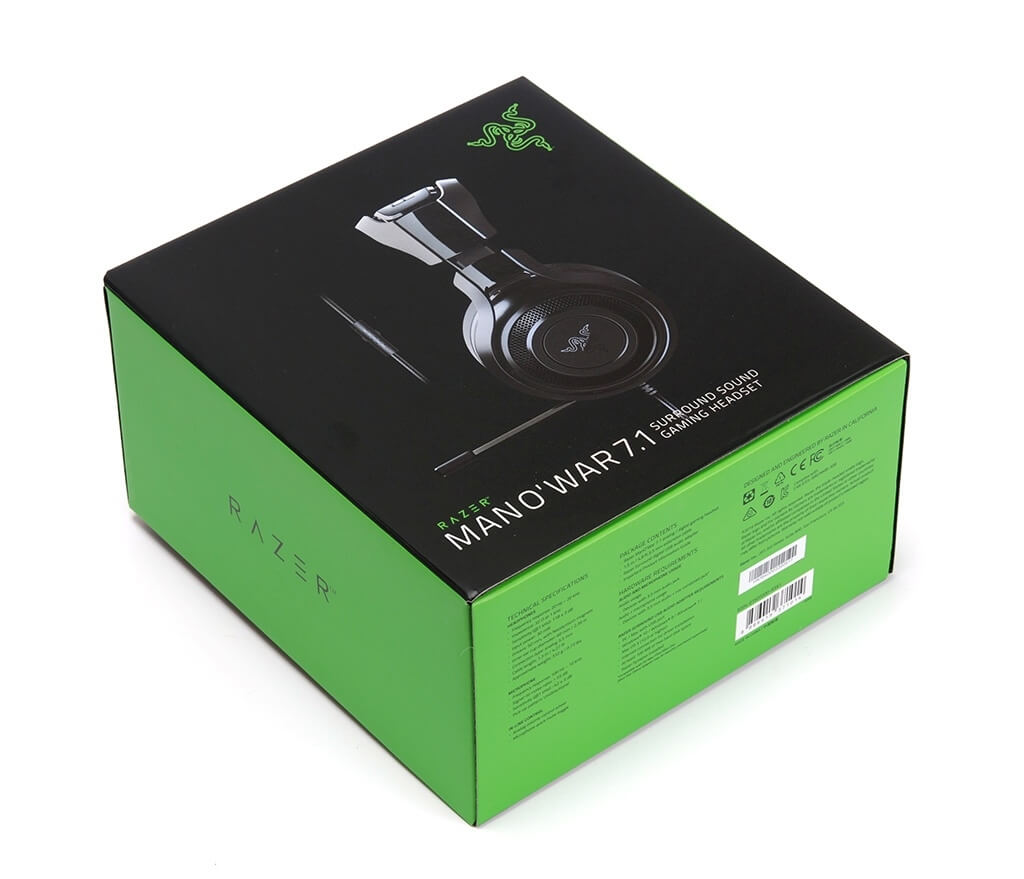 The packaging continues Razr's usual design style: black and green matching. The front of the package shows the renderings, and the back listed the main features.
Unboxing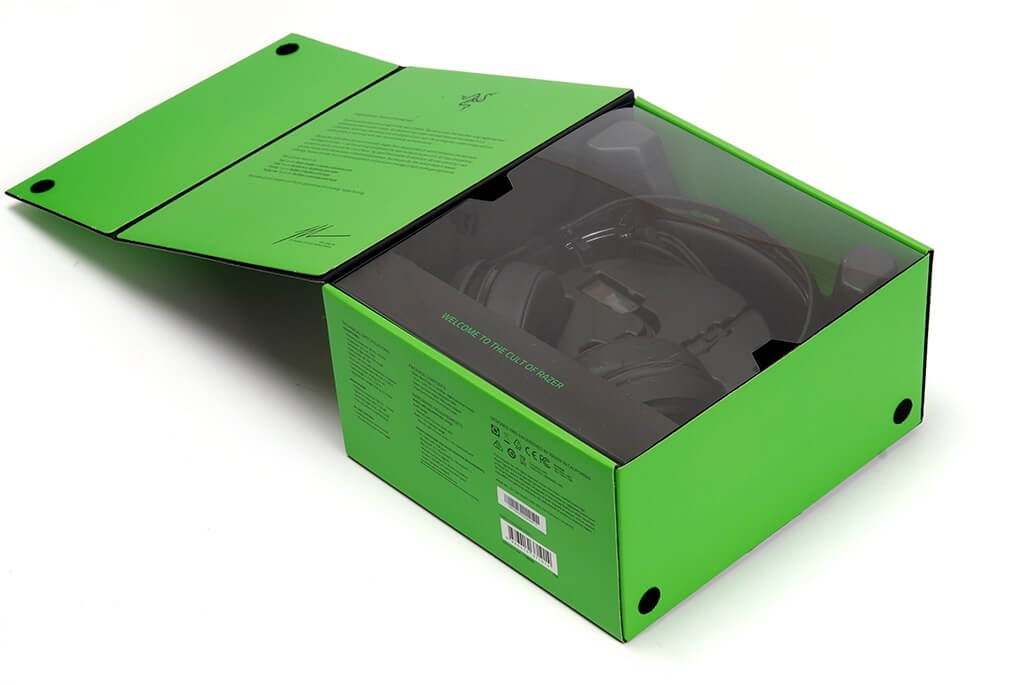 The headset is fixed in the box by rubber straps, and the accessories are on the lower level.
Accessories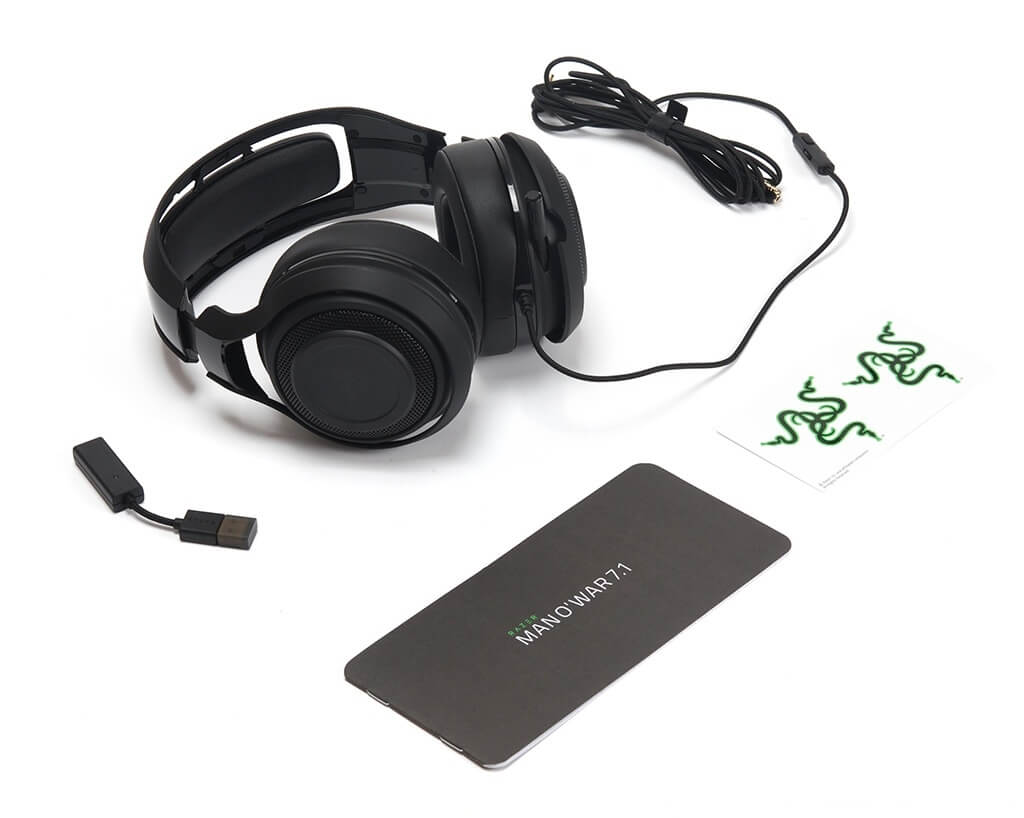 In addition to a 3.5mm extension cable, there is also a special independent USB sound card connector for virtual 7.1 surround sound. The headset itself has a universal 3.5mm interface. This design improves compatibility.
Details
Head Beam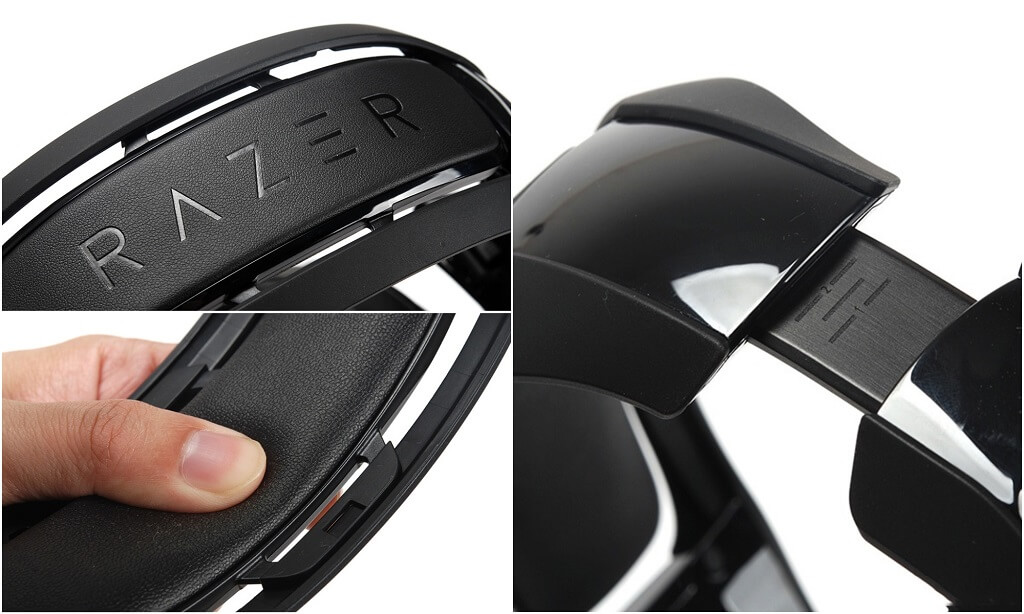 ManO'War 7.1's head beam has a 7-speed retractable aluminum alloy design. The wide head beam can evenly distribute the pressure on the head, ensuring the comfort of the player during a long game. New font "RAZER" LOGO is engraved on the top of the head beam.
Interface & Switches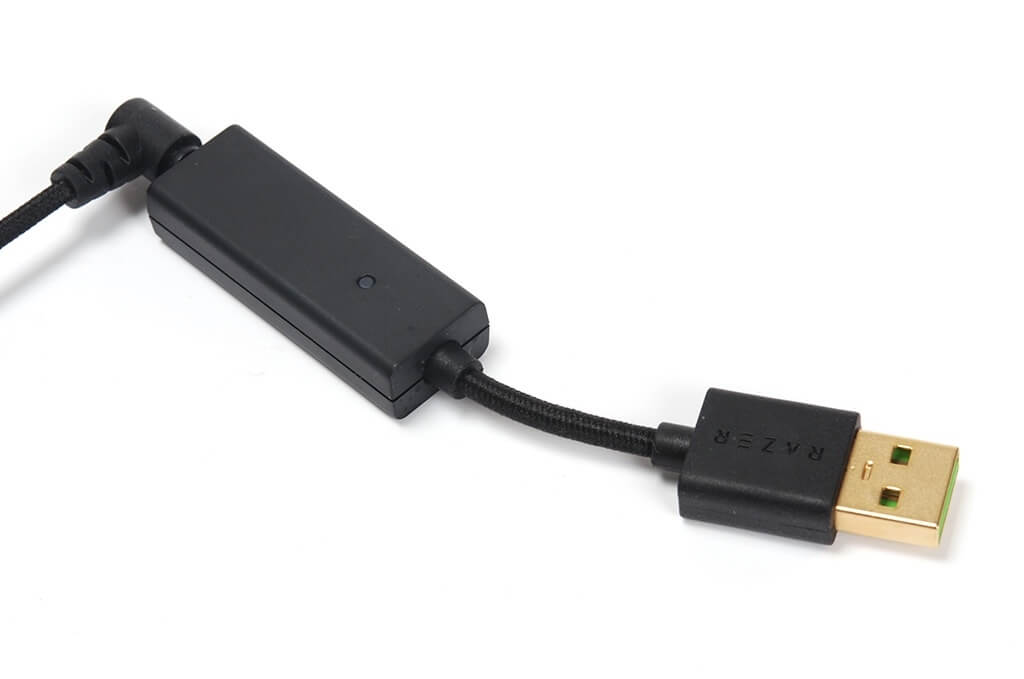 In order to have better performance when used on mobile phones or tablets, ManO'War 7.1 uses an L-shaped curved plug design, which can avoid the inconvenience of carrying and bending. All interfaces are gold-plated and anti-oxidized.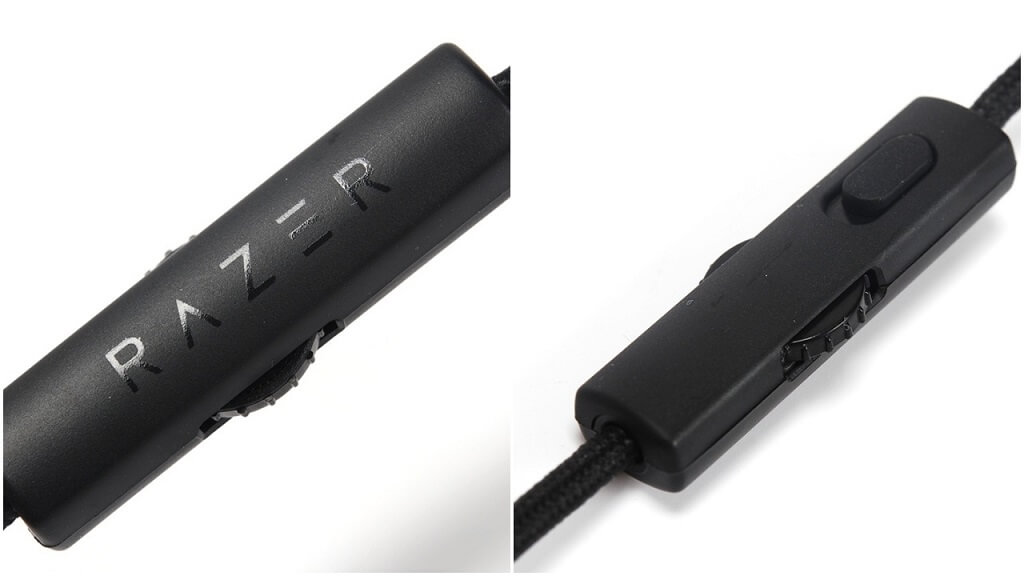 The wired Razer ManO'War 7.1 also equipped with an audio control switch.
Ear Cups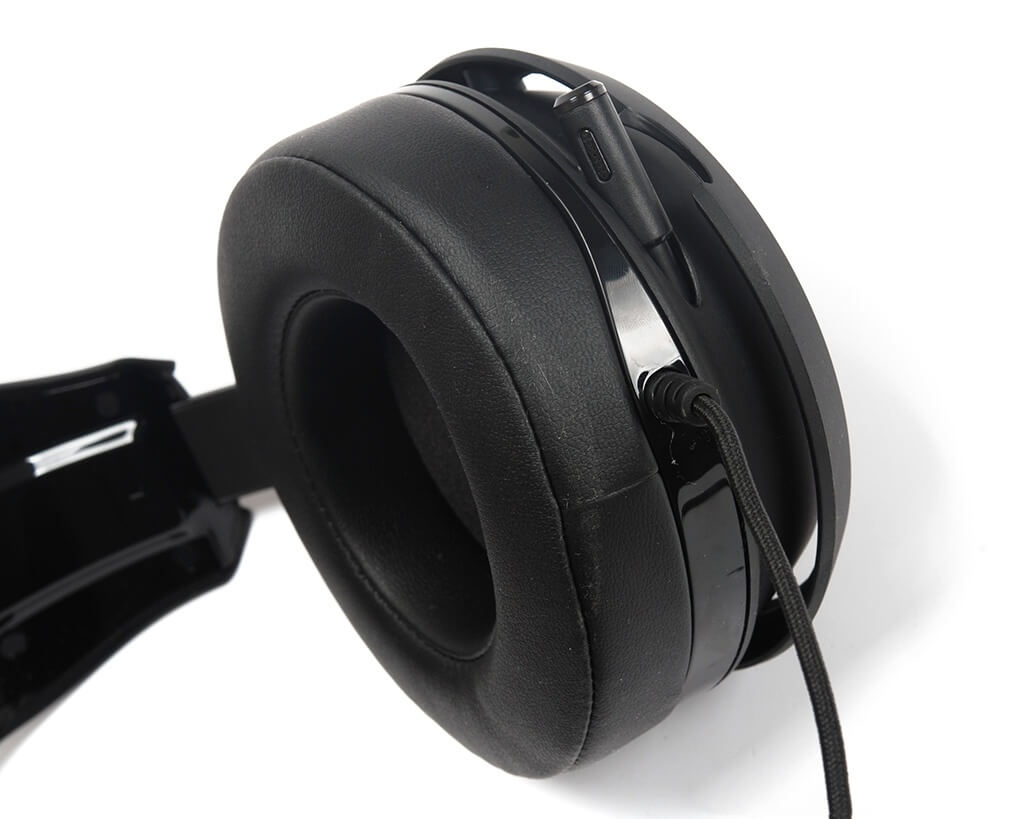 Ear Cups can be adjusted ± 15 ° vertically and 90 ° horizontally.
Earpads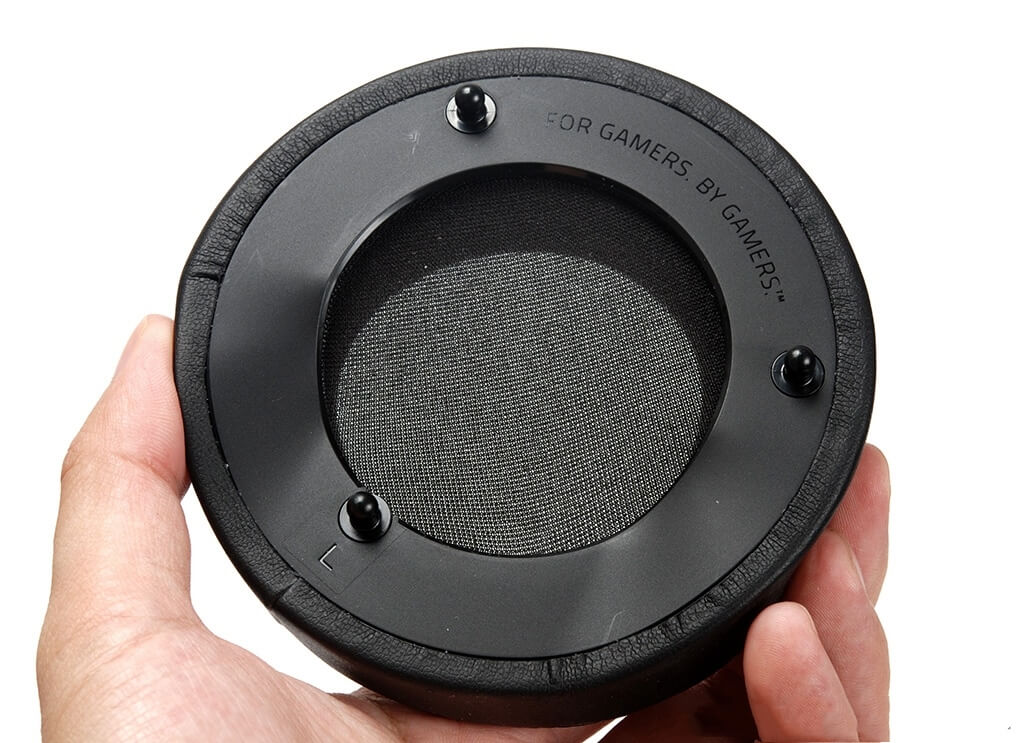 The earmuffs are covered with protein leather and the interior is filled with a soft sponge. The large size ear cups and wide earpads fully-wrapped player's ears, and evenly distributes the wearing pressure around the auricle, reducing the pressure and congestion of the auricle cartilage after long-term wearing.
The earpads can be disassembled easily for maintenance and replacement.
Speakers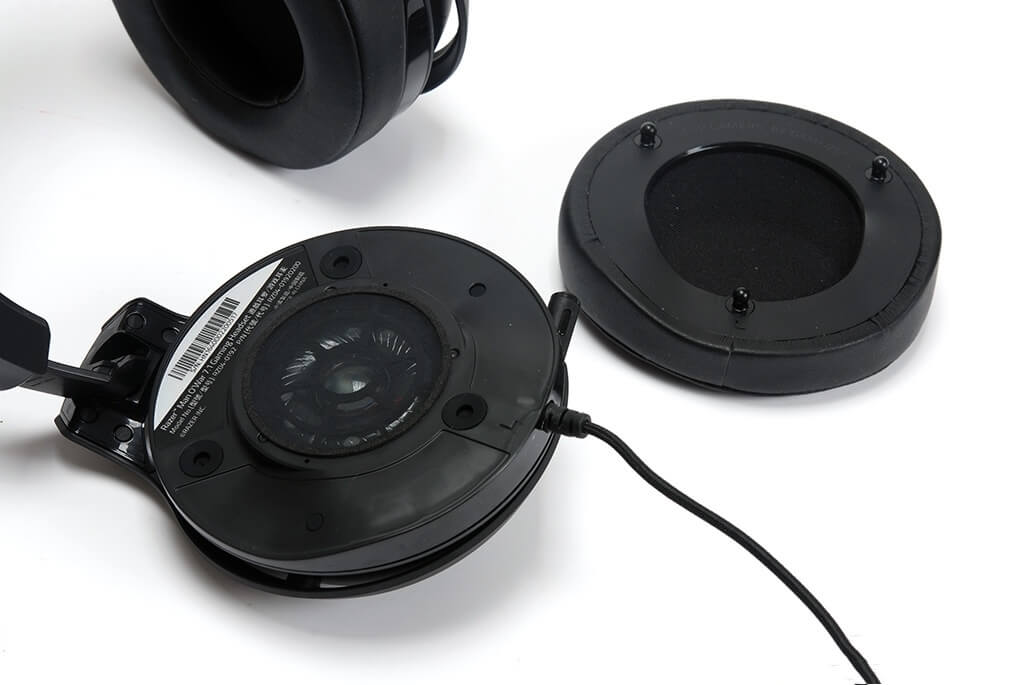 ManO'War 7.1 has two 50mm neodymium-magnet speakers. There is a metal cover around speakers and the Razer logo in the middle, this wired ManO'War 7.1 headset cancels the lighting effect.
MIC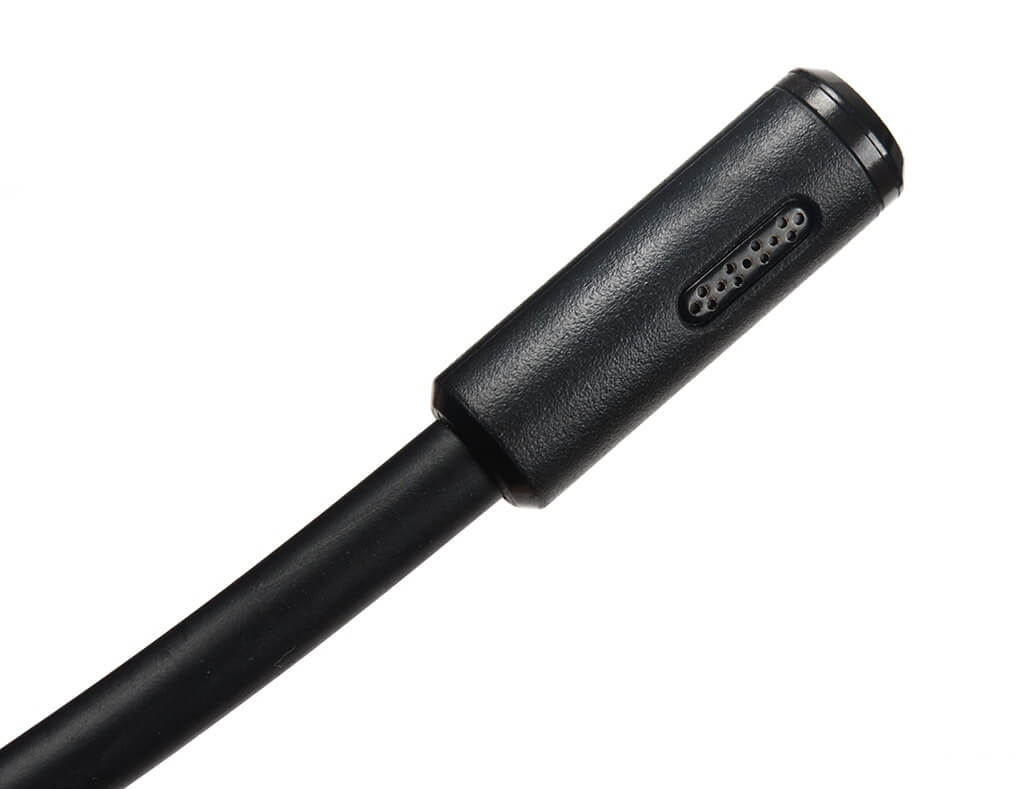 ManO'War 7.1 wired headset has a telescopic adjustable microphone and can be flexibly adjusted.
Microphone Specifications

Frequency response
100 – 10,000 Hz
Signal-to-noise ratio
> 55 dB
Sensitivity (@1 kHz)
-42 ± 3 dB
Pick-up pattern
Unidirectional
This microphone is not an analog microphone that traditional gaming headsets used, it's a digital microphone with an optimized algorithm, which also effectively ensures the clarity and naturalness of voice.
Driver
Razer Synapse allows players to set ManO'War 7.1 headsets according to personal needs. Even if you replace computers or reinstall the system, as long as you re-install Razer Synapse and log in, you will use the previous settings, which is very convenient for players who often change the use environment.
Experience
Wearing Experience
Razer ManO'War 7.1 wired gaming headset has wide earpads that can wrap the entire ear, effectively reducing environmental noise, and not putting too much pressure on the auricle cartilage. Overall, in terms of wearing experience, Razer ManO'War 7.1 wired headset performs very well.
It is worth mentioning that the weight of the wired version is reduced compared to the wireless version, which is about 332g, 43g lighter.
Audio Experience
In general, this headset suitable for vocal, rock, and DJ music, but it is relatively inferior to the performance of the grand symphony. It may be due to the virtual 7.1 channel (with interpolation algorithm), the sound field created by the analog channels is too wide. So when listening to music, you will find there are gaps between it and Hi-Fi headphones.
Gaming Experience
As a gaming headset, accurate sound localization is the factor that players need to consider first. I played FPS games which highly require sound localization: CS GO and Overwatch. The sound localization of the ManO'War 7.1 wired headset in the 2 games is very accurate, and the sense of direction and distance of the sound is clear. With the excellent resolution, footsteps and gunshots are not confused. Excellent low-frequency elasticity makes the atmosphere of the explosion sound in the ear feel enough, but not too fast to cause headbangs.
Pros and Cons
Pros
Suitable for Long-term Wear
Full Platform Compatibility
Good Sound Insulation
7.1 Virtual Surround
Accurate Sound Localization
Cons
Relatively High Price
Sound Card Not Compatible With Others
In Summary
ManO'War 7.1 wired headset is Razer's best comprehensive headset at present! Except the price is a little expensive, the design, workmanship, wearing experience, and gaming experience are excellent. If you have a sufficient budget, it is highly recommended to buy.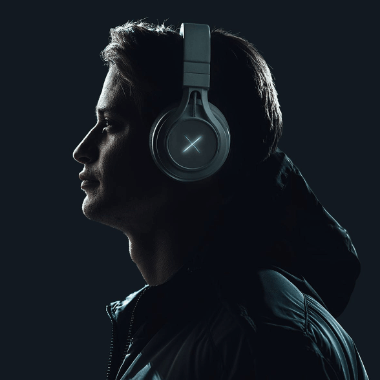 Hi, my name is Daniel, I'm a passionate gamer for over 5 years. Having used various gaming products myself, I will help other gamers benefit from the blog's recommendations of gaming headsets.