Although Steelseries Rival 310 gaming mouse has been released for 3 years, its sales are still very good on Amazon, many users rated it as "one of the best mice on the market".
Now, let me show you more details of this gaming mouse.
Packaging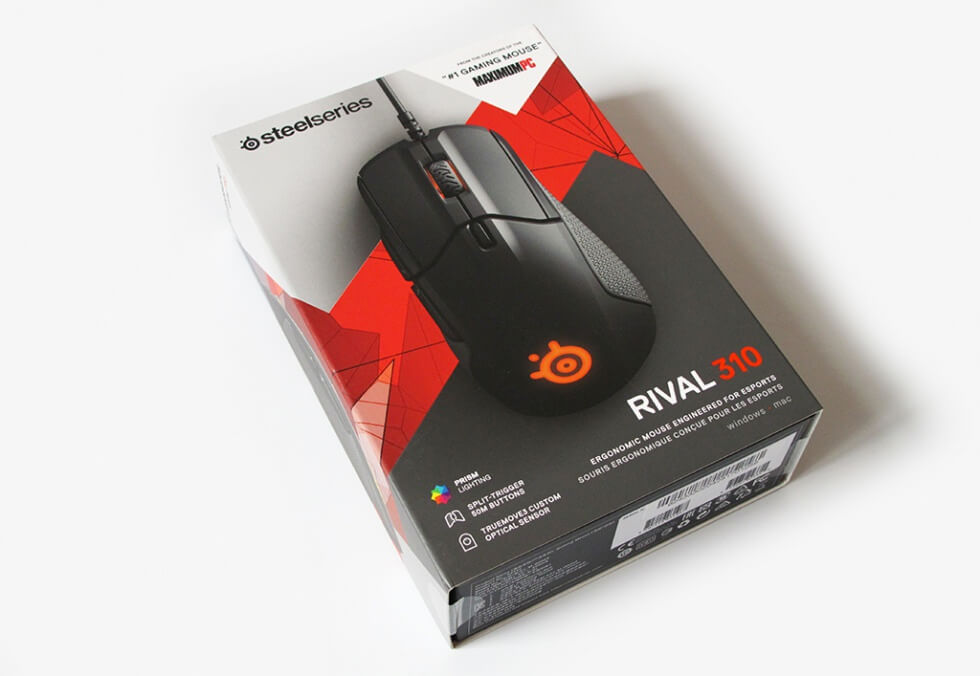 The black and orange packaging box commonly used in many other Steelseries products. The front is a picture of Rival 310, the back is detailed specifications, and the side has anti-counterfeiting signs and agents information.
Unboxing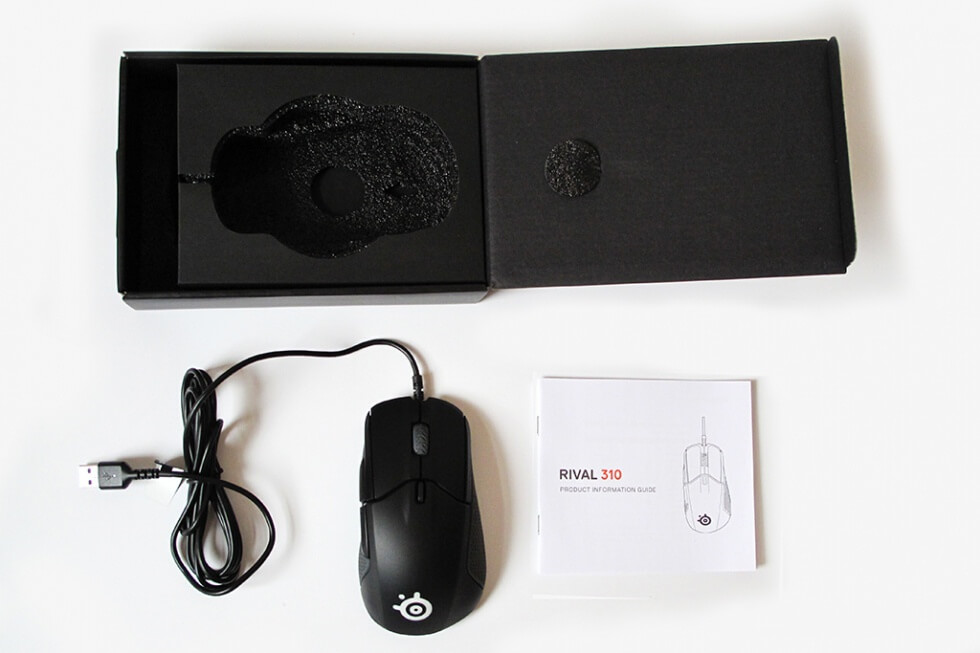 The internal packaging is very simple, the hollow sponge wraps the mouse.
The accessory is only a manual.
Steelseries Rival 310 Specifications

Type
Wired
Dimensions
127.6*70.1*41.98mm
Weight
88.3g
Mouse Grip Style
Palm or Claw
Hand Orientation
Ergonomic Right Hand
Buttons
6
Lighting Type
RGB
Sensor
SteelSeries TrueMove3
CPI
100 – 12,000
IPS
350+
Acceleration
50 g
Polling Rate
1 ms
Tracking Accuracy
1:1
Amazon Rating
Check Price
Check Price
Details
Appearance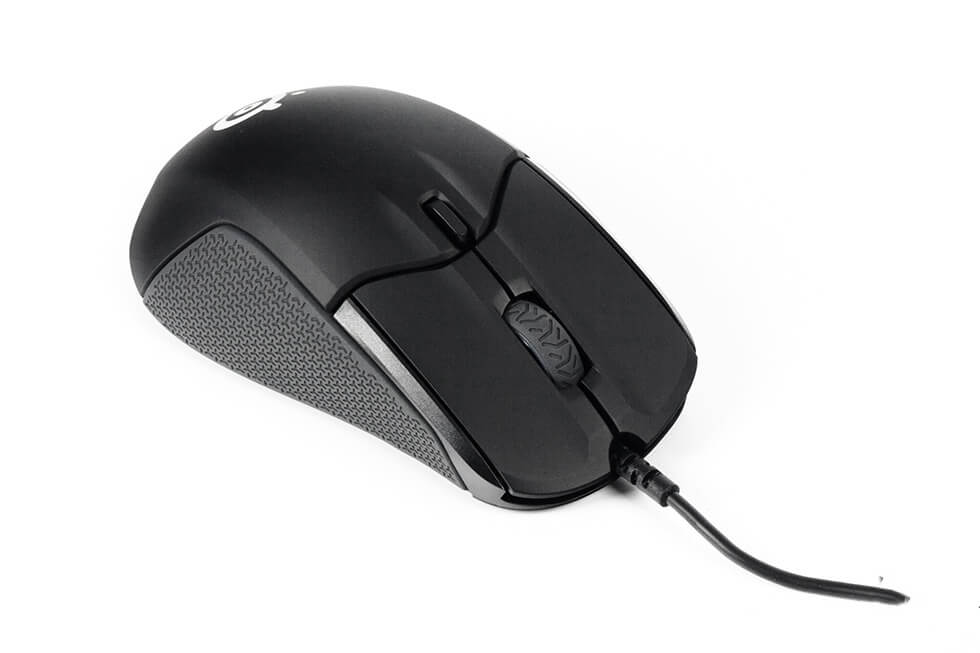 The appearance of Rival 310 is wide and flat, mouse surface material is fingerprint resistant semi-rough matte.
Its size is 127.6 * 70.1 * 41.98mm, significantly smaller than Rival 300.
Click Buttons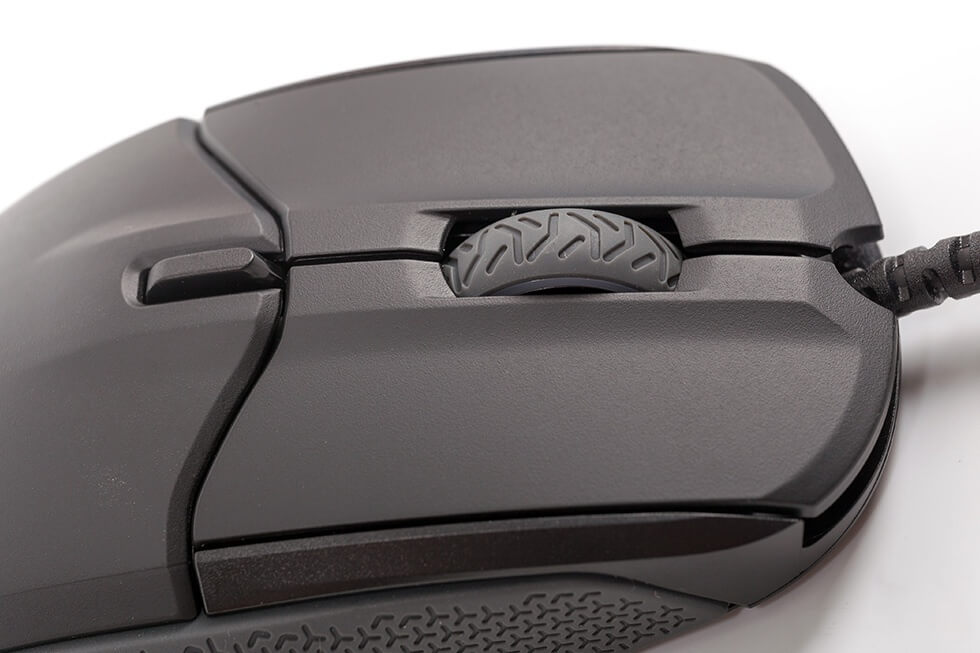 Rival 310 adopts Steelseries exclusive split trigger buttons, the press, and responsive feeling are more comfortable than Ravil 300.
Scroll Wheel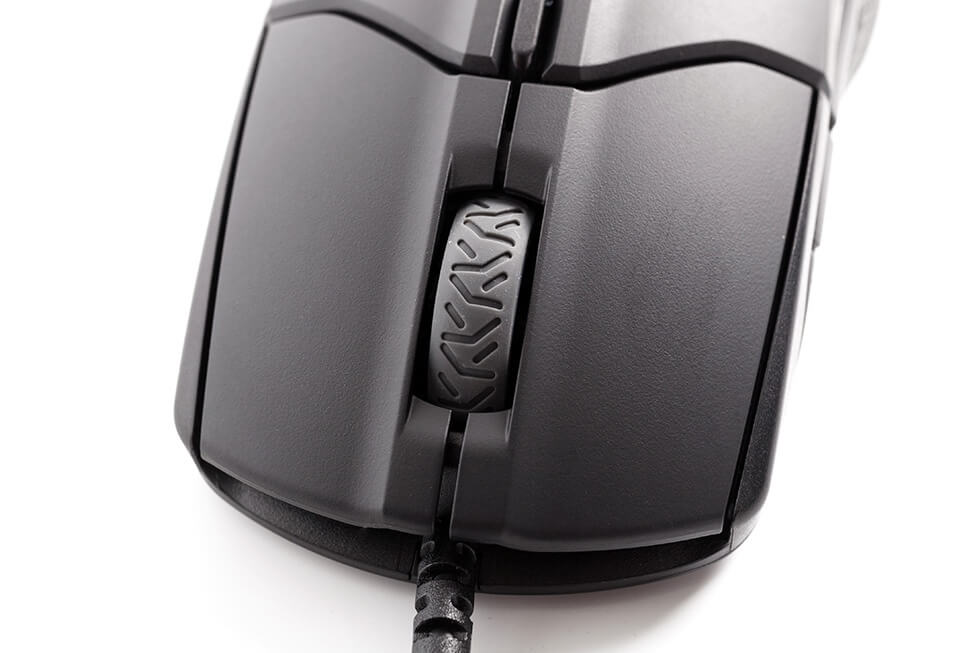 The material of the scroll wheel is silicone, the anti-skid ability is general, but is very durable. It scrolls smoothly and has a clear sense of scale.
DPI Button
The DPI button is behind the scroll wheel and is designed to be small to prevent accidental touch. But they only have 2 settings.
Side Buttons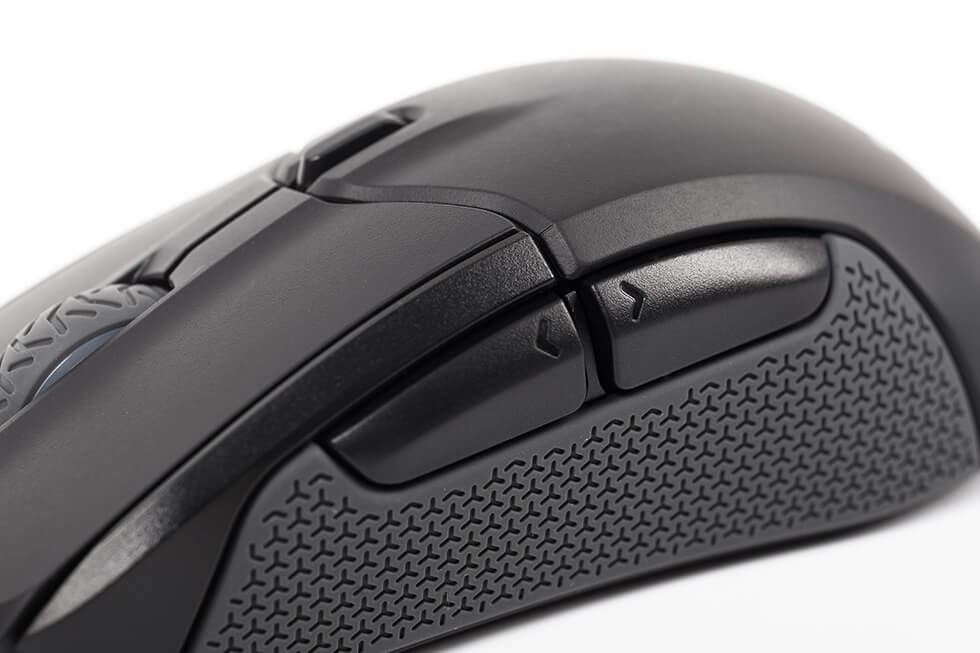 The position of the side key is relatively high, which can leave enough space for the thumb to fully hold side skirt. Users can press the forward side button without changing the grip style.
Side Skirt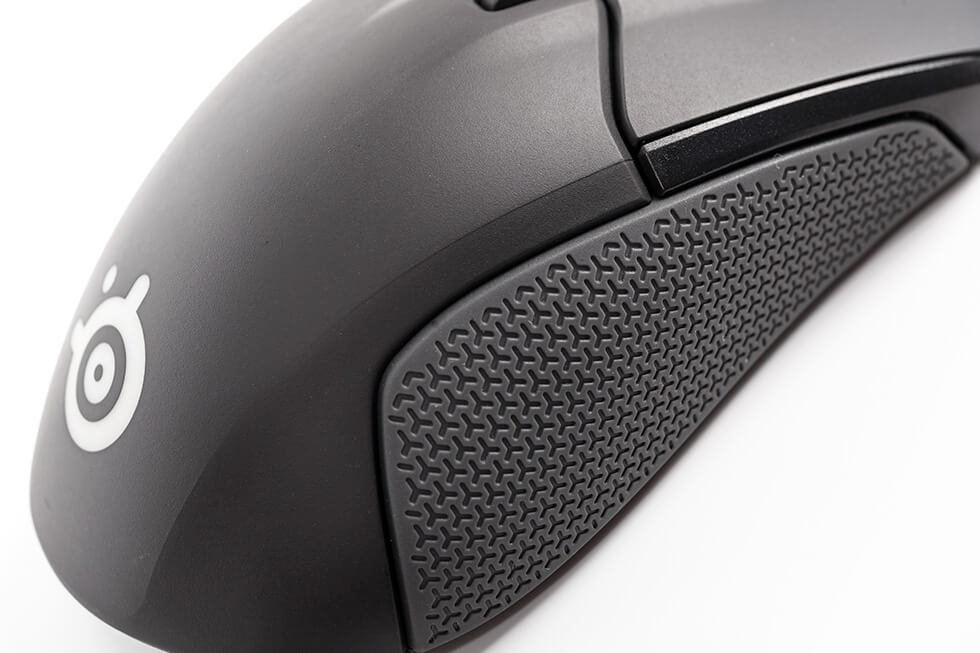 The material of the side skirt is ultra-durable pure silicone.
Rear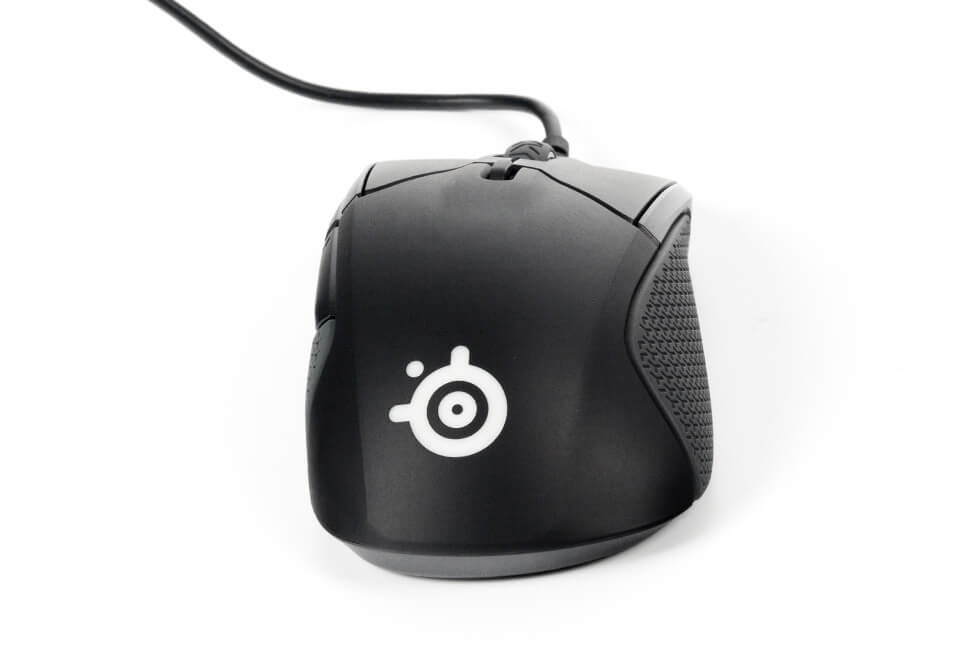 To the rear part, Rival 310 canceled Rival 300's customizable nameplate and replaced it with a smoother curve. It is more holistic and has fewer corners, improving the grip experience.
Bottom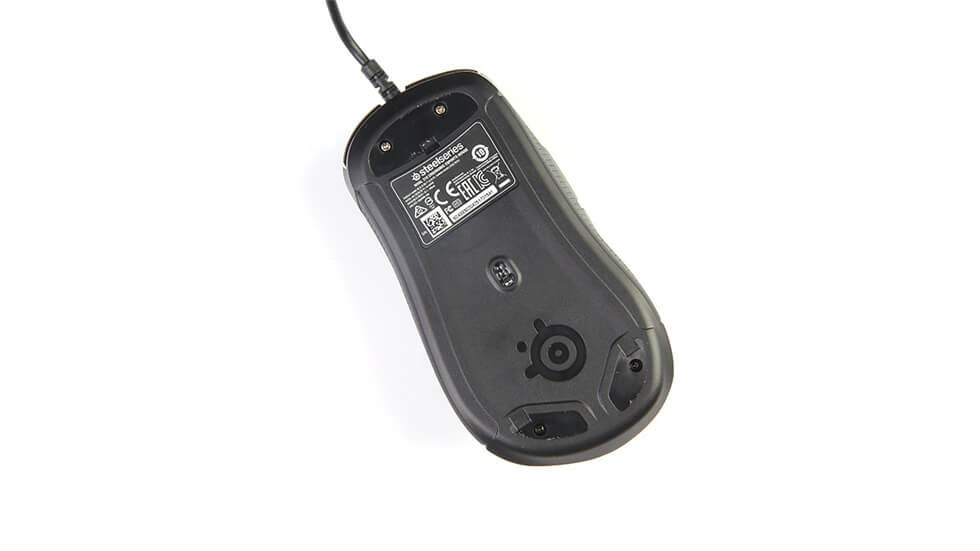 There are 3 Teflon foot stickers on the bottom. It is smooth to use on cloth pads and resin pads and has good wear resistance.
Cable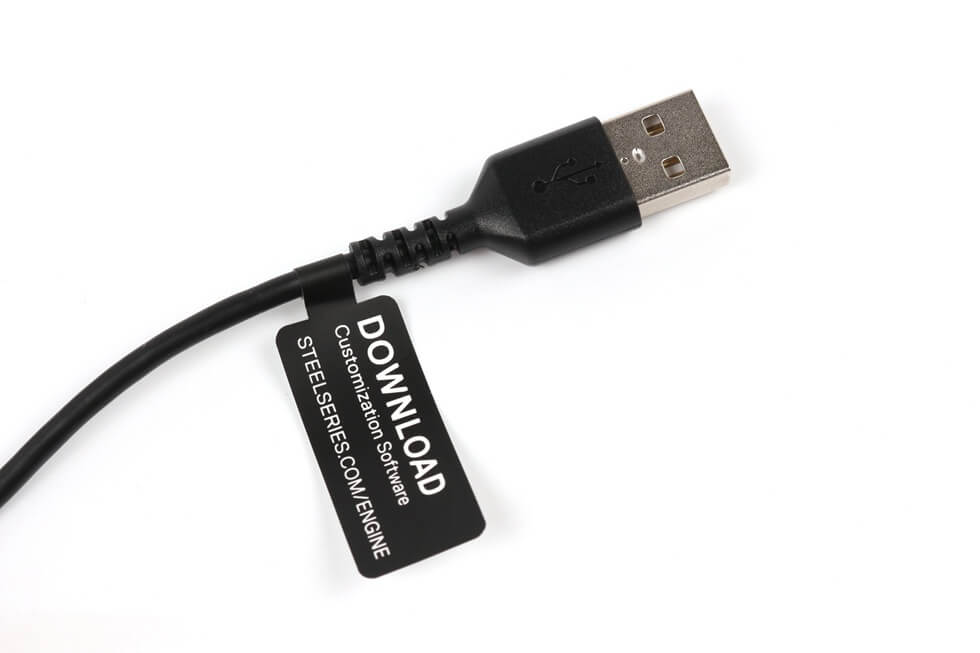 The cable material is rubber which has good bendability and moderate softness. It is not as good as braided cable.
Lighting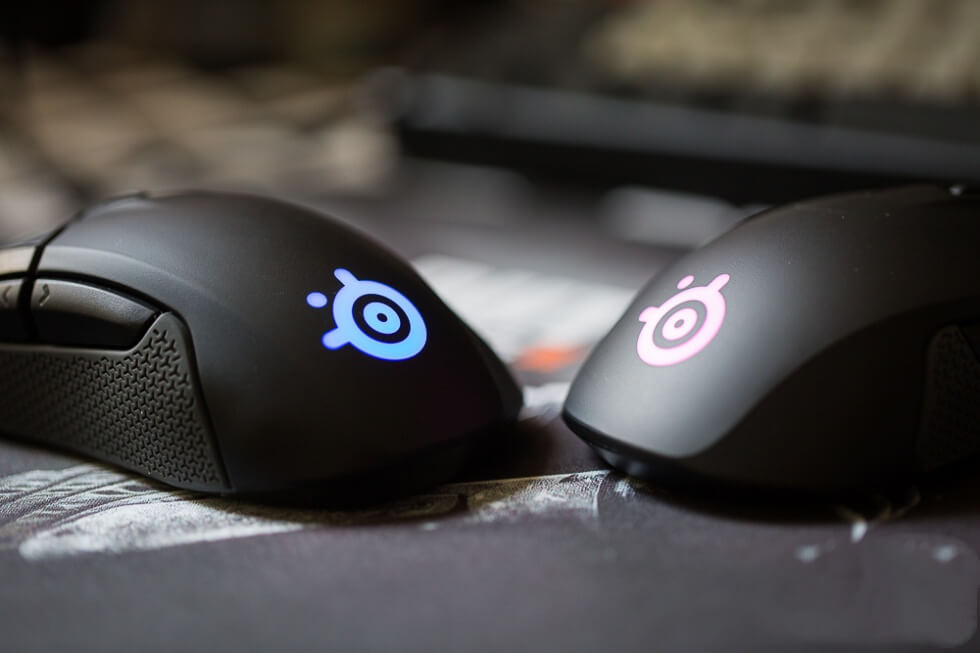 Like most gaming mice, Rival 310 uses RGB lights at the logo and scroll wheel area, and also support Steelseries Prism RGB.
Disassemble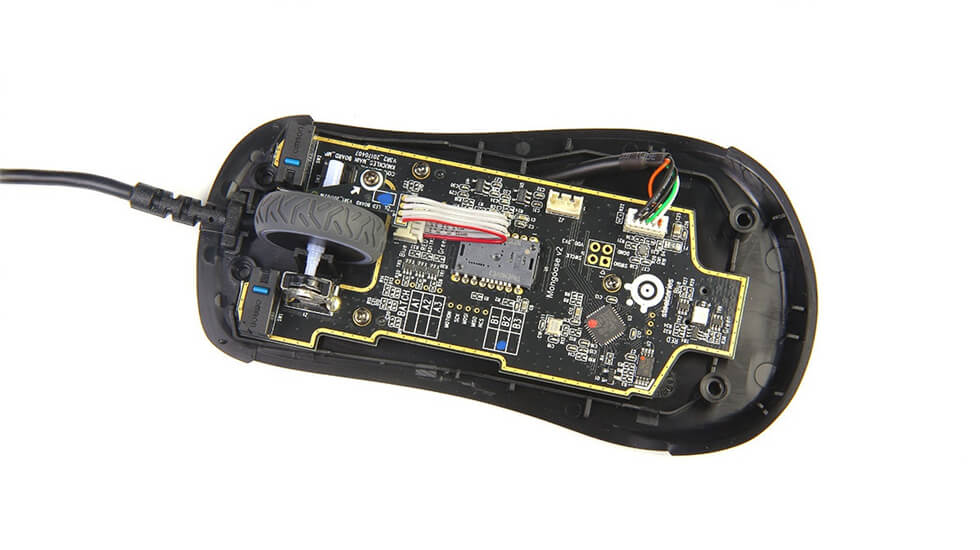 Datasheet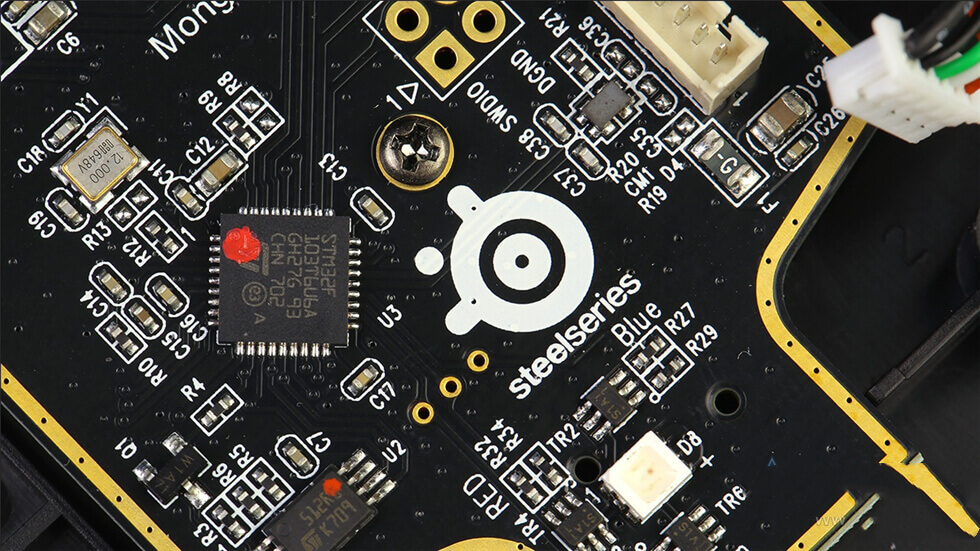 Rival 310 uses ST STM32F103T6U6A maincontroller, ARM 32-bit Cortex ™ -M3 CPU Core, 72 MHz maximum frequency. Like the previous Rival 300, it is also a custom 3360 32-bit ARM processor, with basically no improvements in performance.
Sensor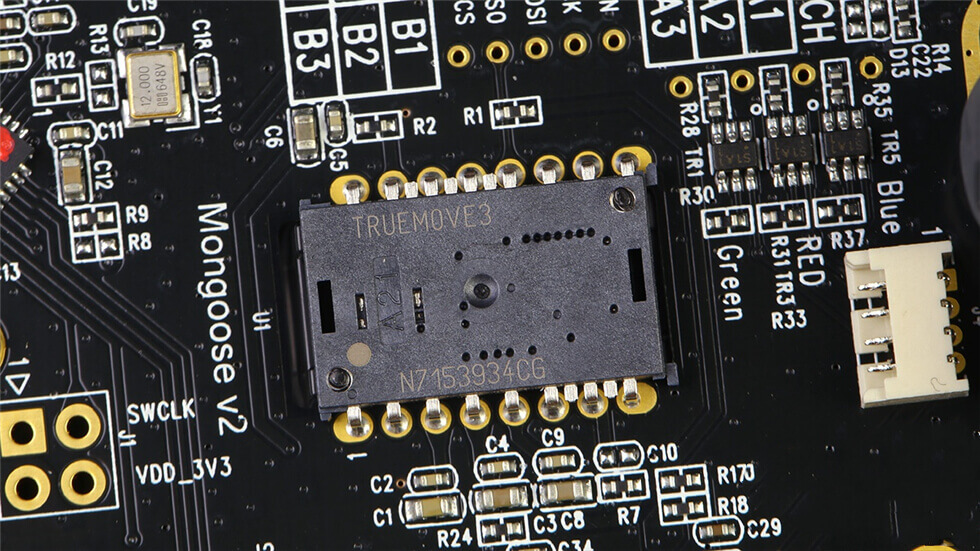 This TrueMove3 optical sensor provides a 1: 1 pixel tracking effect, 350+ IPS, Max. 50 g acceleration, <1ms polling rate.
Micro Switch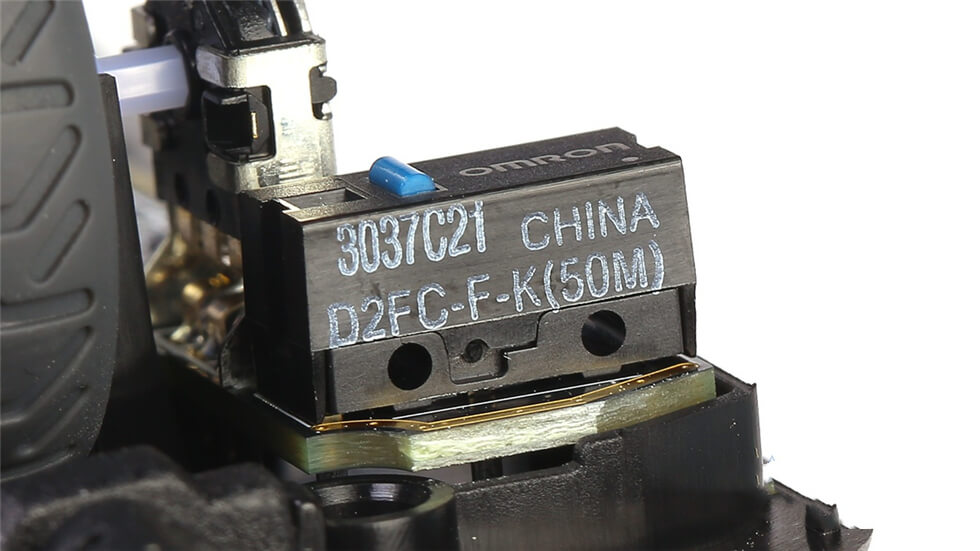 This is Omron D2FC-F-K (50M) micro switch. It has a click life of up to 5000W times which is the highest click lifetime of Omron switches. It can also provide gamers with the most consistent feel and durability.
Encoder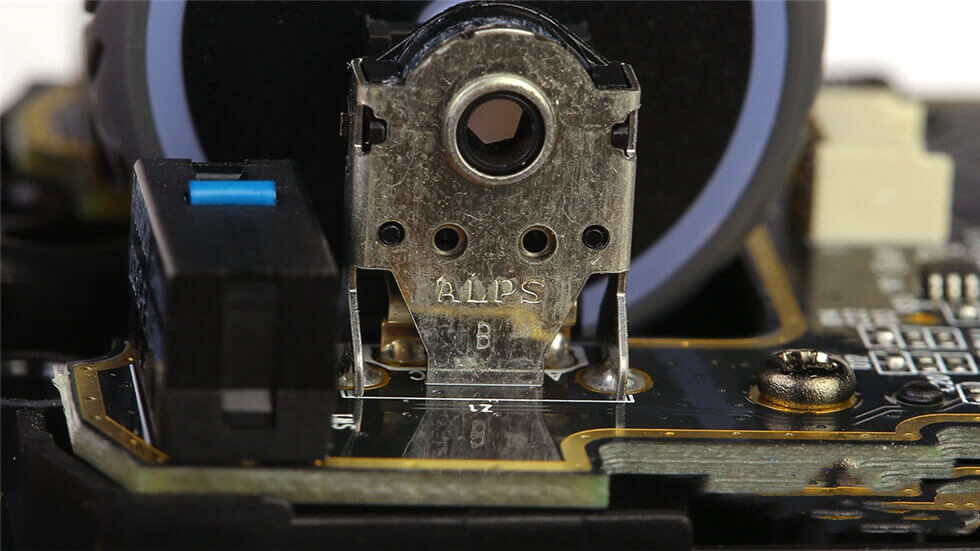 This is an ALPS encoder, it can convert the rotary displacement of the scroll wheel into a digital pulse signal.
Grasping Experience
For me whose hands size is not very large, the grip experience of Rival 310 is much better than that of Rival 300 and Rival 300S.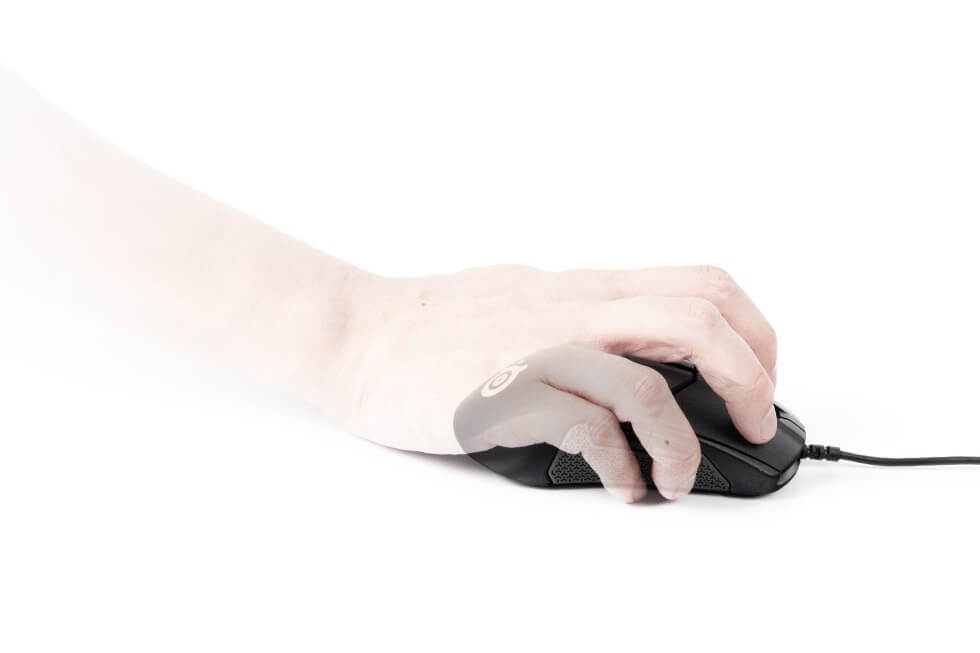 The claw grip can make better use of the friction provided by the silicone side skirts on both sides, thereby improving the control ability of the mouse.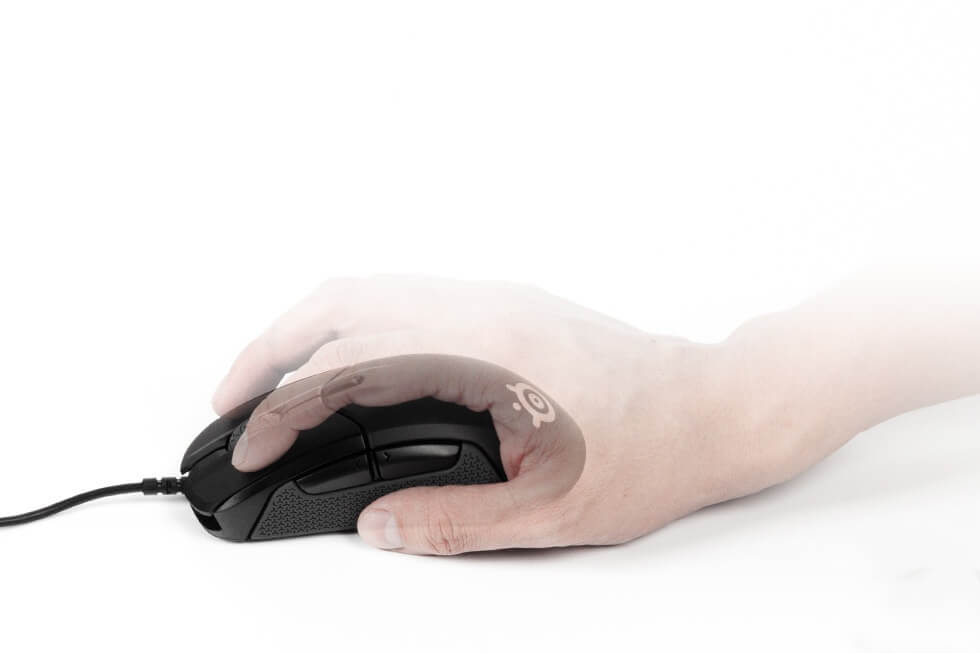 In the palm grip position, the wide rear of the mouse can make the users' palm more comfortable on the mouse.
Pros & Cons
Pros
Comfortable ergonomic shape
Lightweight at 88g
Great Tracking
Light-touch Omron(50M) switches
No lift-distance control
Competitive price
Cons
Only right handed
Less programmable buttons
Weight can't be adjusted
Only two sensitivity/DPI settings
In Summary
Rival 310 integrates many advantages at a reasonable price, with excellent workmanship, good surface feeling, button responsive and perfect gaming performance, plus Steelseries is good at adopting users' suggestion, all these make this gaming mouse be the first choice of $50 gaming mouse.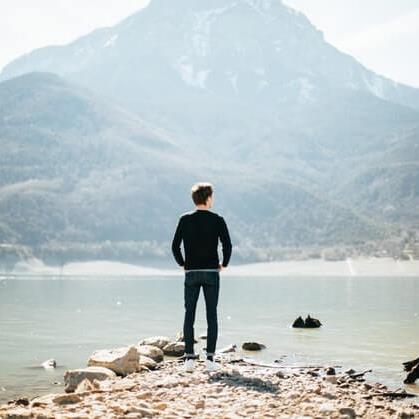 Hi, I'm Rebecca Hampton, I do in-depth reviews of the gaming mouse. I love to disassemble the gaming mouse and dig deeper into them.
Come with me on my journey to find the best gaming mouse!
Check out some of my content and subscribe if you enjoy them.
Thank you for all the support and I truly appreciate you stopping by.