As the world's top DIY accessories manufacturer, Corsair's product line has almost spread across the entire DIY field.
Corsair has also released a series of gaming mice, such as Harpoon RGB, SCIMITAR PRO, M65 PRO, GLAIVE, etc. But compared to its headsets and keyboards, the mouse is in a lukewarm state among game players.
Today what I reviewed is Corsair's entry-level gaming mouse called "Harpoon RGB". I will analyze this gaming mouse from the following these aspects below:
Packaging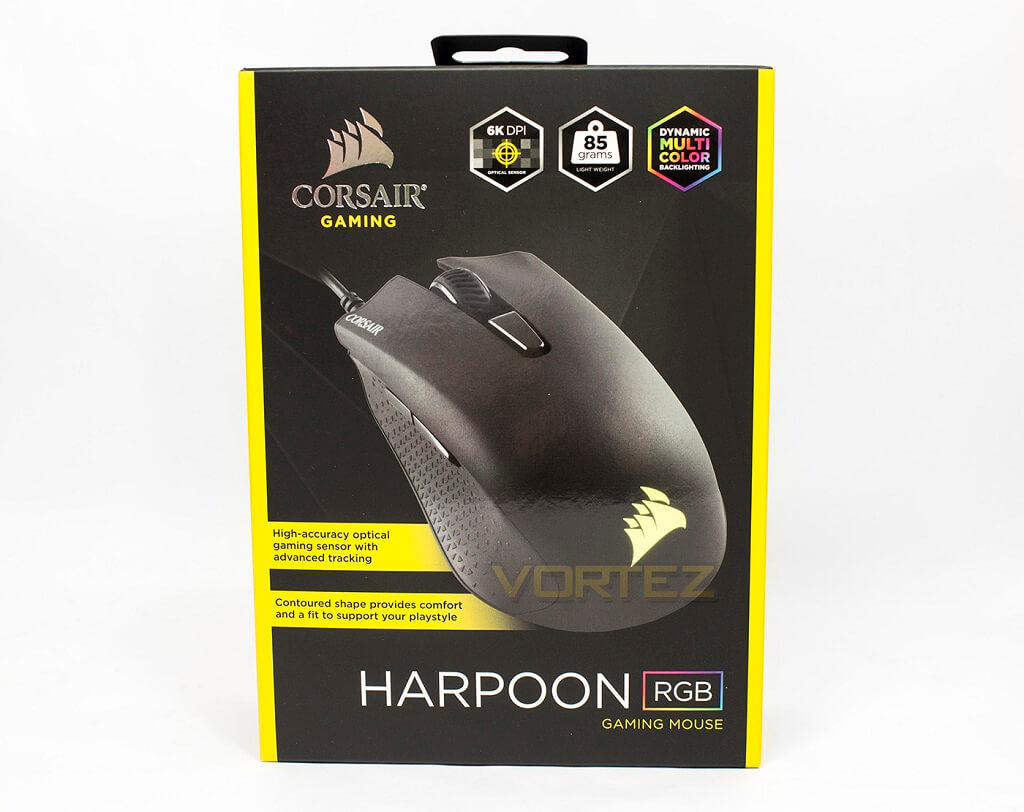 Harpoon RGB's packaging box uses Corsair's usual black + yellow color scheme.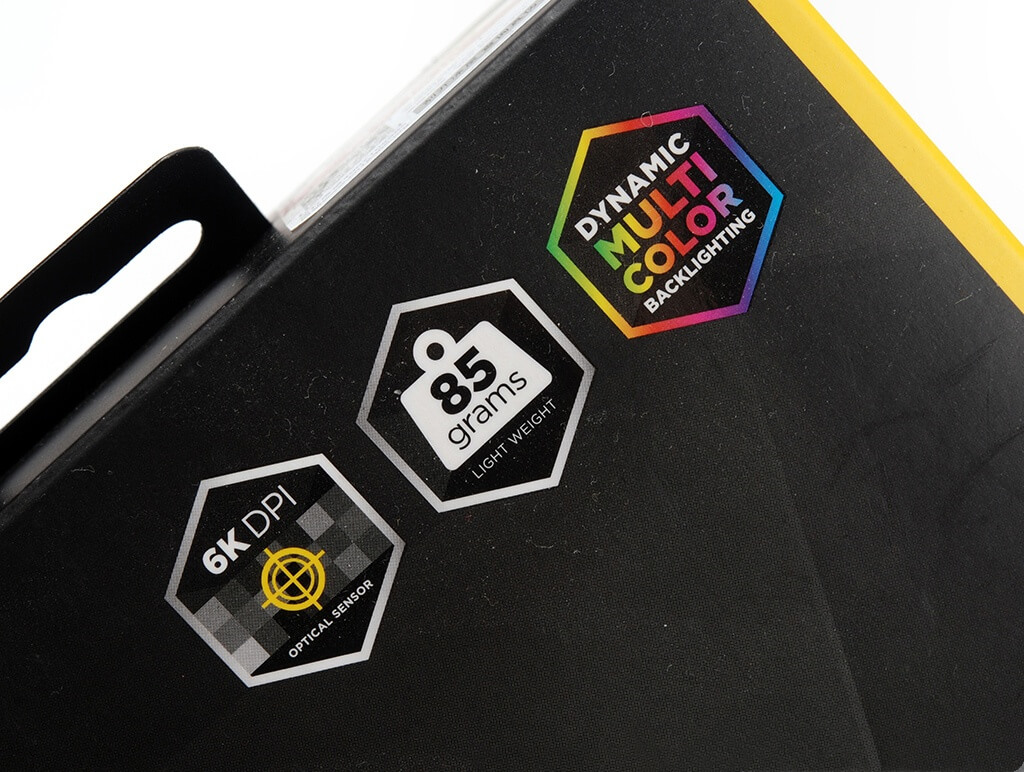 The upper right corner lists the main 3 selling points:
6K DPI engine
85 g lightweight design
RGB lighting effect
On the back is the big picture of Harpoon RGB and the description of the programmable buttons.
Specs
Harpoon VS Harpoon PRO

Mouse Details

Model
Harpoon
Harpoon Pro
Photo
Release Date
2018
2019
Colors
Black
Black
Dimensions(L*W*H)
111.5*68.3*40.4 mm
114.3*58.4*40.6 mm
Weight
85 g
85 g
Adjustable Weight
No
No
Ergonomy
Right-hand
Ambidextrous
Grip Style
Claw
Claw
Buttons
6
6
Lighting
Yes
Yes
Adjustable Lighting
Yes
Yes
Connectivity
Wired, USB 2.0
Wired, USB 2.0
Cable Type
Rubber cable
Rubber cable
Cable Length
1.8 m
1.8 m

Technical Specs

Sensor Type
Optical
Optical
Sensor Model
PMW3320
PMW3327
DPI
400 - 6,000 DPI
400 - 12,000 DPI
Maximum Acceleration
20 G
30 G
Max Tracking Speed
80 IPS
220 IPS
Polling Rate
1000 Hz (1ms)
1000 Hz (1ms)
Lift Off Distance
High (2.5 mm)
High
Onboard Memory
Yes
Yes
Hardware Acceleration
No
No
Switch
Omron (20 million clicks)
Omron (20 million clicks)

Price and Warranty

Warranty
2 Years
2 Years
Amazon Rating
Amazon Price
Check Price
Check Price
Unboxing
After opening the package, you can see that the side buttons and DPI button are covered with a protective film to prevent them from being worn during transportation.
Package Contents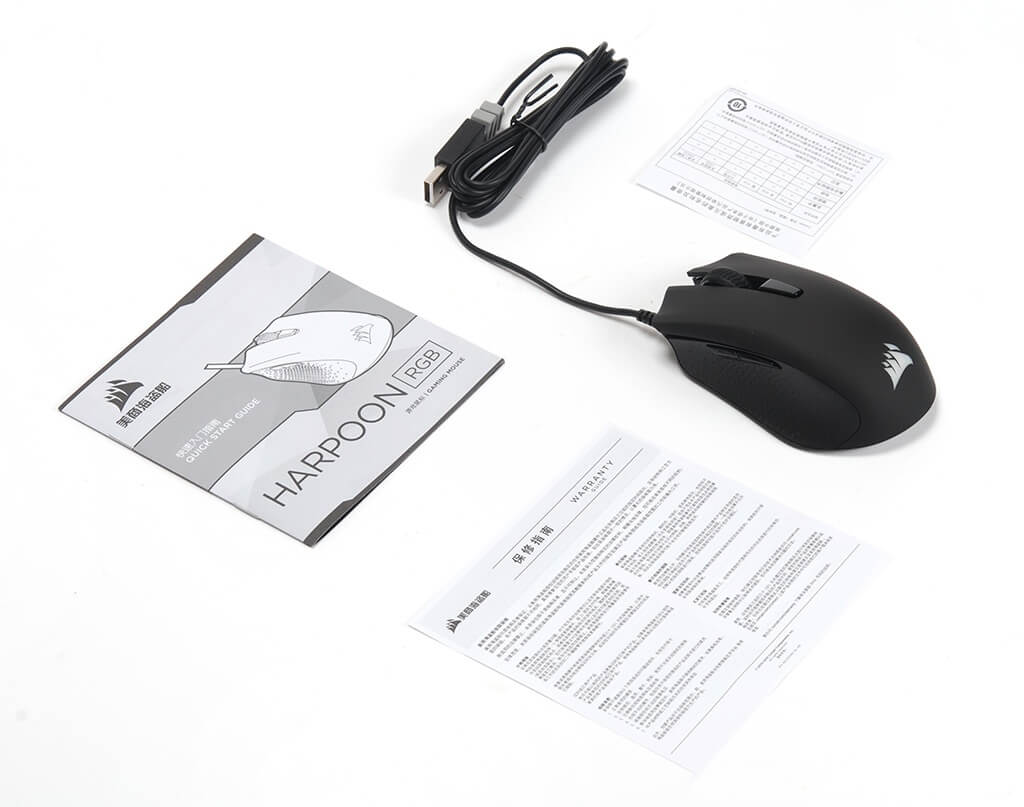 CORSAIR HARPOON RGB Gaming Mouse
User Manual
Warranty Guide
Details
Appearance
Harpoon RGB adopts right-hand orientation ergonomic design, the left click button is a little higher than the right. There is also a slight waist design on its sides, it is convenient for players to hold.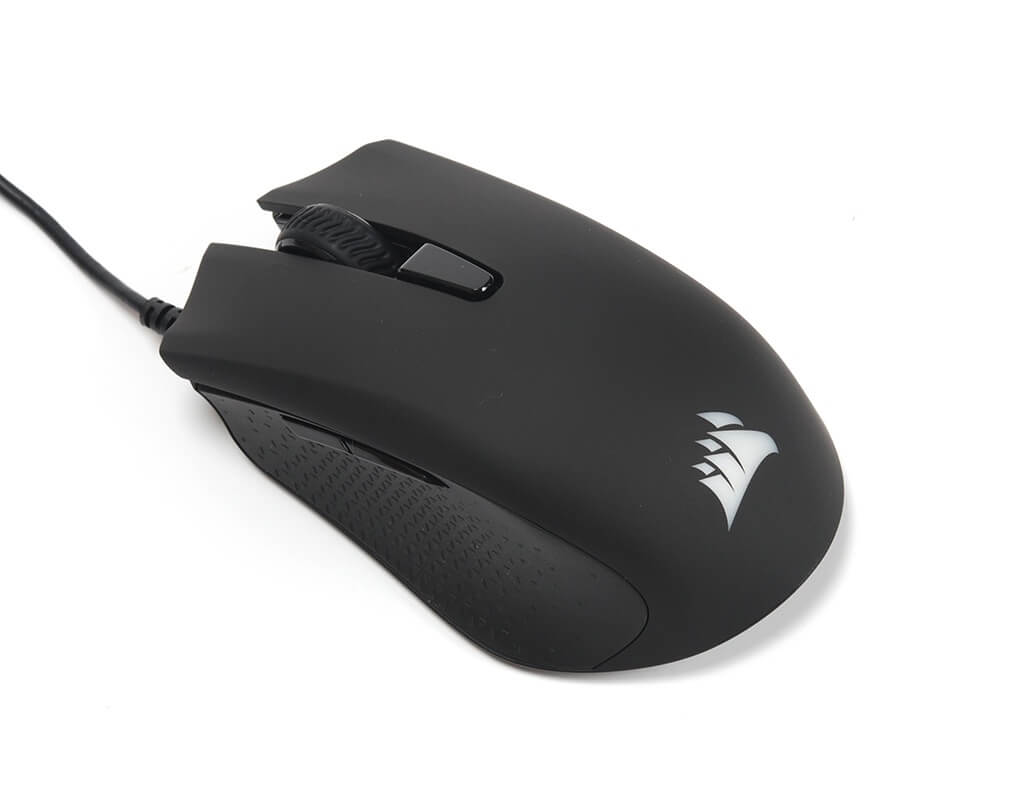 Size
Its size is 111.5×68.3×40.4mm, a medium-sized mouse.
Weight
The Harpoon RGB mouse is incredibly lightweight at just 85g, a light-weight mouse is very important for long-term gaming.
Surface Material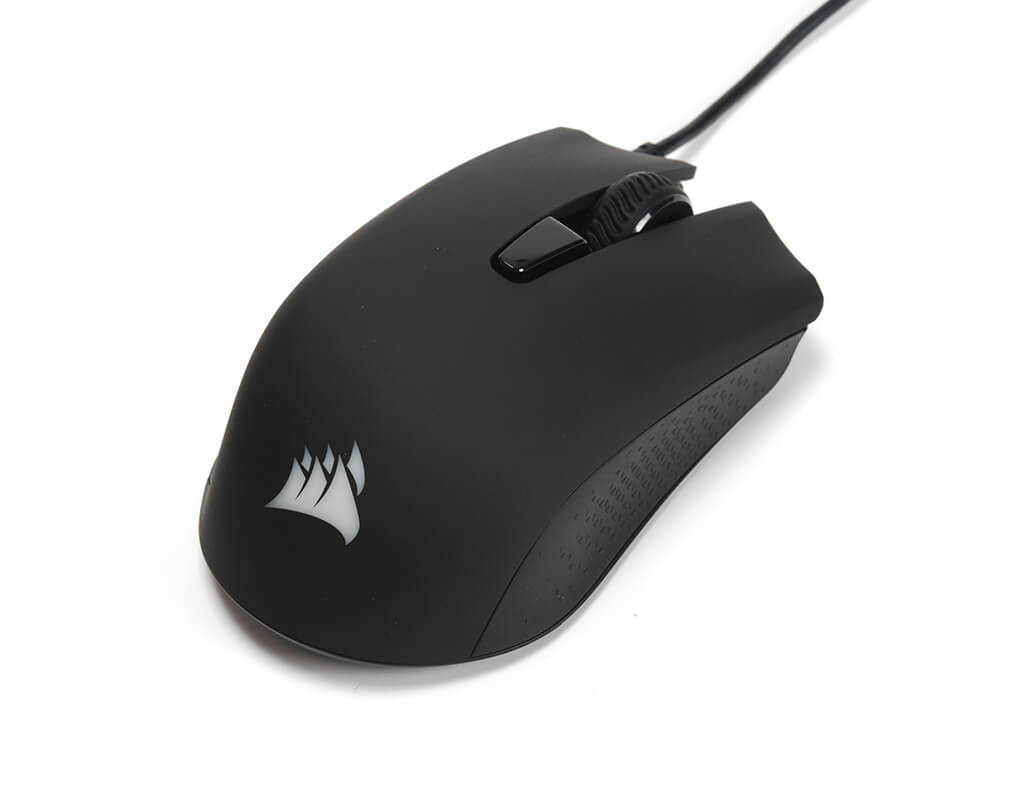 The surface of Harpoon RGB uses a matte design, its anti-slip effect is excellent. For those who are used to skin-like materials, it may take some time to adapt.
Click Buttons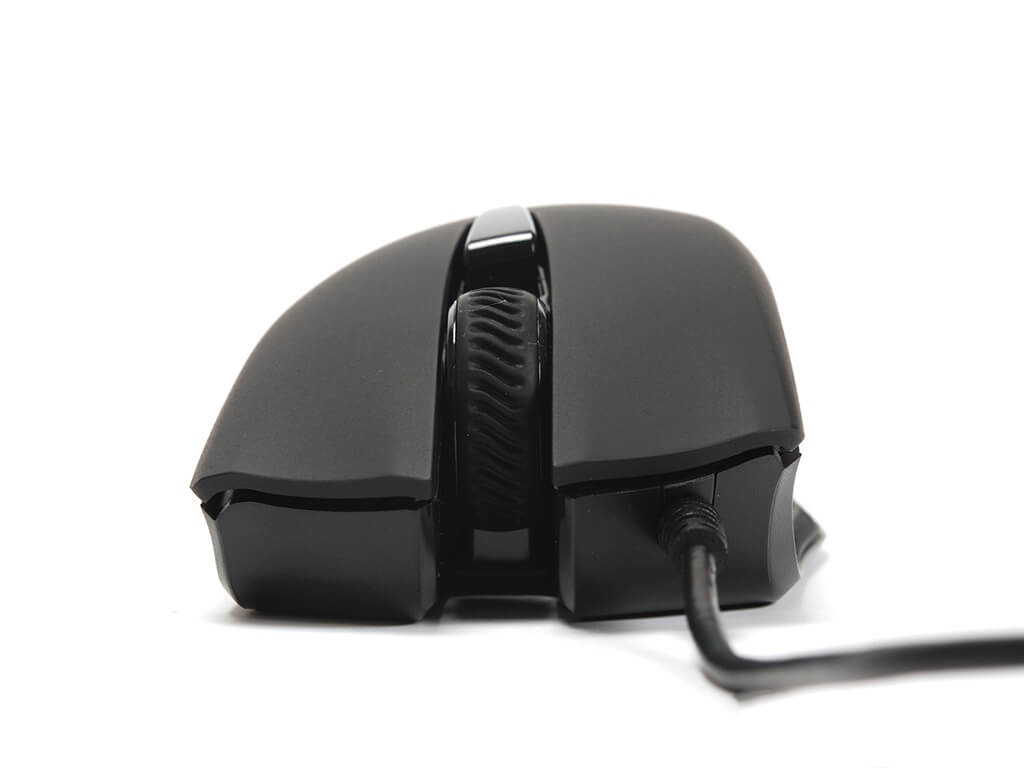 The left and right-click buttons have an obvious groove design to guide users to click in the best area. Harpoon's click buttons are slightly lighter, with no empty keystroke, and rapid rebound.
Scroll Wheel
The rubber texture of the Harpoon RGB mouse scroll wheel has high friction, and the scroll wheel has a good sense of damping and scale.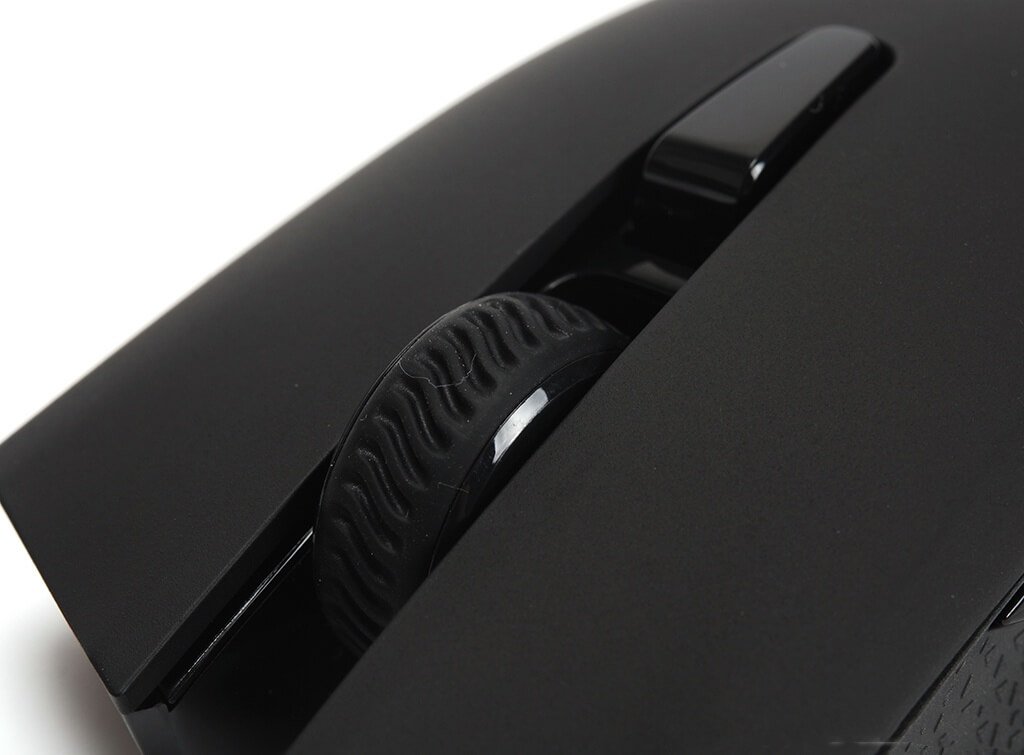 DPI Switch
The DPI button uses mirror material like the side buttons, and the click feel is crisp.
Side Skirt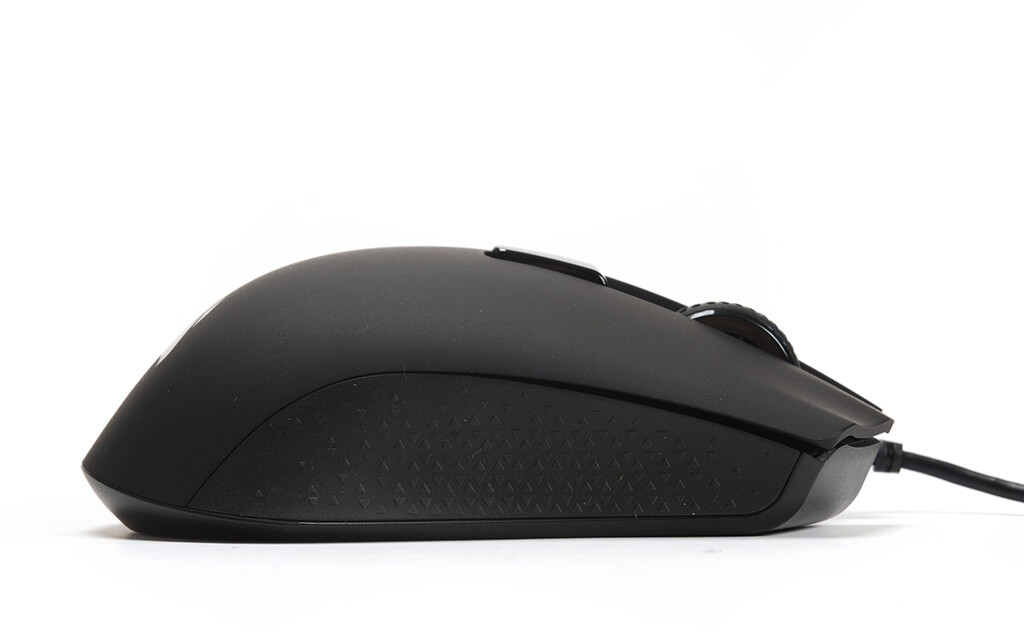 The side skirt uses a large piece of non-slip texture rubber design for finger resting areas, which feels very comfortable and has a good anti-slip performance.
Side Buttons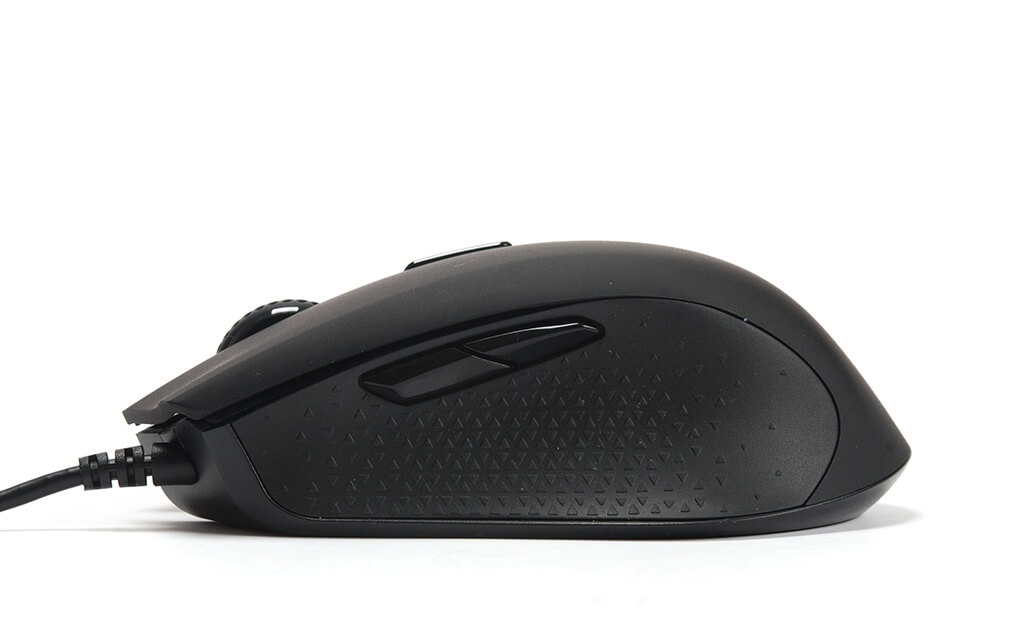 The back/forward side buttons are designed on the left side, and the surface is made of mirror material. The back/forward buttons feel clicky and tactile.
Their position is on the upper side, and users are not prone to accidentally touch it when holding it normally.
Lighting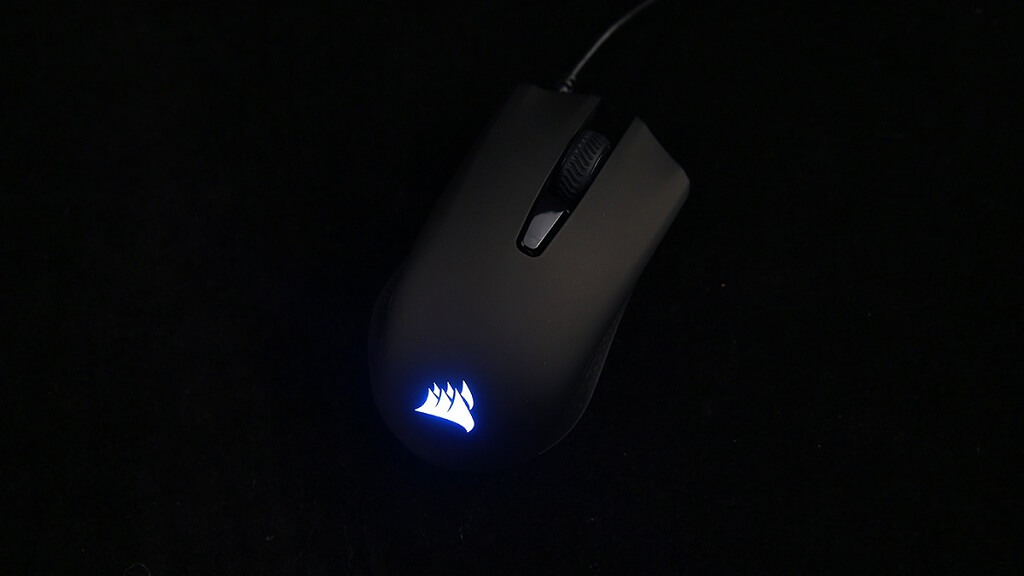 Harpoon RGB gaming mouse has 5 lighting effects within iCUE: rainbow, color shift, color pulse, static, and Link Lighting. Since Harpoon RGB has only one RGB lighting zone, so there is no gorgeous lighting effect.
But Harpoon gaming mouse, which supports 16.8 million colors of RGB, is still competitive in the entry-level gaming mice.
Bottom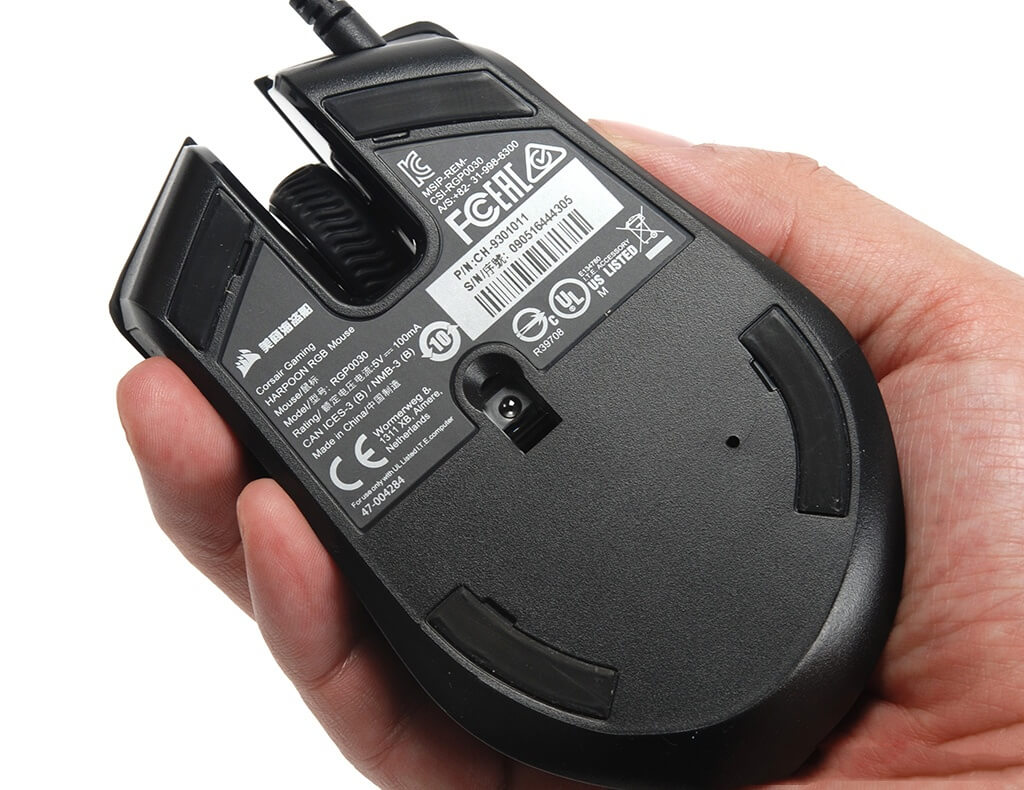 4 PTFE pads are located on the bottom. It is smooth when sliding the mouse.
Cable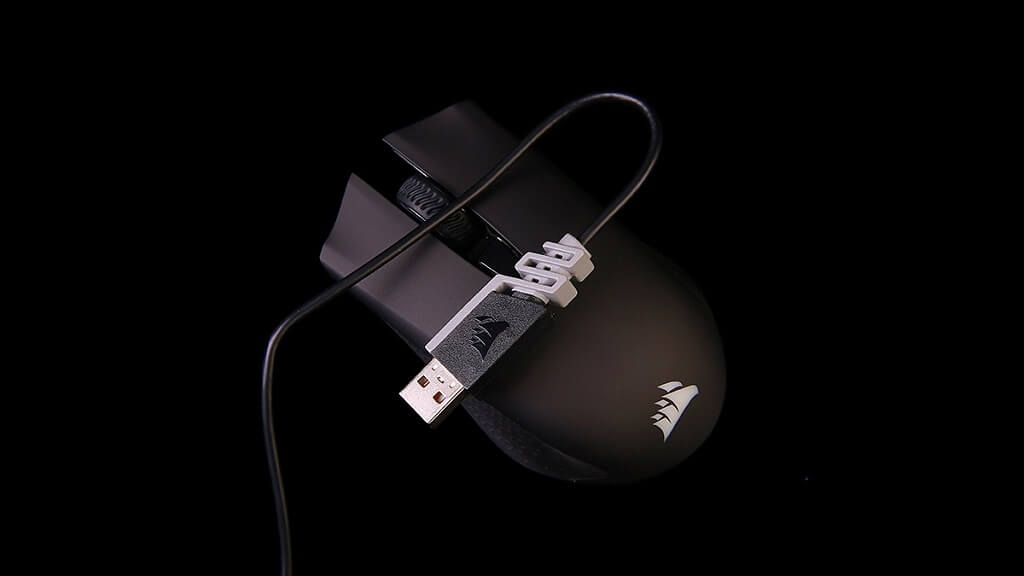 1.8m rubber wire, moderate thickness, and average softness. The USB interface of the wire is not gold-plated.
Disassemble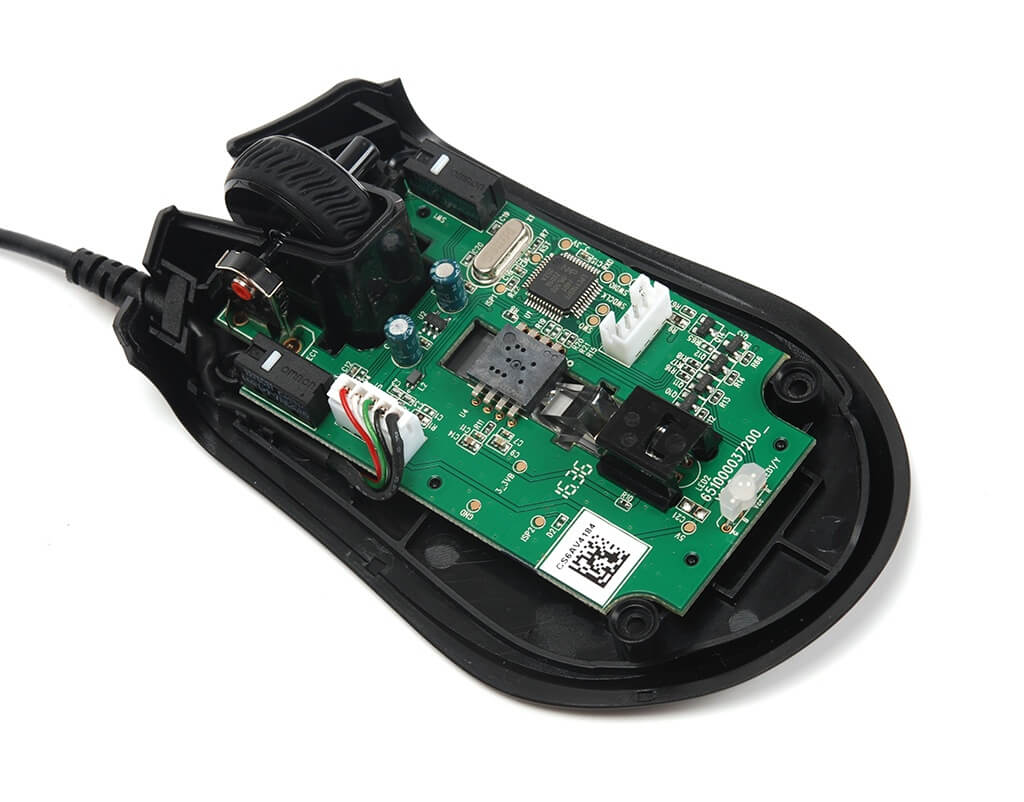 Use a hairdryer to blow the foot stickers, remove them, and remove the 4 screws to separate the shell.
PCB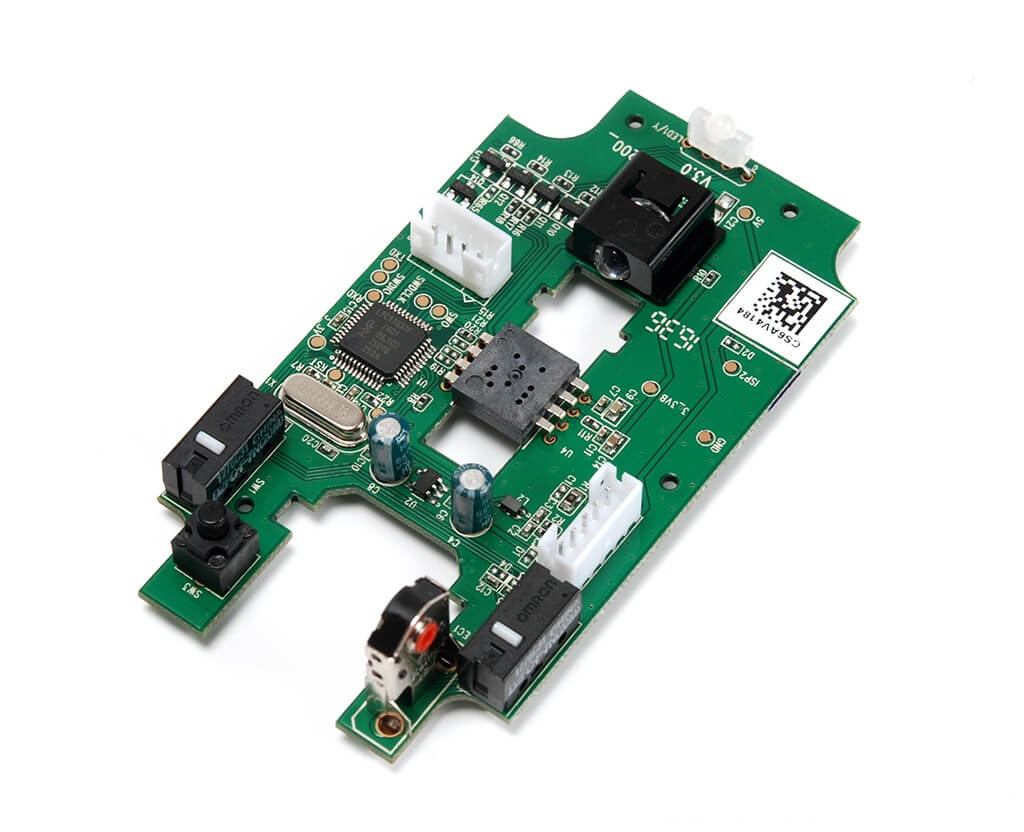 PCB workmanship is very good, wiring is clear. There is an RGB LED at the tail.
Micro Switch
The main click buttons use Omron 7N (20M) micro switch which has a life of 20 million clicks. The DPI button uses the Kailh blue dot micro switch, and the side buttons use the Kailh white dot micro switch.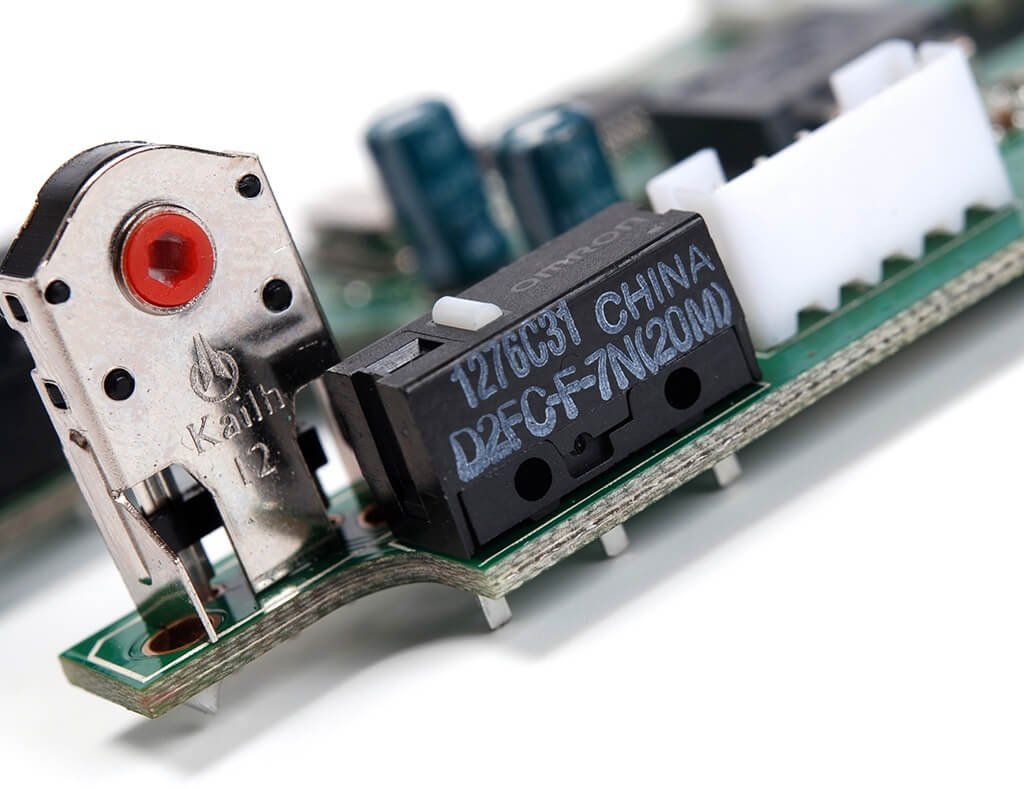 Encoder
Kailh 12mm is a dust free wheel encoder with 300,000 cycles life.
Sensor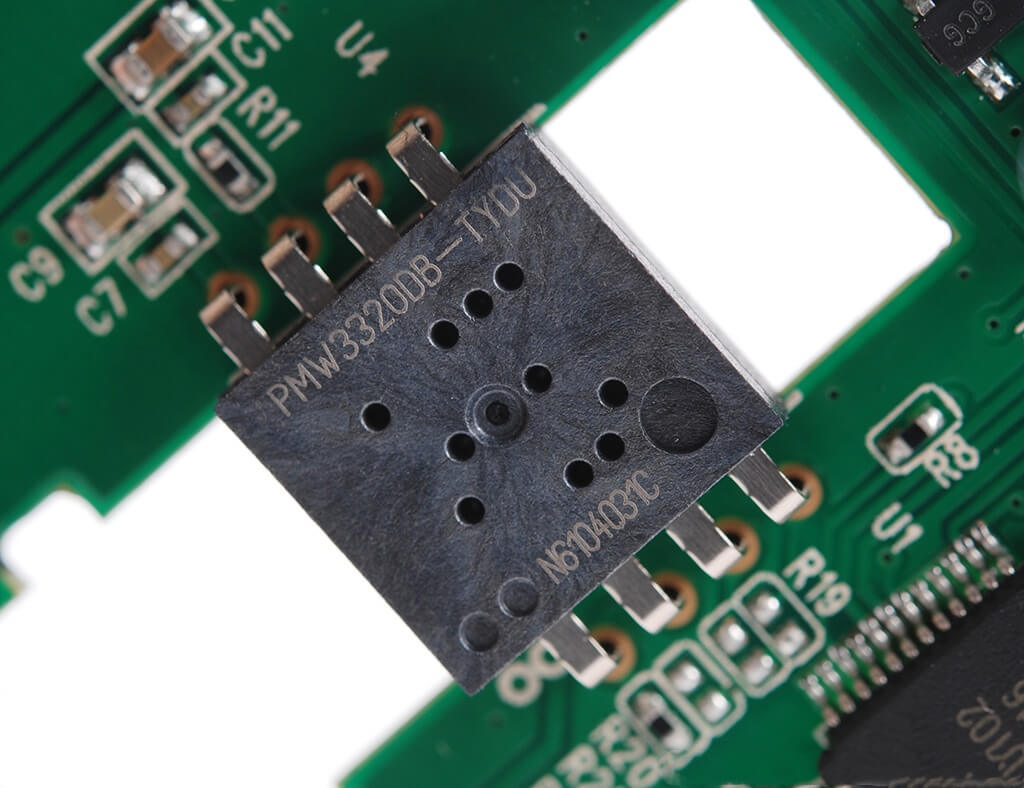 The PixArt PMW3320 sensor, developed in 2015, with 3500 DPI, a maximum 80 IPS, and a maximum acceleration of 20G.
Corsair uses an algorithm to interpolate the Harpoon RGB mouse to 6,000DPI.
Microcontroller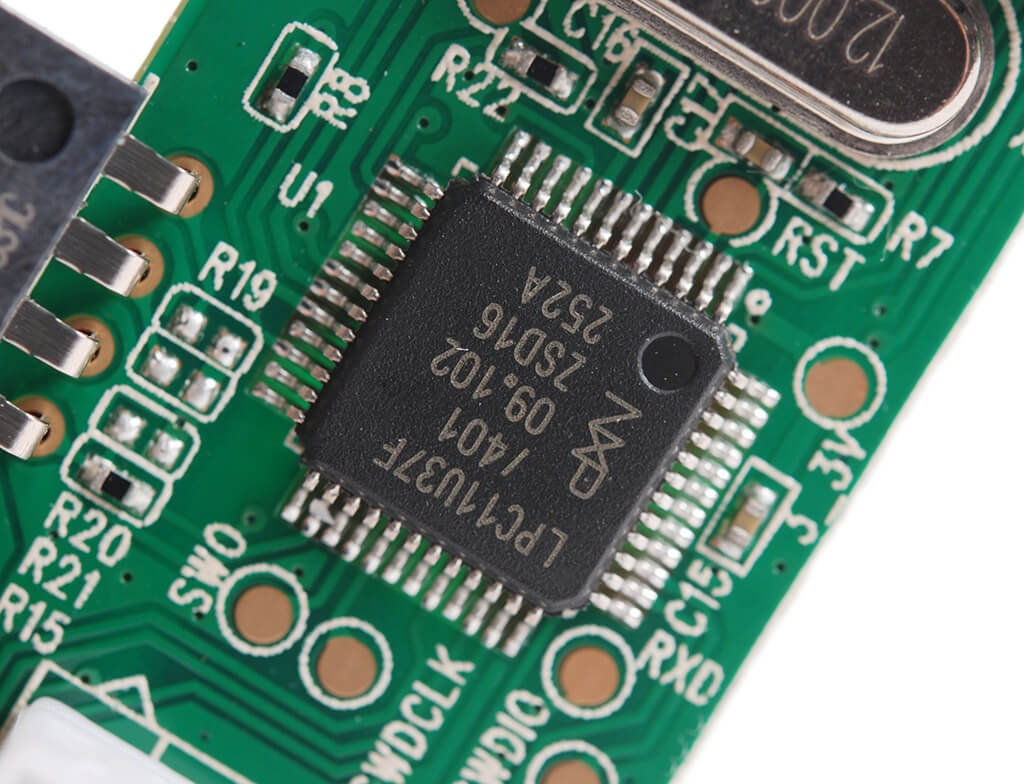 The NXP LPC11U37F is an ARM Cortex-M0 based, low-cost 32-bit MCU family, designed for 8/16-bit microcontroller, 128 KB of internal flash 10 KB SRAM and 4 KB EEPROM, Operates at CPU frequencies of up to 50 MHz.
Software
The Harpoon RGB mouse's driver is relatively simple and clear, you can download it here. Users can adjust the DPI, polling rate, lighting effects, and macro-program the buttons. Harpoon's onboard memory can store settings, making it easier to use.
Experience
Grip Experience

Because Harpoon is a medium-sized mouse, it can be wrapped by hand in palm grip style. In my opinion, the palm grip style is more comfortable than the claw grip.
Gaming Experience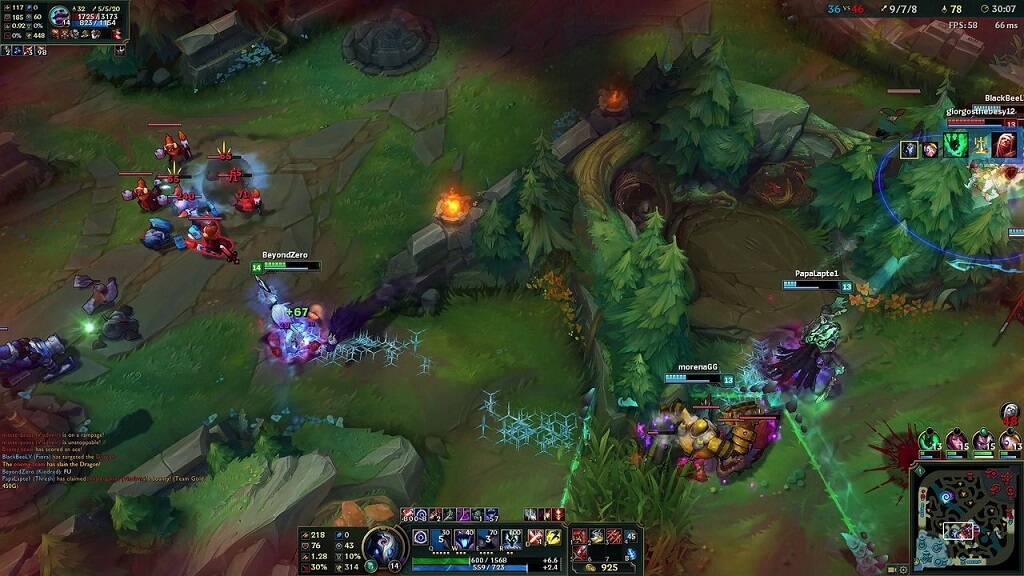 For the gaming experience, I chose the "League of Legends". In this game, the Corsair Harpoon RGB gaming mouse performance is accurate, flexible, and stable.
Its surface and side skirts generate a lot of friction, which is stable in operation. The programmable buttons can handle a lot of fast operations instead of mouse + keyboard clicks. After several games, there is no fatigue in my wrist and fingers, Harpoon mouse is suitable for long-term gaming.
Pros & Cons
Pros
Low price
Lightweight
16.8 million color RGB
Grips well
Onboard memory
Cons
6,000DPI comes from interpolation
Simple RGB zone
Non-braided cable
In Summary
Although Harpoon RGB is an entry-level game, the details, grip and gaming experience are very good. It also supports CUE RGB settings. Like the Logitech G102, Harpoon RGB is also an excellent entry-level gaming mouse.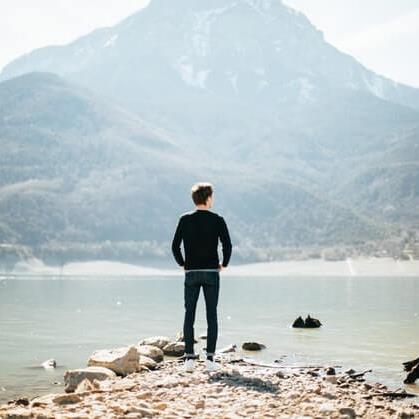 Hi, I'm Rebecca Hampton, I do in-depth reviews of the gaming mouse. I love to disassemble the gaming mouse and dig deeper into them.
Come with me on my journey to find the best gaming mouse!
Check out some of my content and subscribe if you enjoy them.
Thank you for all the support and I truly appreciate you stopping by.