In January 2018, SteelSeries released the Rival 600 wired gaming mouse. It has a new appearance design, dual sensors, weight customization, the world's lowest LOD, and Prism RGB backlighting. It has been highly praised by many tech medias wording such as "in history", "best", "NO.1" and so on.
The best weighting system yet on IGN
The best tracking to date on TweakTown
Winner of the best mouse 2018 on TechRadar
#1 overall mouse on Rocket Jump Ninja
Winner of the best mouse of CES 2018 on Tom's Hardware
So, is its performance really so excellent, please follow me to find out!
Packaging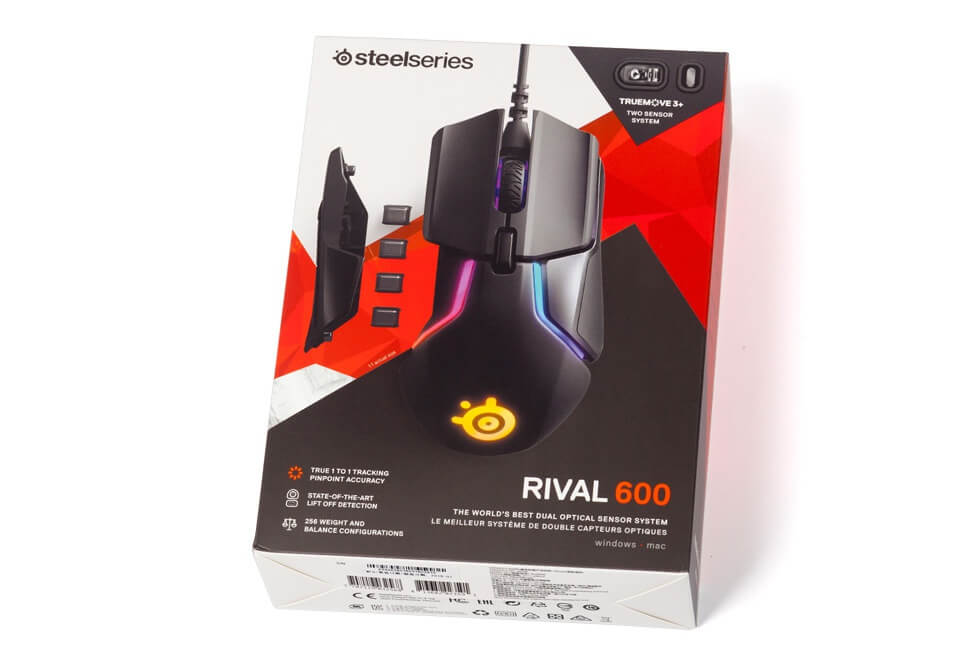 The SteelSeries Rival 600 package is larger than other SteelSeries mouse packages. The front and back of the packaging do not have too much text description of the mouse. The only few sentences mainly introduce the Rival 600 256 centers of gravity weight tuning configurations. The side of the package listed this mouse's specifications.
Specifications
| | |
| --- | --- |
| Dimensions L x W x H | 131 x 69 x 43 mm/5.2 x 2.7 x 1.7 1 inches |
| Weight | 96 g / 3.3 ounces |
| Additional Weight | 8*4g |
| Shape | Right-Handed |
| Grip Style | Claw/Palm |
| Programmable Buttons | 7 |
| Lighting | 8 RGB Illumination Zones |
| Connectivity | Wired USB |
| Cable | 2 m / 6.5 ft |
| Cable Type | Detachable, Soft Rubber |
| Micro Switch | SteelSeries Switch with 60 million clicks |
| Primary Sensor | PixArt PMW3360 |
| Sensor Type | TrueMove 3 Optical Sensor |
| Secondary Sensor | Depth Sensing Linear Optical |
| DPI | 100–12,000 |
| IPS | 350+ |
| Acceleration | 50g |
| Tracking Accuracy | 1:1 |
| Lift Off Distance | Customizable, 0.5–2 mm |
| Amazon Rating | |
| Check Price | Check Price |
Unboxing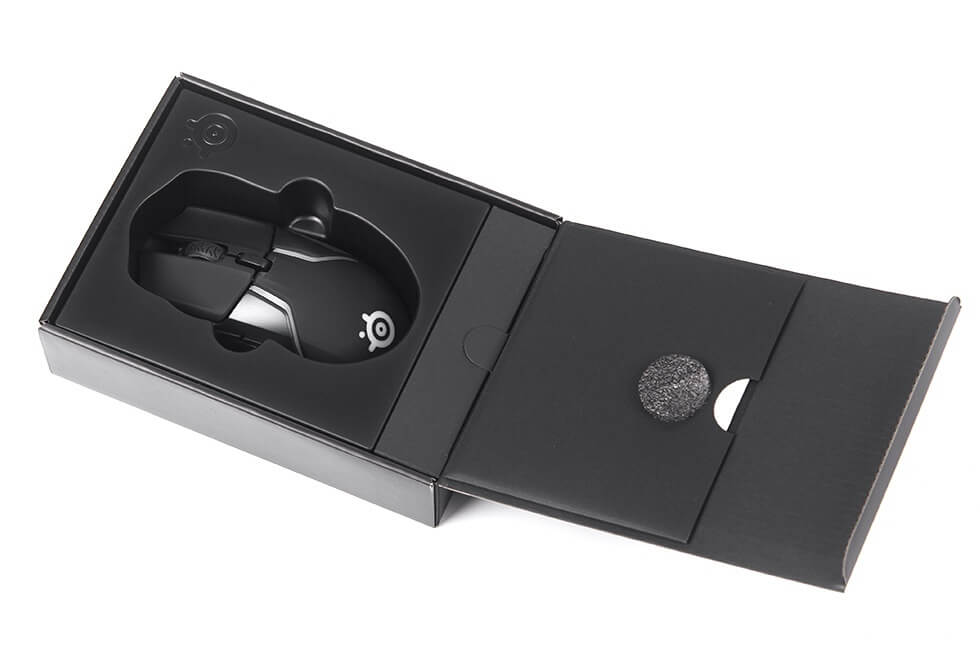 The inner packaging is made of black corrugated paper, and the mouse is well protected inside.
Box Contents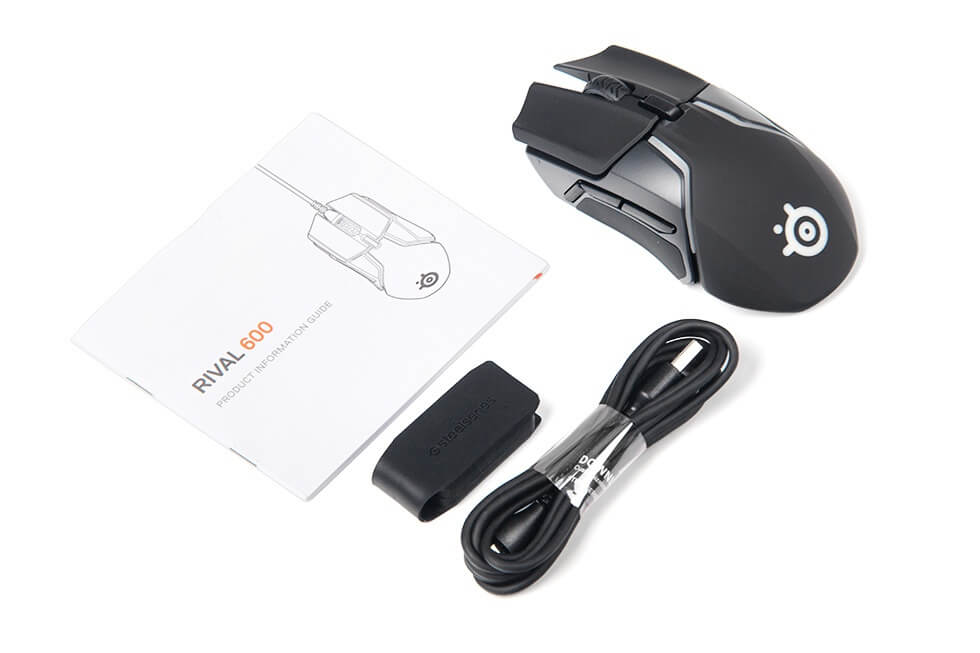 Rival 600 Gaming Mouse
Product Information Guide
Detachable USB Cable
Weight Box + Eight 4g Weights
Details
Appearance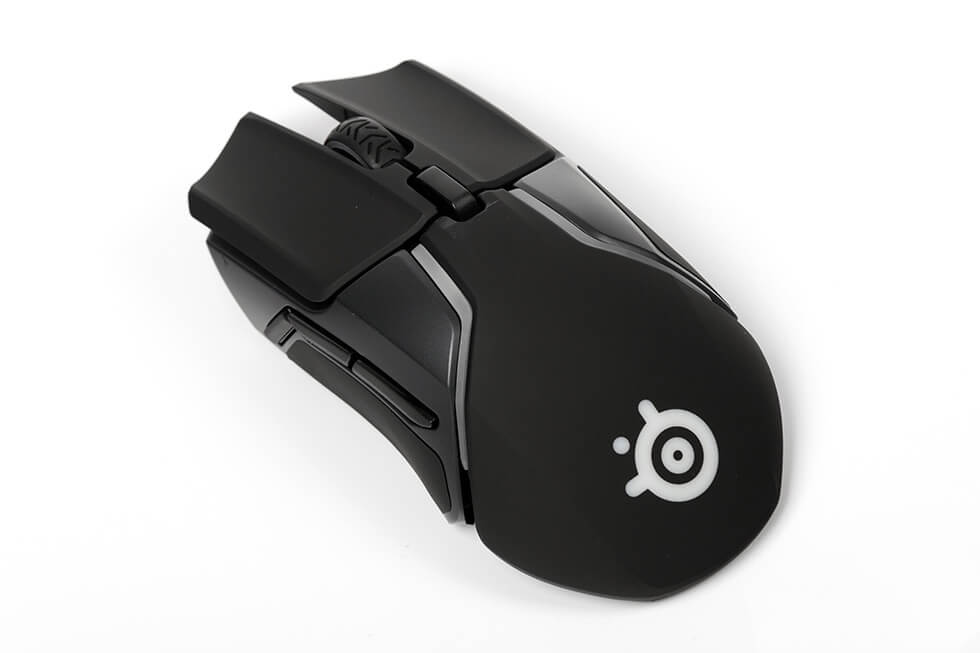 Rival 600 is a right-handed ergonomic mouse. It does not continue the design of the Sensei or Rival series in appearance, the edges of the cover shell are slightly raised, and the overall shape of the mouse is highly layered.
Size & Weight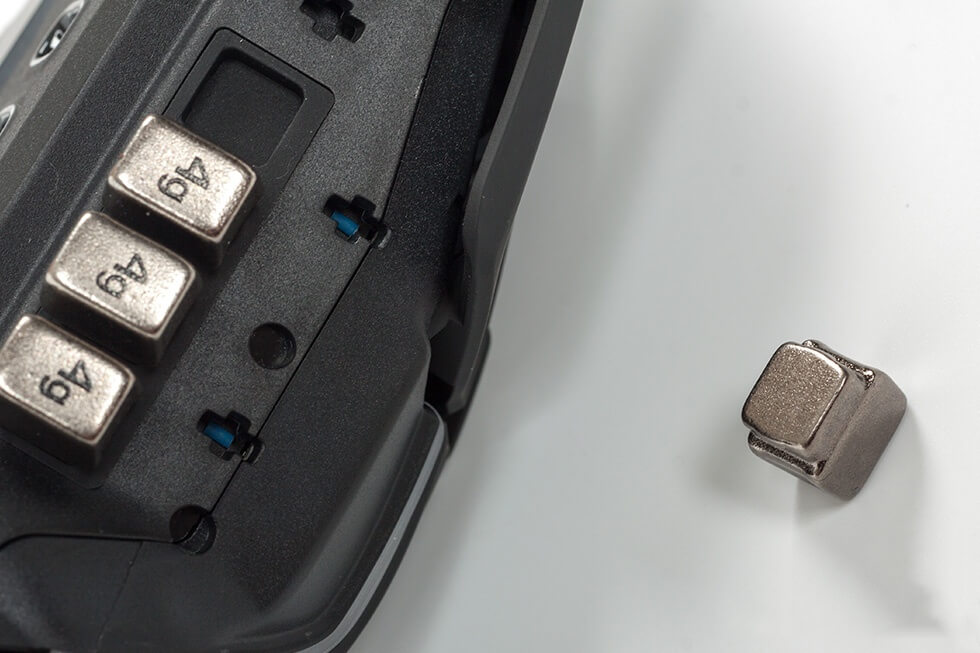 Rival 600's dimensions are 131×69×43 mm and net weighs 96g. With eight 4g additional weight, Rival 600 will have a range of weight from 96g to 128g.
Surface Material
Rival 600's core construction material is fiber-reinforced plastic. The rubber content of Rival 600's skin-like surface is relatively high. SteelSeries officially name it super durable surface coating, very soft touch. You can feel that the density and thickness are much better than ordinary skin-like materials and have better good friction. After sweating, the touch is still very comfortable and easier to clean than the matte surface.
Click Buttons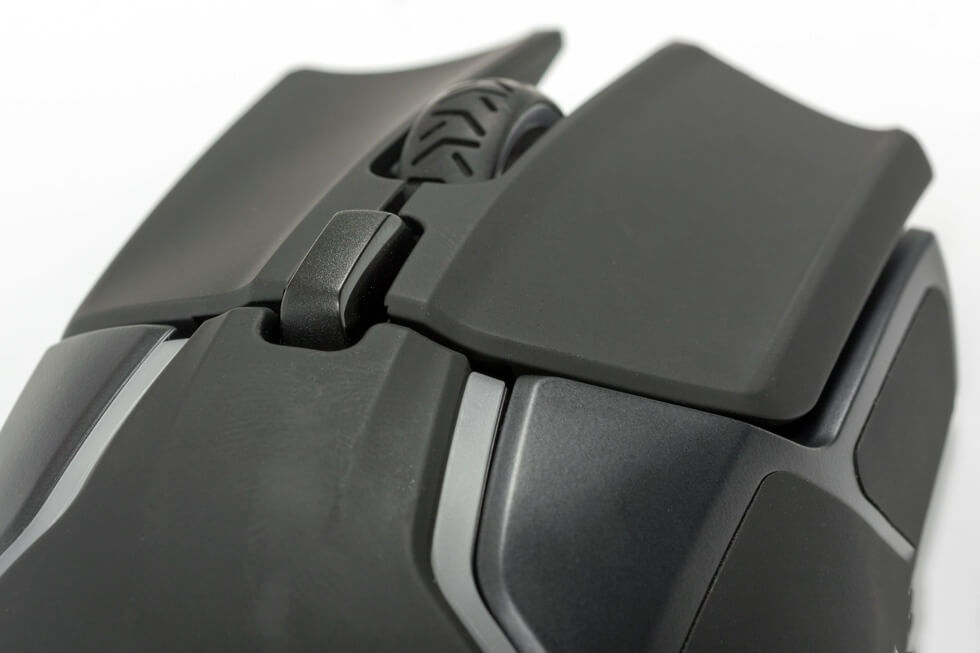 Rival 600 left/right buttons is split-type. Its left-click panel is a little higher than the right. Compared with Rival 310, the stability of the Rival 600's click buttons has been greatly improved, and there is no longer a significant shaking.
Both the left/right buttons adapt SteelSeries blue dots micro switches which have a lifespan of up to 60 million click times. The click sound is lower than that of Omron white dots.
Scroll Wheel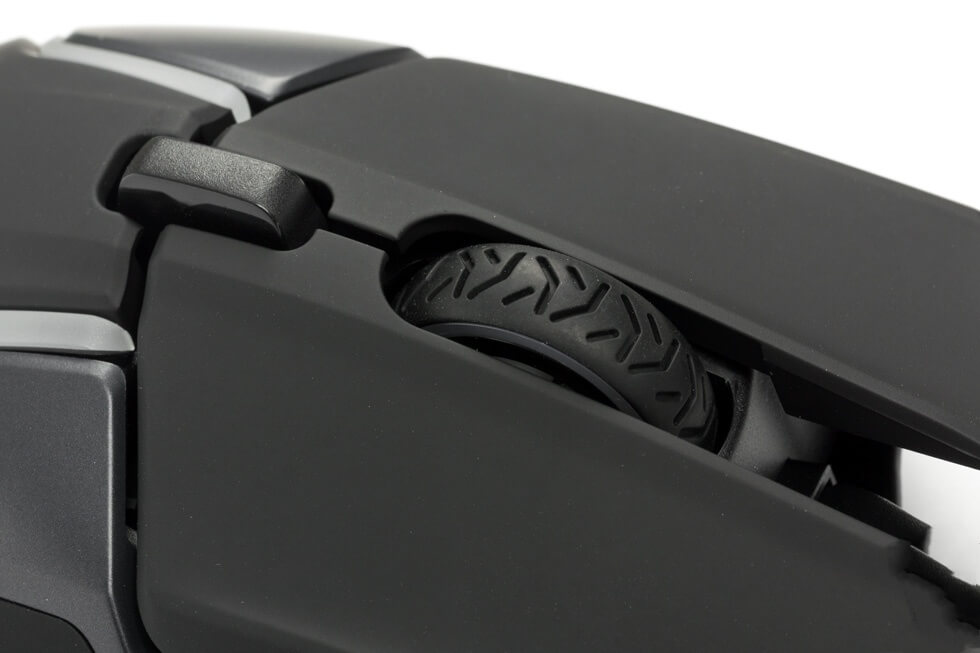 The silicone scroll wheel feels great without shaking.
DPI Button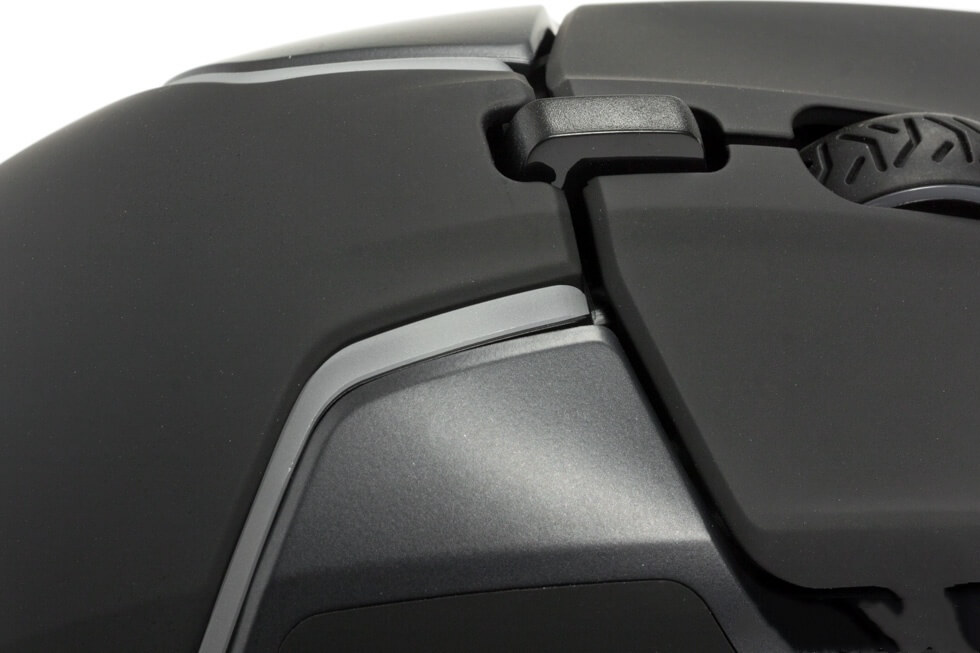 The Rival 600 DPI switch button is much bigger than Sensei/Rival 310. Considering the problem of accidental touch, its press force is larger than that of Rival 310. Press and hold it for 2s to enter the LOD calibration mode. If you change the mouse pad, you can re-calibrate quickly in this way. After the calibration is completed, there will be 3 flashing white lights as a reminder.
Side Skirt
The Rival 600 side grips feature a durable unique silicone compound to allow for increased grip and durability.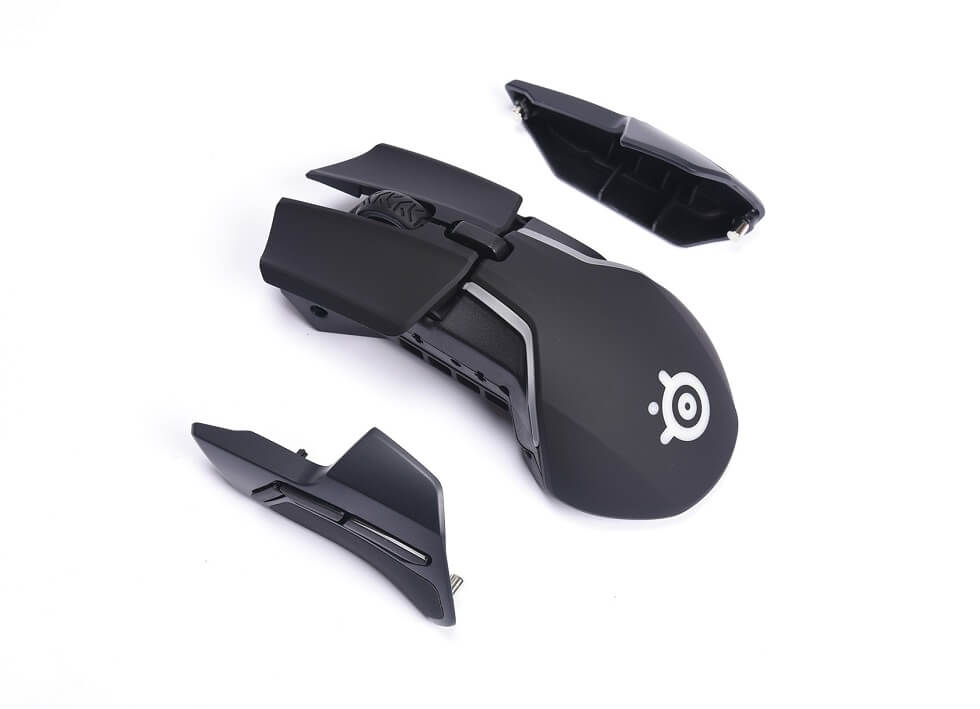 There are 2 magnets on both left and right side skirts. After disassembling the skirts, you will see four counterweight warehouses which allow easy and secure placement of the eight included 4g weights. Lock in the exact weight you want with light-to-heavy customization.
Side Buttons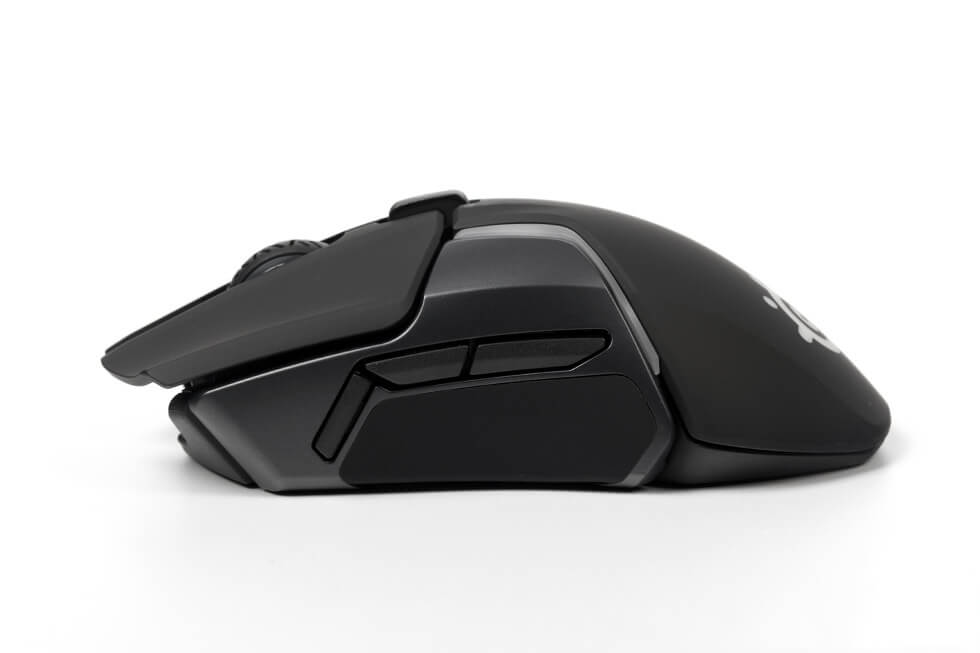 The Rival 600 has 3 side buttons, all designed on the left. When you disassembled the left side skirt, you will see 2 TTC blue dots micro switches.
The front side button is just right for my 20cm hand, it won't be touched by mistake. But the other two are slightly lower, and there will be accidental touches on palm grip style.
Bottom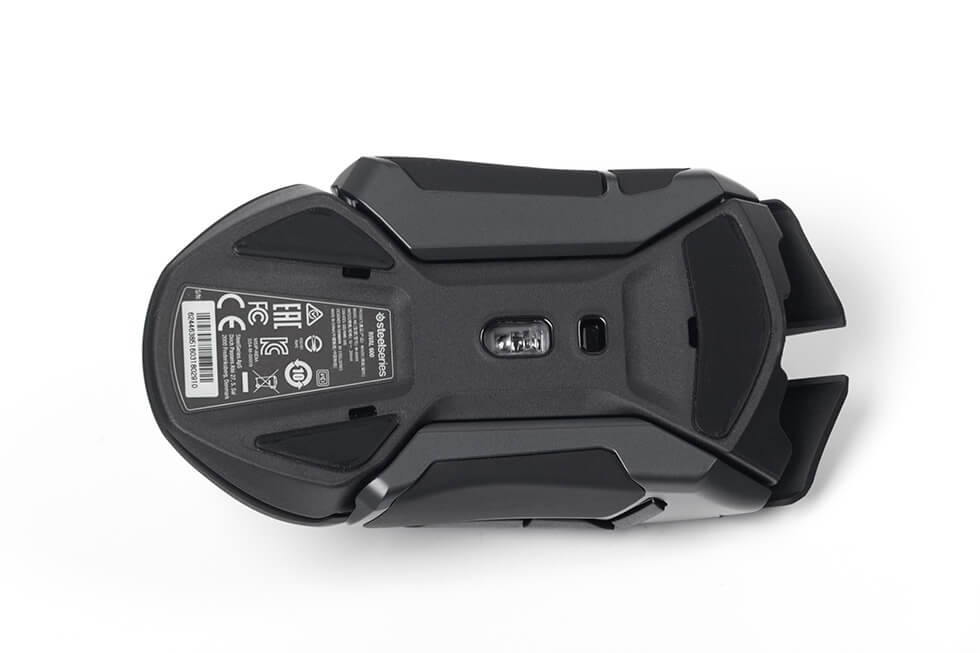 There are 3 PTFE foot stickers on the bottom and can be easily replaced.
Cable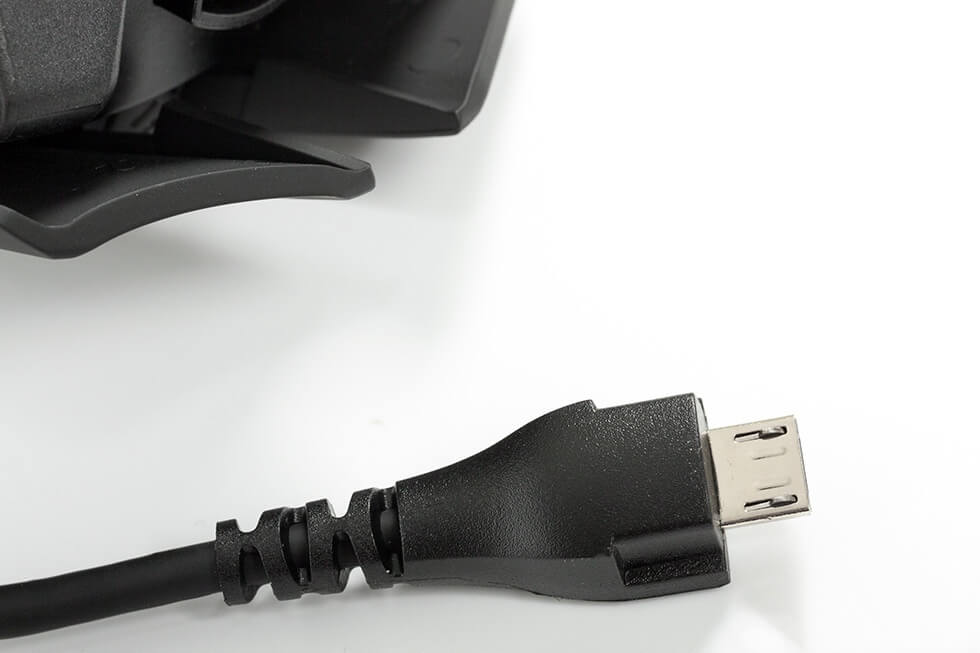 The soft rubber cable has a length of 2 meters, but it's not gold-plated.
Driver
SteelSeries Rival 600 driver is SteelSeries Engine 3. The most significant change is the addition of LOD adjustment and light adjustment.
Lighting

SteelSeries Rival 600 gaming mouse has a built-in PRISM SYNC 16.8 million color system. It can show a natural and smooth gradual light effect on the side of the scroll wheel, the transparent belt of the cover shell, and the SteelSeries LOGO.
Disassemble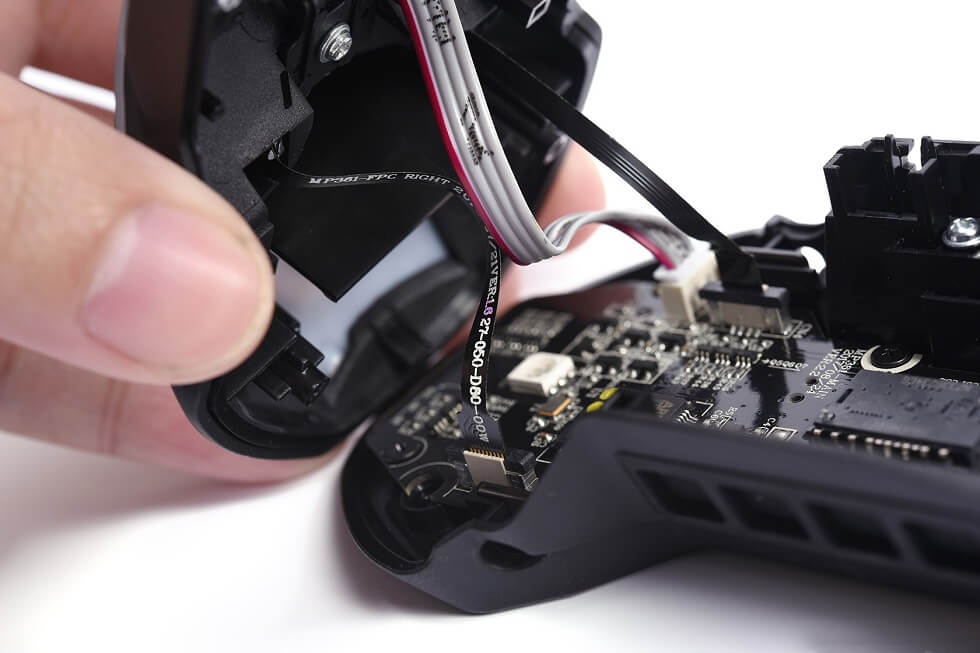 Disassemble this mouse is easy, tear off the 3-foot stickers, and unscrew the screw to open the upper case.
The scroll wheel encoder and side buttons' micro switches are all on the PCB of the upper case.
PCB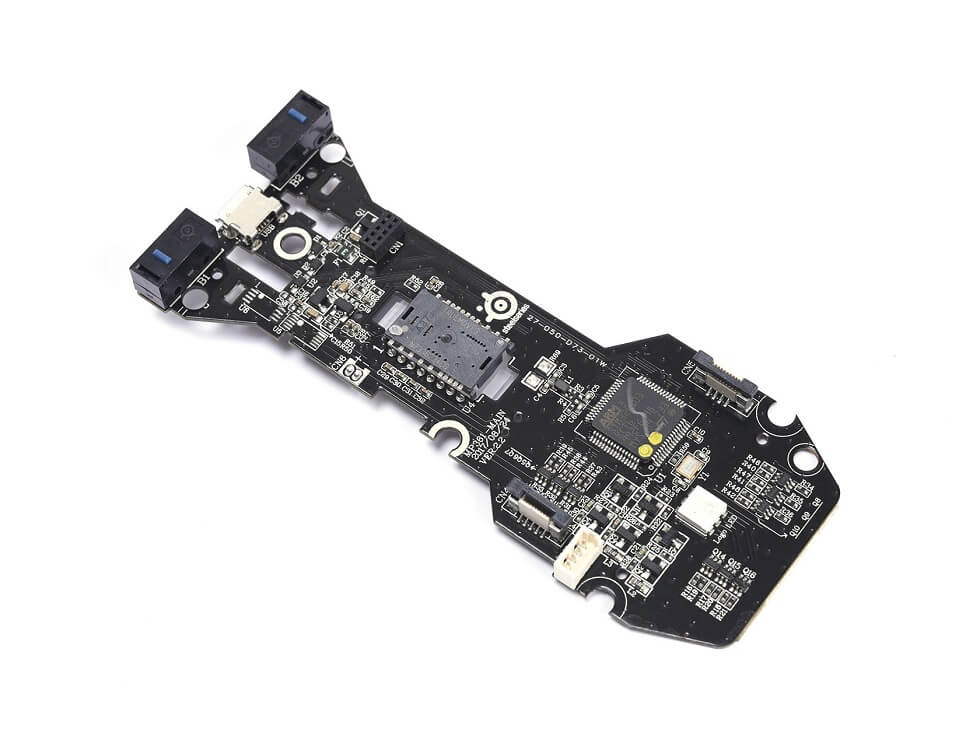 PCB workmanship is very good, the bottom is the patched RGB LED and the corresponding 3 sets of power supply circuits, all controlled by the MCU.
MCU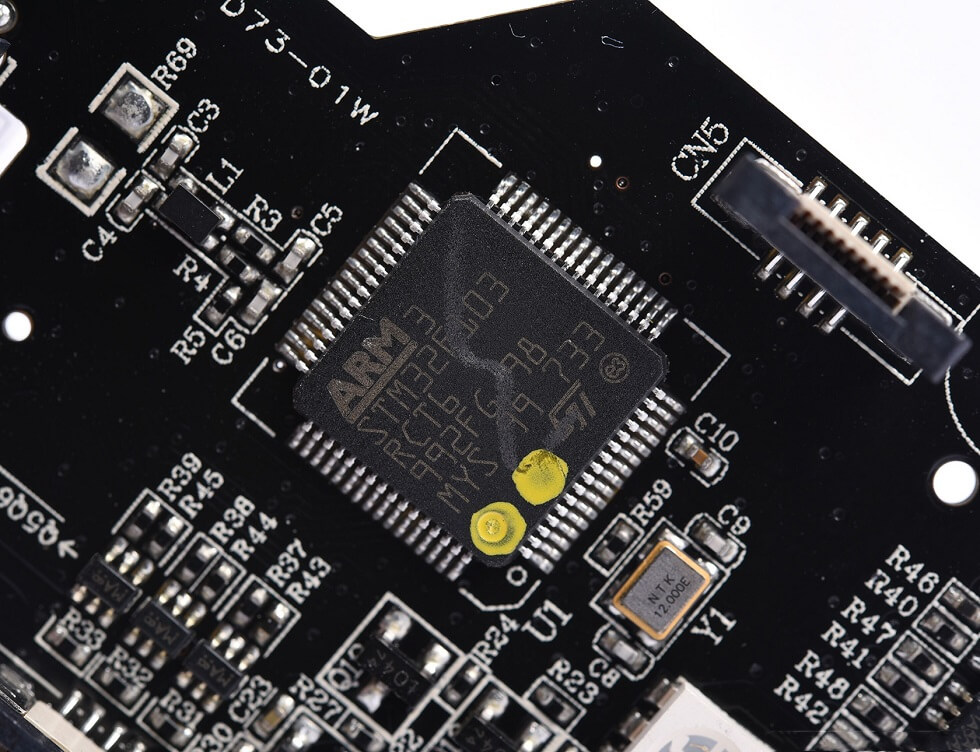 Powerful STM32F103 uses the Cortex-M3 core, with a maximum CPU speed of 72 MHz, 512KB flash memory, and 64KB SRAM.
Sensor
SteelSeries uses dual sensors on Rival 600: TrueMove 3 and depth optical sensors.
TrueMove 3 Sensor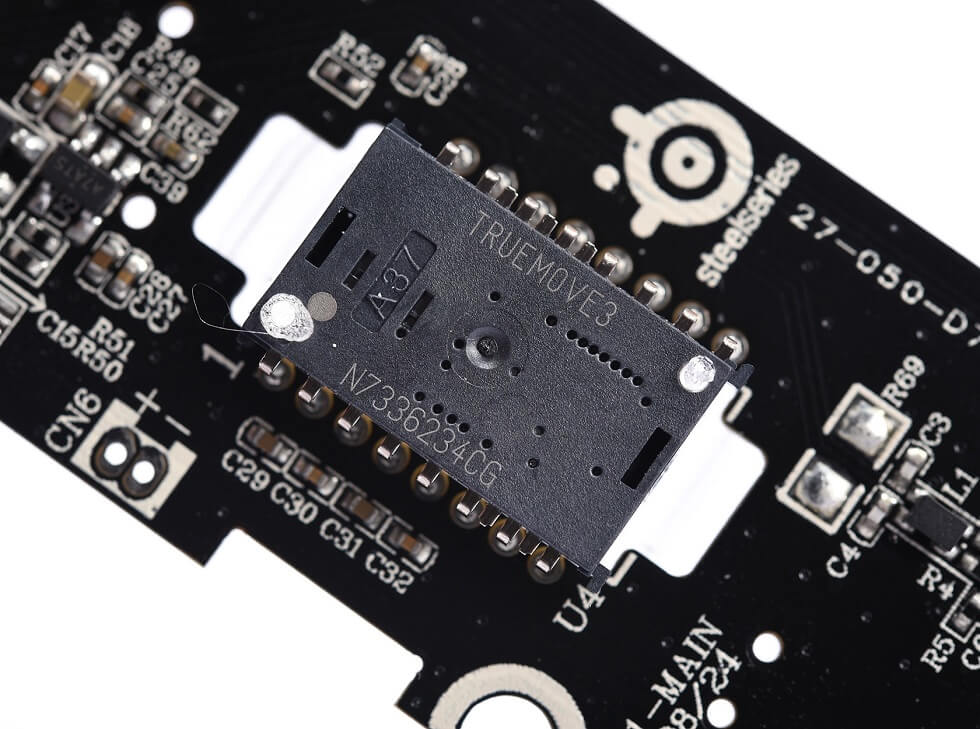 Primary TrueMove 3 Optical Sensor is true 1 to 1 tracking. With 12,000CPI and 350PIPS, maximum acceleration of 50G. Within the range of 100-3,50DP, I can achieve 1:1 precision tracking, 3,500-12,000DPI range can effectively reduce cursor jitter.
Depth Sensors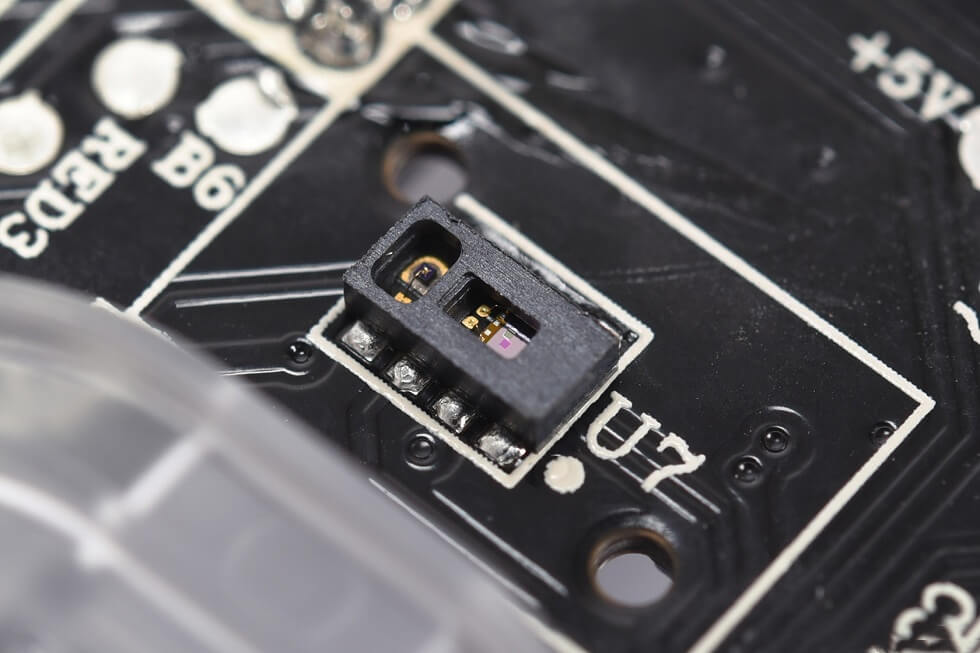 The depth optical sensor makes Rival 600's LOD to be the world's lowest and most accurate lift-off distance. The LOD that is reduced to 0.5mm is such a great thing to FPS players, effectively avoiding the cursor drift after the mouse is raised.
Micro Switches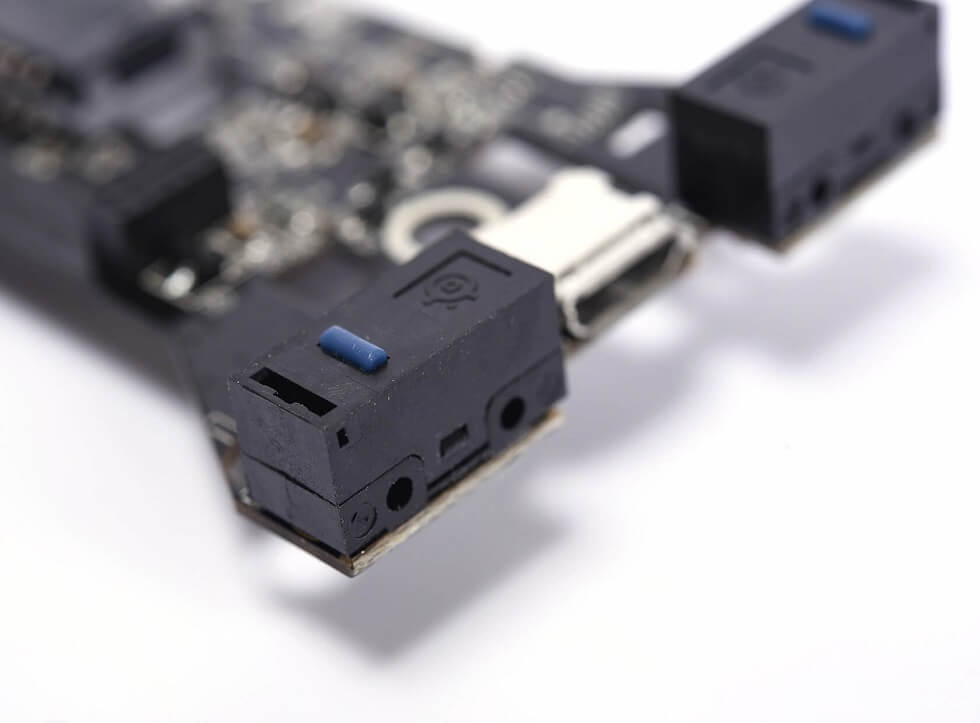 SteelSeries 60-million click blue dot micro switch ensures every type of press is executed with precision.
Experience
Grip Experience

Every aspect of the Rival 600 design meets players' demands for comfort. Whether you deploy a claw grip or palm grip, the shape provides lasting comfort.
The mouse surface skin material + silicone side skirt feels very comfortable.
The greatest hand feel improvement comes from the width of the tail, especially the span of the highest area.
Gaming Experience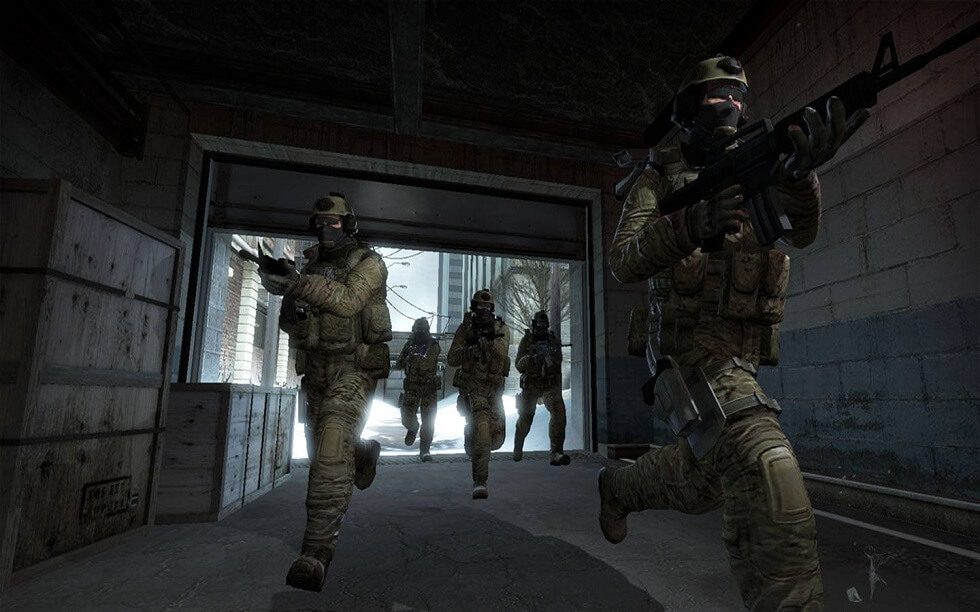 In CSGO, the stability of TrueMove3+ is the top-level, coupled with strict control of LOD, Rival600 has very strong accuracy. For a wide range of angle movements, the quick aiming shooting during movement will become much easier.
In addition, SteelSeries's readjustment of the left/right click buttons is also quite successful, with moderate click latency, making every trigger pull seem immersive.
Pros and Cons
Pros
World's lowest LOD
Perfect tracking
Pretty illumination
Dual sensor system
Adjustable weights
60 Millions click lifespan
Cons
A little more expensive than competitors
Slightly big DPI button
No lighting brightness adjustment
In Summary
If we don't consider the wireless function, Rival 600 had almost surpassed the previous SteelSeries gaming mice in all aspects. Rival 600 is undoubtedly the best SteelSeries wired gaming mouse at present.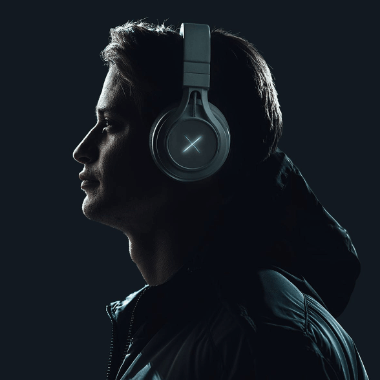 Hi, my name is Daniel, I'm a passionate gamer for over 5 years. Having used various gaming products myself, I will help other gamers benefit from the blog's recommendations of gaming headsets.