As an upgraded version of SteelSeries Rival 700, the Steelseries Rival 710's hardware configuration and performance fully reach the flagship level. Moreover, the modular design of the Rival 710 gives the mouse room for hardware upgrades.
Now, I will review this gaming mouse from the following aspects.
Packaging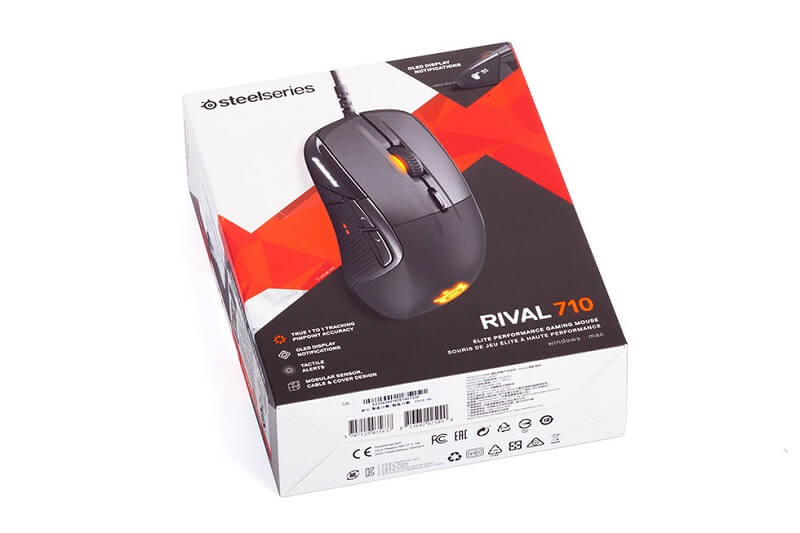 The outer packaging is still orange + black color style, the lower-left corner of the front side identifies the main selling points:
True 1 to 1 tracking pinpoint accuracy
OLED display notifications
Tactile alerts
Modular sensor, cable & cover design
In the lower right corner, below "Rival 710" there is a line of text: Elite Performance Gaming Mouse.
The side and back of the outer packaging are printed with the basic functions introduction and hardware parameters.
Specifications
| | |
| --- | --- |
| Dimensions L x W x H | 4.92 x 2.09 x 1.65 inches |
| Weight | 12.6 ounces |
| Shape | Right-Handed |
| Grip Style | Universal |
| Programmable Buttons | 7 |
| Color Options | 16.8 Million |
| Connectivity | Wired USB |
| Short Cable | 1 m / 3.3 ft (non-braided) |
| Long Cable | 2 m / 6.5 ft (braided) |
| Cable Type | Detachable |
| Micro Switch | SteelSeries Switch with 60 million clicks |
| Sensor | SteelSeries TrueMove3 |
| Sensor Type | Optical |
| DPI | 100–12,000 |
| IPS | 350+ |
| Acceleration | 50g |
| Polling Rate | 1 ms (1,000 Hz) |
| Tracking Accuracy | 1:1 |
| Amazon Rating | |
| Check Price | Check Price |
Unboxing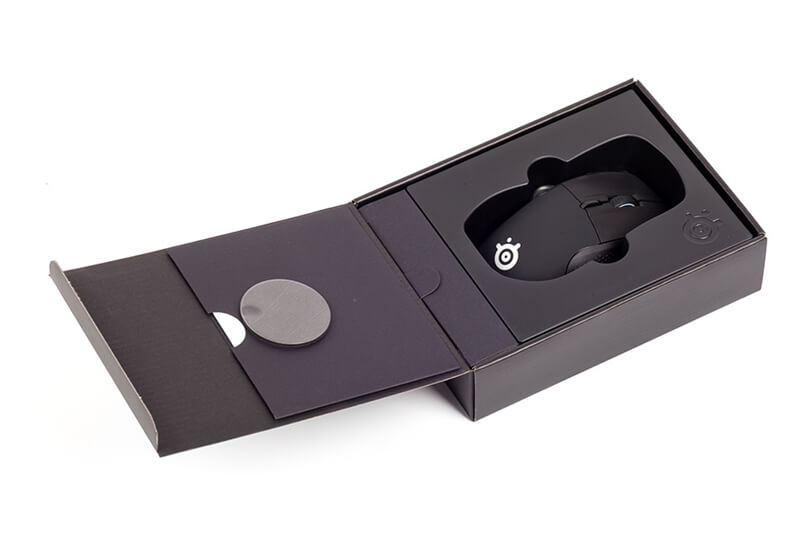 The interior is made of hard plastic as the protective compartment.
Box Contents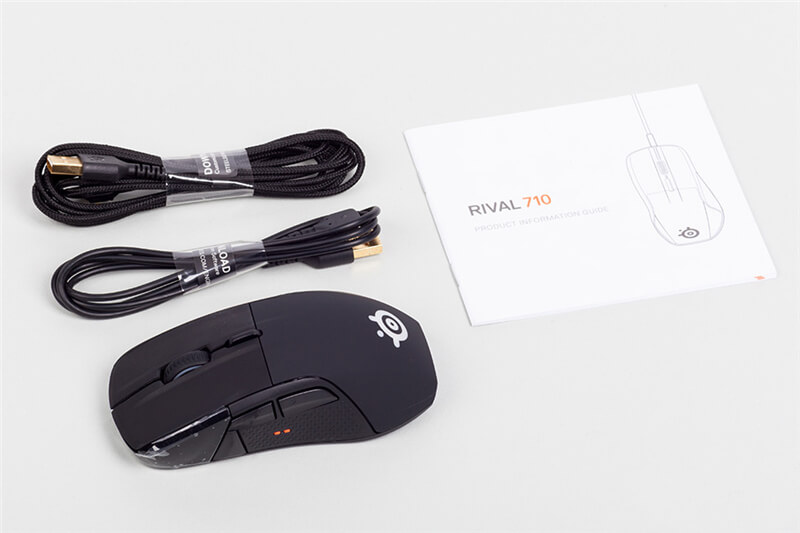 Rival 710 Gaming Mouse
USB Braided Long Cable
USB Soft PVC Short Cable
Product Information Guide
Details
Appearance

Rival 710 adopts the right-hand ergonomic design, the overall shape is not much different from the previous generation Rival 700, the size is 4.92 x 2.7 x 1.65 inches, and the weight is 4.8 ounces.
Steelseries Rival 710 gaming mouse has 7 buttons in total. You can customize the function of each button, this is very useful for MMORPG players who need to use macros.
Click Buttons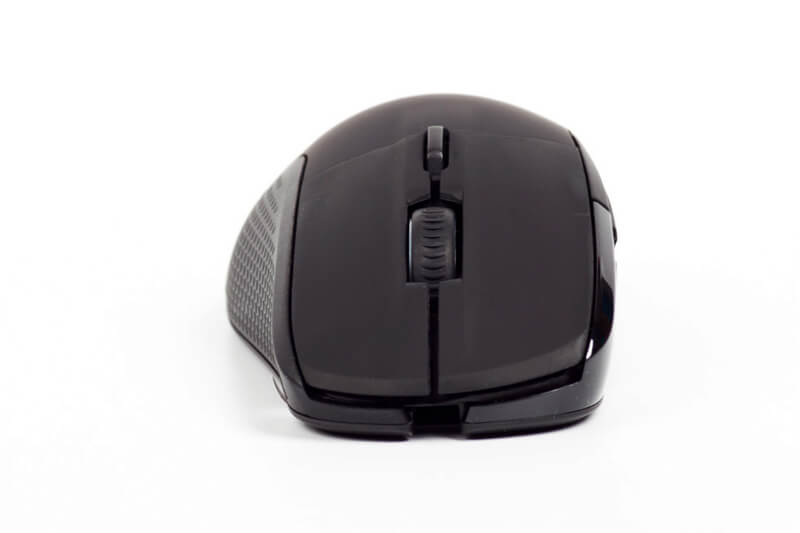 Rival 710 uses split-trigger buttons with 60 million clicks switches. The left/right buttons have a unified click feel, moderate keystroke, and are compatible with the click needs of various games.
Scroll Wheel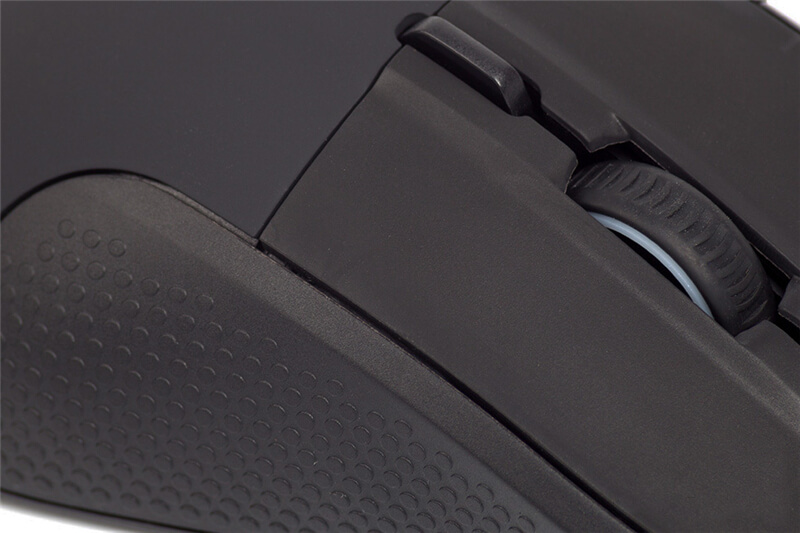 Both sides of the scroll wheel are transparent, the outer layer is wrapped with silicone, which improves the anti-skid effect. It has a clear sense of scale and moderate damping.
Side Skirt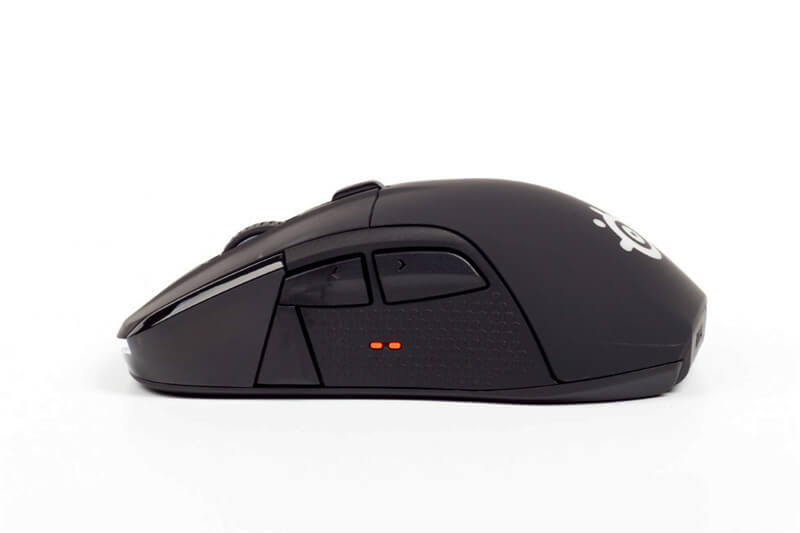 The first half of the left side skirt of the mouse is the OLED display notifications area, and the middle part is the 3 side buttons and dot-matrix injection-molded non-slip rubber side skirts.
The three buttons feel crisp and easy to use and are not easy to touch by mistake.
The surface of the left and right skirts is skin-like, with a smooth feel and anti-slip particles.
OLED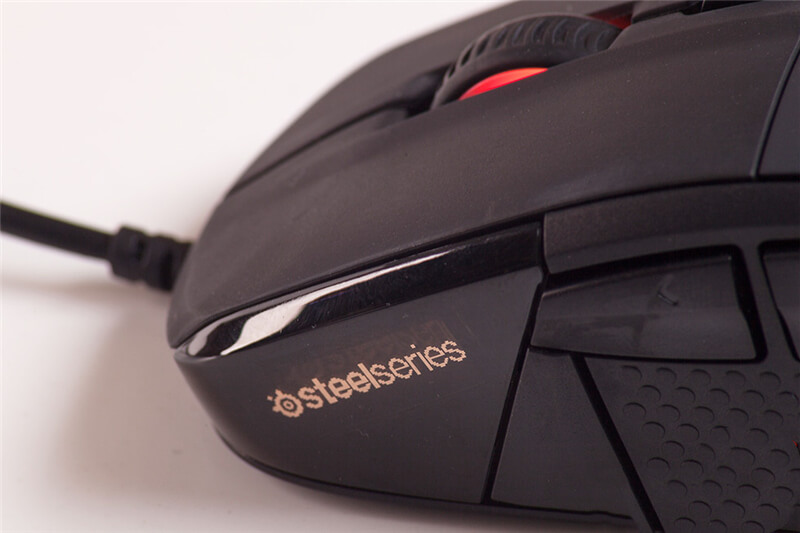 Through this black-and-white OLED screen, you can achieve the desired text or pattern by uploading pictures and Type/Draw ways. The pixels of the uploaded image is 128×36, and the ratio is 32:9.
In addition to static pictures or text, the OLED screen can also display GIFs. Steelseries official website provides a lot of GIFs for OLED to download.
Bottom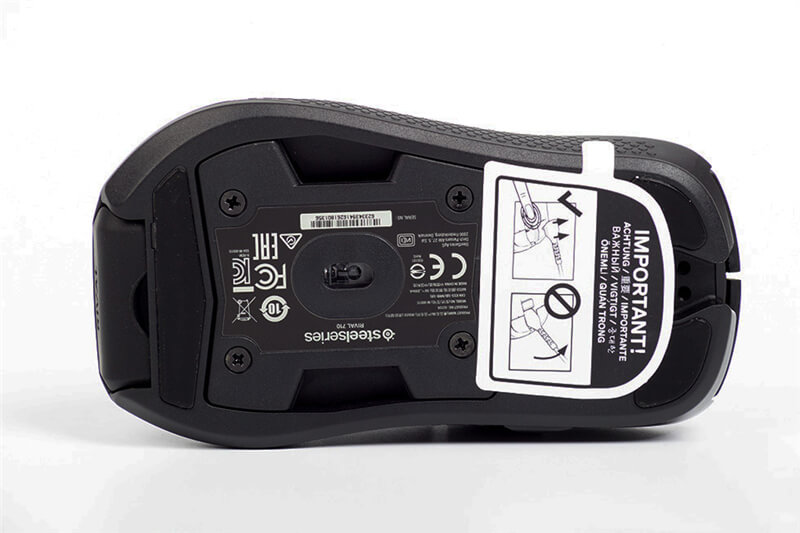 There are 3 PTFE foot stickers on the bottom for excellent smoothness.
Swappable Modular Parts
Modular design allows you to swap out the sensor, cable, or top pack cover, so the mouse fits your personal preferences and is ready for the future when new sensors are released.
Sensor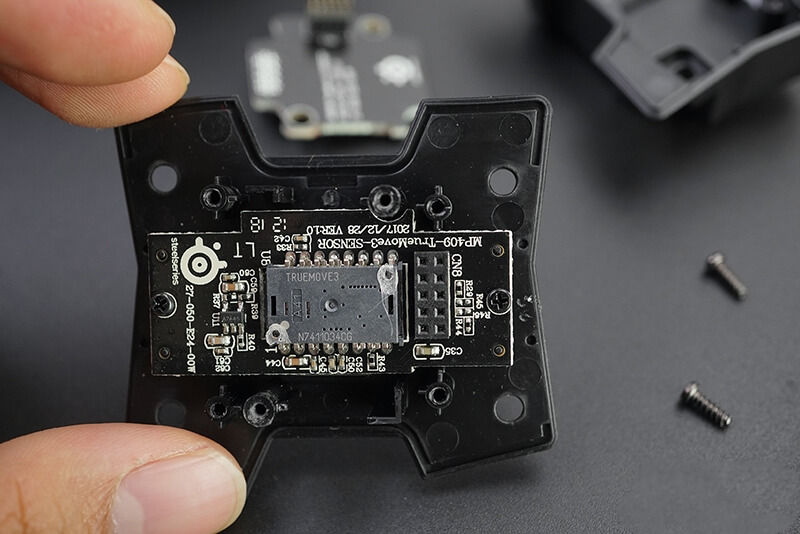 Rival 710 is equipped with a TrueMove3+ optical sensor customized based on PMW3360, with 12000DPI, 350IPS, and 50g acceleration. The sensor adopts a detachable design. Unscrew the 4 screws to easily take it out.
Instead of focusing on CPI alone, TrueMove3+ was engineered for true 1 to 1 tracking in 1-3,500 CPI. Moving a specific distance on the mousepad results in the same exact distance on the screen. No acceleration, no tracking errors, and no lag.
Many players' unanimous praise has given this sensor the best endorsement! It can be said that it is the most important upgrade.
Cable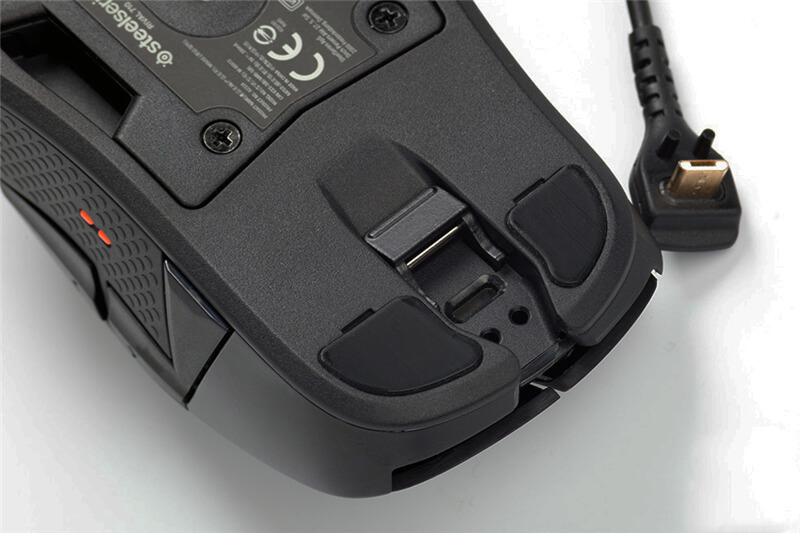 The nylon braided cable has a length of 2 meters, it is thinner, the material and harder, suitable for use with desktop computers.
The non-braided 1-meter long rubber cable has softer material, suitable for use with laptop computers. Its Micro-USB interface can be rotated 90 degrees.
Driver
Without the driver, you can not fully use the Rival 710 functions. The SteelSeries Engine 3 driver can be downloaded on the official website and installed. It can be automatically recognized when the mouse is connected.
Here I mainly talk about the OLED notifications and tactile alerts functions.
OLED Notifications
Knowing is half the battle, and that is why we've equipped the Rival 710 with a completely customizable OLED Display. Access on-the-fly sensitivity settings, in-game statistics, button mapping, and personalize the display with your gamer name or favorite team's logo.
This OLED screen also supports data display for some specific games, such as KDA data for FPS games, Hp/Mana data for MOBA games.
Tactile Alerts
The mouse is no longer merely an input device; you can now feel in‐game events, aiding in critical decision‐making. Customize every aspect of the alerts from intensity to vibration patterns.
The vibrate function may be used a little more in MMORPG games, and the MOBA games can also set a vibrating reminder for skills with long cool downtime.
Currently, this function only supported a few games: CS: GO, DOTA2.
Experience
Grip Experience

Every aspect of the Rival 710 ergonomic design meets players' stringent demands for comfort. Whether you deploy a claw grip or palm grip, the shape will provide perfect comfort
Compared to the Rival 700, the width of the tail of the Rival 710 has become wider, the mouse stays very comfortable in my 20cm hand with a palm grip style.
Gaming Experience
The Rival 710 brings me much good game experience. Basically, it can be considered that this mouse is suitable for all types of games, such as FPS, RTS, MOBA, and so on.
In my personal daily CS: GO game experience, Rival 710's vibration feedback, and OLED real-time data display bring me a sense of game achievement.
In LOL, Rival 710's reasonable side buttons design makes me more convenient in thumb operation.
Pros and Cons
Pros
Swappable modular design
OLED display
Tactile alerts
TrueMove3+ sensor
60 million click switch
Feels great in the hand
Cons
High price
Maximum 2 DPI settings
Weight need time to adapt
Few games support vibrate function
In Summary
Steelseries Rival 710 gaming mouse completely retains the design and features of Rival 700 and is equipped with a better TrueMove3+ sensor and 60 million click life micro switches. This highly customizable gaming mouse is sure to make players who are in need of personalization excited.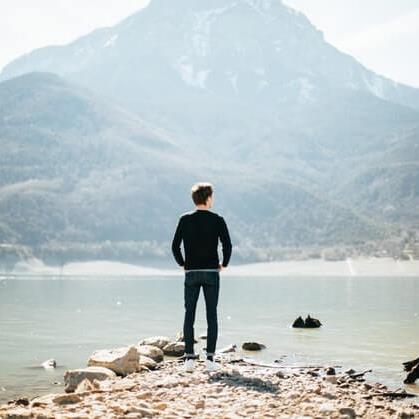 Hi, I'm Rebecca Hampton, I do in-depth reviews of the gaming mouse. I love to disassemble the gaming mouse and dig deeper into them.
Come with me on my journey to find the best gaming mouse!
Check out some of my content and subscribe if you enjoy them.
Thank you for all the support and I truly appreciate you stopping by.