DeathAdder series is the most classic and successful gaming mouse of Razer. Since it's released in 2007, it had been sold more than 10 million. Razer DeathAdder and Razer DeathAdder V2 are still many game players' favorite gaming mice.
However, as the lightweight technology becomes more mature and stable, more and more peripheral manufacturers are deploying lightweight gaming mice, such as Logitech G Pro (80g), ROCCAT® Kone Pure Ultra (66g), Cooler Master MM710 (53g) and SteelSeries Rival 106 (80g), QPAD DX-30E (75g), etc.
On May 25, 2020, Razer had released the Razer DeathAdder V2 Mini gaming mouse, after Razer Viper Mini, it once again expanded Razer's mini products. The main feature of this mouse is Ultra-light ergonomic design. Now, I will give this lightweight mouse a detailed review.
Packaging
DeathAdder V2 Mini follows Razer's traditional packaging style, with the iconic black-green color collocation.
On the front of the packaging box are DeathAdder V2 Mini photo, logo, and main selling points: Razer chroma RGB, 64g ultra-lightweight ergonomic design, RAZER™ SPEEDFLEX cable and Razer optical mouse switch.
The eye-catching "10 MILLION SOLD" on the upper left corner fully proves the excellent quality of Razer DeathAdder.
Specifications
| | |
| --- | --- |
| Dimensions L x W x H | 2.57 x 4.5 x 1.52 inches |
| Weight | 3.84 ounces |
| Recommended Hand Size | Small, Medium |
| Handedness | Right-handed |
| Grip Style | Palm /Claw |
| Programmable Buttons | 6 |
| RGB Lighting | Razer Chroma™ RGB |
| Software | Razer Synapse Thundercloud 3 |
| Cable | 1.8m Razer™ Speedflex Cable |
| Feet | Mouse Feet 100% PTFE |
| Micro Switch | RAZER™ Optical (70 million clicks) |
| Sensor | PAW3359 |
| Sensor Type | Optical |
| DPI | 8,500 DPI |
| Maximum Acceleration | 35 G |
| Max Tracking Speed | 300 IPS |
| Warranty | 2 Years |
| Amazon Rating | |
| Check Price | Check Price |
Unboxing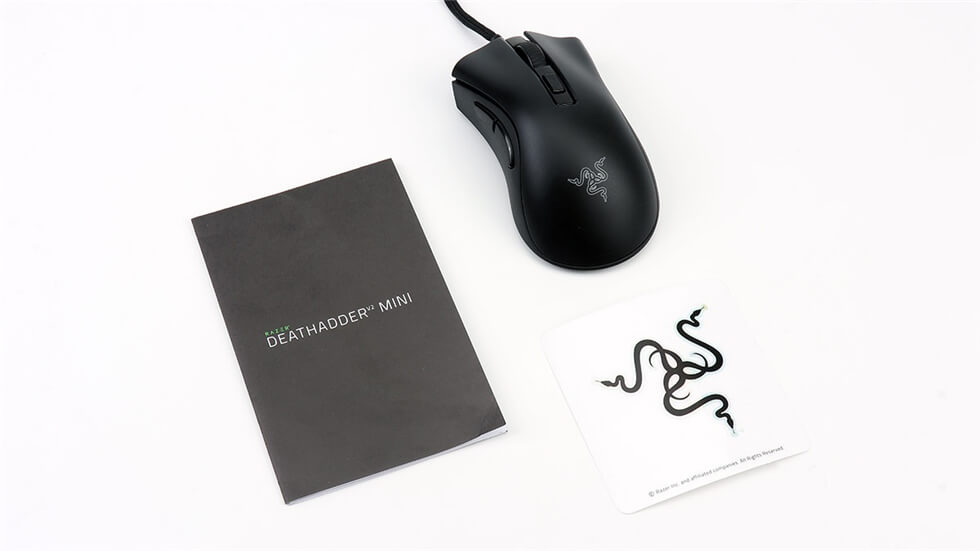 Open the packaging box, the interior is relatively simple. The corrugated paper is used to wrap and fix the mouse to provide sufficient protection.
Box contents include: a Razer DeathAdder V2 Mini mouse and a user manual
Details
Size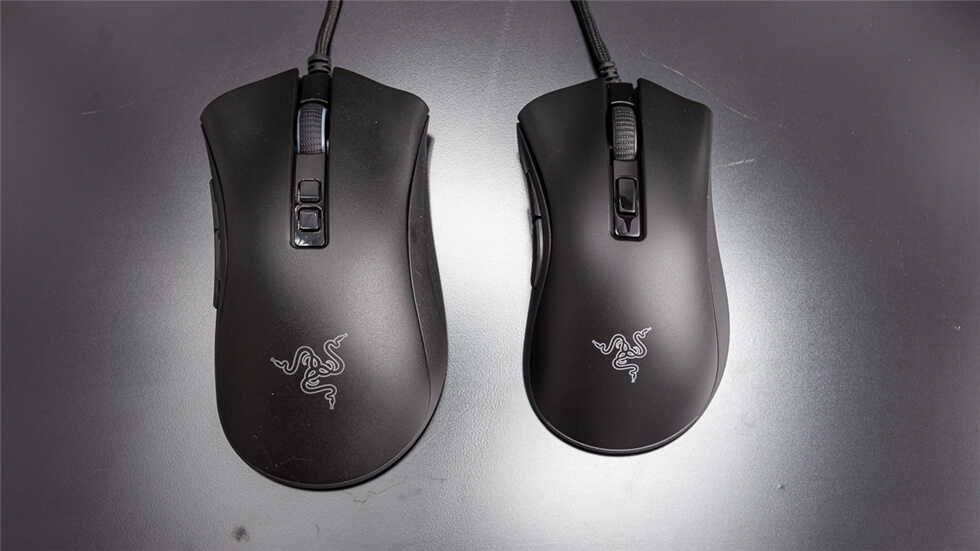 Razer DeathAdder V2 Mini mouse derived from award-winning DeathAdder ergonomics, dimensions are 2.57 x 4.5 x 1.52 inches, its smaller form factor is designed for small to medium hand sizes.
Weight
62g is Ultra-light wight so you can pull off effortless swipes and play for long hours in comfort.
Surface Material
The surface of the top cover has a fine matte texture, feels slightly dry in hand, but the anti-slip effect is excellent.
Click Buttons
The left/right click buttons equipped with RAZER™ optical mouse switches, which has a life span of 70 million clicks. Compared to the side buttons, left/right click buttons have a harder overall click feel and a duller click sound.
Scroll Wheel
The scroll wheel is wrapped with a rubber material that has a non-slip texture. The scale sense of the scroll is very strong, and the click sound is crisp.
Considering the weight-reducing, the scroll wheel adopts a hollow design, and the light strip had been canceled.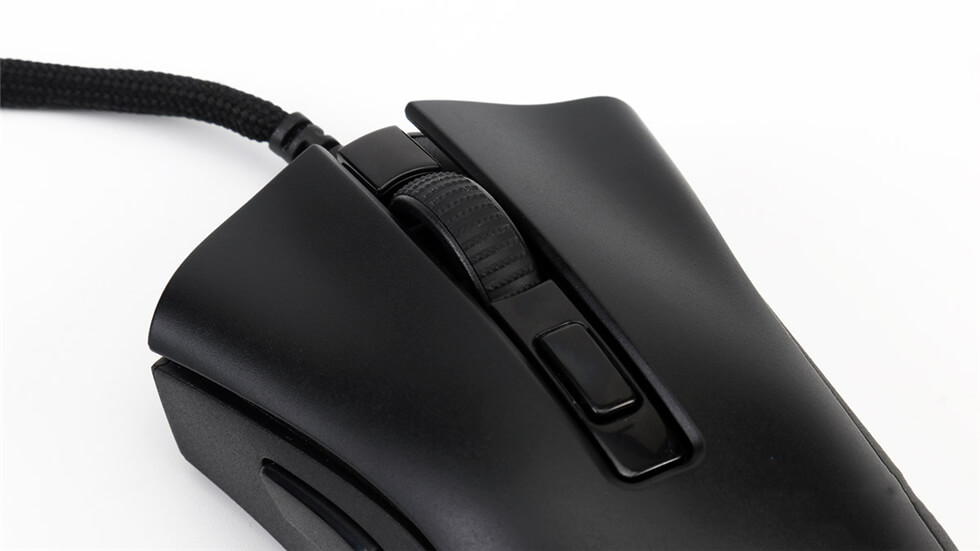 DPI Button
The Razer DeathAdder V2 Mini only has one DPI switch button (Default stages: 400/800/1600/3200/6400). You can change the default stages in the Razer Synapse 3 driver.
Side Skirts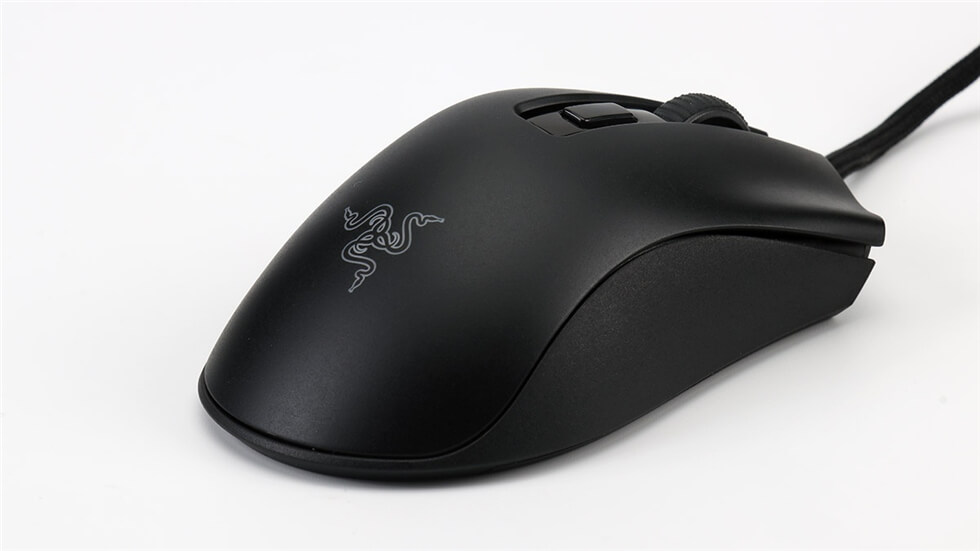 To enhance your handling even further, this DeathAdder V2 Mini mouse comes with a set of anti-slip grip tapes that are sweat absorbent and can be applied to the top and sides.
Side Buttons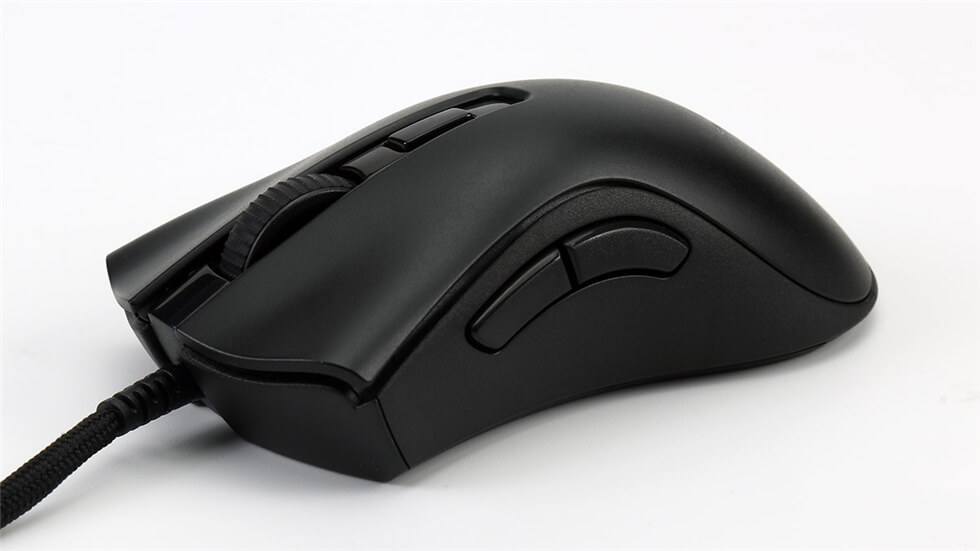 DeathAdder V2 Mini has 2 side buttons on its left. These 2 side buttons are more slender with quick rebound and clear feedback.
Bottom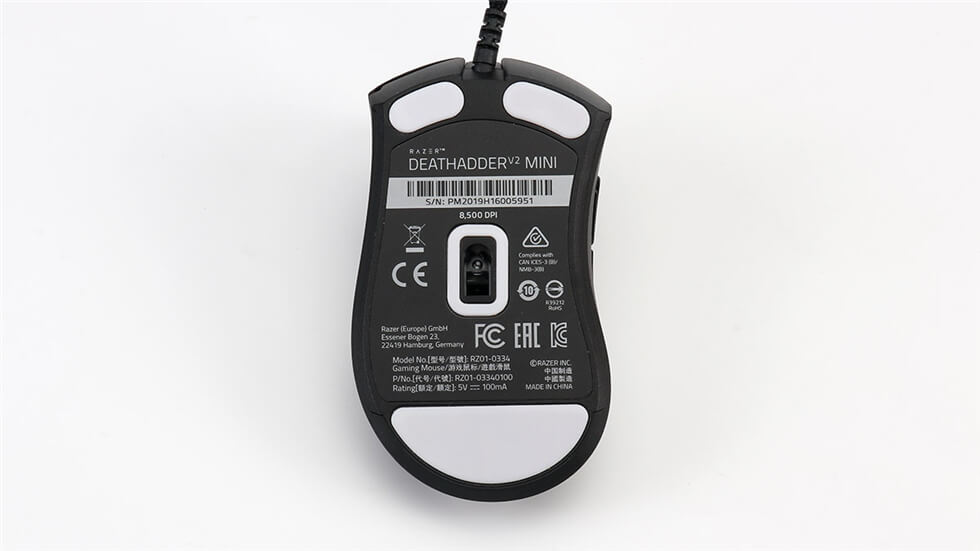 There are 4 thickened 100% PTEF foot stickers on the bottom. Enjoy slick mouse movement across any surface.
Cable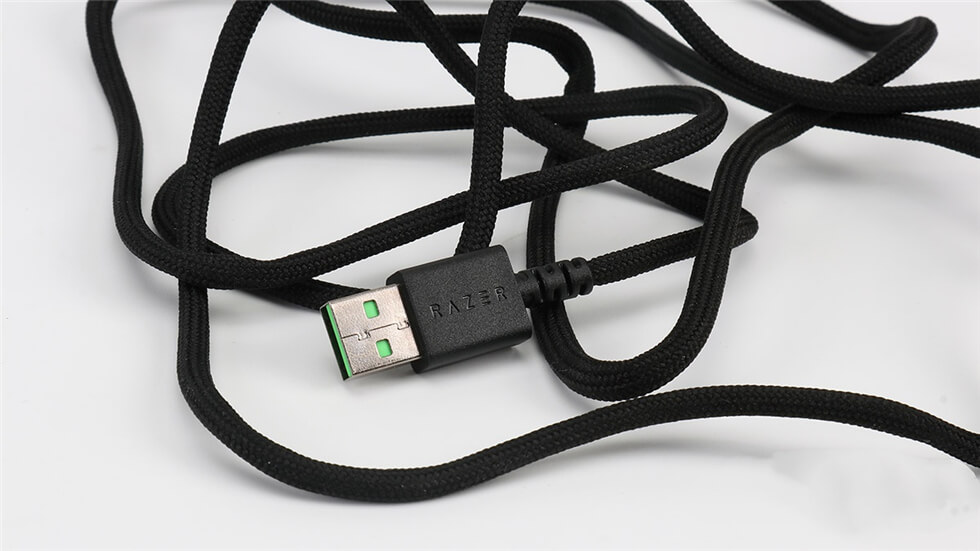 The Razer DeathAdder V2 Mini's cable has greater flexibility and is designed to produce minimal drag so that you can perform quicker, more fluid swipes for a higher degree of control.
Lighting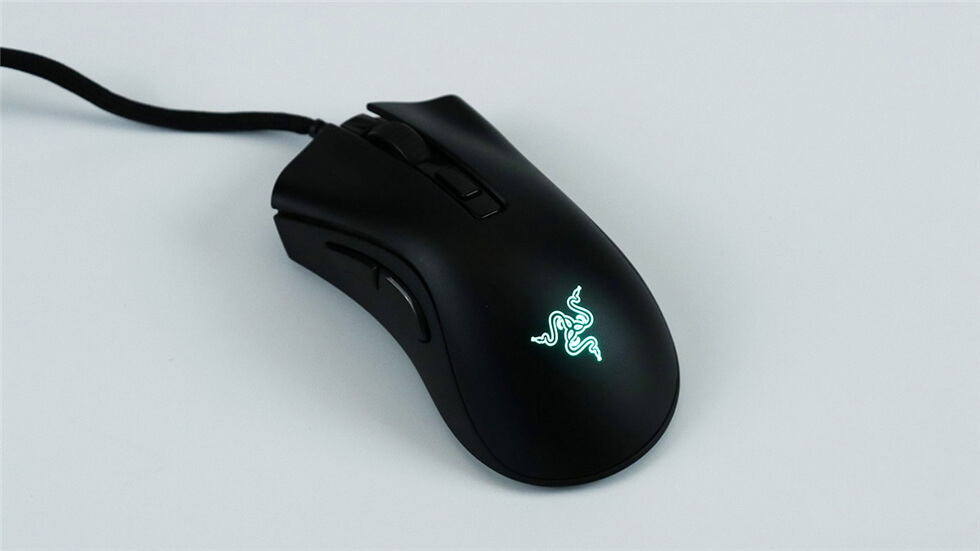 Razer DeathAdder V2 Mini has only one RGB lighting zone on the logo. It also supports Razer Chroma RGB, you can synchronize it with other Razer peripherals in the driver.
Driver
Razer Synapse 3 provides basic settings for Razer DeathAdder V2 Mini mouse. You can fully configure the 6 programmable buttons via it. DeathAdder V2 Mini has 1 on-board memory, you can save your favorite profile for use on different devices.
Experience
DPI Test
I will use MouseTester to test the sensor's performance on the 800DPI stage.

The circle drawing test is relatively stable, which is slightly better than the performance of the Razer Viper Mini which using the same sensor.

The frequency performance should be limited by the MCU, which is a bit chaotic.
Grip Experience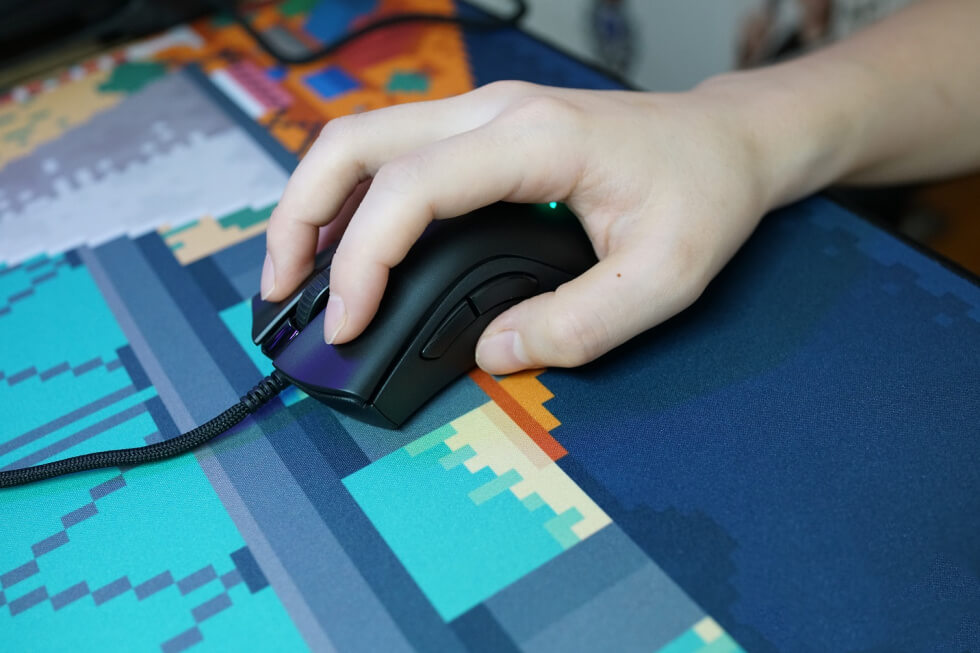 In terms of grip, the standard right-hand ergonomics allows the users to get started without too much familiarity, and it fits hands very well.
Gaming Experience
For gaming experience, I choose "Call of Duty®: Modern Warfare" and "Valorant". Both of them are FPS games, but the use of guns is a little different, the former focuses on gun stability and large movement accuracy, the latter game focuses on vertical stability and shooting speed.
As far as the actual gaming experience is concerned, this mouse is too small for my hand. When using the fingertip grip style, my index and middle fingers need to be docked at the forefront of the click buttons. Users with medium and large hands may not be able to adapt to this mouse, but small hand users will like it.
There is also a problem with the LOD distance. This should be a common problem for all mice that use the PAW3359 sensor. However, Razer had made some improvements to DeathAdder V2 Mini mouse. The LOD of DeathAdder V2 Mini has been tested to be slightly lower than that of Razer Viper Mini's 2.4mm. Meanwhile, you can calibrate the surface of the mouse pad in the Razer driver and set the suitable LOD.
Disassemble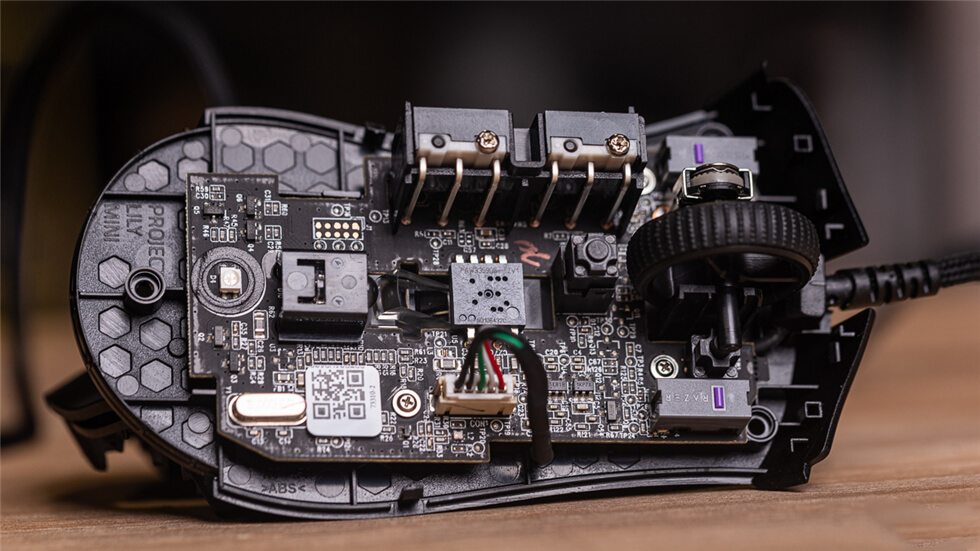 The screws of DeathAdder V2 Mini are located under the foot stickers. After removing the 3 screws, you will disassemble the mouse.
Main Switches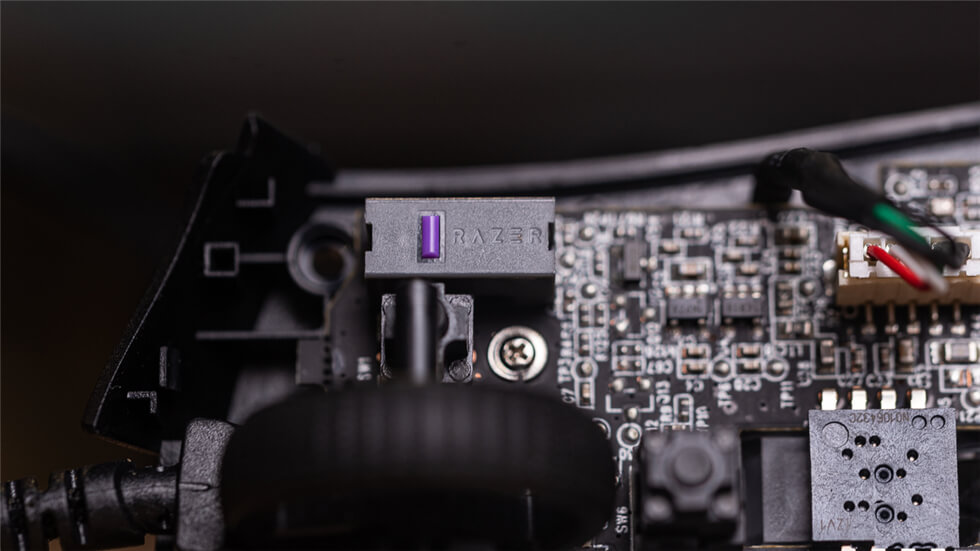 The main click buttons adopt Razer's optical switches(70M clicks).
Side Buttons Switches
The side buttons' micro switches are changed, Razer replaced the Changfeng micro switches with the TTC white point switches.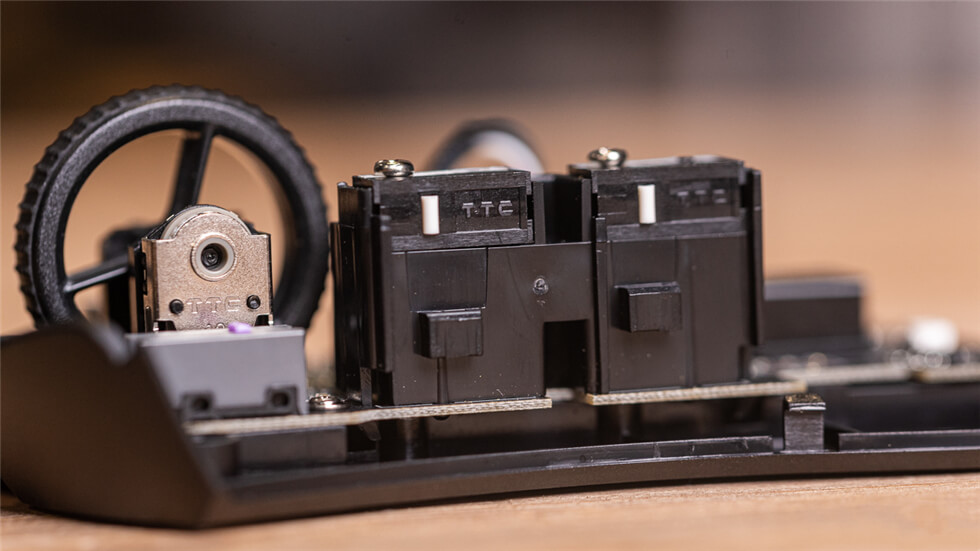 Encoder
The scroll wheel adopts a hollow design to reduce weight, and the encoder adopts TTC.
Sensor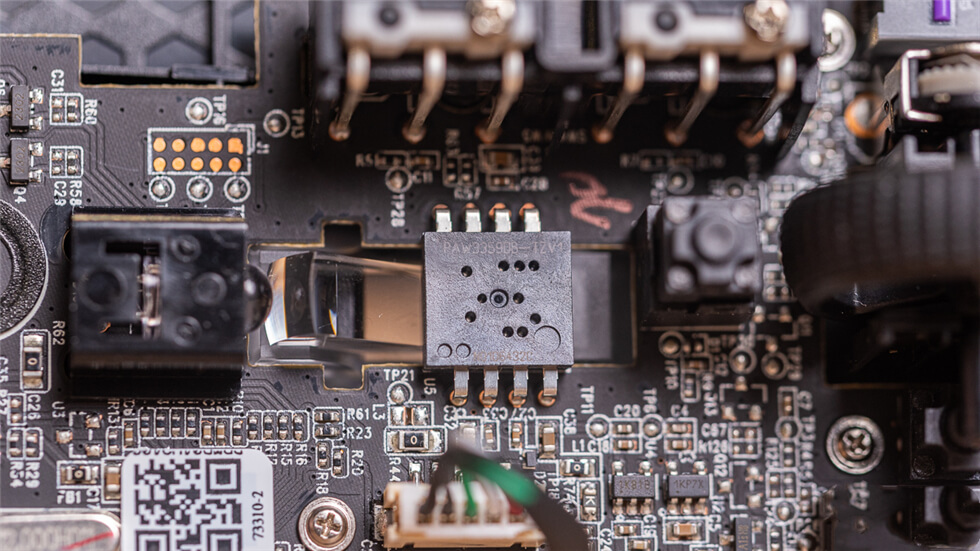 DeathAdder V2 Mini features a PMW3359 optical sensor with 8,500 DPI sensitivity, 350 IPS and 35G acceleration. It is enough for most ordinary gamers.
MCU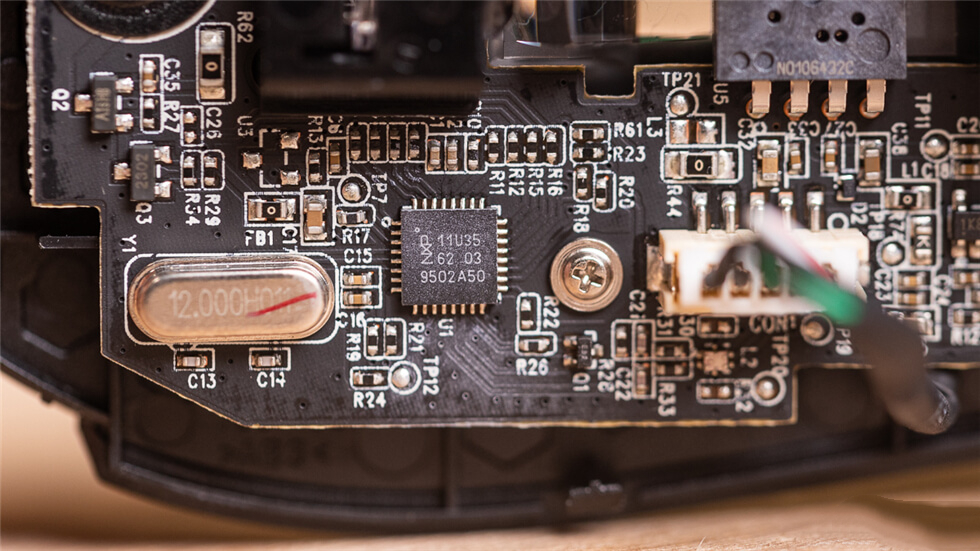 The NXP LPC11U35 is an ARM Cortex-M0 based, low-cost 32-bit MCU, operate at CPU frequencies of up to 50 MHz.
Pros and Cons
Pros
Affordable price
Ultralight ergonomic design
Chroma RGB lighting
Removable grip tape
SpeedFlex cble
Cons
No suitable for large hands
Only one onboard profile
Single RGB lighting zone
In Summary
The Razer DeathAdder series is the most popular gaming mouse. After selling for more than 10 years, Razer finally released a more friendly DeathAdder V2 Mini gaming mouse for the small hand users. This gaming mouse is perfectly suitable for female and small/medium-sized male users.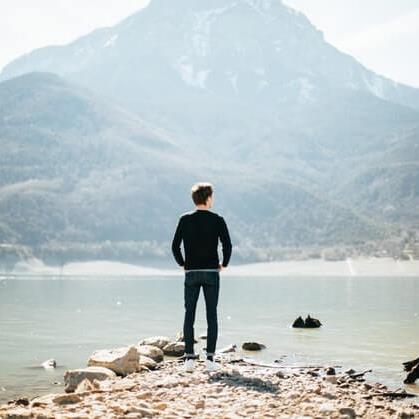 Hi, I'm Rebecca Hampton, I do in-depth reviews of the gaming mouse. I love to disassemble the gaming mouse and dig deeper into them.
Come with me on my journey to find the best gaming mouse!
Check out some of my content and subscribe if you enjoy them.
Thank you for all the support and I truly appreciate you stopping by.