Take your game to the next level with one of our top picks for the best gaming chairs in 2023. These models are the most comfortable gaming chairs you will come across all year. You can counteract the fatigue you feel during those long gaming sessions, get even better results in every race, and finally beat that top score on your favorite arcade game. The following review includes video gaming seats and computer chairs from the best companies like the popular DXRacer, GT, Merax, X-Rocker, and Mophorn.
Depending on your preference, you will find the perfect seat for gaming, right below.
Best 6 Best Gaming Chairs Review
1. DXRacer Formula Series Racer Gaming Chair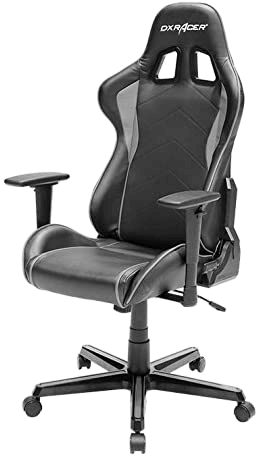 If you want to be able to race in style, you will be very excited to read about our experience with the top-of-the-line Formula Series Gaming Chair by DXRacer. This comfy seat is designed with gaming ergonomics in mind, featuring special back, arm, and wrist padding, perfect for those long drives. The material of seat is a patented race car mesh, a highly breathable material that will keep out any bad odors.
You can adjust the backrest to a suitable positioning for your height and table setup, and the size of the backrest itself has got some extra height on it to provide that much-needed lumbar and spinal support. Even with your back firmly against this chair it still feels really comfortable, because the cushioning is firm enough to give you support but not too firm that it might start to dig into your back.
This product is great for another reason too – it comes with two free pillows that you can place behind your back or behind your head to make the experience even softer and comfier. Each of the five legs on the base of the chair has a footrest that features the latest nylon construction from DXRacer, and because nylon is so tough you can be sure that the footrests won't be wearing out any time soon – no matter how much you race! This product can only be ordered in black, or red and black, so the flashier gamers might find this chair a little bit plain.
Why We Like It
Ergonomically designed
Adjustable backrest
Comfy seat designed
Our Verdict
This chair has an immediate appeal to it, because it really does look the part of a professional racing seat. The design, as well as the materials used are top quality, and this leads us to believe that it truly is the best gaming chair out there.
2. GT Omega Pro Racing Gaming Chair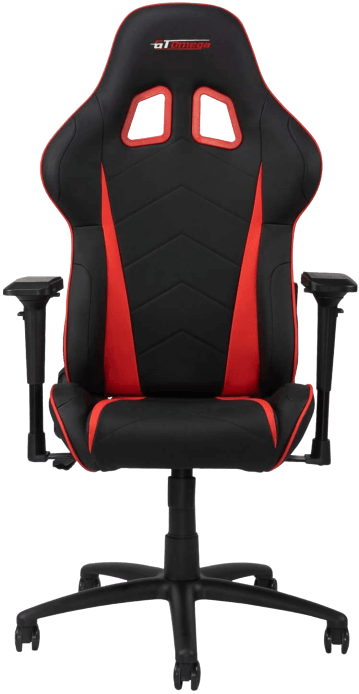 Another top-quality racing gaming chair is the Pro Gaming Chair by GT Omega, made from black aluminum and covered in two-tone synthetic leather. This model has a great 85 – 160 degree of angle adjustment for you to find the sweet spot you're looking for, and it is a tilt-locking mechanism so you will feel it click firmly into place when you reach the next setting. You can also adjust the height of the armrests as well as rotate their angles to get the best forearm support too.
The GT Omega gaming chair is designed orthopedically and ergonomically, for example, the deep-sided back essentially widens the comfort and efficiency of the chair each time you sit down. The overall height adjustment mechanism for the chair is powered by a gas spring cylinder that is easy to operate; it only takes a couple of seconds to flip down the lever and get to the right height.
In terms of comfort, GT Omega provides you with good shoulder padding as well as specific lumbar support around the spinal region, but they also throw in two extra cushions as well. You can position these around your neck and lower back for extra padding. This unit can handle up to 120 kilograms of weight at a time, and it weighs a hefty 22kg in total.
Why We Like It
Great orthopedic
Ergonomic design
Extra pillows
Our Verdict
GT Omega's Pro Gaming Chair has great support for the lower back and shoulders, which are very common places of stress for gamers. The adjustment mechanisms are nice and firm, so they do feel secure when you get them into place and clamp them down.
3. AKRacing Core Series EX Gaming Chair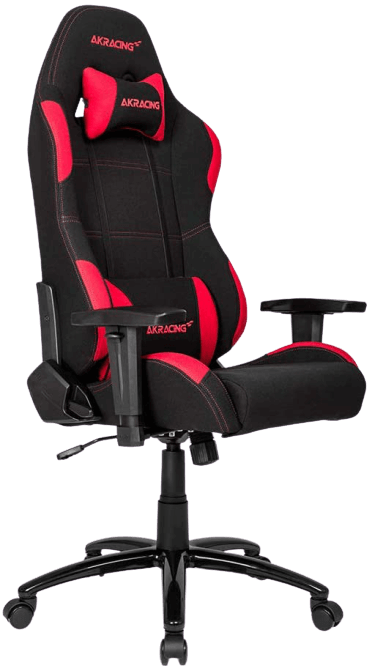 You want to be able to lay back at some point and relax a little after a few games, and this AKRacing gaming chair allows you to do just that with a 180-degree tilting backrest. The strong metal frame of this rig can handle a huge 180 kilograms of weight (396 pounds), so we'd recommend this as a top pick for the tough guys and girls who need a little extra support. You can use this for a power nap or even just to get comfy while you watch your favorite series – this chair is not only for intensive gaming, but it's also adjustable for lazy days.
The armrests can be adjusted for optimal height and angle to counteract one of the most common mistakes for gamers – overextending the arms! You won't need to overextend your arms when sitting in this gaming chair because you can set it all up beforehand, or even adjust it on the fly between games. In terms of style, this chair is really great because it will fit with just about any décor depending on which color you take. It can be ordered in a large range of color combinations, including black and blue, black and green, black and red, black and white, white and blue, as well as white and red.
Why We Like It
Highly adjustable
Lots of colors to choose from
Large weight capacity
Our Verdict
This is a safe and sturdy-made chair that will feel solid underneath you. You won't have that sinking feeling you get from the old foam couch, and your posture will never be better. We think that this model makes a great addition to any games room or living room.
4. X Rocker 51396 Pro Series Pedestal Wireless Gaming Seat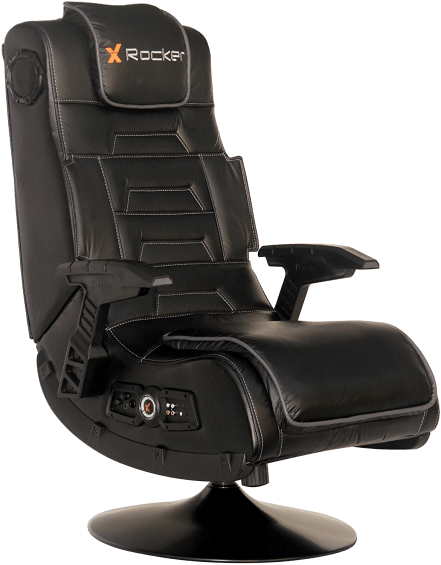 Next up we have a very interesting Pro Gaming Chair by Ace Bayou that has features that would rival the Starship Enterprise. Let's get the standard features out of the way – it has comfortable PU leather upholstery, an adjustable padded seat back, and "gunstock" style armrests that look and feel pretty solid even when they are adjusted for tilt or height. The special features of this model are far more interesting, however, because it has wireless interfaces, RCA audio inputs, and a 2.1 surround sound system that utilizes the new Audio Force Modulation Technology by Ace Bayou.
This means that you can link up your PC to your chair and quite literally have your mind blown by stereo and bass coming right from the backrest itself. You could link up your audio to wireless headphones too if you needed to, or receive audio from another wireless device that is transmitting within range. This gives you the option to experience gaming like never before, and it will really draw you into the game world you're playing in. RCA cables are included with your purchase in case you do not have any lying around. This awesome chair comes in two colors – black, or black with platinum accents!
Why We Like It
Compatibility with wireless devices
Built-in 2.1 surround sound
Our Verdict
The 51396 X Rocker Pro Gaming Chair by Ace Bayou has absolutely great integration of modern technology and sound system capabilities. This will be a chair that gives you so much more than a soft place to sit – it will transform your gaming experience into a truly engaging one.
5. Merax Fantasy Pink Racing Gaming Chair for Girls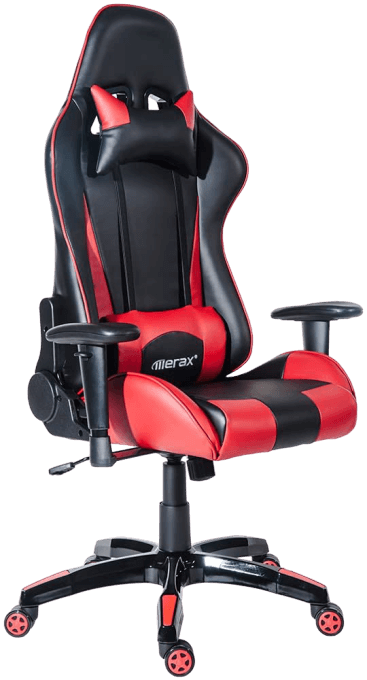 We move along to the Merax Fantasy Series high-back racing gaming chair, which has a classic race car design with all the bells and whistles we've come to love about gaming chairs. The frame is made from a strong aluminum core and the upper is covered in PU leather for a professional finish. Along the back of the chair, you will find a rectangular pillow that you can slide up and down to use as a bit of lumbar support or a neck pillow. If you get tired after a few rounds of intense Xbox gaming, all you have to do is flip the reclining switch and get up to 180 degrees of movement.
This angle is perfectly flat, so you really could lie back and have a quick snooze on your very much comfortable office chair! The reclining mechanism locks in place when you've found your preferred angle, which is great to keep the chair from clicking into another angle by mistake.
The armrests are designed for a bit of customization too, as you have the freedom to change their height and tilt whenever you like. In terms of looks, the Merax Fantasy Series is right up on the top of the ranks, it really does appeal to the eye and we can imagine it in just about any games room, study, or bedroom setting. This model is currently available in lots of colors including blue, black, green, orange, pink, red, silver, and white.
Why We Like It
Ticks all the boxes for comfort
Good range of colors
Our Verdict
This is a well-designed model that has a clean finish and classic look. We love the fact that it can recline to a flat 180 degrees for taking a nap or reading and being able to order this product in eight dynamic colors is just another great plus.
6. N Seat Pro 300 Racer Style Black PC Gaming Chair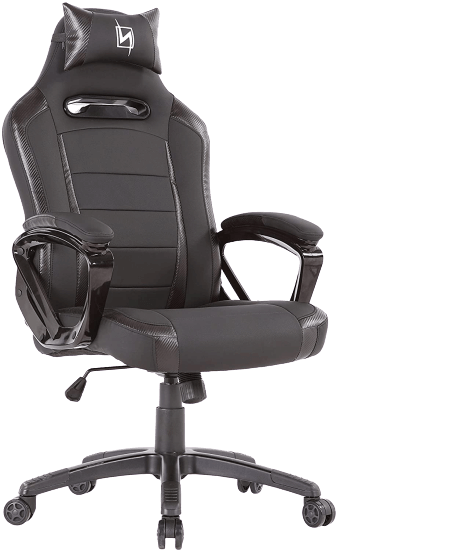 The N Seat Pro 300 Gaming chair will get your heart racing and make you feel as if you are part of your game. The designers of this chair have taken so much time and effort into making sure every detail is right. This chair has clean and seductive lines that will make you look and feel like you are sitting on a race car chair. The chair has an ergonomic design, and is lightweight but made with maximum stability. You will get great comfort out of this chair thanks to its adjustable height gas hydraulic unit.
This unit can support up to 120 kg or 270 pounds. It won't matter how tall you are or how height your desk is; this chair will be able to meet your needs. You will be amazed by the comfort you get out of this chair's armrests which are made from thickly padded synthetic and high-quality PU leather. The N-seat pro is also equipped with a 360-degree rotation.
Being made from synthetic PU and PVC leather you will find it easy to clean after you have forgotten that your cup of tea is next to you, and you just had to race around a sharp bend. The N Seat Pro 300 has 5 nylon twin wheels that have all been coated in order to protect your floor from scratches. To top it off each wheel comes with its very own rims, to help set the best atmosphere before you start your race. When you order this chair make sure to pick the best color for you: black, blue, green, red, or white.
Why We Like It
360-degree rotation
Nylon coated wheels
Thick PU leather upholstery
Our Verdict
We chose the N Seat Pro 300 Gaming Chair because it has expert mechanical construction, including hydraulic gas lifting to change the height.

Guide to Buy the Best Gaming Chair
If you still can't decide which gaming chair is best for you, there are some important questions that you might want to consider. Some things you might be wondering at this stage are "why does a stainless steel DXRacer chair cost more than an aluminum frame one?", "do I really need a sound system in my chair?" and "will my performance in-game get any better?". Below we've covered some of the most frequently asked questions about video gaming chairs, just for your convenience.
1. What Benefits do Gaming Chairs Have Over Other Chairs?
You might be wondering what the point of buying a gaming chair is. Why bother spending all that money if a regular chair could do just the same thing? Well, honestly, the two are worlds apart in every way that counts. Your average dining chair doesn't have built-in surround sound and 14 angles of adjustment for your back, and these are only some of the finer points that make video gaming chairs far more suitable for this purpose.
Support where it matters most – designing a computer of video gaming racing chair that gives you good support for your back is standard, but what about other areas that experience fatigue from long periods of use? The wrists, feet, and shoulders all take more strain for gamers because their bodies are active – and reactive – to the game, they're involved in.
If you're playing the best first-person shooter (FPS) you will need more wrist support because your hands are doing most of the work. If you like to race cars you might want foot pedals or at least leg rests that will give you some more support when you're driving. Gaming or computer chairs provide this support and allow you to focus your attention on the task at hand.
Built-in gadgets – audio compatibility is a feature that we'll be discussing a lot because it is an innovation that pc gaming chairs have capitalized on for a long time. Along with this, you will find chairs that can connect to wireless devices to receive or send audio signals, like wireless headphones or a cell phone playing music.
Nothing is nicer than being able to sit down and watch a film, and have the audio crisp and clear right at your ears.
Adjustable for different angles – the best computer chairs will not only provide support to you where they think you need it; they will also allow you to change the angle of the backrest to give you the perfect posture at all times. One of our items, the Birdrock PC gaming chair, has up to 14 different positions that you can adjust while on the floor!
2. What Types of Gaming Chairs Are There?
We've found that there are generally four types of gaming chairs that are on the market today. While some computer chairs will have different features from others, they can essentially be summed up into these groups:
The generic 'office style' chair: we have chosen not to include any plain office-style comfort chairs in our list mainly because they aren't that exciting, but there are many computer gaming chairs that follow the classic office chair style. These chairs will have good back support, static nonadjustable armrests, and rolling casters that you can spin around on. In general, these office-style computer chairs would work well for basic or cheap gaming chair alternatives to a real video gaming office chair.
The professional racer: a lot of the items on our list are 'racer' style computer chairs, styled after real professional racing equipment. Racer-style computer gaming chairs have flanges that stick out near the shoulders, and wider and deeper lumbar regions for a comfortable fit, and they are commonly found in solid colors or two-tone color schemes.
The relaxing recliner: these models don't just have a reclining option; they have retractable footrests or leg rests that expand from the bottom of the gaming computer chair too. These chairs are great for watching movies, taking a rest, or doing some casual comfortable gaming from time to time. These units are usually not on wheels and feature a single solid base. The one benefit of not being on wheels is that you're not at all likely to fall over if you lean too far in one direction, but it does mean that you're going to have to find a semi-permanent home for your ergonomic racing chair too. If space is an option, a recliner might not be the best choice for you.
The home theatre system: we call the 2.1 speaker system computer chairs the 'home theatre system' models because they are absolutely second to none in overall entertainment. They are usually a little pricier because of the extra tech they have thrown in, including wireless or infrared compatibility with video gaming headsets, cell phones, and laptops. In fact, the two audio-enabled items on our list also happen to be recliners too, so you can be sure that they deliver a good solid experience from top to bottom.
If you need any more convincing on why you should upgrade from that dull lawn chair, take a look at PC Gamer's guide to video and computer gaming chairs:
Whichever gaming or executive office chair you choose you can be sure that it will be a worthy upgrade from using an old desk office chair, or dining chair, that leaves your rear end hurting only an hour or so into your gaming session. We guarantee that you will never look back once you sit down and experience a game from the comfort of a proper gaming chair.
3. Can Gaming Chairs Improve Your Gameplay?
You can probably remember a time right now when your back ached and your rear end started to fall asleep, but you just kept playing through the pain because the game was just too good to leave it be, no matter how bad you proceeded to play. The gameplay is not always about the game mechanics or how well the developers have arranged the hit-boxes for first-person shooters – we're looking at you, Call of Duty – it can often come down to your immediate environment. Your interaction with the T.V. screen or PC monitor can be put off by the smallest annoyances, and a huge part of that is just not having the correct seat in the first place. You shouldn't have to worry about that anymore. Here are a couple of ways that the right gaming chair can improve your gameplay:
Comfort – being at ease when you play a game will definitely improve how well you play. Having a tense body or a really uncomfortable racing chair will make you fuss with changing your position far too often, and distract you from what really matters – winning your match. Most comfortable gaming chairs will specifically target areas of the body where gamers experience the most fatigue, such as the back, neck, forearms, and wrists. You can also find deals that will include extra pillows for the neck and lower back, and this will give you even more comfort. Adjustable armrests and retractable footrests are just some of the comfort options to look for. To read up on how these comfort factors can help with your posture, read this study. Just remember that you will still have to get up to go to the bathroom, no matter how comfy you feel in that seat.
Immersion – there is nothing worse than getting into an intense battle or exploring new worlds, only to have to pause and figure out what's digging into your back from the couch. Especially when it comes to racing pc games (as many of our top picks are racing-related), feeling like you're really in the seat of a Lamborghini will give you that extra boost of confidence that you need to cross the finish line first. Eliminating the possibility of being taken out of the game world will keep you immersed for longer, making your video gaming sessions the best they have ever been.
Feedback – particularly audio-based feedback, as two of the chairs on our list have 2.1 stereo sound systems built into their backrests. The feedback that a bit of bass and treble traveling through your gaming computer chair can cause is actually quite noticeable, not to mention helpful. Situational awareness can increase your performance at the best of times by a large margin if the sound is coming from your immediate environment rather than right inside your ears as it does with headphones. Being able to tell if an enemy is sneaking up on you from the right or left side is a distinction you don't want to miss, and the side speakers on a video gaming chair will make sure you don't miss a trick. If you want to really dive into your game headfirst, this would be the way to do it.
If you think that these aren't the reasons you aren't getting any better at your game, there are several other things you can do. A rather obvious option is to have a look at YouTube and try to find a game strategy guide that might help you to complete the task you're having trouble with. Forums and blogs also cover a wide range of gameplay for story-driven pc games, so there is some value in taking a look at popular video gaming wikis or game bloggers. If you're trying to get better at a game like FIFA or DotA 2 however, practice will always mean the most for your performance. There is no substitute for learning the game mechanics and getting better at using them by doing the hard work. Roll up those sleeves and get back to practicing your micros.
4. What features should I look for in a Gaming Chair?
One of the biggest questions is what makes one gaming chair any better than another, and this can come down to a number of factors. The big one, in our opinion, is the build quality of the materials used to make the executive chair in the first place. Quality materials are always a salient point in buying a pricy piece of furniture, and gaming chairs are no different. Here are three basic areas that each of them will have:
The Frame:
Aluminum – This metal is light, strong, and it is slightly cheaper than steel. This will be the industry standard for pc gaming chair frames because it is cost-effective and works just as well as steel for medium loads.
Stainless Steel – steel is much heavier and stronger, although slightly more expensive than aluminum. This material can support much more weight, being a great option for adults and larger individuals.
The Padding:
Classic Foam – acceptable for most uses, can be comfortable when layered properly. this is a standard issue with all chairs unless stated otherwise, and usually performs its function without too much of a problem.
Memory Foam – this is a great material to look out for because it has a more balanced firmness and it also molds to your body. This means that you're getting exactly the type of support you need, in the shape of your body!
The Upholstery:
Nylon mesh – this is a very tough plastic composite that is usually used on the retractable footrests of video gaming chairs. It is lightweight and doesn't fray easily, and so it makes for very useful material.
PU leather – this is synthetic leather, so it isn't the real deal, but the benefits of PU leather are obvious. It is cheaper to maintain and produce, and it is also a more environmentally friendly product.
Breathable material – the chances are that you'll be spending a lot of time in one of these chairs, and you will want the seats to be made of a material that will wipe down easily and not take on too many other smells. Over time other fabrics will absorb smells such as smoke or foul odors and you'll have to end up sending them in for a proper – expensive – cleaning.
Further than the materials, gaming chairs will give you an advantage over straight-backed chairs because they do not force your back out of place or cause you any excess strain. The next two major points to consider are the mechanics or design of the chair itself, and a special audio feature that might just take the cake as the coolest feature of them all.
Ergonomic Design – the design of the chair is the primary concern, especially when it will be used every day. Look for products that specifically use the word "ergonomic", because this means the executive chair is made for comfort and efficiency. The designers will go out of their way to add padding in places that experience constant movement or leaning, and this will go a long way to reducing the amount of discomfort you feel after a while of sitting down. Ergonomics can also be affected by the materials, for example, a heavy 20+ kilogram frame might help to reduce unwanted movement if the pc chair is on wheels, but it would also be a little unwieldy to move around. Find a chair that suits your ergonomic needs and you can't go wrong.
High back – as an extension to ergonomics, we need to talk about posture and back support. Posture is a very important part of healthy video gaming and one that we seem to get wrong a lot of the time. Instead of sitting on your couch and having to lean forward to find that sweet spot between relaxing and concentration, purchase a high-back pc chair that will give you both. You will be supporting your lower back, or lumbar region as it is known, and also your neck. This can keep you playing for longer, and save your body from unnecessary stress.
Speakers – this plays into the feedback and immersion that we mentioned earlier. It is great to have speakers that give you crystal clear sound so that you will hear when the crowd cheers behind you as you score that winning goal, or shift over to block an upcoming rival racer when you hear them pulling up to you on your right-hand side. These chairs will require power, so they do end up taking an extra plug as well as floor space for the required cords, but this is a small price to pay for the benefits you get out of the deal.
Wheels – you should consider if you want the pc chair to be able to move around the room or just remain stationary. Most wheeled chairs have a five-point castor system, which is the standard office-style arrangement. These chairs will move over smooth surfaces with ease, but they are as prone to falling over as any chair on wheels. If you want a safer alternative you can buy a recliner pc chair that rests directly on the floor, leaving no chance for you to fall over or slip on a banana peel.
Above all, you should be looking for a video gaming chair that feels great for you, and you might want to try a few out before making a solid choice about which model suits you the best. You are sure to find something that suits you and unlocks your potential to be the gamer you were born to be. If you liked this article why not check out our other gaming product reviews, give it a like, and share it with someone special?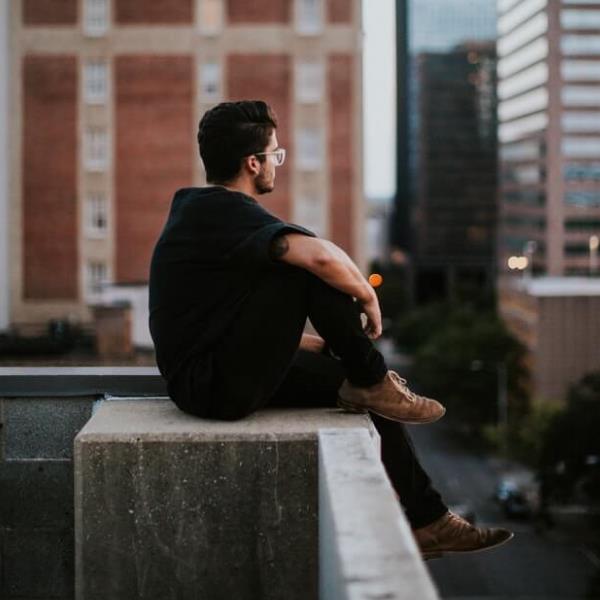 I'm Kelly Felix, I focus on laptops and desktop computers. I will talk about gaming laptops and PC hardware like Graphics Cards, Processors, RAMs, etc.
Hope my reviews can help you choose the perfect game peripherals that's right for you!