It is well-known Corsair has a very high reputation in RAM, chassis, power supply, etc. In March 2017, Corsair released the flagship mechanical gaming keyboard K95 RGB PLATINUM, and then released the Glaive RGB gaming mouse. In addition to powerful performance and rich functions, it is also the first Corsair modular gaming mouse. Now, Let's take a look at this mouse.
Packaging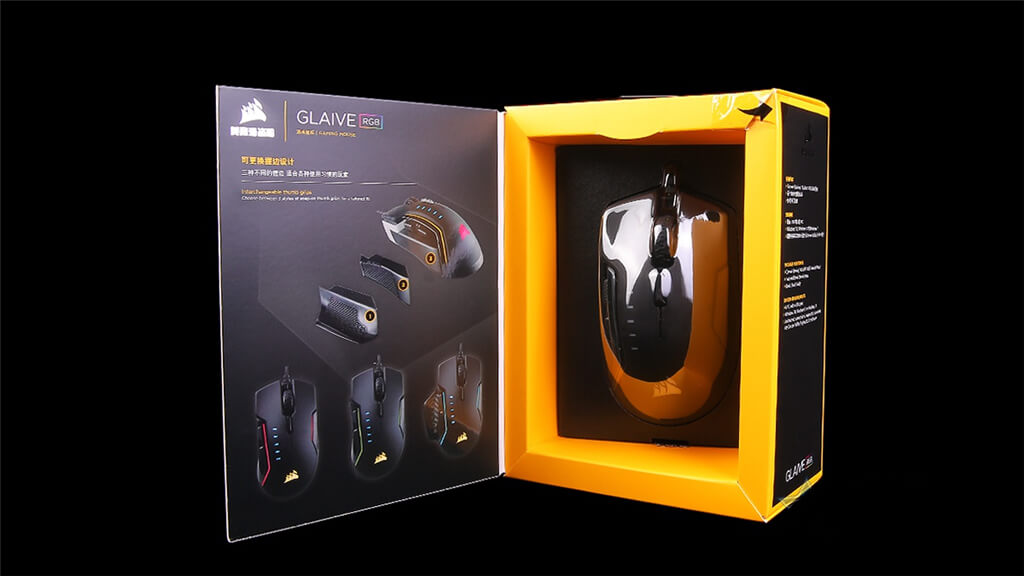 The packaging continues Corsair's consistent style, with a black and yellow color scheme. On the front is a large product photo and introductions of main features: 16k DPI optical sensor, interchangeable thumb grips, and dynamic multicolor.
On the back and side of the package are other selling points and specifications.
Specifications
| | |
| --- | --- |
| Dimensions L x W x H | 4.55 x 7.05 x 2.4 inches |
| Weight | 8.2 ounces |
| Handedness | Right-handed |
| Grip Style | Palm |
| Game Type | FPS |
| Number of Buttons (Total) | 6 |
| Number of Thumb Buttons | 2 |
| Number of Programable Buttons | 6 |
| Backlighting | 3 Zone RGB |
| Software | CUE 2.0 |
| On Board Memory Profiles | 1 |
| Connectivity | Wired, USB 2.0 |
| Cable | 1.8m Braided Fiber |
| Feet | PTFE |
| Micro Switch | Omron (50 million clicks) |
| Sensor | PMW3367 |
| Sensor Type | Optical |
| DPI | 100 - 16,000 DPI |
| Report Rate | 1000 Hz (1ms) |
| Maximum Acceleration | 50 G |
| Max Tracking Speed | 300 IPS |
| Warranty | 2 Years |
Package Contents
Glaive RGB Optical Gaming Mouse
Accessory bag
Two additional thumb grips
Warranty card
Quick start guide
Glaive RGB VS Glaive RGB PRO

Mouse Details

Model
Glaive RGB
Glaive RGB PRO
Photo
Release Date
2017
2019
Amazon Rating
Check Price
Check Price
Check Price
Colors
Black
Black
Dimensions(L*W*H)
4.55 x 7.05 x 2.4 inches
4.88 x 2.7 x 1.79 inches
Weight
8.2 ounces
8.8 ounces
Adjustable Weight
No
No
Ergonomy
Right-hand
Right-hand
Grip Style
Palm
Palm
Buttons
6
7
Lighting
Yes
Yes
Adjustable Lighting
Yes
Yes
Connectivity
Wired, USB 2.0
Wired, USB 3.0
Cable Type
Braided cable
Braided cable
Cable Length
1.8 m
1.8 m

Technical Specs

Sensor Type
Optical
Optical
Sensor Model
PMW3367
PMW3391
DPI
100 - 16,000 DPI
100 - 18,000 DPI
Maximum Acceleration
50 G
50 G
Max Tracking Speed
300 IPS
250 IPS
Polling Rate
1000 Hz (1ms)
1000 Hz (1ms)
Lift Off Distance
Adjustable
Adjustable
Onboard Memory
Yes
Yes
Hardware Acceleration
No
No
Switch
Omron (50 million clicks)
Omron (50 million clicks)
Details
Appearance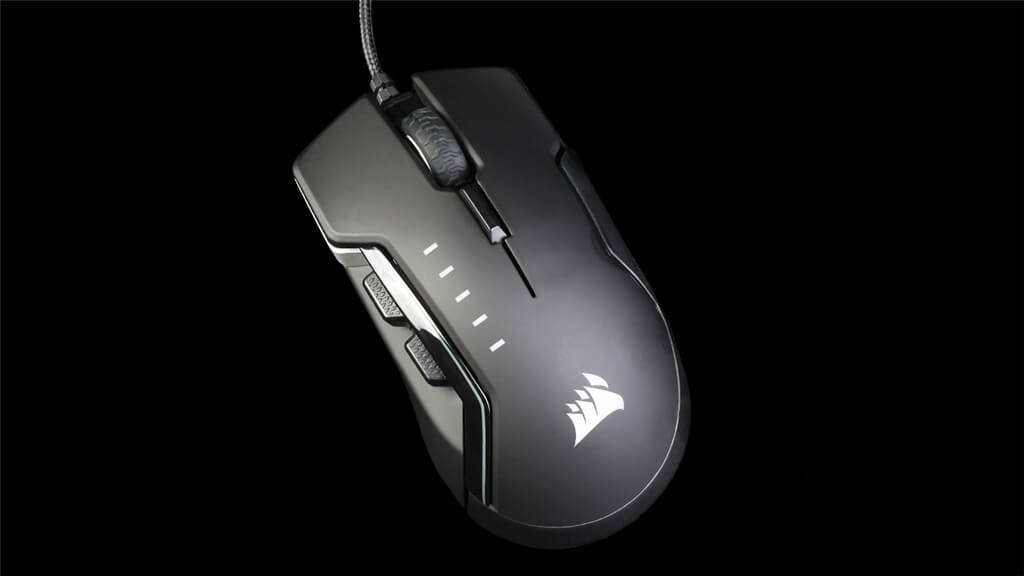 The Corsair Glaive RGB mouse's dimensions are 4.55 x 7.05 x 2.4 inches and weigh 8.2 ounces. It's suitable for right-handed players with larger palms. It has a comfortable contoured shape and the back curvature can perfectly fit the palm. The biggest feature is that it is equipped with 3 additional thumb grips.
Front End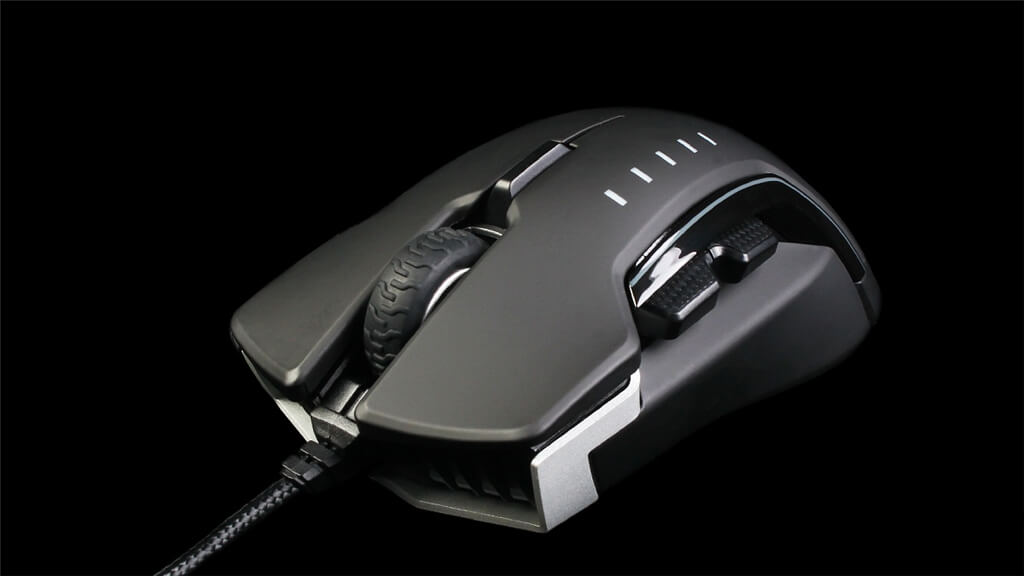 The front of the mouse has a Sports Car's air intake grille design style, which is quite good in terms of vision.
Scroll Wheel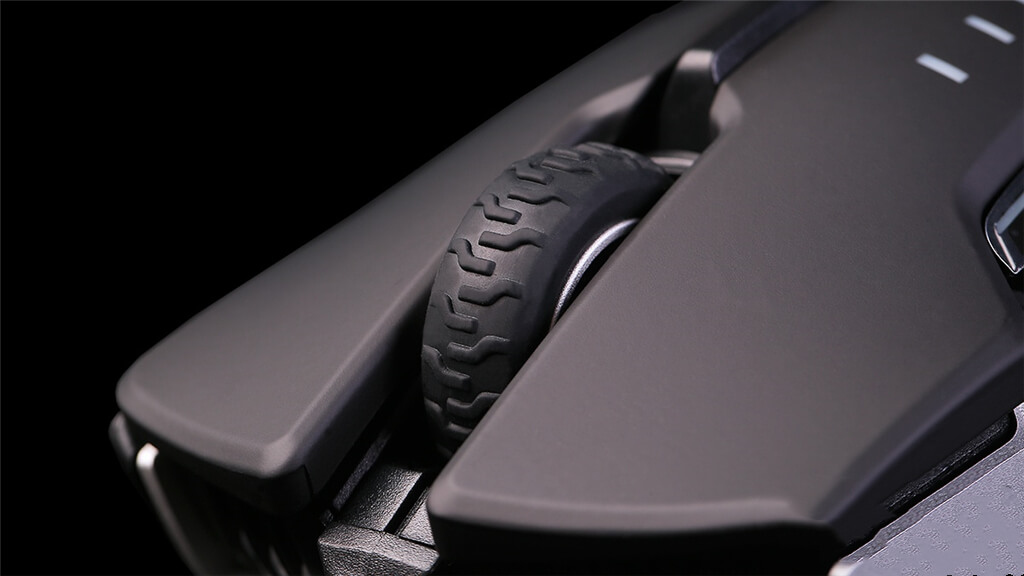 The texture on the aluminum scroll wheel is very clear and obvious, which makes the scroll wheel looks like an off-road vehicle tire. When in use, the scroll wheel feels very good and has a more obvious sense of scale, but the click feel is too heavy.
DPI Button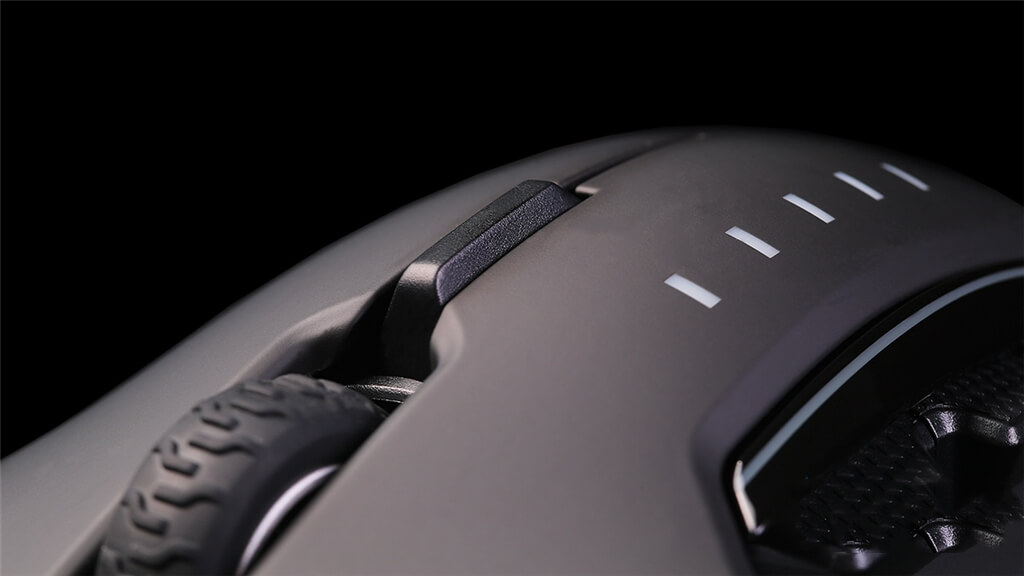 Glaive RGB has only one DPI button, although it is not very convenient to adjust, fortunately, it has 5 indicators, the number of lights will increase with the click of DPI button.
Side Buttons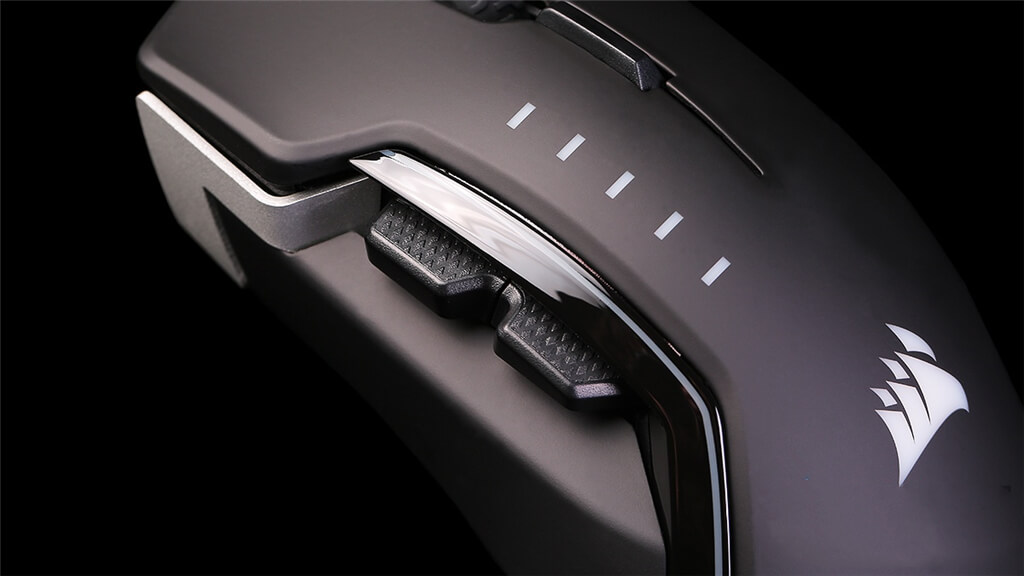 The two side buttons have been optimized in size and position so that the thumb will not accidentally touch the side buttons.
Above the side buttons is an RGB light strip, the light is softer and not dazzling, and users can also turn off the light.
Thumb Grips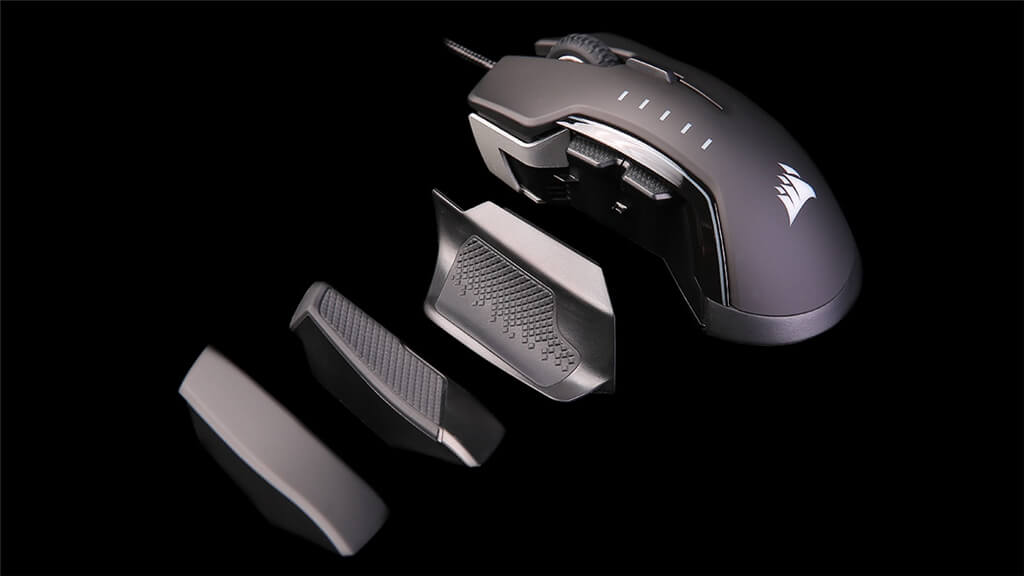 Glaive RGB totally has 3 interchangeable thumb grips. These thumb grips are firmly attached to the side by the magnet inside the mouse. These 3 grips can adapt to most of the user's use scenarios, including office and entertainment.
Bottom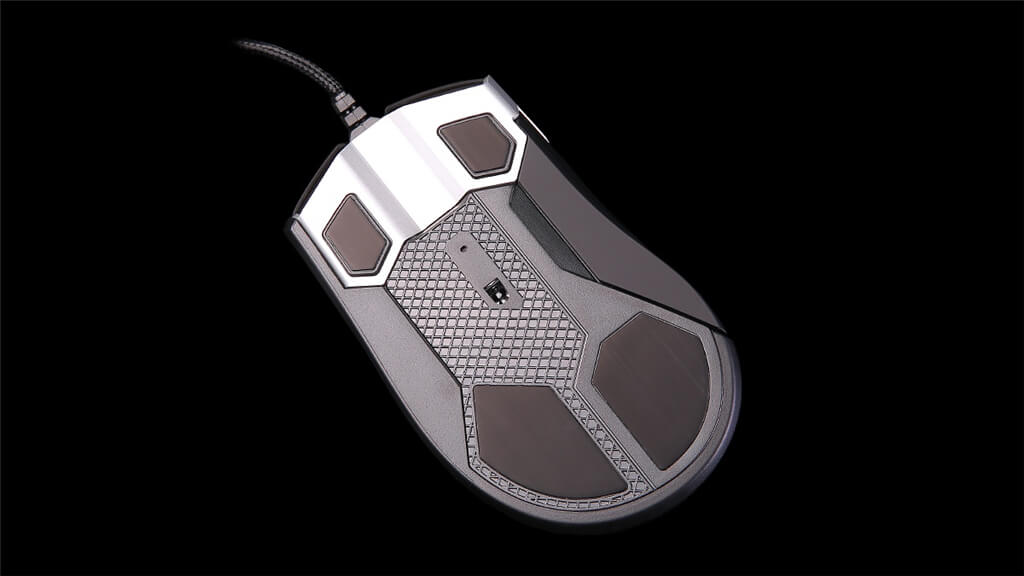 There are 4 PTFE foot stickers on the bottom. The mirror grid at the bottom has a nice decorative effect.
Cable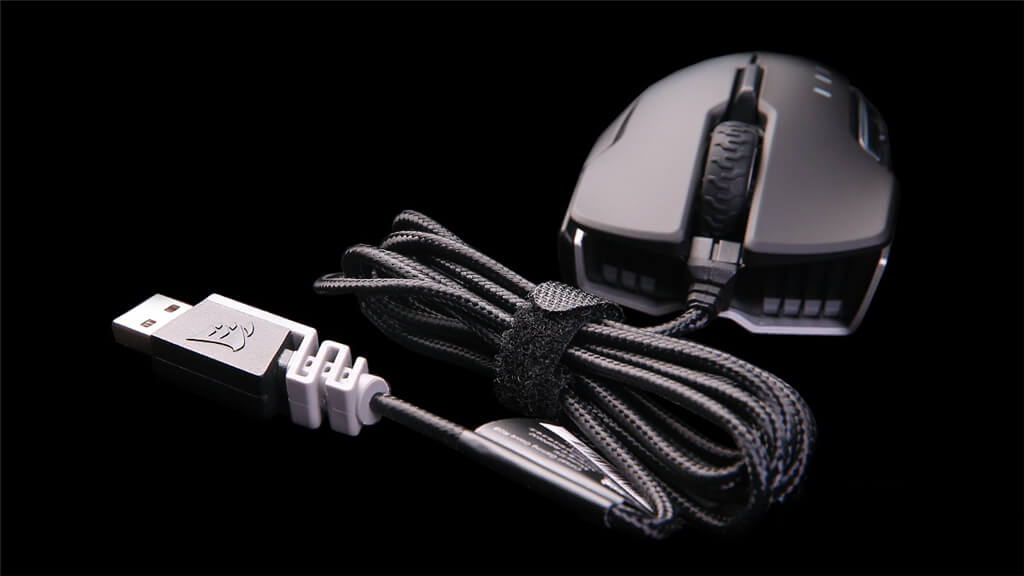 The mouse has a soft braided cable with a length of about 1.8m. Although the USB interface has an S-shaped design like other Corsai peripherals, it still does not gold platted.
Lighting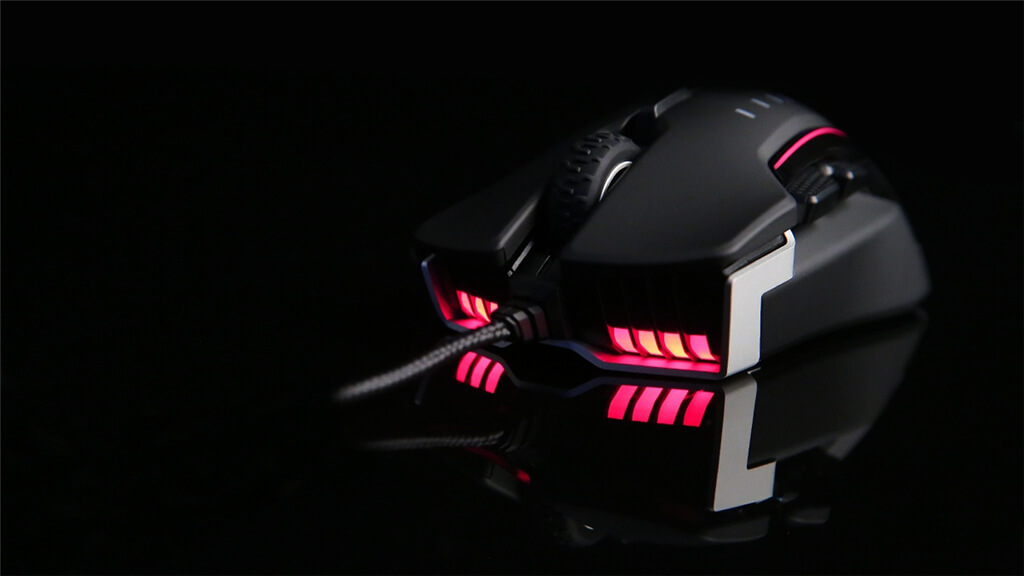 Glaive RGB mouse has 3-zone backlighting zones (front end, side zone, LOGO). From the actual lighting effect, the uniformity and brightness of the lighting are very good.
Driver
With Corsair Utility Engine (iCUE), you can assign macros to any button, create dynamic lighting effects, change the DPI settings, etc. Onboard profile storage saves these settings for universal access to your profile on any PC, without the need for drivers or additional software.
Disassemble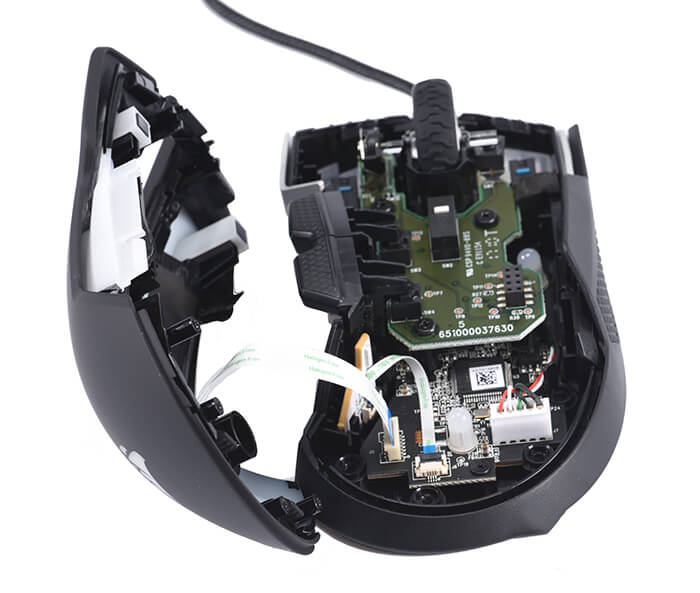 After tearing off the PTFE foot stickers, you can see that the mouse is fixed with 4 screws. Unscrew these 4 screws to separate the upper and lower shells.
MCU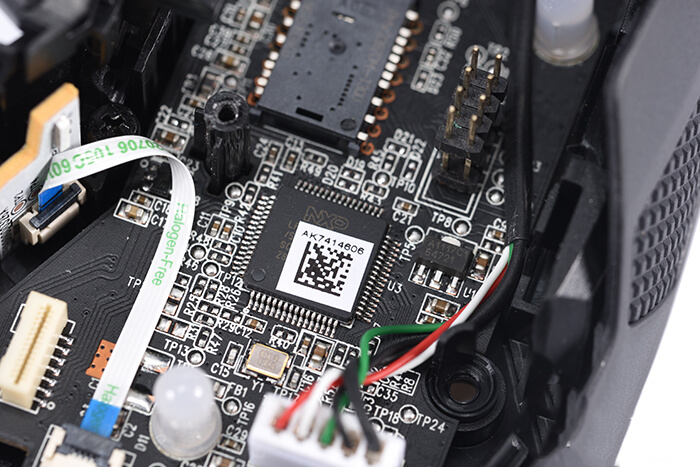 There are two PCBs inside the mouse, and the lower PCB integrates NXP's LPC series MCU which base on ARM Cortex-M0 based.
Sensor
Glaive RGB is equipped with a customized gaming-grade PMW3367 optical sensor (very close to Logitech PMW3366), native 16000 dpi resolution, settable to 1 dpi steps.
Micro Switches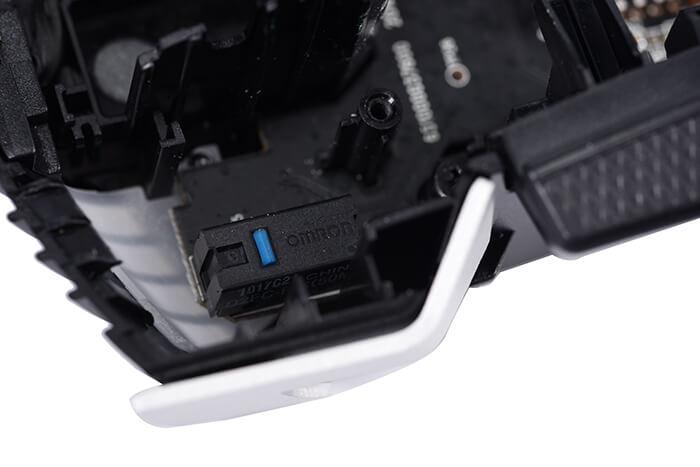 Glaive RGB is equipped with the Omron D2FC-F-K(50M) micro switches which have a life span of 50 million clicks, low click latency, and ultrafast response.
Experience
DPI Test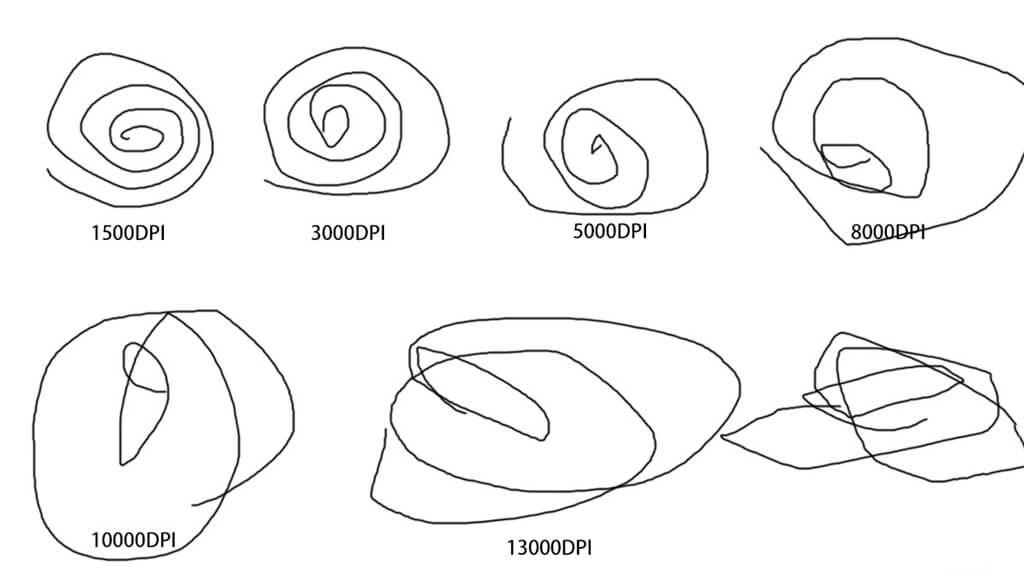 I choose 1,500DPI as the initial test value. In the test, its effect is very stable at 5,000DPI, but when it reaches 8,000DPI, it starts to be a little difficult to control.
Grip Experience
I have to say that this Corsair Glaive RGB mouse stays very comfortable in hand. It has a modular design. According to different hand shapes, you can choose between three thumb grips to fit your playstyle. The mouse is also designed with a large back curvature, which provides good support for hand rest.
Gaming Experience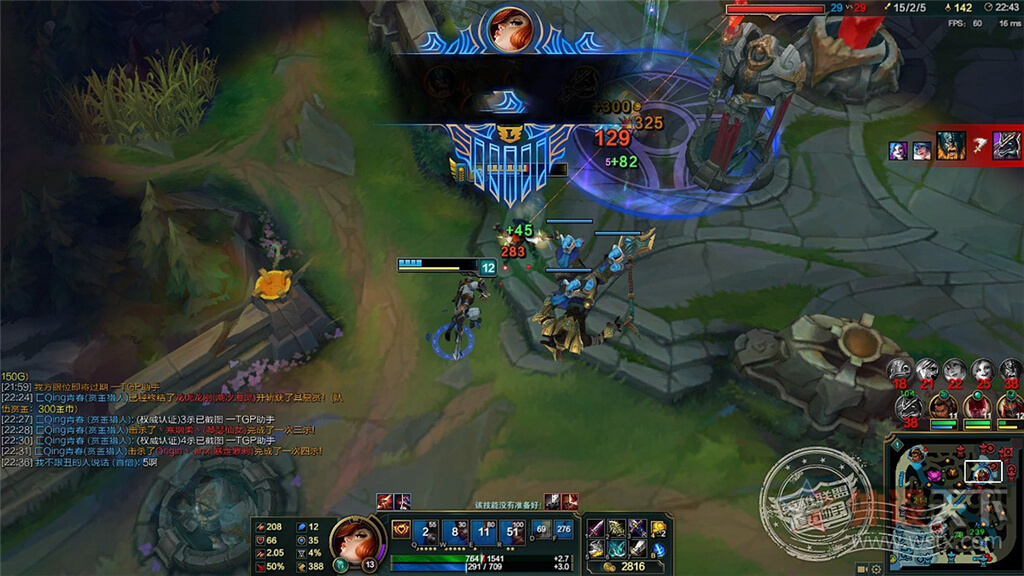 I choose the FPS game for the game test because the mouse is really big, it is not very easy for me to use. The left/right click buttons rebound very quickly and the strength is moderate. It is also suitable for fast-clicking games like LOL.
Pros and Cons
Pros
Solid build quality
Interchangeable thumb grips
Accurate optical sensor
3-zone RGB lightning
Perfect for larger hands
Cons
A bit pricey
Right-handed only
Inconvenient dpi adjustment
Stiff scroll wheel
Side button has obvious empty keystroke
In Summary
Glaive RGB is Corsair's first modular gaming mouse. It is positioned for FPS games. It has pure comfort contoured shape, interchangeable thumb grips, 50 million click swiches, 16,000DPI sensor, 3-zone RGB backlighting, fully ensures maximum performance.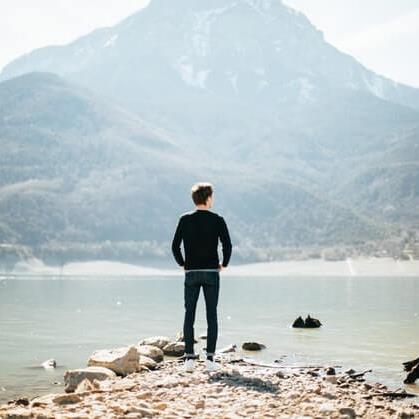 Hi, I'm Rebecca Hampton, I do in-depth reviews of the gaming mouse. I love to disassemble the gaming mouse and dig deeper into them.
Come with me on my journey to find the best gaming mouse!
Check out some of my content and subscribe if you enjoy them.
Thank you for all the support and I truly appreciate you stopping by.