At CES 2017, Corsair released the Scimitar Pro RGB gaming mouse. It is an enhanced version of Scimitar RGB, equipped with PIXART PMW3367 optical sensor, provides a maximum of 16,000DPI, onboard storage with hardware macro playback to take your gaming profiles with you.
Corsair Scimitar Pro RGB mouse has 12 independent programable buttons, positioning MMO/MOBA games, and it is specially equipped with the exclusive Key Slider™ macro button control system.
Now, I will review this gaming mouse from details, experience, and disassembly, so let's go!
Packaging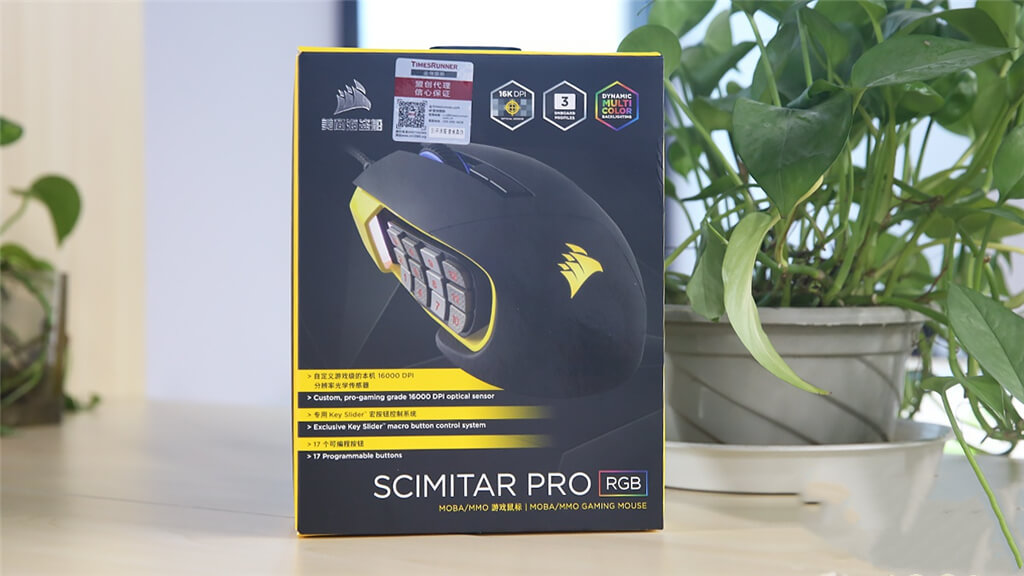 The Corsair Scimitar Pro RGB adopts the Corsair's classic black-yellow color flip-page packaging style. The front of the package is a photo of Scimitar Pro RGB mouse and 3 main features: 16,000DPI, 3 onboard profiles, and Dynamic multicolor backlighting.
On the back of the packaging box lists other selling points:
Optimized shape for MOBA and MMO
17 Programmable Buttons
Multiple rest points for high-endurance comfort
Ultrafast 1ms lag-free gameplay
Specifications
| | |
| --- | --- |
| Dimensions L x W x H | 4.75 x 3.04 x 1.67 inches |
| Weight | 4.3 ounces |
| Handedness | Right-handed |
| Grip Style | Palm |
| Game Type | MMO, MOBA |
| Number of Buttons (Total) | 17 |
| Number of Thumb Buttons | 12 |
| Number of Programable Buttons | 17 |
| Backlighting | 4 Zone RGB |
| Software | CUE 2.0 |
| On Board Memory Profiles | 3 |
| Connectivity | Wired, USB 3.0 |
| Cable | 1.8m Braided Fiber |
| Feet | Extra Large Thin PTFE Sheet |
| Micro Switch | Omron (20 million clicks) |
| Sensor | PMW3367 |
| Sensor Type | Optical |
| DPI | 16,000 DPI |
| Report Rate | Selectable 1000Hz/500Hz/250Hz/125Hz |
| Maximum Acceleration | 50 G |
| Max Tracking Speed | 300 IPS |
| Warranty | 2 Years |
| Amazon Rating | |
| Check Price | Check Price |
Unboxing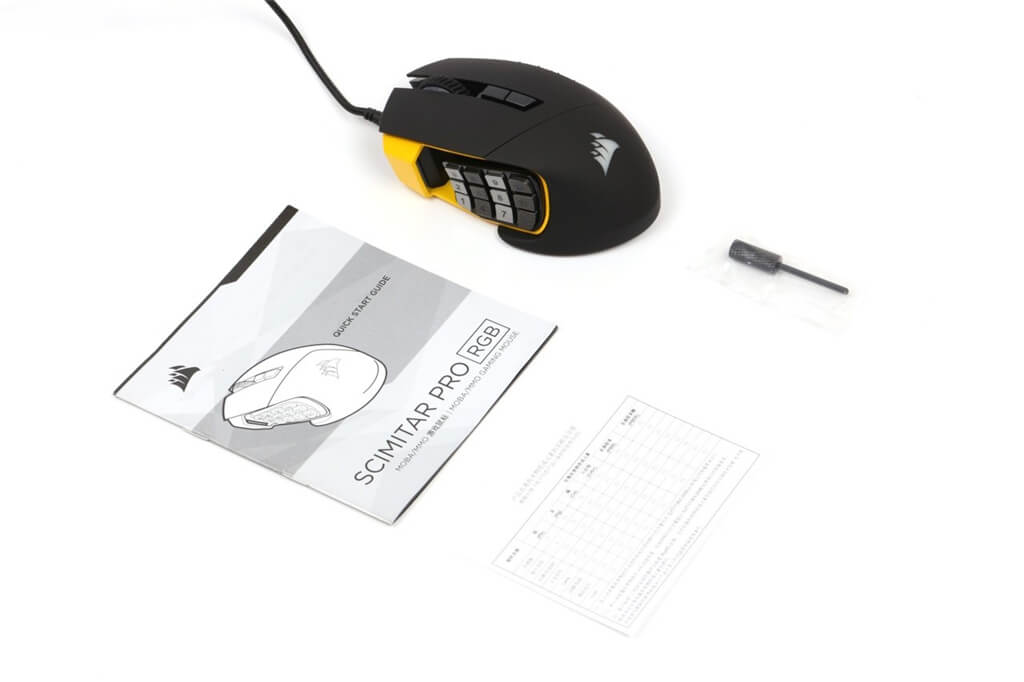 Package Contents:
Scimitar Pro RGB Mouse
Key slider locking tool
Warranty card
Details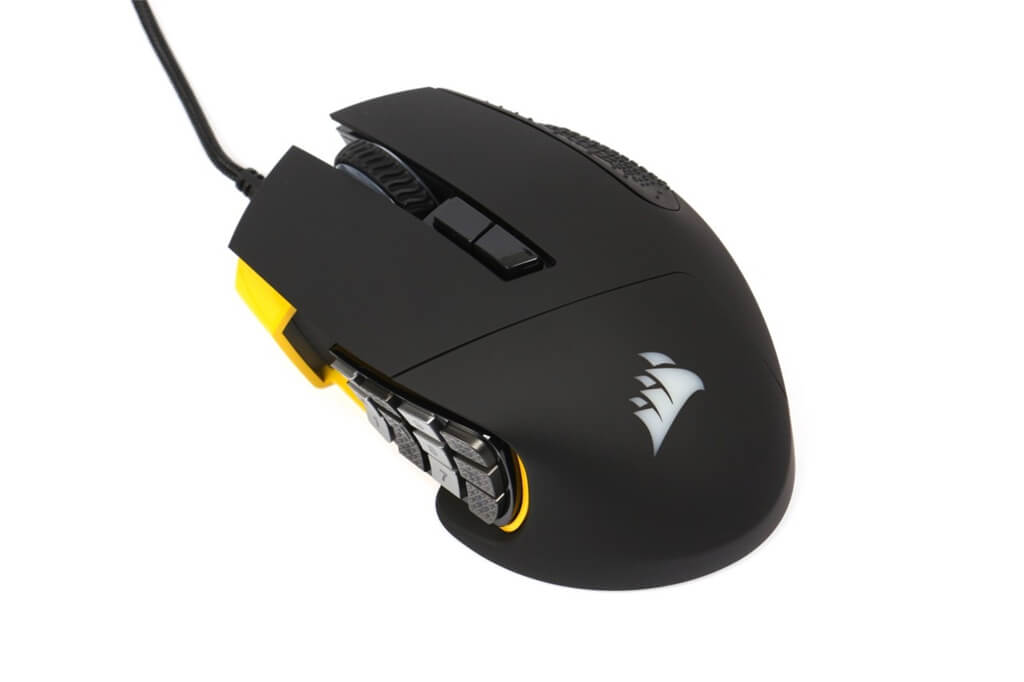 Dimensions
The Scimitar Pro RGB is a medium/large gaming mouse with dimensions of 4.75 x 3.04 x 1.67 inches. It is suitable for users with a hand size of 18.5cm and above.
Weight
The weight of the Scimitar Pro RGB is 4.3 ounces. Because the product positioning is MMO/MOBA games, the design focuses on the side buttons and comfort. Therefore, the size of the mouse is relatively larger and has a higher weight.
Surface
The mouse uses a skin-like surface material, which feels delicate and smooth, but without losing friction.
Front End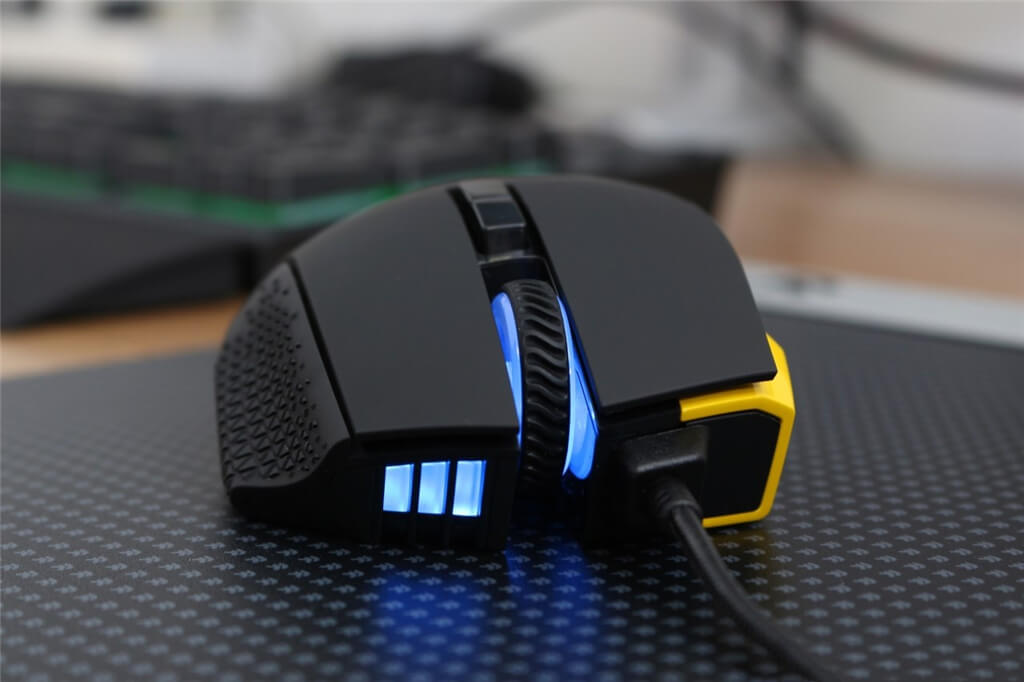 At the front end of the mouse, there is a decorative RGB lighting zone.
Click Buttons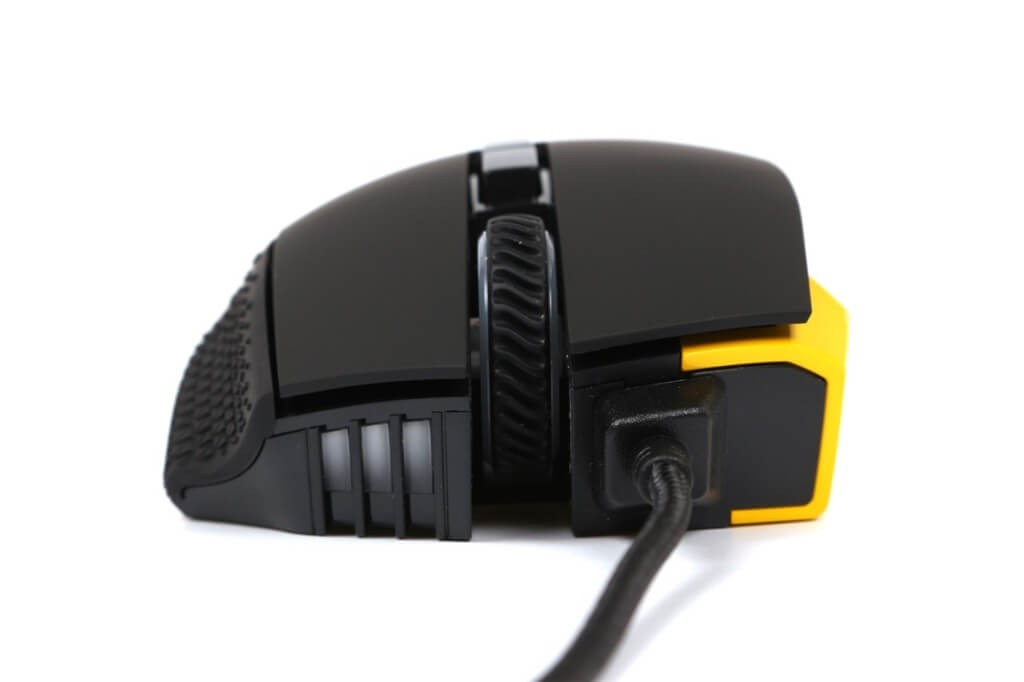 The left/right click button panels have a certain curvature, and the left is slightly higher than right. The click latency of this mouse is very low and responsive.
Scroll Wheel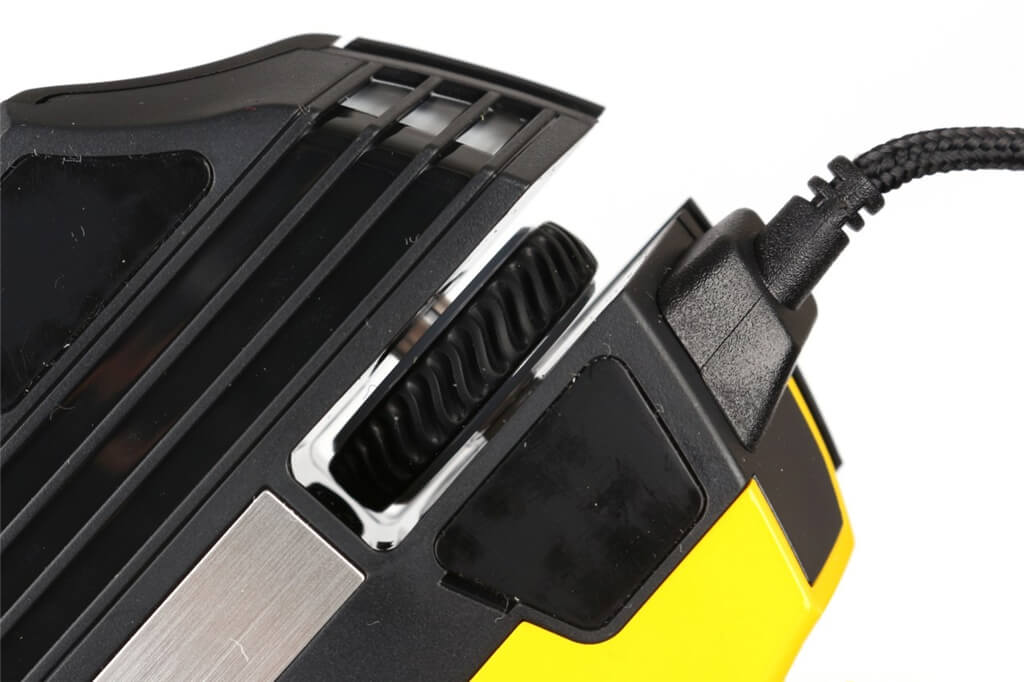 The scroll wheel is wrapped with rubber material, and both sides can transmit light. The scale and tightness of the scroll wheel are moderate.
DPI Switch Buttons
The mouse has 5 levels DPI by default, and the LED indicator on the left will have a corresponding color when you switched the DPI.
Side Buttons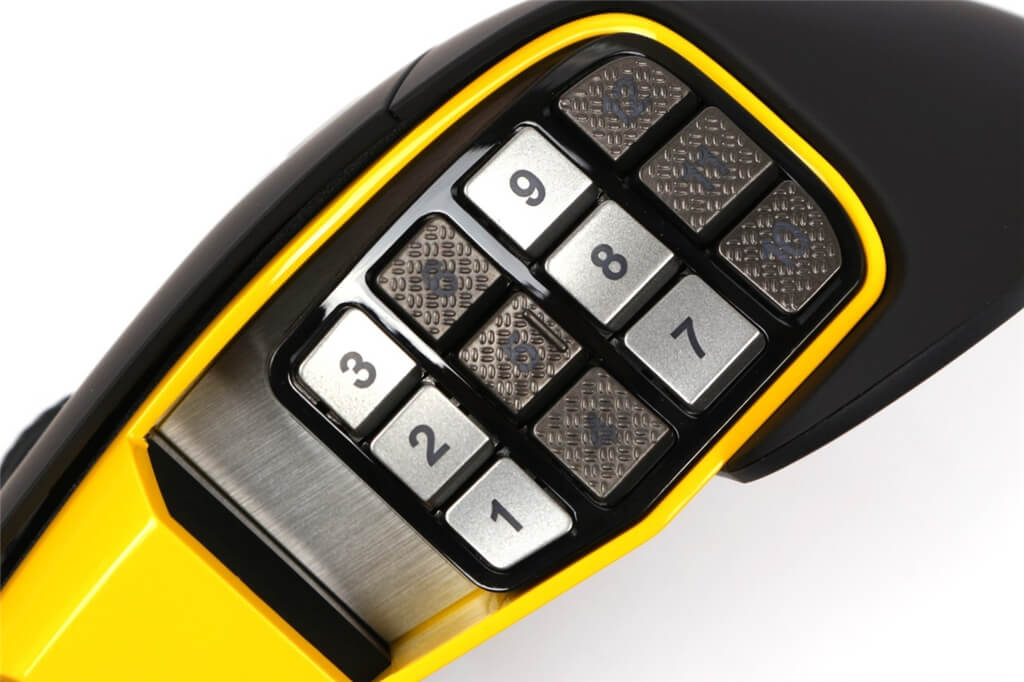 The Key Slider™ macro button control system is the biggest selling point of the Scimitar Pro RGB mouse. In order to facilitate players to distinguish these 12 mechanical side buttons, different colors and textures are designed on them.
Textured side button keycaps enhance grip and feel for consistent, tactile feedback and precision control.
Side Skirts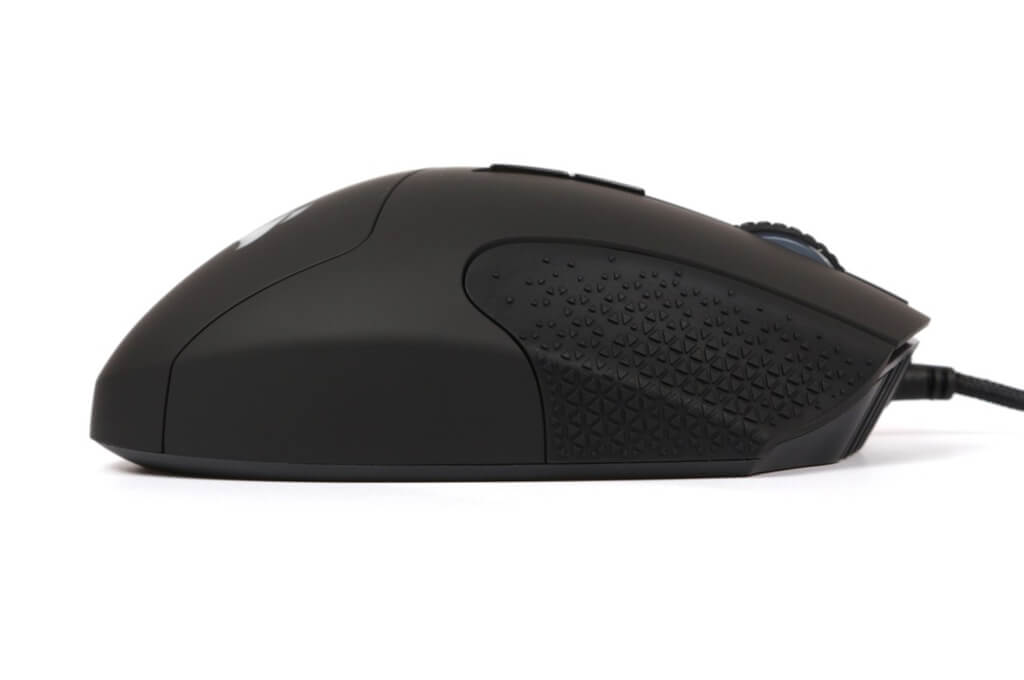 The right skirt of the mouse is designed with a groove for resting the ring and little fingers. The material of the right skirt had changed from a skin-like material to a non-slip texture rubber material. The anti-slip effect is excellent and the stability of the grip is increased.
Bottom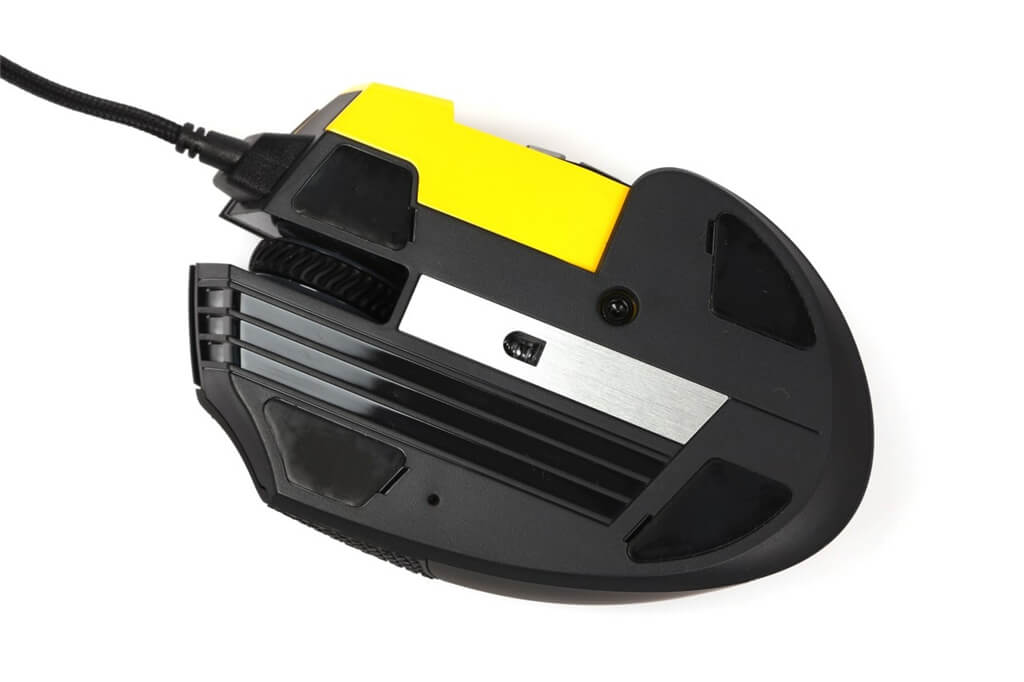 On the bottom, there are 4 PTFE foot stickers, an optical sensor in the middle, and a round hole to adjust the position of the side buttons.
Cable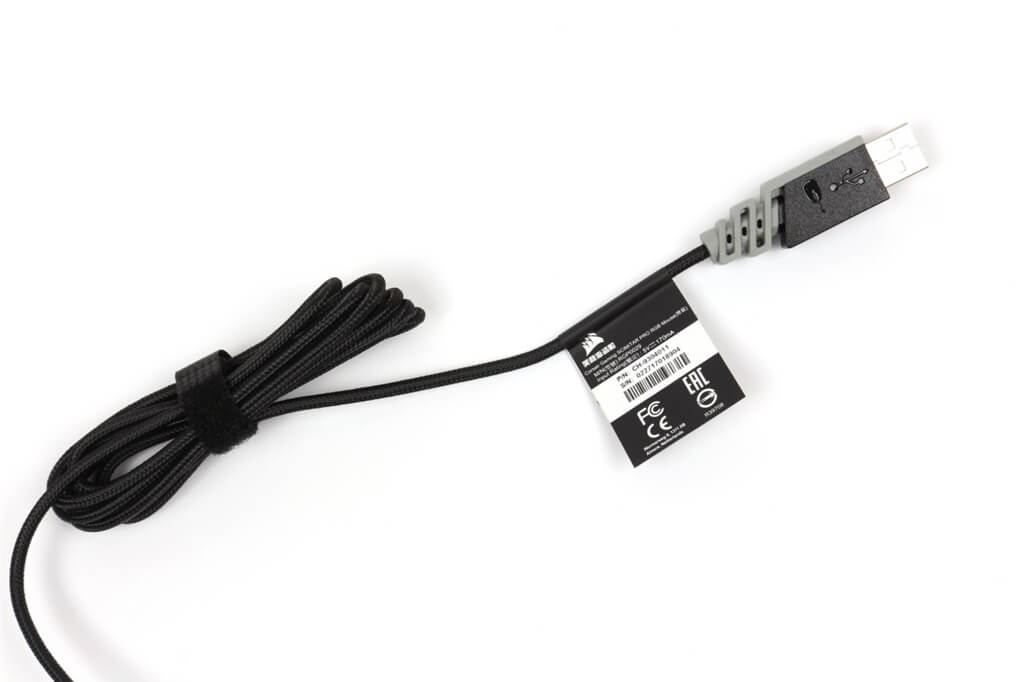 Braided wire with a length of 1.9m, the thickness is moderate and a little hard. No gold plating process on the interface.
Lighting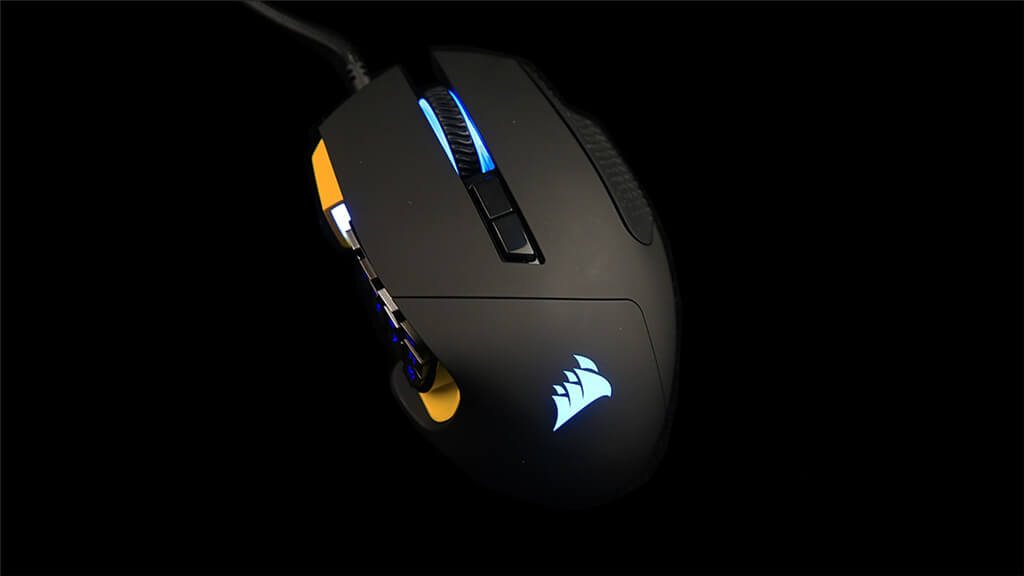 There are 4-Zone dynamic RGB multi-color backlighting including the front end, side buttons, scroll wheel, and logo. You can also customize the lighting effect on the driver.
Driver
CORSAIR iCUE software enables dynamic RGB lighting, macro programming, DPI matrices across compatible Scimitar peripherals.
Experience
DPI Test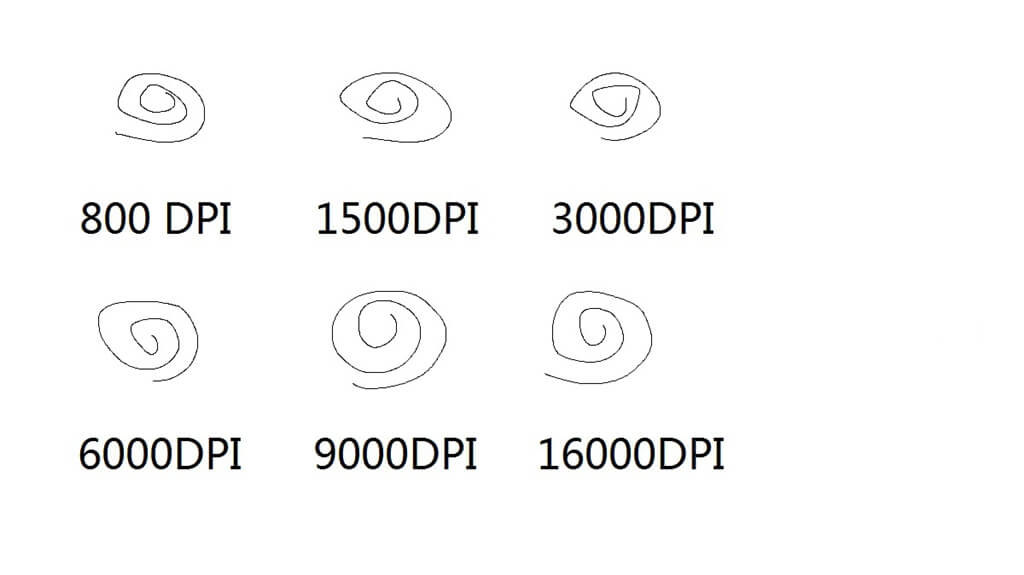 The Corsair Scimitar Pro RGB gaming mouse supports up to 16,000 DPI. In the DPI test, the sensor's performance is stable and excellent, and there is no deterioration at the highest DPI.
Grip Experience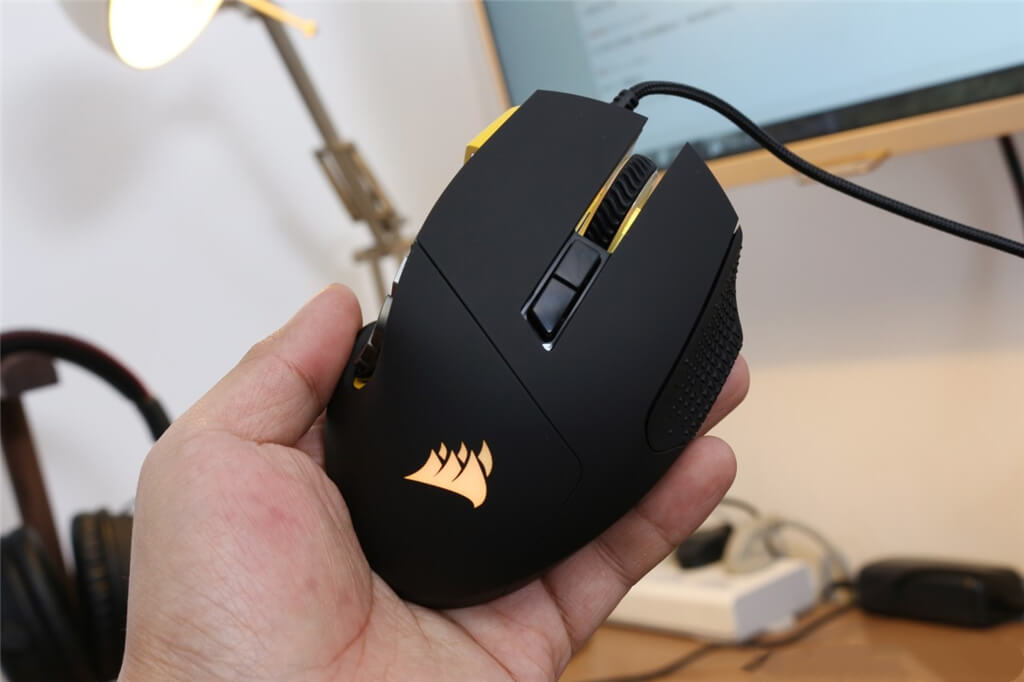 The Scimitar PRO RGB gaming mouse is ergonomic overall, its grip and movement are comfortable and labor-saving for MMO players. Its exclusive Key Slider™ macro buttons are very practical for MMO gamers. The adjustable side buttons allow each MMO player to find the most suitable click feel. These side buttons can be distinguished by the touch of the thumb. It is also very convenient to press.
However, the number of side buttons is too much for MOBA players, and the interval between each side button is not that large. Although the touch feel is different, MOBA players still worry about accidental touches.
Disassemble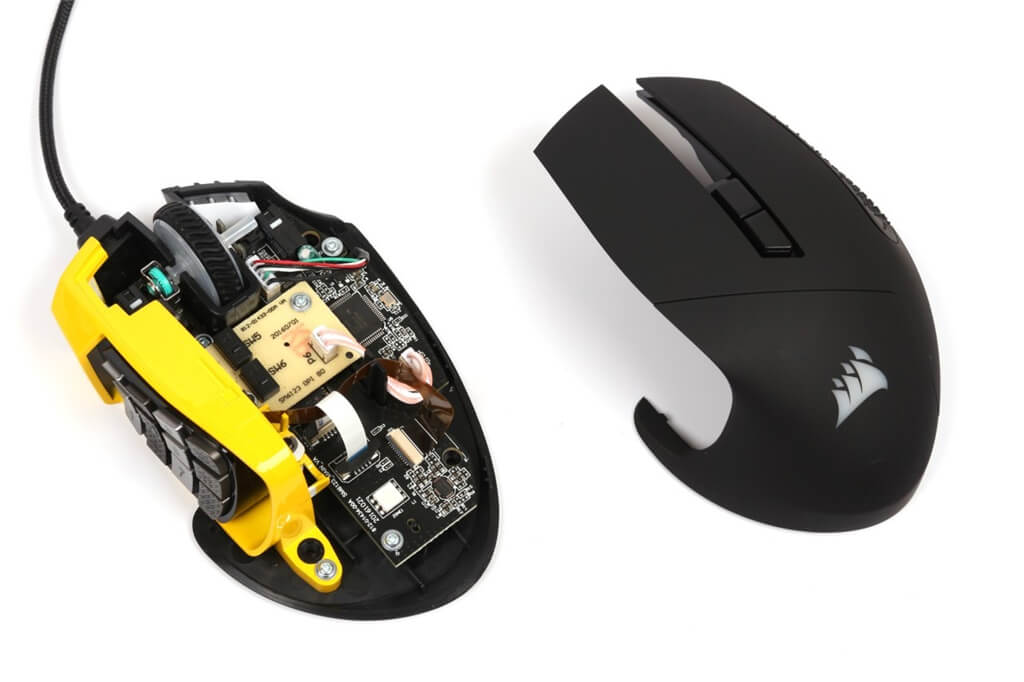 The disassembly of the mouse is relatively easy. There are 4 screws under the PTFE foot stickers. Unscrew them to separate the upper and lower shells.
Side Buttons Module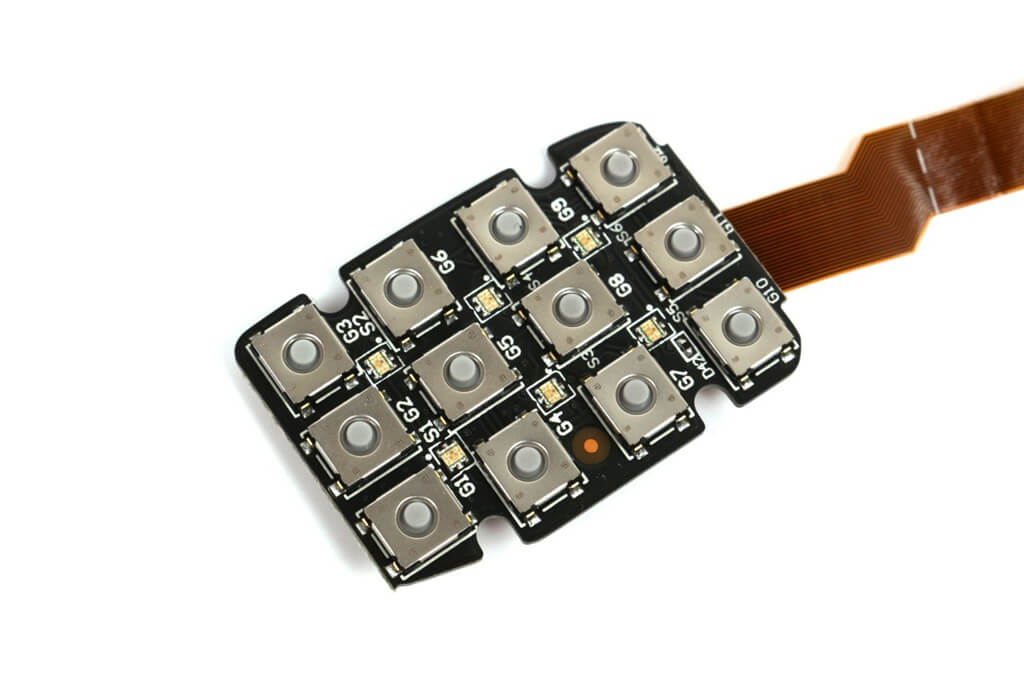 The side button's inching trigger pressure is relatively large, and there is a sharp contrast with the left/right click buttons.
MCU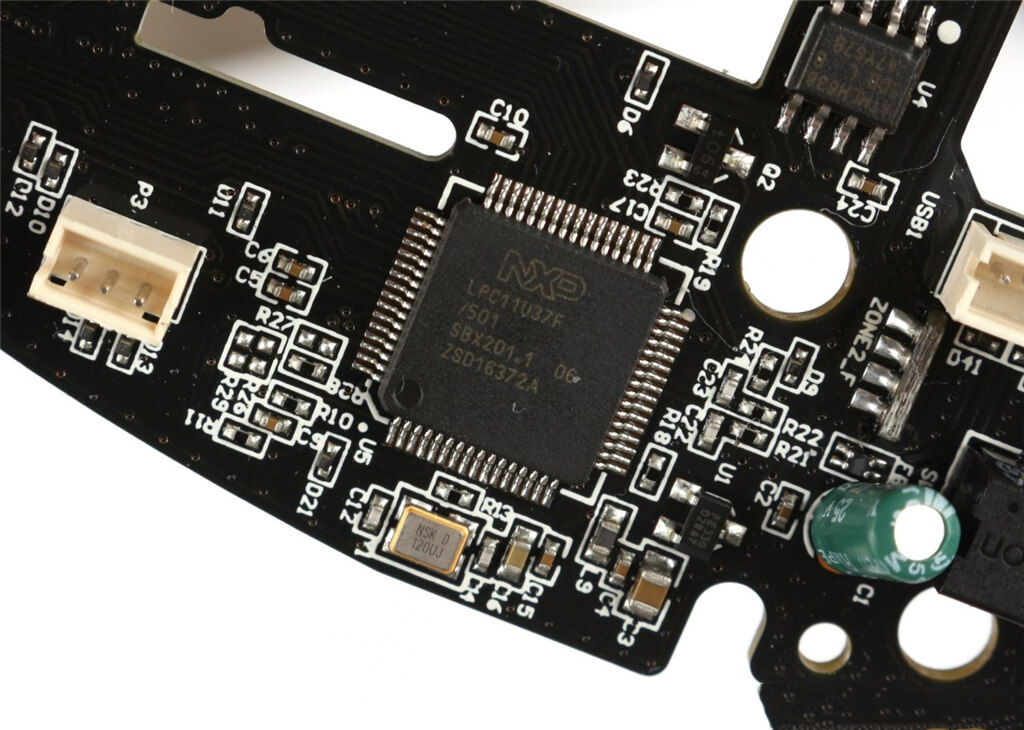 NXP LPC11U37 is an ARM Cortex-M0 based, low-cost 32-bit MCU with 128 KB of internal flash, 10 KB SRAM, and 4 KB EEPROM, Operates at CPU frequencies of up to 50 MHz. Strong enough in performance.
Encoder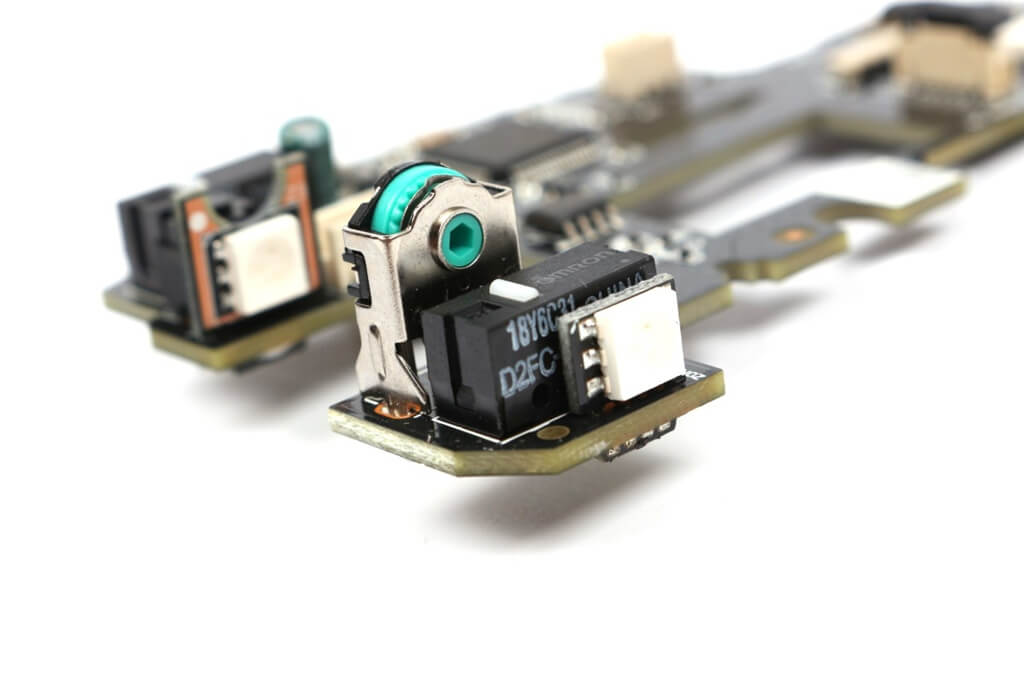 This TTC green encoder was used in many of Razer peripherals. The scale and resistance when scrolling is small and smooth.
Main Switches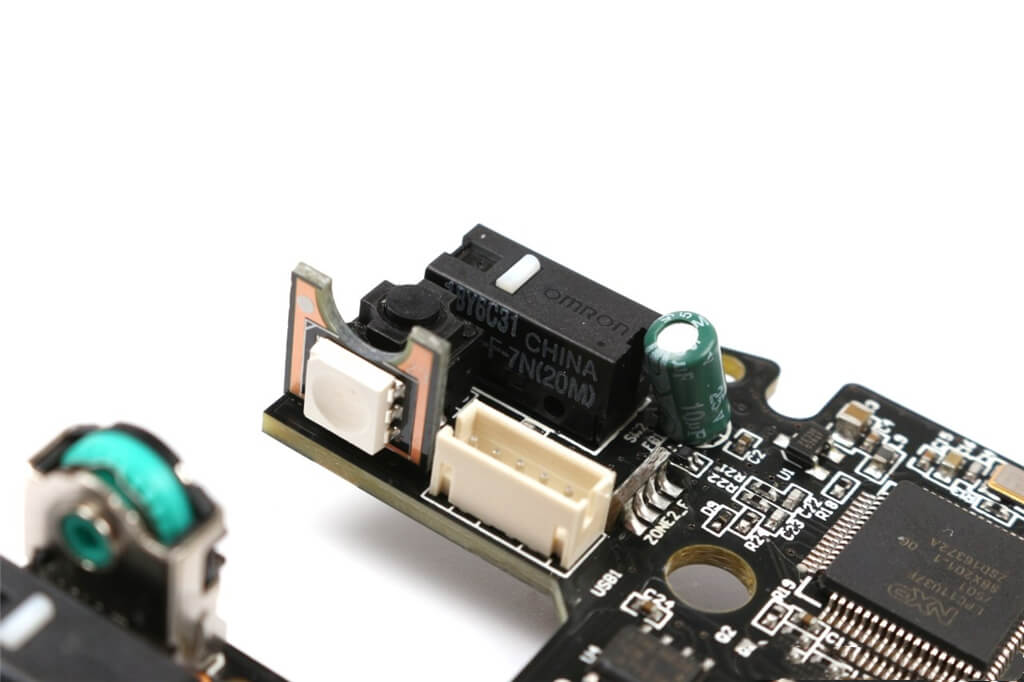 The click buttons switches are Omron D2FC-F-7N with a click lif of 20 million.
Sensor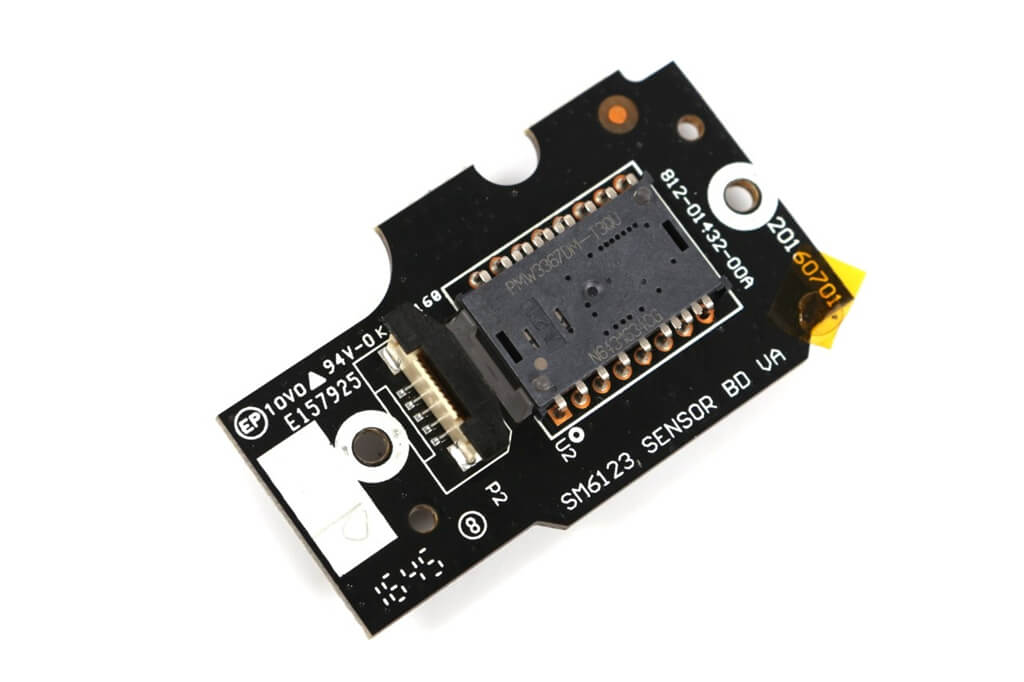 This PMW3367 optical sensor is a customized product of the Razer and PIXART. Gaming-grade native 16,000 dpi optical sensor with minimum 1dpi adjustment step for ultra-accurate and high-speed performance.
Pros and Cons
Pros
Total 17 programable buttons
12 mechanical thumb buttons
4 zone RGB
Onboard profile storage
Angle-snapping support
Cons
Pricey
No weight adjustment
Only suitable for MOBA and MMO games
No lift-distance
A bit hard cable
In Summary
Scimitar PRO RGB gaming mouse supports up to 16,000DPI, 5 levels DPI fast switching, Key Slider macro-control system, and has 12 macro buttons, 3 onboard memory storage, 4 Zone RGB lighting, which meets the MMO/MOBA player's requirements on the appearance and functions.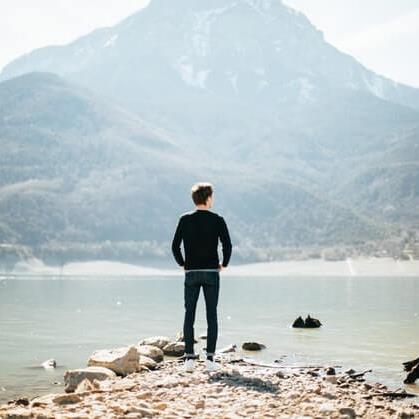 Hi, I'm Rebecca Hampton, I do in-depth reviews of the gaming mouse. I love to disassemble the gaming mouse and dig deeper into them.
Come with me on my journey to find the best gaming mouse!
Check out some of my content and subscribe if you enjoy them.
Thank you for all the support and I truly appreciate you stopping by.