Today's game players pay more and more attention to sound effects, many low-end headphones or headsets can no longer satisfy them. Like gaming keyboards and gaming mice, the professional gaming headset has gradually become an indispensable peripheral in games.
When newbie gamers choose gaming headsets, they usually don't understand the technical parameters. They usually get confused by many questions: what gaming headset should I buy, which is the best gaming headset for ps4, pc, Xbox one, how to connect a gaming headset to pc, what are the technical parameters stands for, etc.
In fact, the actual sound perception of many headsets has little to do with technical parameters which are just for reference and can't be seen as the basis of judging the sound quality.
After collecting a lot of information, we have compiled a gaming headsets leaderboard and product recommendation to save your time.
---
What to Look for in a Gaming Headset?
Each headset brand's score is based on sound quality, design, soundproof, sound localization, and wearing comfort.
Sound Quality
Design
Soundproof
Sound Localization
Comfort
Sound Quality
Sound quality is divided into headphone sound quality and microphone sound quality. Sound quality refers to the fidelity of the audio signal after transmission and processing.
The headphone sound quality mainly depend on whether the sound of a certain frequency band has a certain intensity, the amplitude of each frequency point is uniform, balanced, and the frequency response curve is flat.
The sound quality of the microphone is mainly depend on its noise cancelling. In e-sports, it is necessary to maintain communication with teammates. Noise may affect the communication, cheers from audience may affect players' gaming experience.
Design
The mainly feature of gaming headsets is that they look very cool and are usually decorated with RGB. For professional e-sports players, retractable microphone and foldable portability design are also very important.
Soundproof
Headphones' noise cancelling is divided into active and passive.
Active noise cancelling uses the noise cancelling system to generate inverse sound waves equal to external noise, neutralizing the noise.
Passive noise cancelling mainly consists of enclosing the ears to form a closed space, or using sound insulation materials such as acoustic sponge to block external noise.
Gaming headsets are usually passive noise cancelling. Open back gaming headsets are not as soundproof as closed ones, and usually cause two-way noise.
Sound Localization
The unique presence of gaming headsets can make every sound in the game seem to happen in your own ears. It helps players to achieve sound localization. The headphone sound field is the main factor that affects the ability to sound localization.
Comfort
Suspension designed head beam and lightweight plastic can reduce the weight and pressure of the headset. E-Sports requires a long time to wear the headset until the end of the game, comfortable headsets won't make gamers feel tired.
Common earmuff materials are usually velvet (weave) and protein leather, the comfort level: velvet> weave> leather. Goose down ear pads have less irritation to the skin and are more comfortable to wear.
| Brand | Logo | Quality | Design | Soundproof | Localization | Comfort |
| --- | --- | --- | --- | --- | --- | --- |
| HyperX | | A+ | A++ | A++ | A++ | A++ |
| Steelseries | | A+ | A++ | A++ | A++ | A+ |
| Razer | | A+ | A+ | A+ | A++ | A++ |
| Logitech | | A++ | A++ | A | A++ | A++ |
| Sennheiser | | A+ | A++ | A++ | A++ | A+ |
| Corsair | | A++ | A+ | A+ | A+ | A++ |
| Beyerdynamic | | A++ | A++ | A++ | A++ | A |
| Turtle Beach | | A+ | A | A+ | A+ | A+ |
| Somic | | A+ | A | A | A+ | A |
| ASUS | | A+ | A+ | A+ | A+ | A |
---
Best Gaming Headsets Brand Leaderboard
| Brand | Logo | Score | Recommend Models |
| --- | --- | --- | --- |
| HyperX | | 92 | Cloud 2, Cloud Alpha, Cloud Revolver S |
| Steelseries | | 90 | Arctis 3, Arctis 5, Arctis 7 |
| Razer | | 88 | Kraken 7.1 V2, ManO'War 7.1 |
| Logitech | | 86 | G633, G533, G933, G PRO X |
| Sennheiser | | 84 | Game One, Game Zero |
| Corsair | | 81 | Void Pro Wireless, HS50 |
| Beyerdynamic | | 80 | Custom Game, MMX300 II |
| Turtle Beach | | 79 | Stealth 450, Stealth 520 |
| Somic | | 75 | G936, G954 |
| ASUS | | 72 | STRIX 7.1 |
---
HyperX
HyperX is the sponsor of over 20 game teams, including veteran teams Liquid, NAVI, G2, and so on. In recent years, as the main sponsor of Intel Extreme Masters (IEM) and Dreamhack competition, HyperX has been well-known and top-selling globally. Besides, HyperX's design is also outstanding. In 2018, HyperX wins 3 Red Dot awards and multiple IF DESIGN awards, ranking first of all brands in terms of comprehensive strength.
Cloud 2
As an iterative version, Cloud 2 greatly improves the hardware performance. It uses the 53mm drive unit with high sensitivity, which can make the sound more perfect. This headset impedance is 60Ω. (The higher the value, the thicker the sound, which requires a strong power drive to achieve better performance.)
After a long time of use, wearing Cloud 2 is less tired than other headsets with the same price range. Only more expensive Sennheiser Game One could match it. Cloud 2's earpads can be replaced easily. When you are wearing glasses and headsets together, your head will not feel uncomfortable.
Cloud Alpha
HyperX's high-end series is led by HyperX Cloud Alpha. One common character all HyperX's high-end series have is a wider range of sound field analysis. Easily speaking, if normal HyperX headset can only hear first-floor footsteps sound, the high-end series can hear it clearly from the second or third floor.
So they are also called as professional Esports. HyperX Cloud Alpha has excellent bass performance and design. It changes the previous single-chamber into dual-chamber, referred to as double voice, used to represent the high and mid-bass separately. (This dual chamber design, which has been patented by HyperX, allows for a wider sound field and clearer sound resolution).
Cloud Revolver S
HyperX Cloud Revolver S is the best HyperX gaming headset. It adopts the same dual-chamber design as Cloud Alpha, which can clearly distinguish bass, midrange, and treble with small positioning accuracy error. In outer appearance, it uses a solid steel frame and HyperX iconic memory foam, which enables extreme comfort.
Some players reflect that after using the headset for a long time, the memory foam can remember the shape of the head. They even cannot feel the existence of headset when wearing it, which is a strong proof of this headset having extreme comfort.
Cloud Stinger
HyperX Cloud Stinger is the most cost-effective HyperX headset for games. They are excellent products at an affordable price in sound insulation and sound localization. The only shortage is poor comfort. For the players wearing glasses, they may be very unfriendly. Wearing them for a long time will make the head uncomfortable.
Cloud Flight
HyperX Cloud Flight is a wireless gaming headset. It is also the most expensive HyperX gaming headset. Now, wireless technology is quite perfect and the wireless headset is easily stored. However, its price is a little high and cannot be added with an external sound card. All respects are not as good as a wired headset. If you have no special storage needs, we do not recommend you buy the wireless headsets.
HyperX Headsets Comparison

| Name | Cloud II | Cloud Alpha | Cloud Revolver S | Cloud Stinger | Cloud Flight |
| --- | --- | --- | --- | --- | --- |
| Photo | | | | | |
| Driver | 53mm | 50mm Dual Chamber | Next Gen 50mm | 50mm | 50mm |
| Frequency Response | 15-25,000Hz | 13-27,000Hz | 12-28,000Hz | 18-23,000Hz | 15-23,000Hz |
| Connection Type | 3.5mm (4 Pole) | 3.5mm (4 Pole) | 3.5mm (4 Pole) | 3.5mm (4 Pole) | Wireless: USB Adapter or Wired |
| Audio Type | Virtual 7.1 Surround Sound | Stereo | Dolby Surround 7.1 | Stereo | Stereo |
| Audio Controls | Advanced Audio Control Box | In-line | Advanced Audio Control Box | Onboard | Onboard |
| Frame Type | Aluminium | Aluminium | Steel | Steel Slider | Steel Slider |
| Memory Foam Ear Cushions | ✔ | ✔ | ✔ | ✔ | ✔ |
| Mic Type | Detachable | Detachable | Detachable | Swivel | Detachable |
| PC Extension Cable | USB | Dual 3.5mm | USB/Dual 3.5mm | Dual 3.5mm | N/A |
| Amazon Rating | | | | | |
| Check Price | Check Price | Check Price | Check Price | Check Price | Check Price |
HyperX's products cover all price levels. Consumers can buy the headsets accord to their budget. Every month, the official HyperX Amazon store offers discounts. What is worth mentioning is that the warranty time of HyperX gaming headsets is two years. During the warranty time, if there is something wrong with the quality, headsets can be directly exchanged into a new one. The after-sales service is actually very considerate.
---
Steelseries
Steelseries, the global professional gaming equipment brand, is the designated brand for 80% of the world's top professional gaming team. Their products are simple and modern, which are different from Razer with cool and exaggerated appearance. Its gaming mouse, gaming keyboard, or gaming headset are in line with players' habits.
Steelseries Arctis gaming headsets are the most popular Steelseries products, with type 3, 5, 7, and PRO respectively.
Arctis 3 is the most basic one, Arctis 5 adds RGB lighting effects on the basis of Arctis 3, Arctis 7 and Arctis PRO are wireless headsets.
Arctis PRO
Steelseries Arctis PRO is the flagship product, its appearance is consistent with the entire Arctis series. Volume control keys and microphones on the left ear cup, depending on the version purchased, Steelseries Arctis Pro's settings will be slightly different, and each version contains different accessories. The wired PRO version comes with a GameDAC external equalizer, which is more expensive. The wireless version includes a Bluetooth receiver.
The biggest difference between the two Steelseries Arctis Pro headsets is that the DTS7.1 virtual surround sound effect is supported in the wired version. The EQ mode can be selected in the GameDAC external equalizer to optimize for different game scenarios. The wireless version only supports stereo 2.0, and the stereoscopic effect will be slightly weaker than the wired version, but its 2.4GHz transmission mode will not be delayed, suitable for players who like the desktop clean.
They also have slightly different appearances. The wired version does not need batteries. There is an RGB light line on the ear cups, which can be changed by computer driver. In particular, it can be synchronized HP with the FPS game such as CSGO. The wireless version is replaced with a battery compartment and a Bluetooth control button in the same part, which is simple, clear, and very convenient to operate.
Arctis 5
But, In contrast, Steelseries Arctis 5 has the same performance as PRO, but its price is more acceptable but almost with the same performance. We highly recommend Arctis 5 2019 edition.
All Steelseries Arctis wired gaming headsets are controlled by the external round GameDAC equalizer. All operations can be done through the equalizer's screen and buttons, without the need to install additional drivers or equalizers on the computer. This is very friendly to players using PS4, XBOX, and other video game consoles which cannot be installed with drivers. However, they also have a disadvantage that the desk will be messy because of too many headset cables.
Arctis headsets have a unique equalization setting of sound. GameDAC external equalizer has Hi-Res 24-bit sound. Wireless version provides lossless audio via Bluetooth connection. The music has rich textures and details, and the soft sounds such as footsteps are clear. However, the bass performance is poor, some low-frequency bass can't be restored, midrange and treble performance is acceptable. For comfort, the Arctis Ice Series uses a soft, smooth, breathable AirWeave skin-friendly ear pad. A slight chuck feels, poor breathability, a sultry feel to players wearing glasses.
Steelseries Arctis Headsets

Comparison
| Name | Arctis 3 | Arctis 5 | Arctis 7 | Arctis Pro + GameDAC | Arctis Pro Wireless |
| --- | --- | --- | --- | --- | --- |
| Photo | | | | | |
| Bluetooth | × | × | × | × | √ |
| Wireless | × | × | √ | × | √ |
| Connection Type | Analog | USB, Analog | USB, Analog | Optical, USB, Analog | Optical, USB, Analog |
| Speaker Drivers | S1 | S1 | S1 | Hi-Res | Hi-Res |
| Surround Sound | Windows Sonic | DTS Headphone:X v2.0 | DTS Headphone:X v2.0 | DTS Headphone:X v2.0 | DTS Headphone:X v2.0 |
| ChatMix | × | √ | √ | √ | √ |
| RGB Illumination | × | √ | × | × | × |
| Colors | Black/White | Black/White | Black/White | Black/White | Black/White |
| Amazon Rating | | | | | |
| Check Price | Check Price | Check Price | Check Price | Check Price | Check Price |
In addition, some consumers reflect that the microphone sound of the Steelseries Arctis series is too small. Only Setting microphone volume up or setting to performance mode can enable a better using experience. Be sure to adjust the retractable microphone to the best position for mouth when using this gaming headset.
In terms of the warranty, Steelseries provides one-year free of charge, and repair is free for any non-human damage.
---
Razer
At the end of the 20th century, the game industry had a great development. At that time, Razer seized the opportunity and entered the game market with specialization in the field of professional game peripheral equipment. Razer specializes in the use of lighting as a decoration for peripherals and has won the Best of CES award for many years, its products have high recognition in the market.
Kraken 7.1 V2
Razer Kraken gaming headset and Pro are not only the best cost performance but also the highest comfort and durability gaming headsets currently. Buy the headset with an oval ear cup with an opening of 60 x 70mm, which provides more space for the ears and makes it more comfortable when wearing it on the head.
In terms of sound, many players like to play FPS games with heavy bass. But most gaming headsets have significant bass distortion. In contrast, Razer headsets have very heavy bass. The Razer Kraken Pro V2 follows this trend, but its sound cannot be totally obscured by the heavy bass without the common distortion that happened on other gaming headsets. Even for the sound of a fierce explosion and loud gunfire, the performance is still perfect.
ManO'War 7.1
Razer ManO'War gaming headsets' price is a little high, but the 7.1 version adopts a combination of wired and wireless design, which allows it good performance in stereo. In addition to the more accurate localization of sound effect, the sound effect change of shaking to left or right can be felt. Usually, using gaming headsets to listen to music is not a good choice, while Razer ManO'War 7.1​ can restore the music details clearly.
The quality of the headset is also good. The microphone is located at the end of the headset. The external noise can be perfectly eliminated when the wearer's voice is collected. For the receiver, the sound is clear and there is no extra noise.
Razer Kraken 7.1 V2 vs ManO'War 7.1
| Name | Kraken 7.1 V2 | Man O'War 7.1 |
| --- | --- | --- |
| Photo | | |
| Height | 3.7 Inches | 9.3 Inches |
| Width | 8.1 Inches | 9.7 Inches |
| Weight | 12.2 oz | 11.7 oz |
| Cable Length | 6.6 ft | 4.3 ft |
| Platform | Computers | Computers, Game Console |
| MIC Sensitivity | -38 dB | -42 dB |
| Headphone Frequency Response | 20-20000 Hz | 20-20000 Hz |
| MIC Frequency Response | 100-10000 Hz | 100-10000 Hz |
| Headphone Impedance | 32 ohms | 32 ohms |
| Headphone Sensitivity | 118 dB | 118 dB |
| Amazon Rating | | |
| Check Price | Check Price | Check Price |
Overall speaking, besides the cool out-looking, the performance is also among the world's top levels. If you often play games like MMORPG and also watch movies and listen to music, you can buy Razer Tiamat 7.1 which has many speaker driver units and offers physical 7.1 sound effects but has a limited gaming experience.
As for warranty time, Razer offers one year. Non-human damage can be repaired free of charge.
---
Logitech
Logitech originally focused on traditional office peripherals. Although a few well-received gaming peripherals were also released, the product line of Logitech professional gaming peripherals started late, which was always controversial. Logitech started out as an OEM and ODM brand. Due to its high quality and durability, Logitech was once very popular in China.
G933
Logitech G933 is the flagship product. G933 can connect to the computer through wired and wireless. The 2.4GHz wireless mode has a strong penetration ability, which can ensure a stable connection with the computer. The headset uses a 40mm drive unit with good resolution and sound dynamics. Especially for EPS players, its sound field is wide and its sound localization is accurate. The virtual sound effects of Dolby 7.1 and DTS 7.1 can be turned on by driver software. However, due to its wide sound field, it is suggested to adjust it appropriately if it is turned on.
G933's ear cups is made of sports mesh materials and sponge, which allows a very good air permeability, softness, and elasticity in summer. It is worth mentioning that ear cups are of the detachable design, so it is recommended to wash them regularly to avoid the growth of bacteria. Many players who use peripherals at night will often be uncomfortable with the RGB light flashing into their eyes. The RGB backlight of the G933 is designed to extend backward so that light will not dazzle others' eyes even if they wear it in the dark.
The weight of common headsets is 270-400g, and if it's over 360g, the head will feel obvious pressure, and the neck will be sore after wearing it for a long time. The weight of G933 is 367g with slight pressure sense, but the design is reasonable. It will not clip ears. It is with good comfort so it does not matter when wearing glasses.
G633
G633 is similar to G933. Their functions are almost the same except for the wireless function, but the price is cheaper. If no need for wireless function, G633 is recommended.
G533
The G533 was named the best gaming headset in 2018. Its built-in DTS 7.1 surround sound can be set and turned on by the driver software. This headset uses the universal 40mm Pro-G driver unit and sound quality is excellent no matter what games are played. The microphone performs reasonably well with clear sound capture. Its scalable design makes it possible to flip, stretch and bend easily when it is not used. G533's ear cups have the same material with G933's, providing excellent comfort.​
G PRO X
In 2019, Logitech released PRO X, which has been reborn compared to the previous pro series. It is equipped with a PRO-G 50mm audio unit and new generations of DTS 7.1 surround sound headset: X 2.0 immersive audio technology, it has great sound reproduction and sound location ability. More importantly, PRO X is Logitech's first gaming headset equipped with a BLUE VOICE microphone. It has professional-grade noise-canceling and audio signal compression technology, which can greatly improve the clarity of the connected wheat, and the communication between teammates is smoother.​
Logitech G Series Comparison

| Name | G633 | G533 | G933 | G Pro X |
| --- | --- | --- | --- | --- |
| Photo | | | | |
| Headphone Impedance | 39 ohms | 32 ohms | 32 ohms | 32 ohms |
| Use | Computer, Video Game Console | Computer, Video Game Console, Sports | Computer, Video Game Console | Computer, Video Game Console |
| Connectivity | Wired | Wireless | Wireless | Wired |
| Remote Control Function | Answer / End | Microphone On / Mute | Microphone On / Mute | Volume |
| Headphone Frequency Response | 20-20000 Hz | 20-20000 Hz | 20-20000 Hz | 20-20000 Hz |
| Microphone Sound Input | Uni-directional | Uni-directional | Uni-directional | Uni-directional |
| Headphone Sensitivity | 107 dB headphones | 107 dB headphones | 107 dB headphones | 107 dB headphones |
| Diaphragm Size | 2 in diaphragm | 2 in diaphragm | 2 in diaphragm | - |
| Style | On-ear | On-ear | On-ear | On-ear |
| Amazon Rating | | | | |
| Check Price | Check Price | Check Price | Check Price | Check Price |
Logitech gaming headset's design is more conservative, no exaggerated design, just focus on optimizing the game experience, provides 2 years only change service, it is worth buying.
---
SENNHEISER
Sennheiser's acoustic products have always been among the world's leading, and are the most famous in the field of high-fidelity headsets. If you want to find a headset that can balance games, movies, and music, we recommend you consider Sennheiser.
Game One
Game One is the flagship gaming headset of Sennheiser. Unlike others, it has an open design with its rear unit exposed to the air instead of being wrapped in the outer casing. Open-type gaming headsets are suitable for some non-competitive games with beautiful music. The ear cups are very spacious, especially in the scenes where the sound is scattered, which makes the players more spacious. In terms of ear pads, Game One is made of velvet material, which is very light and not as soft as other gaming headsets. Players wearing glasses do not have to worry about the chuck feel.​
And the open design makes the ear cups ventilated, the game won't feel stuffy for a long time, and the comfort is unmatched. This headset has active noise canceling, powerful noise-canceling, and excellent speech intelligibility. But it occasionally produces a reduced pitch, making it less suitable for recording dubbing, podcasts, or other professional audio material.
Game Zero
It should be noted that the noise-canceling performance of the open headset is relatively poor compared to the closed headset. If you mind, you can choose a higher price Game Zero. This headset's earpad design is derived from the pilot's headset, made of artificial leather and three layers of memory foam, the bottom of the earpad is thickened to ensure that the headset can close the entire ear. Excellent sound insulation and no double-distance interruption.
Sennheiser Game One VS Game Zero
| Name | Game One | Game Zero |
| --- | --- | --- |
| Photo | | |
| Audio Channels | Stero | Stero |
| Frequency Response | 15-28,000 Hz | 10-26,000 Hz |
| Type of Ear Cups | Around-The-Ear | Around-The-Ear |
| Acoustic Design | Open Acoustics | Open Acoustics |
| Microphone Type | Noise Cancelling | Noise Cancelling |
| Volume Control | Integrated in the ear cup | Integrated in the ear cup |
| Microphone Mute | Automatic by raising the boom arm | Automatic by raising the boom arm |
| Connectors | 2 x 3.5 mm | 2 x 3.5 mm |
| Weight | 300 g | 320 g |
| Accessories | N/A | Carry Case |
| Amazon Rating | | |
| Check Price | Check Price | Check Price |
If you use these two headsets on the game console, you may not get great gaming experience. You can solve this problem with a computer sound card or an external amplifier.
---
CORSAIR
CORSAIR is the world's enthusiast peripherals brand, players familiar with computer hardware must be familiar with it. Its gaming headset product line is mainly based on simple design, with sharp edges and corners with a sense of technology, and black is the main color. Price is mid-range, known as the "best price" gaming headset.
VOID Wireless
The Corsair Void RGB Elite with Dolby 7.1 is CORSAIR's flagship product, featuring wireless, charging for up to 16 hours. It also has breathable microfiber mesh fabric and memory foam earpads, plus a unique "True Form" round design, will not feel tired for a long time wearing.
VOID PRO Wireless
In terms of sound effects, the output sound is clearer. After connecting to the computer, you can use the CORSAIR Utility Engine (CUE) software to control the functions of the headset and also change the RGB color. The one-way noise-canceling microphone is also very good, clear call, and the head has an LED mute indicator. Of course, the VOID PRO Wireless headset price is slightly higher. If the budget is insufficient, you can choose the wired version of VOID PRO, which is cheaper.
HS Series
The HS series is also the featured product of CORSAIR. Especially, the HS50 model is well received in the market. This headset has many functions, simple use, and superior sound quality. It is comparable to other brand flagship headset, but the price is only one-third of them. As a cheap wired gaming headset, the HS50 stereo reverb is very powerful and the sound location is accurate. The microphone is detachable and the input and output are very bright with no noise. The velvet memory ear pads are very adjustable and breathable. CORSAIR metal construction components are very sturdy and the headsets are durable.
---
Beyerdynamic
50 years ago, Beyerdynamic almost monopolized the global market, and the professional audio circle was almost unknown. Since its founding in 1924, Beyerdynamic has been producing the world's most expensive headset equipment and is synonymous with high quality. There are two types of Beyerdynamic's gaming headsets, the DIY gaming headset Custom Game and the line-controlled flagship product MMX300 II.
Custom Game

Beyerdynamic Custom Game sounds great for all types of games. Thanks to its enclosed design, the sound insulation is good, won't disturb other people when playing games. It is very suitable for use in noisy game environments. But this will also lead to a dull sound and a wide range of sounds. Compared with other closed-type headsets, Custom Game's midrange sounds are more natural and smooth and can get a better experience in these immersive games of Civilization Series and Battlefield Series. The gaming headset is equipped with a gooseneck design, which can be freely disassembled, the microphone and mouth are at a moderate distance, and the voice transmission is clear.
In addition, it is also equipped with a sound card extension cable and headphone amplifier, receiver. It is worth mentioning that Beyerdynamic Custom Game has a variety of DIY customization functions, not only adjust the sound effect but also the headband and headphone cable can be freely replaced, full of playability. One of the disadvantages of closed headsets is that they are not breathable. They feel stuffy when wearing headsets for a long time. But Beyerdynamic uses wide ear cups and comfortable ear pads, as long as you don't plan to wear headsets continuously for more than three-four hours, the comfort experience is not bad.
MMX300 2nd

The overall functionality of the Beyerdynamic MMX300 2nd generation is similar to the Custom Game except for the functionality of DIY. But its sensitivity is higher, the frequency response range is 5-35000HZ. It is more suitable for FPS games. In contrast, Custom Game also has the quality of FPS games. If the budget is insufficient, we recommend purchasing this Custom Game.
---
Turtle Beach
Turtle Beach is the exclusive brand of professional digital music accessory hardware under Voyetra Turtle Beach. In 2005, Turtle Beach released the first gaming headset X51, which has made a big impact on the gaming peripheral industry. It is still one of the world's leading game professional peripheral manufacturers.
The Turtle Beach Stealth 450 and 520 are the two best-selling headsets on the market, with a slightly conservative design and a general style similar to a pirate ship. The headset is made entirely of plastic and is designed to be lightweight. The ear pad is made of semi-open mesh fabric, which has good air permeability and does not have a gripper when wearing glasses. The main material of the headset is plastic, only 236g without a microphone, very light. The microphone is located in the left ear cup, detachable design, with noise-canceling function, clear call effect, and no noise, but the design is relatively old, lack of modernity.
Stealth 450
Stealth 450 headsets have four sound effects: natural sound, bass boost, bass + treble boost, and vocals enhance. You can use the PRESETS button on the right ear cup to switch. Each step will have a voice prompt.
Stealth 520
Stealth 520 model is generally similar to the 450, but the earpads are made of leather and are more high-end.
Turtle Beach Gaming Headsets Comparison
| Name | Stealth 450 | Stealth 520 | Stealth 600 | Stealth 700 |
| --- | --- | --- | --- | --- |
| Photo | | | | |
| Compatability | PC | PS4/PS3 | PS4 | PS4 |
| Wired or Wireless | 100% Wireless | 100% Wireless, included cable required for mobile | 100% wireless | 100% wireless |
| Stereo or Surround Sound | DTS Headphone:X 7.1 Surround Sound | DTS Headphone:X 7.1 Surround Sound | Virtual Surround Sound | DTS Headphone:X 7.1 Surround Sound |
| Speaker Size | 50mm | 50mm | 50mm | 50mm |
| Audio Enhancements | Surround Sound Modes EQ Audio Presets | EQ Audio Presets, Surround Sound Modes | Audio Presets, including Bass Boost, Variable Mic Monitoring | Audio Presets, including Bass Boost, DTS Surround Sound Modes |
| Mic Monitoring | ✔ | ✔ | ✔ | ✔ |
| Microphone | Removable Omni-Directional | Removable Omni-Directional | Fold-up to Mute Omni-Directional | Fold-up to Mute Omni-Directional |
| Battery | Up to 15 hours | Up to 15 hours | Up to 15 hours | Up to 10 hours |
| Special Features | Superhuman Hearing | Superhuman Hearing, Game & Chat Volume Control, Dynamic Chat Boost, Mobile Cable included | Superhuman Hearing, SpecsFit Glasses Relief System | Superhuman Hearing, Active Noise Cancellation, Dynamic Chat Boost, Bluetooth for Music & Calls, SpecsFit Glasses Relief System, Mobile App Compatibility |
| Amazon Rating | | | | |
| Check Price | Check Price | Check Price | Check Price | Check Price |
---
Somic
If a game player is not prepared to invest too much in the gaming headset, but also want to balance the gaming experience, Somic gaming headsets must be the best choice.
G936
Somic gaming headsets are available in a variety of styles. The G936 is a standard gaming headset with a 50mm drive unit. The sound insulation effect is good, but after a long time wearing, it feels stuffy and uncomfortable.
Somic G936 commander gaming headset needs to be used with the computer driver. After fine-tuning, the sound localization performance is good. Turned on the virtual 7.1, the sound level is also very obvious. The microphone uses a dual-port noise-canceling design, the voice call is clear and noise-free. G936 is priced at a mid-range price, the same series G936N canceled the noise canceling, LOGO lamp, using woven cloth ear cushions, computer free drive.
G954
In the second half of 2017, Somic released the G954 gaming headset, which is the flagship product. The black and gray color and metallic coating make many consumers mistakenly think that it is made of metal. This headset adopts the appearance of the iron man as the ear cup control panel, and the microphone can be bent at will. When turned on, the blue indicator light on the top of the microphone lights up, and the off is not bright, which is slightly technical sense. Sound localization is accurate when playing games.
---
ASUS
ASUS is a world-famous mainboard manufacturer, whose strength of its gaming headsets is not the same as that of professional headset brands. But ASUA's gaming headsets have their own distinctive feathers, featuring exaggerated and dazzling RGB lights and cool design of appearance.
STRIX 7.1
When it comes to ASUS's headset peripherals, STRIX 7.1 is sure to be the focus of discussion for all peripherals enthusiasts. The STRIX ear cushions are made of 130MM memory foam and highly breathable protein leather, which grips your head and provides a moderate comfort. The design of this headset is very bold, using RGB lights to decorate into owl eyes. Just click the button to switch static or pulsating lights. Its appearance is far superior to many other gaming headsets.
In terms of configuration, the whole STRIX 7.1 headset has 10 separate neodymium magnet drive units in front, middle, side and rear of the ear cups on both sides, and an external audio tuning station with USB sound card and ENC. Noise-canceling microphone and a lighting control circuit. Different games use different equalization methods, which can adjust the sound according to the game. It comes with FPS, racing games, RPG spectrum configuration files, and can be adjusted freely according to different gaming needs. The ENC noise-canceling microphone actively detects and filters ambient noise, such as mechanical keyboard typing and other people's speech.
Although the performance of this headset is acceptable, we don't recommend the buyer to use this headset for FPS games. This is because five drive units coexist in the same ear cup can cause confusion in the sound field, this will lead to confusion in the FPS games which do not support multi-channel, but if you buy it for watching a movie or play MMORPG these games, it will have a very good experience.
---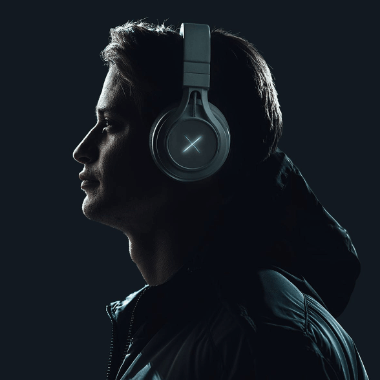 Hi, my name is Daniel, I'm a passionate gamer for over 5 years. Having used various gaming products myself, I will help other gamers benefit from the blog's recommendations of gaming headsets.