Among the SteelSeries Arctis serie gaming headsets, Arctis 7 is the only wireless gaming headset that supports 2.4G. The SteelSeries Arctis 7 gaming headset features a wireless / wired dual-mode design.Its wireless mode uses 2.4G wireless technology instead of Bluetooth technology.
In the previous reviews, I have reviewed Arctis 3 and Arctis 5 of 2019 edition. Today I will review the 2019 edition Arctis 7 wireless gaming headset.
---
Packaging
The SteelSeries Arctis 7's packaging follows the Low Poly style.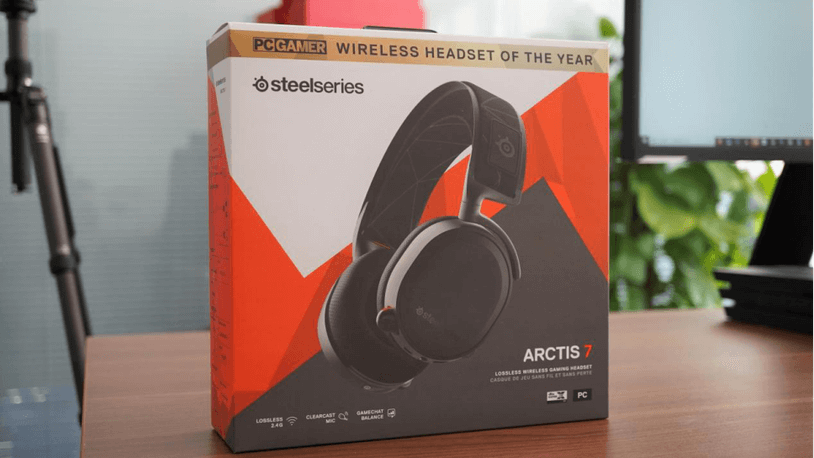 The front of the package introduces its main features: wireless and wired dual-mode headsets; compatible with PC, XBOX, PS, mobile and VR devices; specifically states in the upper right corner that it had won the 2017 PC GAMER's wireless headset of the year.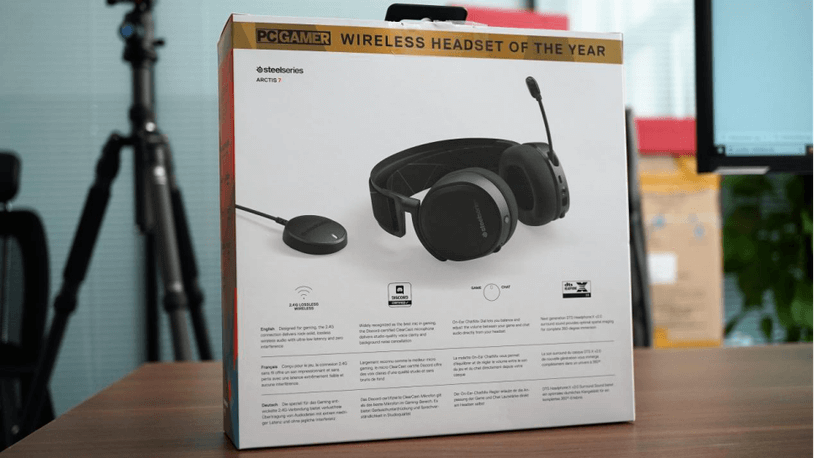 The back of the package details the microphone, voice system, AirWeave ear pads, and ski goggles design headband. The top of the package is printed with the logo of three Esports Teams sponsored by SteelSeries.
Unboxing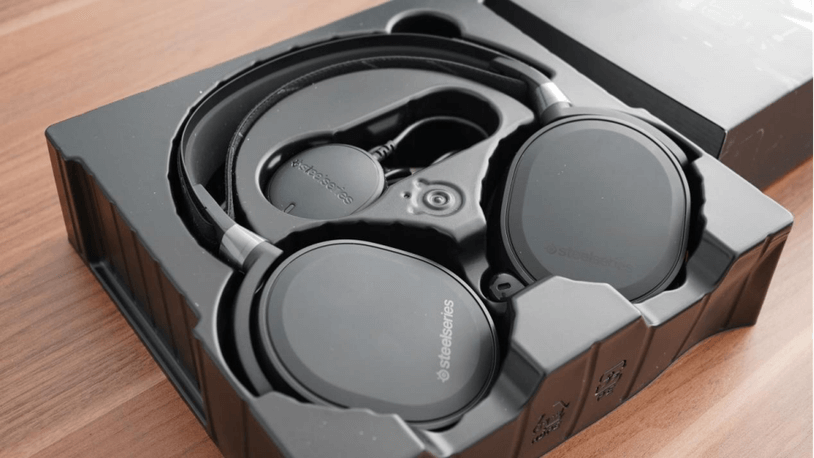 The inner lining has changed from the previous Arctis 7, with an inner box and accessories with special storage slots. The overall appearance of the SteelSeries Arctis 7 2019 almost the same as the previous version.
Microphone Specifications

Frequency Response
100Hz–10,000Hz
Pattern
Bidirectional
Sensitivity
-38 db
Impedance
2200 Ohm
Noise Cancellation
Yes
Location
Retractable
Mute Toggle
On Ear Cup
Accessories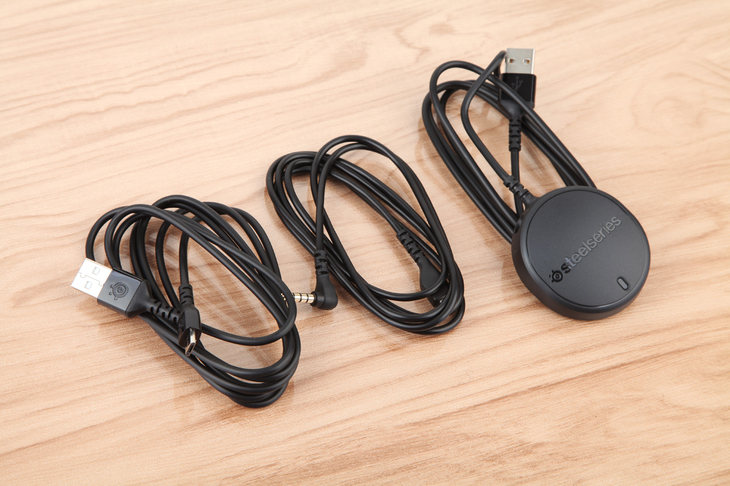 This headset comes with 3.5mm audio cable, micro-USB charging cable, wireless transmitter with USB Line-In / Line-Out interface, manual and feedback card.
Head Beam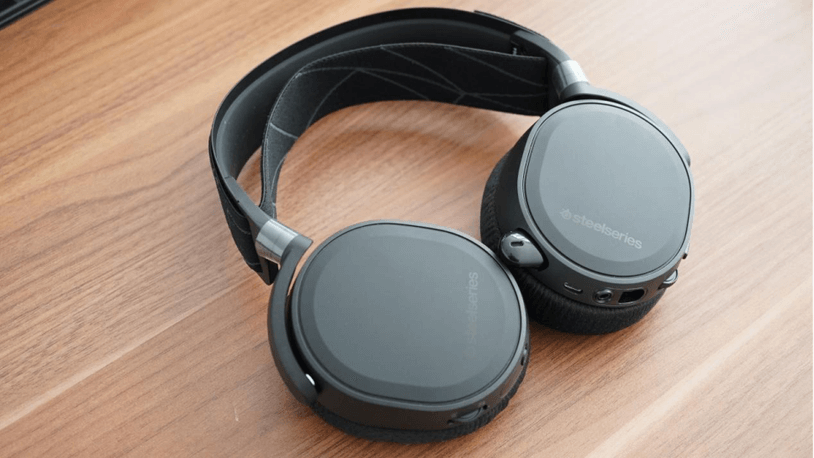 This headset uses a metal aluminum head beam, and the surface is coated with skin-like materials, which has a good feel and look.
Headband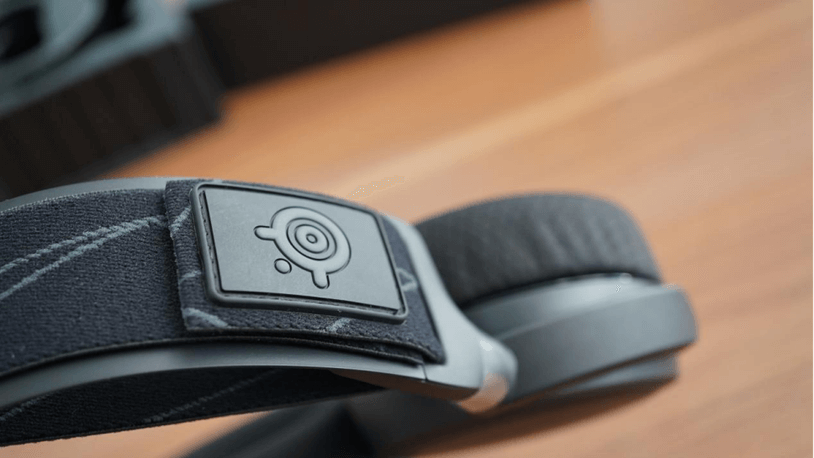 2019 edition Arctis 7 still uses the classic detachable ski-goggle style headband, Players can also change the color and pattern according to their preferences.
Ear Cushions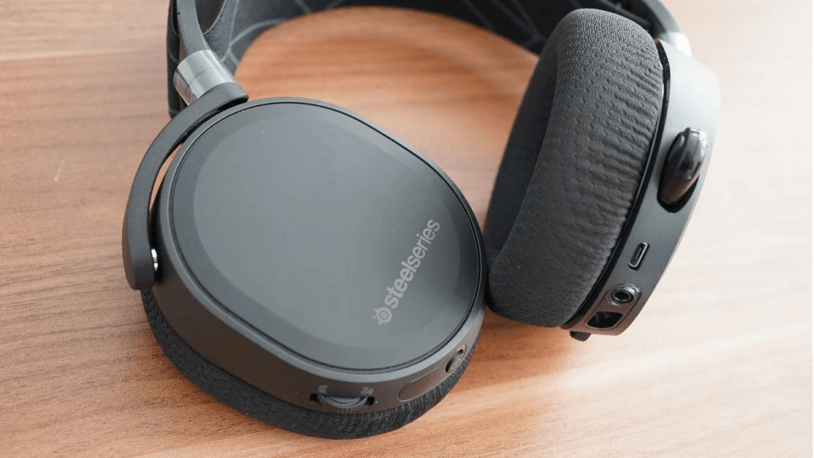 SteelSeries Arctis 7 gaming headsets use AirWeave fabric, which not only takes into account the tightness and sound wave transmission, but also has a particularly delicate touch without greasy feeling. The ear cushions are relatively wide and have good wrapping properties. The filled memory foam is very light and soft. It is very comfortable to wear with AirWeave fabric. The detachable design also makes organizing and cleaning easier.
Interfaces & Switches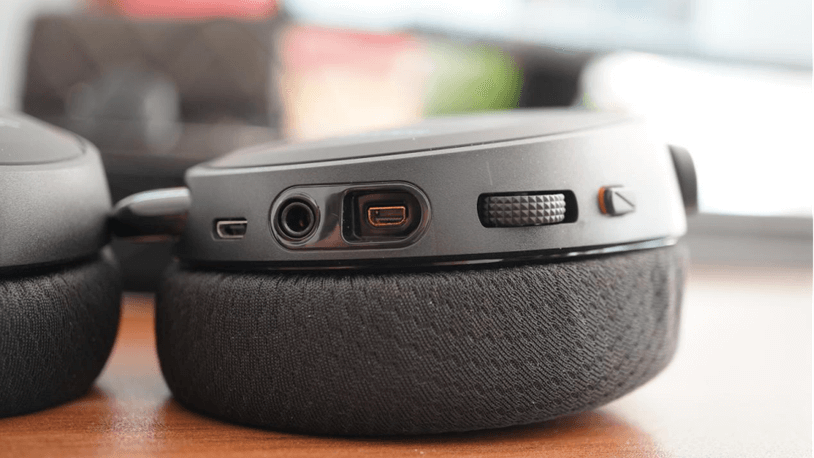 On the left ear cup are the microphone switch button, volume adjustment, Micro USB charging interface, 3.5mm extended audio interface, and mobile phone audio interface.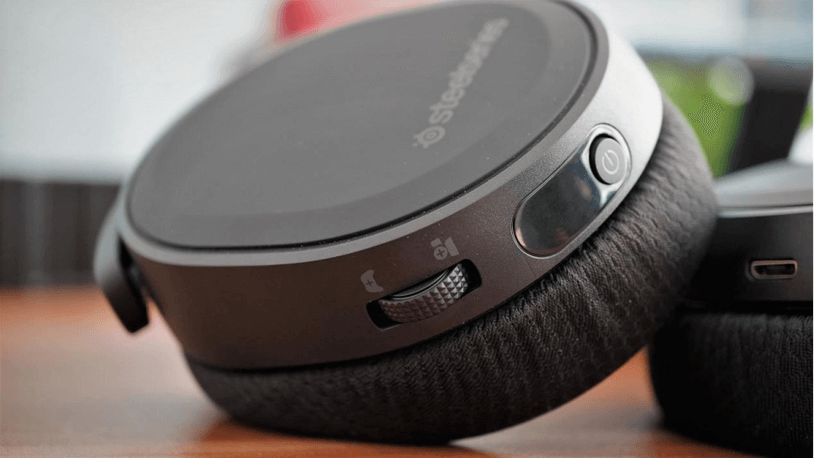 On the right, a power switch is used to establish a connection with the wireless receiver. The other is the ChatMix knob, which is used to switch game audio and chat audio.
This feature is very professional and is often used on professional broadcast equipment. When communication between teammates affects your gaming experience, or when loud quarrels affect your mood, you can use it to turn off teammates' voices. Conversely, when the game sound is particularly noisy and affects your listening to your teammate's voice, you can adjust the game sound through ChatMix. Players can also adjust the sound of the game and the player's voice in proportion to obtain more practical and efficient sound effects.
Wireless Receiver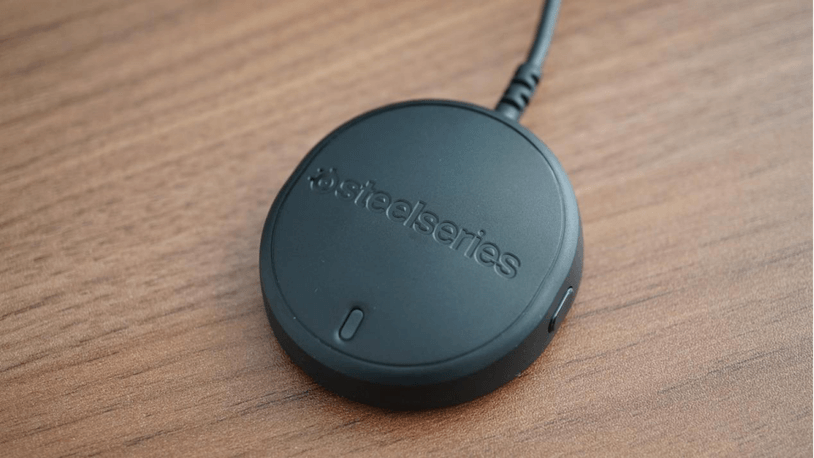 Arctis 7 is equipped with a wireless receiver with line out and line in input and output interfaces, which can be used to connect speakers and other equipment. However, Arctis7 is 2.4G wireless, not common Bluetooth, so it must work with this receiver, and cannot be connected to wireless devices such as mobile phones.
MIC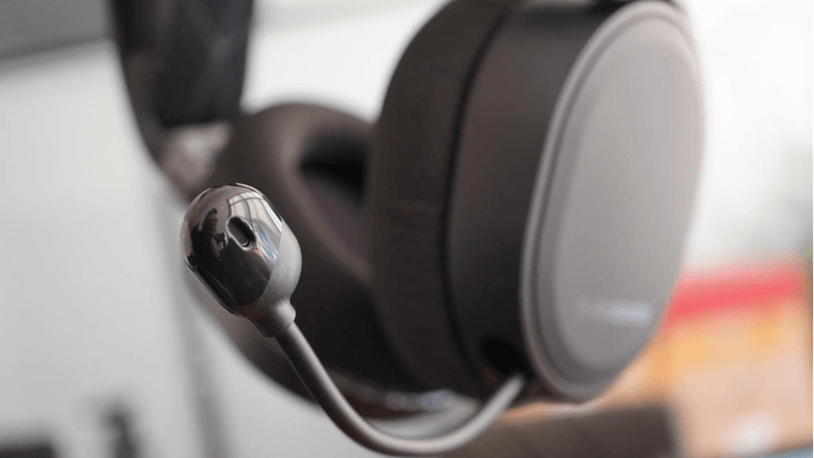 All SteelSeries Arctis serie gaming headsets use a unique ClearCast two-way pickup microphone. The player's voice is collected on the inside, and the reverse is used to offset the noise on the outside. And the player can adjust it to the position where the sound effect is the best.
Microphone Specifications

Frequency Response
100Hz–10,000Hz
Pattern
Bidirectional
Sensitivity
-38 db
Impedance
2200 Ohm
Noise Cancellation
Yes
Location
Retractable
Mute Toggle
On Ear Cup
Speakers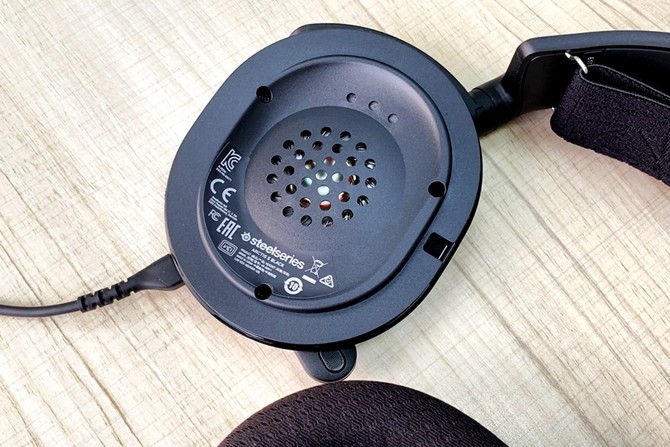 Arctis 7 uses 40mm neodymium magnet speakers, 32Ω impedance, a frequency response range of 20-22000Hz, a sensitivity of 98db, and ultra-low distortion (<3%). Supports 7.1-channel DTS surround sound. Each of the three frequencies has its own characteristics. The bass is flexible, the midrange is wide, the treble is smooth, and the overall sound field is very wide. It can be rotated 90 ° horizontally and rotated at a small angle in the vertical direction.
Drivers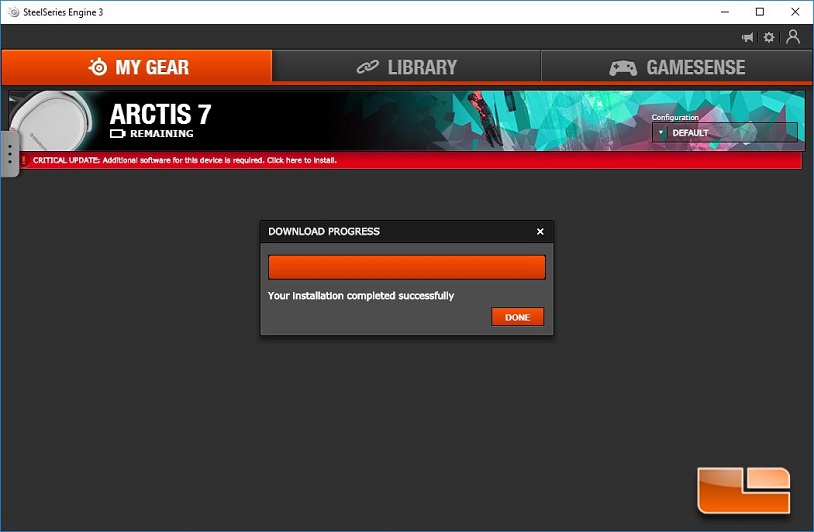 Arctis 7 uses SteelSeries Engine 3 software. Because Arctis 7 is a wireless / wired dual-mode gaming headset, the sound card is integrated into the wireless receiver, so only the wireless mode supports this driver. Players can set it according to their own habits or gaming experience. Arctis 7 driver functions are basically the same: support DTS 7.1 surround sound, stereo configuration, low frequency optimization, equalizer, microphone preview, microphone side tone, and microphone volume.
Wearing Experience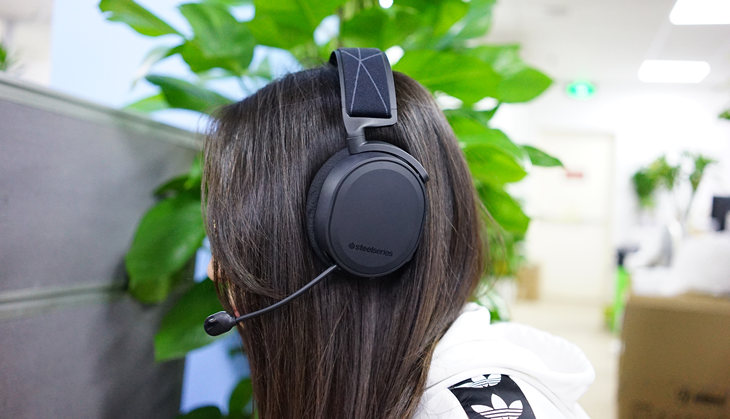 Arctis 7 adopts lightweight design, even if worn for a long time, it will not cause pressure on the head. Fully wrapped elastic headband distributes the pressure on the top of the head, thick and soft AirWeave fabric ear cushions have good breathability, but it may be a little stuffy in summer. This is also an unavoidable common problem for full-wrapped headsets, but it is much better than leather ear cushions.
Audio Experience
Audio experience is very good, and the bass is heavier. Listen to "California Hotel", the first thing I can appreciate is the increase in resolution and the sound field has become wider. The treble is not rough and the mid frequency is relatively sufficient.
Gaming Experience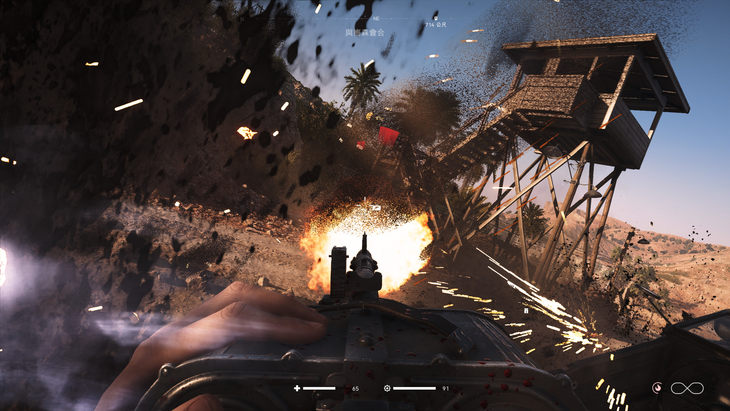 SteelSeries has always been excellent in the positioning of FPS games, such as CS:GO. This has been recognized by many professional players. In addition, Arctis 7 has a variety of surround sound, equalizer and dynamic range compression effects, which help Arctis 7 wireless gaming headset have better and eye-catching performance in FPS game. By accurately positioning the enemy's position, you can gain a pre-emptive advantage in FPS games.
Arctis 7 can accurately analyze and separate footsteps and gunshots in the game, and then transmit them through a wide sound field. The game audio experience is almost the same as the real environment. Coupled with the high, medium and low frequency tuning, the sound of the metal of the firearms, the player's voice or the sound of footsteps and grenade blasting bring players an excellent gaming experience.
And because its control switches are relatively concentrated, the volume can be adjusted very quickly during the game. The noise cancelling performance of the ClearCast MIC is also very good. The communication between teammates has almost no significant interference noise.
---
SteelSeries Arctis 7 Pros and Cons
Wireless / Wired Dual-Mode
24 Hours Battery Life
Customizable Headband
ClearCast MIC
Support DTS 7.1 Surround Sound
Support Nintendo Switch in Dock Mode
Slightly Shorter Head Beam
Absorbs Dust
Limited Vertical Rotation of Ear Cups
No Bluetooth Support
Configure Steelseries Engine Need Some Work
---
In Summary
As a new flagship wireless gaming headset, 2019 edition Arctis 7 has SteelSeries S1 speakers, 2.4G wireless no-delay connection, DTS X 7.1 surround sound, ClearCast MIC, Chatmix, and Steelseries Engine driver support. The overall performance of wearing, audio and gaming is quite satisfactory. It is one of the most worth buying wireless gaming headsets.